We all have grown up by watching old TV shows or movies which are not easily available, so we've stored them on VHS tapes. But you know the best part is that you can now convert them to a digital video format that will be later played on your devices. If we compare to DVD, VHS tapes are not pleasing to eyes and have poor visual quality. All you must do convert VHS to MP4 to enjoy your old-time and with a wonderful quality (which you can get from modern video formats). We all know the fact that digitalizing of old tapes will not help in the quality enhancement. So, if you have preserved it for more years, VHS to MP4 converter solves your problem. 
If you want to convert VHS to MP4, then we have some steps (with pictures) given below which will help you in making your VHS videos to MP4 format; that will be edited on Mac/ Windows computer and even you can burn them into a DVD sometime later.
Sitting with friends and/or relatives we go through many precious moments and memorable occasions which are captured in tapes and these days, tapes are no more part of people's life. Dust and dirt spoil the part of the cassette which results in inferior quality. So, the workable solution is to convert VHS to MP4. 
Part 1. Steps to convert VHS to DVD
Step 1. Connect the VHS video player to a PC using the suitable cable. You will need the special SCART cable that has red, white and yellow cords. Your player could come with these outputs as well. In case your player is regarded as the output device, do not use the front-mounted these cables because these are always inputs, not outputs.
Step 2. Then, start your recording software on the PC, play the VHS tape from where you want the recording to start. Digitalizing VHS tapes is a straightforward technique.
Step 3. Stop your recording software at the termination of the video and then stop the video itself.
Step 4. If you are burning your video to a DVD, the recording software must enable an option and if not, you can use the Windows DVD maker. If the DVD Maker does not support your video file format, other converter utilities such as the Handbrake can be of very much important.
Part 2. How to convert DVD to MP4
Aicoosoft is another famous video converter with 30X faster conversion speed, the capability of converting videos into more than 1000+ formats. You can also download, edit, compress and record the video efficiently and easily.
Aicoosoft Video Converter Ultimate lets you convert 4K/HD/SD video to a variety of popular formats such as MP4, MOV, M4V, WMV, AVI, FLV, 3GP, etc. After reading the description you must go through the key features of Aicoosoft video converter and then decide whether you want to try or not.
Some of the features of Aicoosoft Video Converter include:
Lossless Conversion: When you use Aicoosoft to convert DVD to mp4, it puts to use the advanced technology and ensures high quality conversion.
GPU Acceleration: The GPU acceleration technology used for the conversion empowers quick conversion with lightning fast speed.
Multi-core Optimization: The converter makes use of Artificial Intelligence based Technology that improves the speed of conversion of the videos to the desired format.
How to convert DVD to mp4
For all those who wish to convert DVDs to videos, Aicoosoft is a reliable tool. Here is the guide that will assist you in conversion:
Step 1
To load the DVD disc on the program window, click on the Load DVD button. Also, clicking on the inverted triangle button you can load IFO files onto the window.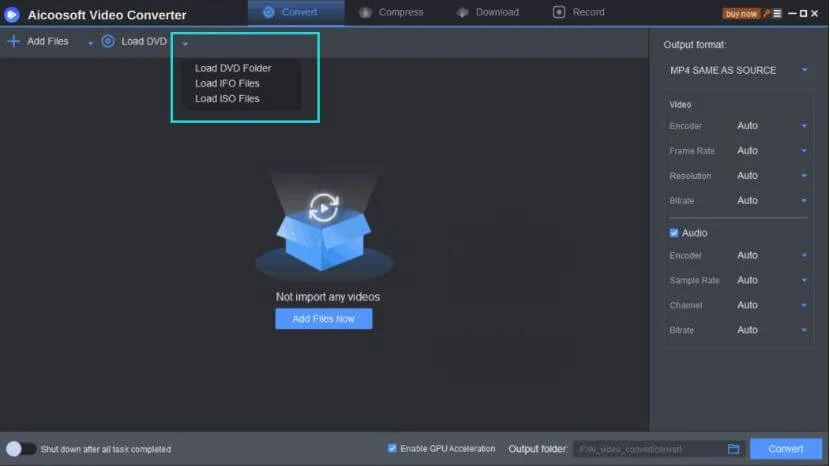 Step 2
After the DVD is successfully loaded, you can click on the convert button at the right side of the window for choosing the output format.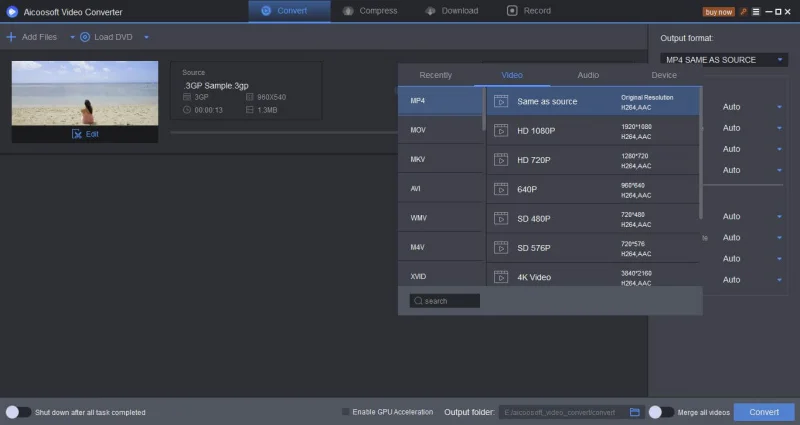 Step 3
And once the format is selected, click on the convert button on the lower right button to start the conversion procedure. Then click on the Open Folder icon to locate the converted videos after the process finishes.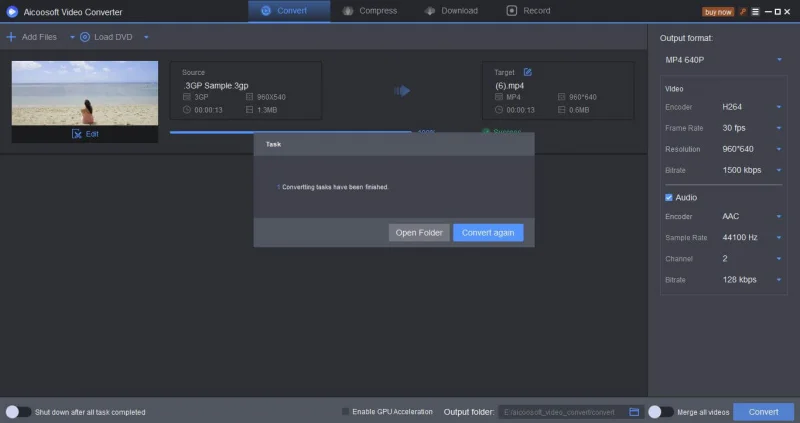 Part 3. Frequently Asked Questions
1. What is the VHS format?
VHS is a high-quality consumer video quality developed by JVC and launched in 1976. VHS was originally a Vertical Helical Scan (a reference to the recording system used) but was later converted into a user-friendly name Video Home System.VHS was a well-known format for first-time video cameras. Originally these were two units with a separate camera and a connected recorder.
2. How can I transfer VHS tapes to my computer?
Firstly, You'll need a VCR, a USB converter, and a computer. Once you set all, it's time to start getting things connected. The first step is to make sure that you download and install the VHS to mp4 converter software to your computer. Just make sure to connect them to the output option and match the colours. You may need an adapter that comes with the converter. Pause the video on the player and connect the capture settings and destination folder on your PC using the program you just installed. The most suitable file formats to store video in are MPG, MOV or MP4.
Once you've made these modifications, queue up the VHS tape to the part you want to transfer. Possibilities are, not all of your video is worth saving.
3. Can you still buy a VHS video player?
If you've ever challenged yourself, "Do they still make VHS players?", the answer is no. Nobody makes VCRs anymore. Funai Electric made the very last one in July 2016 – a big turning point in-home movie history. Therefore you can't buy a new VHS/VCR player immediately from the distributor.
4. Is VHS making a comeback?
VHS has long been out of mainstream fashion. Hollywood studios stopped delivering movies on tape nearly 15 years ago. Just for passionate hobbyists, India retailers, media experts and average film-watchers who spoke to NBC News, VHS will never go out of style. In this future era, one is lucky enough to save his life in photos and videos. In the past, the VHS camera was used to store video on VHS tape. When digital media becomes accustomed, CDs, DVDs and Blu-ray discs replace VCR and VHS tape. VHS tapes require a lot of space and care. Therefore, the best solution is to convert VHS to MP4, DVD, CD, and other digital media formats.
5. Is there a machine that converts VHS to DVD?
Use an analogue-to-digital adapter integrated with software, such as Elgato Video Capture, or products like Roxio Easy VHS to a DVD converter for Mac, or a Corel Easy VHS to a Windows DVD. These programs connect your VHS player to a computer and enable you to create a digital file that you can burn to DVD. There are other methods available also for VHS to MP4 converter.