"I am a music lover, and I have my latest camcorder that records files in MPEG. At times, I lookout for a YouTube downloader that can do a two-in-one task of both downloads & convert to format like Avi and MP4. I have searched and made a trial over a lot of online YouTube downloaders, but still, I couldn't find something handy and safe. Can someone suggest any of the best YouTube video downloaders to MP4 for free that I can use from now on and for the future as well?"
Are you a music lover or a visual creator as well who have a query like the above? Never worry, as our today's article on the best free online YouTube downloader MP4 is especially for you.
Part 1. Best YouTube downloader MP4
Super-speed downloader - Aicoosoft Video Converter
If you are a Windows or Mac user who prefers to use the best YouTube downloader to MP4 software to be on-hand whenever required, then the Aicoosoft video converter is the best choice.
Aicoosoft is crafted with a powerful in-built video & audio downloader that facilitates faster video downloads in just seconds from various video streaming and sharing sites.
It is a super-speed downloader and a converter tool that can convert with 30X faster speed supporting 1000+ formats. Aicoosoft is a multimedia product that helps people create and enjoy videos in an effective & easy way. One can enjoy multimedia anywhere anytime with Aicoosoft as it offers adorable functions like Convert, compress, download, edit, and screen recorder.
Compared to other video converters that do the same job, Aicoosoft is now affordable by all at just $39.99 (Mac & Windows). Additionally, one can get access to the free trial offered by Aicoosoft as well before purchasing it for the long-run!
Key features of Aicoosoft Video Converter
Aicoosoft Video Converter is an ultimate all-in-one video converter solution that supports batch conversion, download of HD videos, and still a lot more.
Aicoosoft Video Converter helps online video/playlists download from 1000+ video streaming sites like YouTube, Vimeo, Dailymotion, and Instagram.
Aicoosoft Video Converter downloads HD videos such as 1080P and 4K directly from sites quicker and more comfortable.
The video downloader option of Aicoosoft Video Converter allows one to download videos to mp3 format of high-quality automatically in one-click.
How to downlaod YouTube video to MP4 with Aicoosoft Video Converter
Step1
Launch Aicoosoft and Move to the "Download" tab on the welcome interface.
Click the "Add URL" option to proceed further.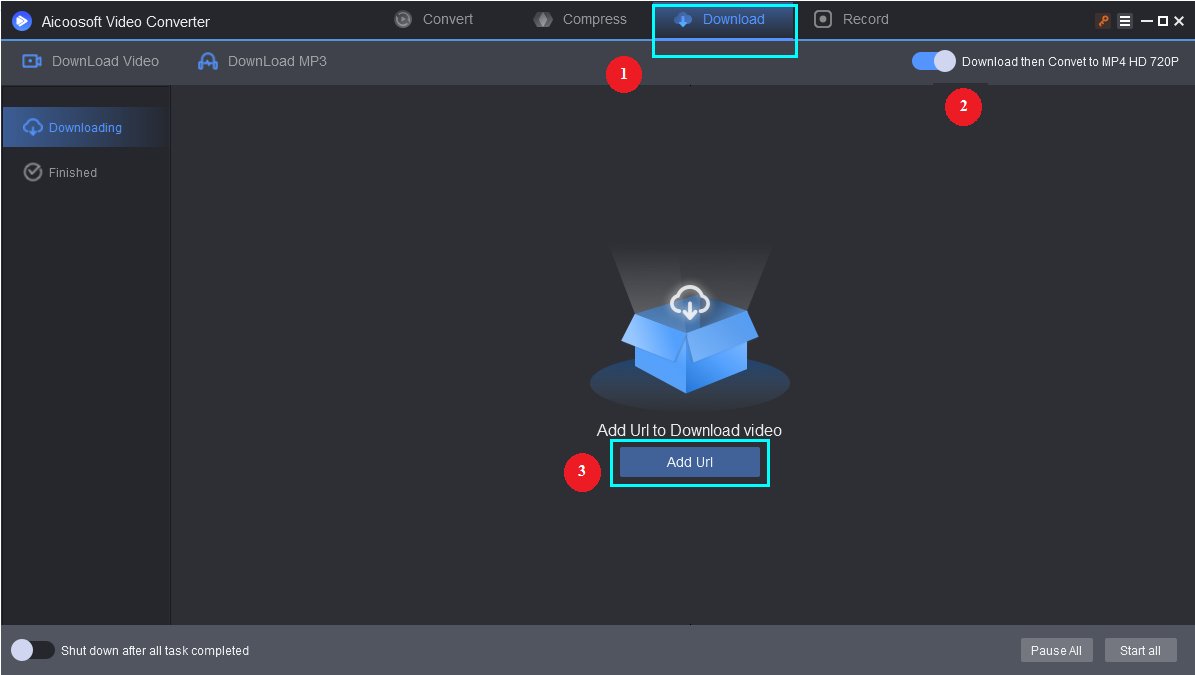 Step2
In the next window, paste the YouTube link of the video on the URL box, and hit the "OK" button.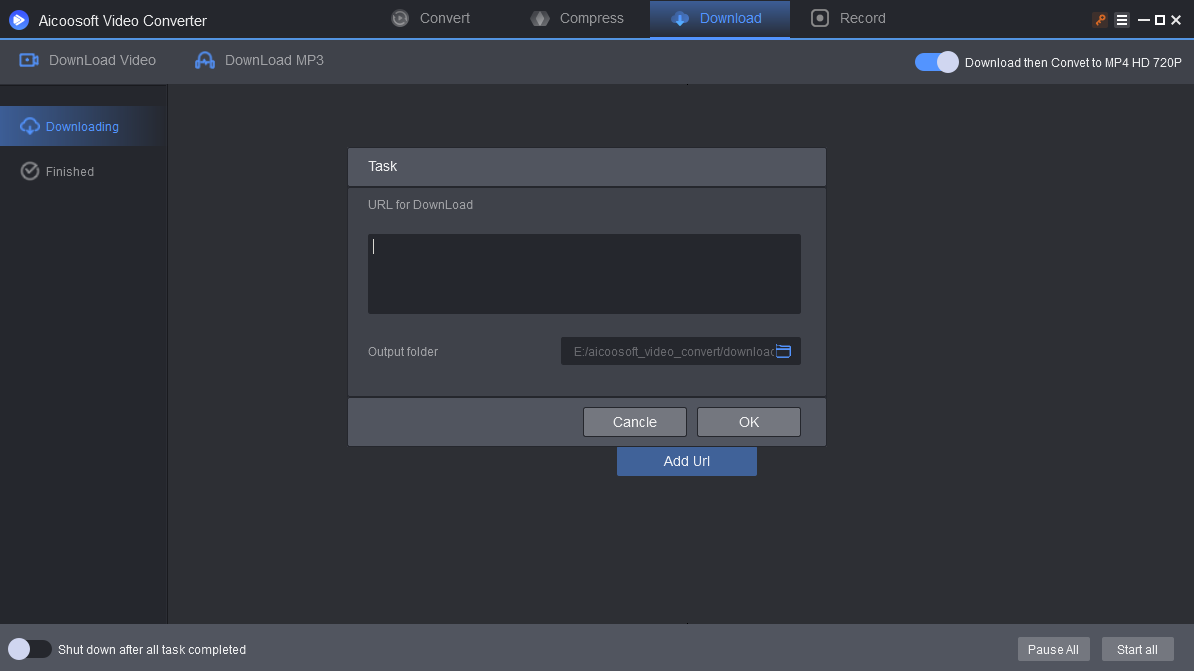 Step3
Once the video gets loaded, verify the download settings and make sure the option "MP4" with your timely resolution is marked.
Tap the "Download" button.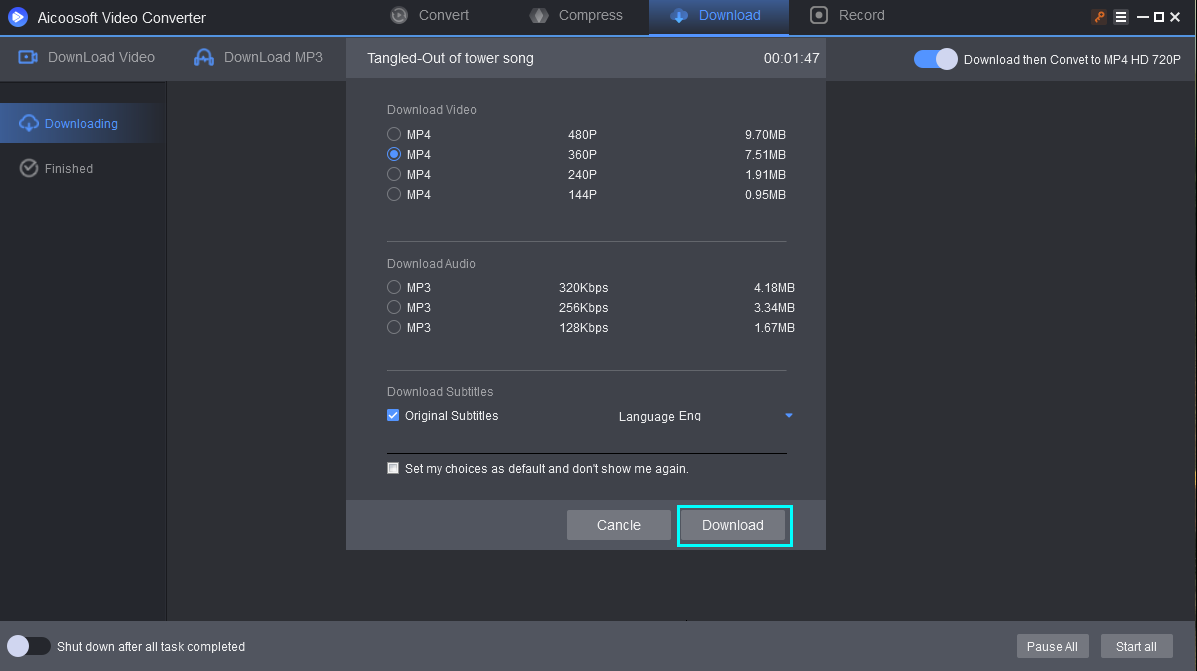 Step4
The video will now get downloaded directly to the MP4 format, and once the process is complete, you will get a "Finished" symbol on the left corner.
Open the "Open Folder" to find the downloaded MP4 file.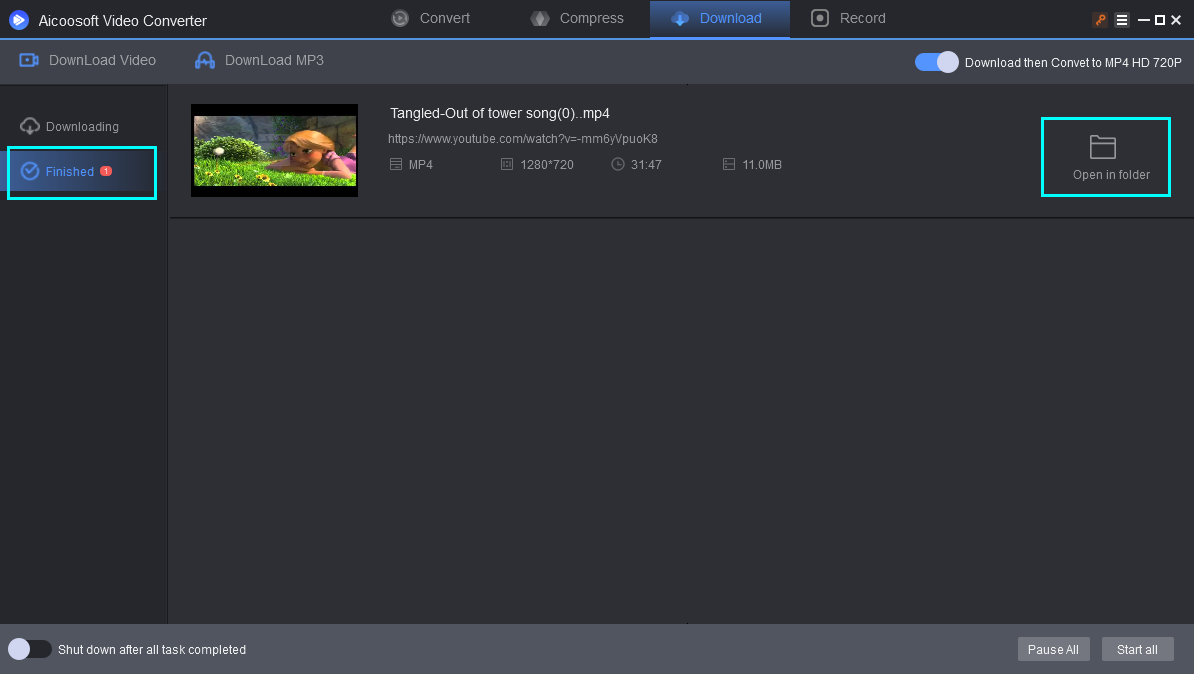 Part 2. Free and easy online YouTube downloader MP4
Yes, you can download YouTube videos online, and this is where the importance of free online YouTube downloader MP4 rises. While there are various online YouTube to MP4 downloaders on the internet, we have brought two best free online YouTube downloader MP4 in this session for you.
1. Keepvid
Keepvid stands first in our online YouTube MP4 video downloader for free that is promisingly 100% free-to-use. It follows a simple user-interface marking as a remarkable quality online tool that is super easy and downloads/convert faster. The Keepvid supports all popular and famous video portals like YouTube, Vimeo, and Dailymotion. With no registration required, one can convert or download videos unlimited!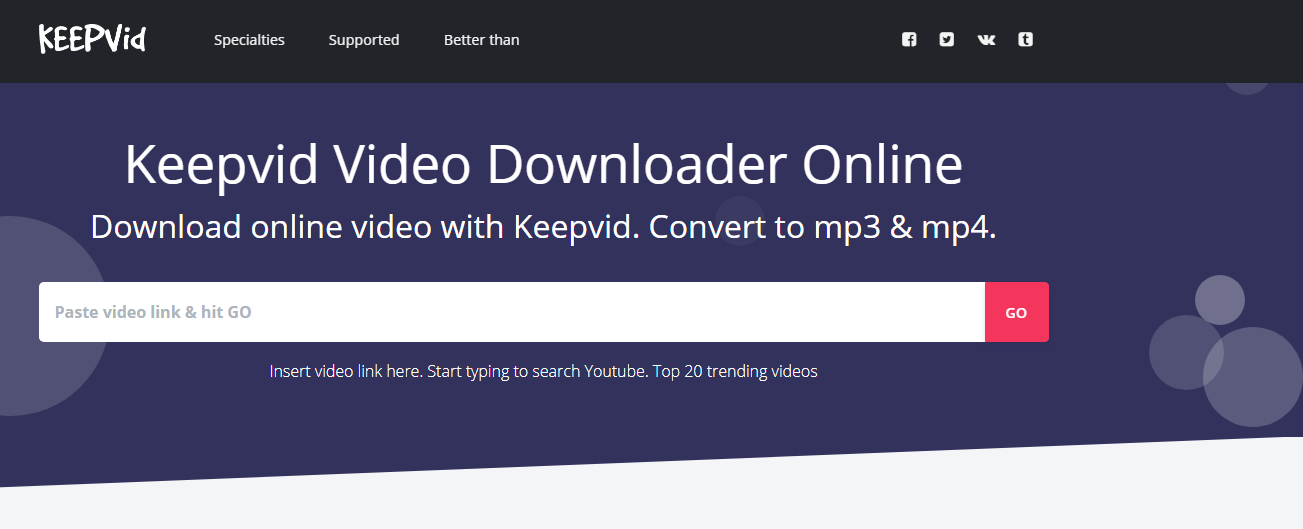 Recognized as the No.1 best online video downloader, Keepvid allows one to convert a video directly from a link like YouTube &Twitter in just three simple steps. All you have to do is, enter the official Keepvid link (https://keepv.id/) in your browser, specify "MP4" from the drop-down, and hit the "Go" button.
With Keepvid, one can convert any Youtube video to MP3, listen to youtube video offline, save youtube video directly to MP3, download a playlist as MP3, and convert any VEVO videos to MP3.
Pros:
Keepvid now comes up in the form of a web-based light-weight application that requires a small space on your device.
Keepvid requires no installation or registration.
Cons:
Keepvid doesn't support batch video download/conversion.
One cannot search for a video directly based keyword for easy download in Keepvid.
2. Y2Mate
Our next free online YouTube downloader MP4 is Y2Mate that supports video download from surplus video streaming sites like Dailymotion, Clipfish, Ted, VK, ITV, and still a lot more. Y2Mate is 100% safe and a fast-online video converter that does the task for you with no registration required!
From ordinary YouTube videos to 4K, Y2Mate allows one to download videos in 1080P in a limited time, making it a fast speed video downloader/converter. All you have to do is, enter the link of the YouTube video in the search box, and hit the "Start" button to complete the process.

One can use Y2Mate anywhere anytime with the help of the Y2Mate mobile application that can be used to download/convert videos directly on tablets or mobile phones. If you are a person concerned with high-quality MP4 output video deliverance, Y2Mate is the best choice that supports full HD conversion of high-resolution up to 1080P.
Pros:
Y2Mate comes up with a Chrome browser extension option too.
Y2Mate is known to be the most trustworthyYouTube to mp4 downloader/converter online for free with no virus or spam.
Cons:
As Y2Mate is an online conversion tool, the site consists of commercial ads and infuriating pop-ups appearing on the screen.
Part 3. Frequently Asked Questions (FAQs)
1. Is YouTube Downloader illegal?
YouTube downloaders aren't illegal, while in the technical aspects, one is free to convert any YouTube video to formats like MP4 or MP3. But it is illegal and out of terms &conditions as per YouTube if the content is a copyrighted music track or a video file.
Additionally, YouTube attempted to close down quite a few converter websites that offered such conversion services. Although downloading videos from YouTube is a breach of YouTube's terms of use, it has no desire in fining users for it.
2. Can YouTube videos contain viruses?
Watching a YouTube video is not related to any virus attack or malware, but you must be careful as the site's dangers exist. There are various links and ads uploaded by cybercriminals, or hackers, if tapped, try to make out vast amounts of money stealing the user's data and damaging the devices.
You have to pay attention while downloading a YouTube video as they can install malicious software and inappropriate content as the virus goes hand-and-hand. Make sure the file isn't of extension .exe but rather.MP4 or MP3.
Conclusion
I hope your issue or query has got a solution & answer by learning about Aicoosoft, the best all-in-one Youtube MP4 downloader along with the other two free YouTube MP4 downloader online that can make your task simple and safe.