"How to make a MOV file smaller?" or "How to reduce MOV file size by compression?" MOV is a multimedia container format and is a great video technology for recording or editing videos. MOV was developed by Apple and is used by the QuickTime program to save movies. MOV is compatible with both Windows and Mac OS and contains one or more separate tracks with audio, subtitles, or video. The problem arises when you share MOV videos with family members, business partners, or clients because MOV files aren't very efficient at compressing the video. You will need to compress MOV files before uploading them on Youtube, Facebook, or Instagram because every web service has a limit of file size. You might have used a ZIP file if you often send large files or folders to customers or business partners. You can easily compress documents and other business files with a ZIP file but this method doesn't work on MOV files. It reduces the MOV file size by only 2% because they are already compressed. Only a good MOV compressor can help you in this case. In this article, you can find some of the best MOV compressors available free and online so keep on reading:
Part 1. How to compress MOV video online and free?
You can compress the MOV video by different compression solutions available online. You will only need a computer and a stable internet connection to use these MOV compressors. One such MOV compressor is Online Converter it is a free tool and you can use it without installing it on your computer. It has a simple user interface and anyone can use it without any effort.
Pros:
It is a free tool you don't have to pay a single penny
It is a multipurpose tool 
Cons:
It can't work without a stable internet connection
It has a slow video conversion rate
It supports a limited number of formats
How to compress MOV videos online
You can reduce MOV file size by following these steps:
Step1

Open

Open the Online Converter website. Click on the drop-down menu of Tools and select the Compress Video option. Click on Go.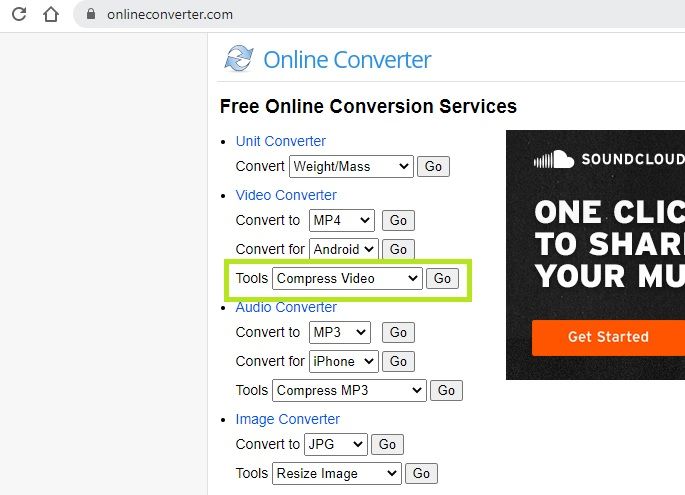 Step2

Upload

Choose the source of MOV files i.e. whether you want to choose a MOV file from your computer or URL. In case of URL enter the URL in the box below and if you want to select from your computer then select Upload File and click on Choose File to select a MOV file.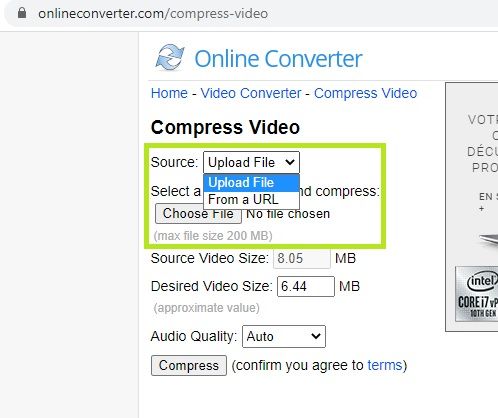 Step3

Adjust

Adjust the size of the video and audio quality according to your desire. You can't change the output video format.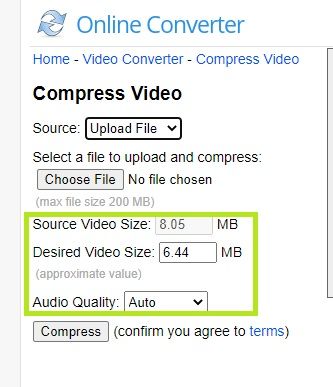 Step4

Compress

Click on the option Compress to compress MOV files. Wait for a few minutes.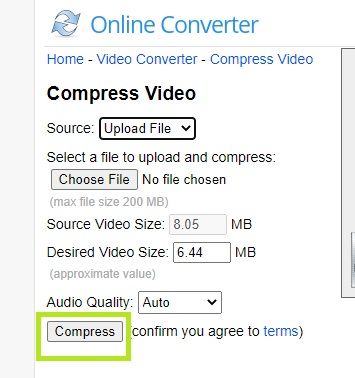 Step5

Download

After the compression is complete download the compressed MOV file to your computer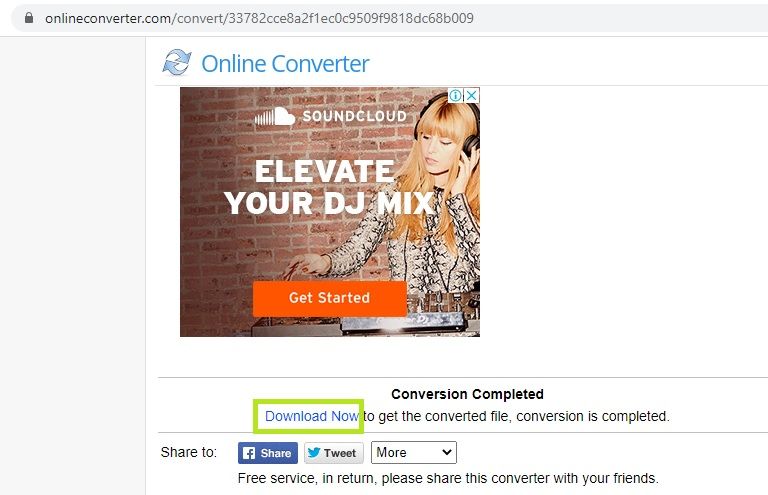 Part 2. The best MOV compressor to compress MOV without loss quality
Aicoosoft Video Converter is one of the most praiseworthy MOV compressors as it is compatible with 1000+ formats including MOV. Reduce MOV file size on both Windows and Mac OS without any loss in quality and compress the MOV files by changing their resolution, format, and size with this amazing software. Cut the unwanted parts of your MOV files with editing tools of Aicoosoft Video Converter such as trimming, rotating, and cropping. Aicoosoft Video converter is fully packed with remarkable features to give its user an outclass experience.
Key features
30 times faster compressing and converting speed
Supports 1000+ video formats, including FLV, WMV, AVI, MPEG, MOV, MP4, etc
Convert HD/4K videos
Edit, Convert, Record, or Compress any file format
Download video from 1000+ platforms
Convert videos to DVD very quickly
Compatible with Windows and Mac OS
How to compress MOV without loss quality?
To compress MOV file without losing quality is very difficult as these files are already compressed but you can easily reduce MOV file size by following these steps:
Step1

Add MOV files that you want to make smaller

Open the Aicoosoft video converter and click on the Add Files option to add MOV files from your computer.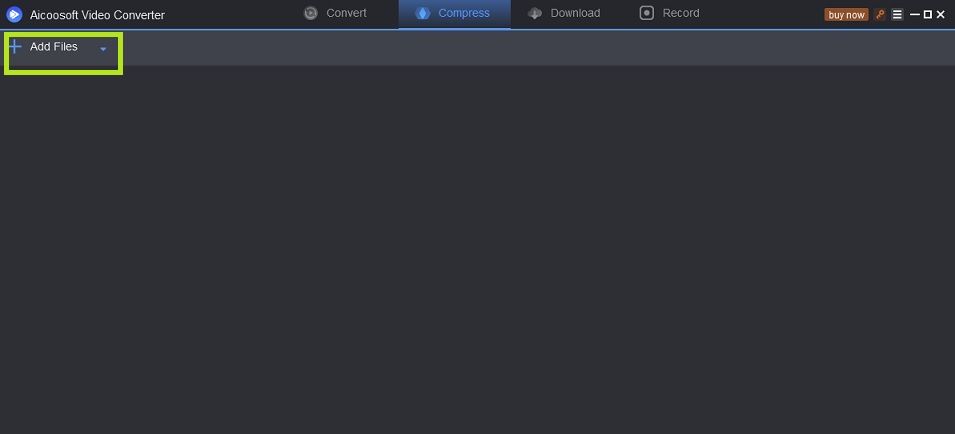 Select the MOV file you want to compress and click Open.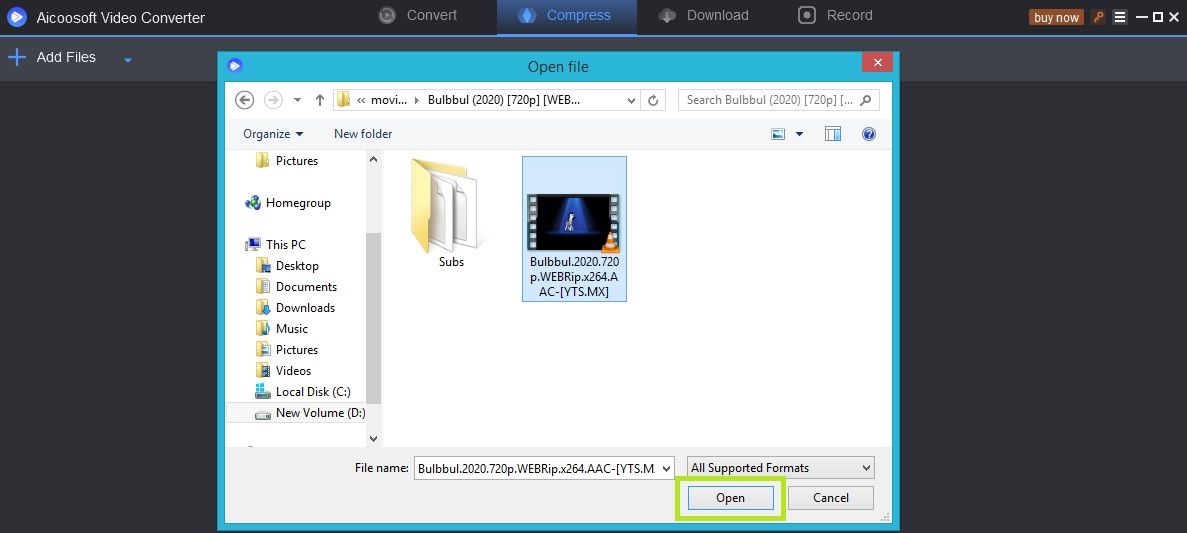 Step2

Select Output Format

Select the format of the output video by using the drop-down menu. Select MOV in the format list. You can also change the format of your output video by selecting another format from the list.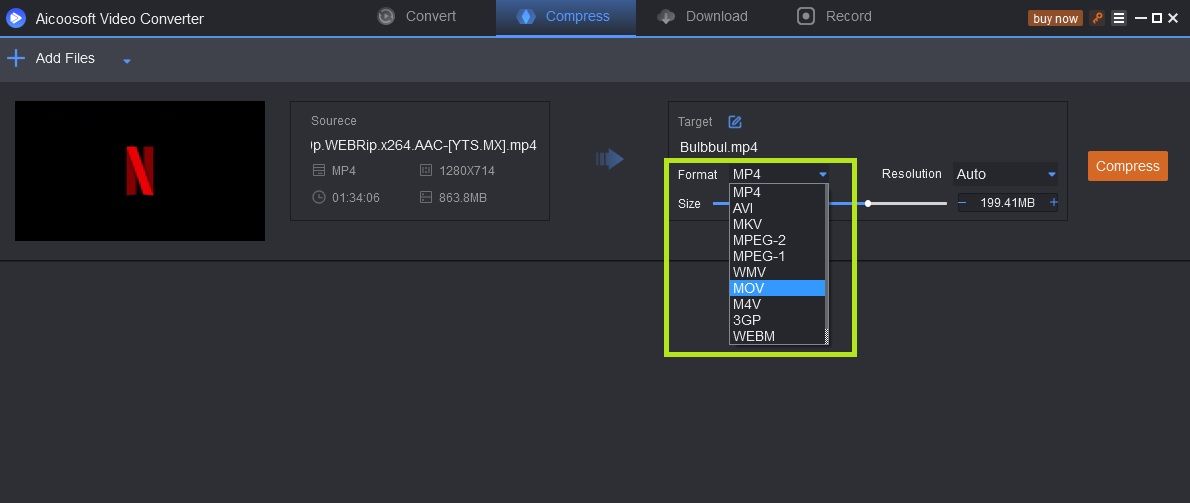 Step3

Customize MOV settings

To make MOV files smaller customize their settings according to your needs. Change the size, format, and resolution to reduce MOV file size.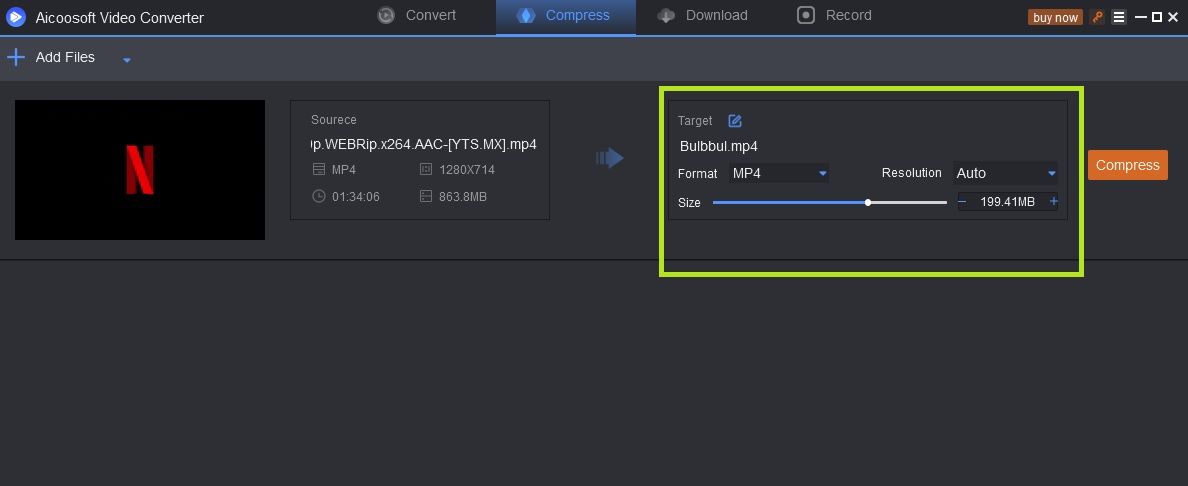 Step4

Start compressing MOV files to a smaller size

Click on the Compress option to compress MOV files.

Step5

View your compressed MOV files

After a few minutes, you can view your compressed MOV files in the output folder.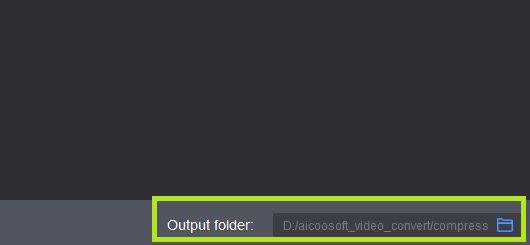 Part 3. Frequently Asked Questions
How do I reduce the size of a .mov file?
You can reduce the size of a .mov file by compressing the contents to save disk space, adjusting frame rates of MOV video, changing the output resolution, trimming or cropping the video to reduce MOV file size.
What compression is MOV?
MOV is a popular video format file that uses the lossy video compression approach to hold the videos. MOV uses the MPEG-4 codec for compression commonly. It was originally developed by Apple to support its QuickTime movie player. MOV is compatible across different versions of Mac and Windows operating systems and uses an advanced algorithm especially developed by Apple.
Why are MOV files so big?
MOV files have a large size than many other multimedia formats because of their high quality. The size of the MOV files may vary depending upon the length and compression technique used.
Is MOV compatible with Windows?
Yes, MOV is not only compatible with Windows but Mac OS as well.
Can Chromebook play MOV files?   
Yes, Chromebook can play MOV files. But when it comes to flawlessly playing a video file Chromebooks are still struggling with no sound, patchy video playback, and no subtitles issues. All these can be fixed by using a better video player or a video editor app such as Aicoosoft to convert your video files.