Are you confused about reducing your larger AVI video file so that you can readily stream it on any media player? Converting AVI to MP4 is the best option that could help you out and no worries as you never need to search the internet to find the best AVI to MP4 converters that can do your task in just seconds without losing the quality is now comfortable with us. Get to know the 2 best free unlimited AVI to MP4 for PC/online.
Part 1: Why one need to convert AVI to MP4
Why does one need to convert AVI files to MP4? Just like you, even I was confused, but later I came to know some of the user scenarios where one requires an AVI to MP4 conversion. I want to reveal them along with specific differences and similarities between those two formats.
User scenarios where AVI to MP4 conversion is needed
#1 "I had a video of 7mins for a project purpose that was too big of 32gbs, and my friend suggested me of converting it to MP4 so that the high-quality is retained and compressed to a small size, and it worked. My video then got compressed to just 80MBs that was so useful for my project interpretation"- Anonymous.
#2 "There were a lot of AVI video files on my desktop due to which the disk speed slowed down where
AVI to MP4 file conversion
helped me out in saving up a lot of space on my hard disk."- Anonymous.
AVI Vs. MP4
Part 2. Best ultimate AVI to MP4 converter for PC
Aicoosoft Video Converter
Do you need an all-in-one best AVI to MP4 converter that can make the conversion super-fast with high-quality?
Aicoosoft is the No.2 Ultimate video converter solution that makes the conversion process hassle-free without losing quality. It is the most cost-effective
free AVI to MP4 converter software for Mac
that accomplishes the task with a 30X faster speed with GPU acceleration, Multi-core processor optimization, and AI technology. Compared with the traditional video converters, Aicoosoft works best in maintaining a balance between speed and output quality, making it the most preferred one in the market.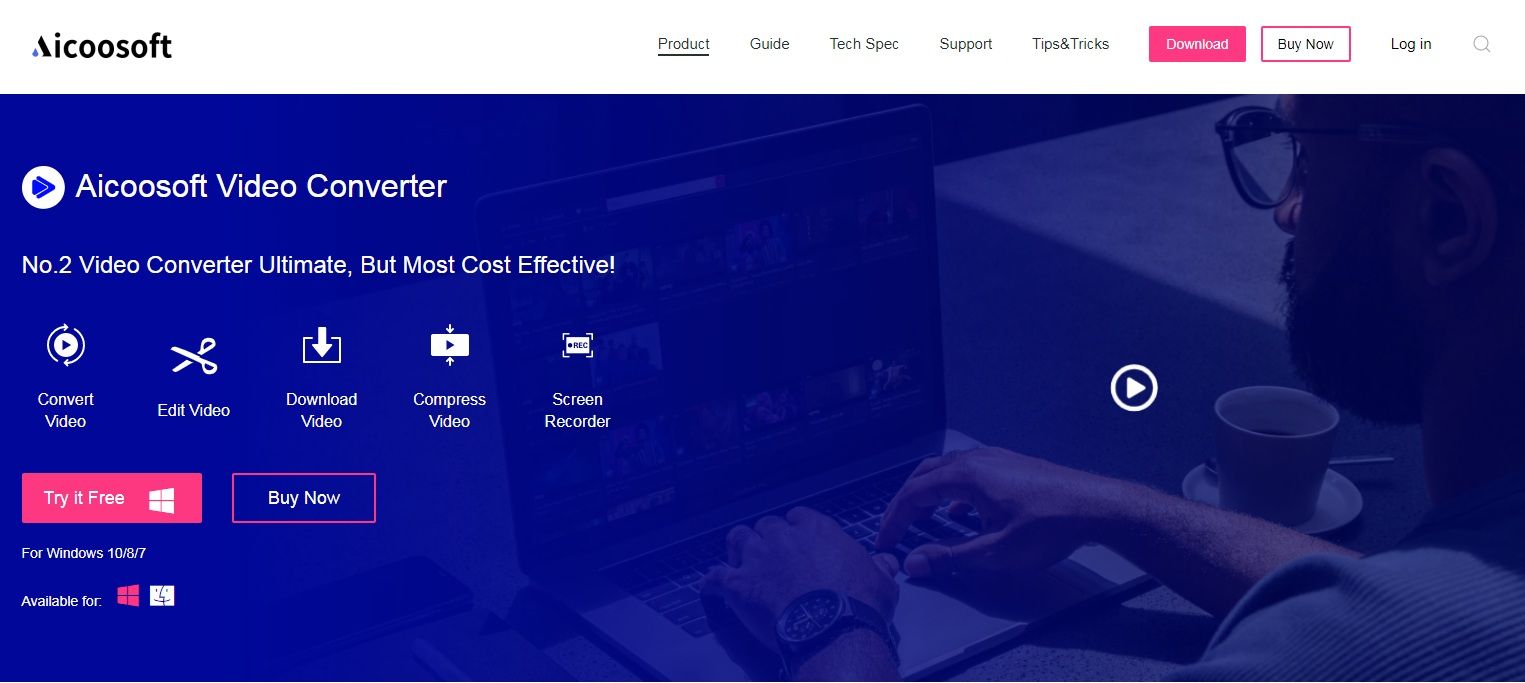 Key features of Aicoosoft Video converter
Aicoosoft Video Converter facilitates lossless conversion technology that maintains high-quality during/after conversion.
Aicoosoft supports 1000+ video/audio formats, including the older one like AVI, popular formats like MP4 & MP3, to the latest ones like H.264 & AAC.
Consists of an in-built audio/video downloader that supports 1000+ sites allowing direct conversion of files to the desired file format.
Apart from the converter tool, Aicoosoft has other tools like compressor, easy-to-use DVD converter, and screen recorder.
How to convert AVI to MP4 unlimited with high quality using Aicoosoft?
Converting an AVI file to MP4 is accessible in just three steps with the Aicoosoft Video converter. Take a look at the guide to learn how to convert AVI to MP4 at ease with Aicoosoft without losing quality.
Download the free version of Aicoosoft on your PC from the link,
https://www.aicoosoft.com/video-converter.html
, by clicking on the "Try it Free" option.
Step1

Add the AVI files to Aicoosoft

Launch the Aicoosoft software and switch over to the "Convert" section.

From the top toolbar, tap the "Add Files" option and start adding the AVI files for conversion.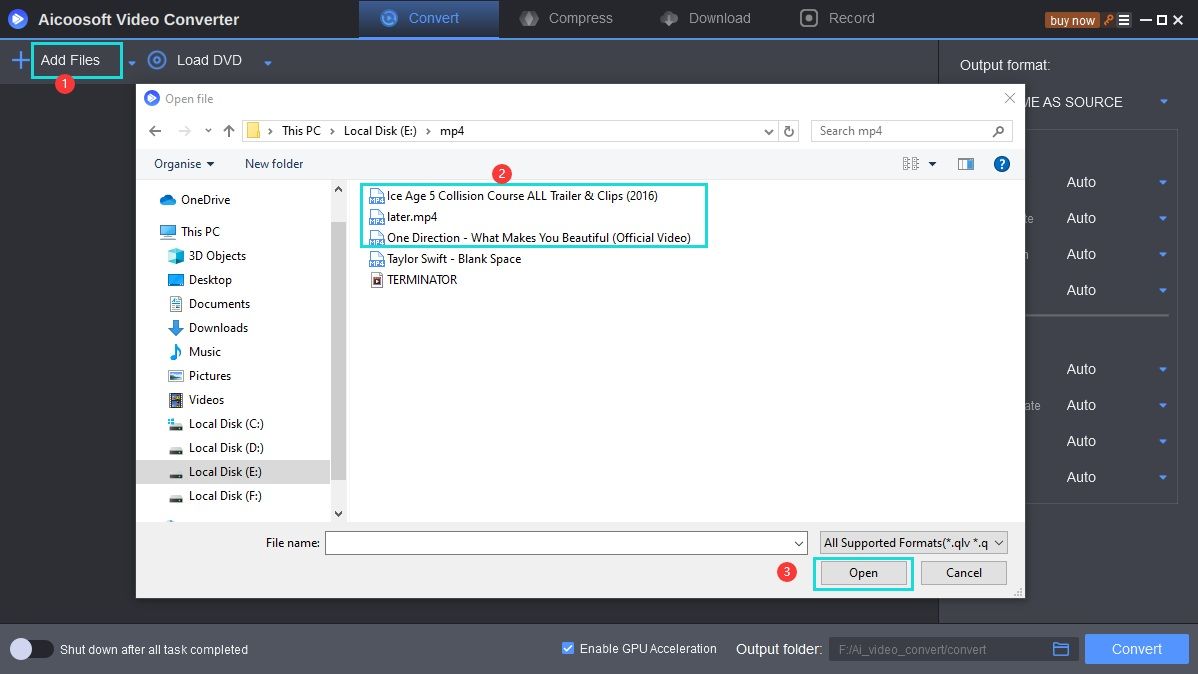 Step2

Select "MP4" as output format

From the left corner, choose the output format as "MP4" and specify the conversion resolution.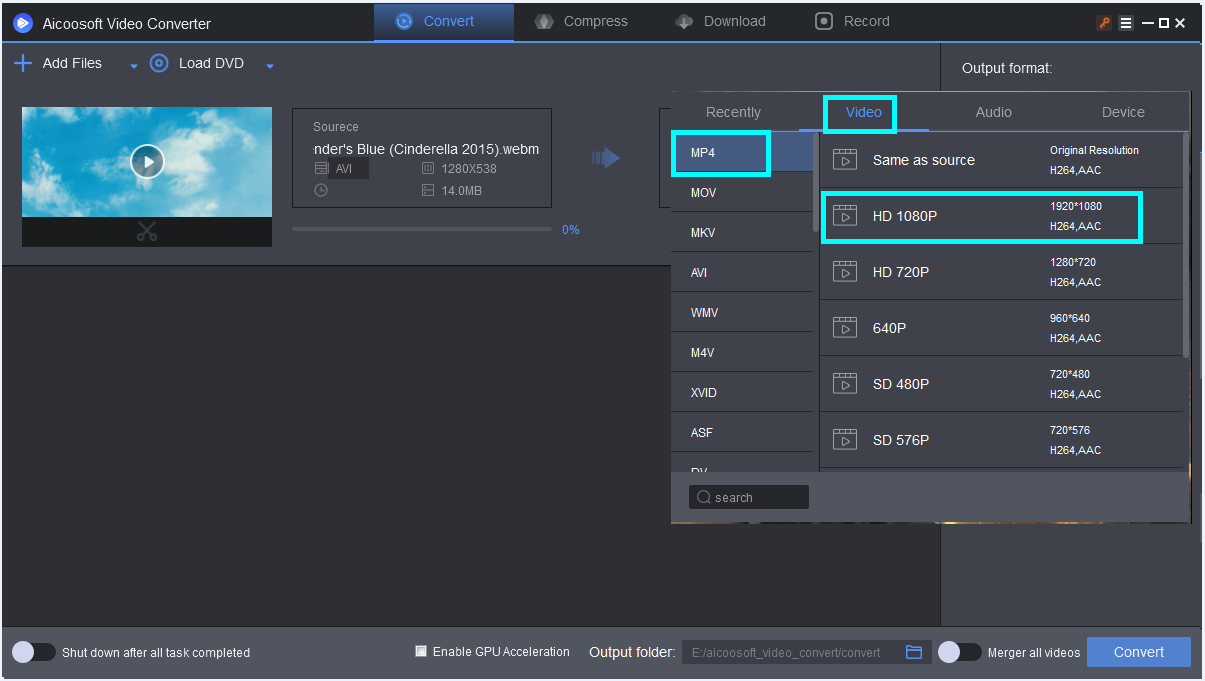 Step3

Convert the file and locate it

Now enable the GPU Acceleration check box and tap the "Convert" button.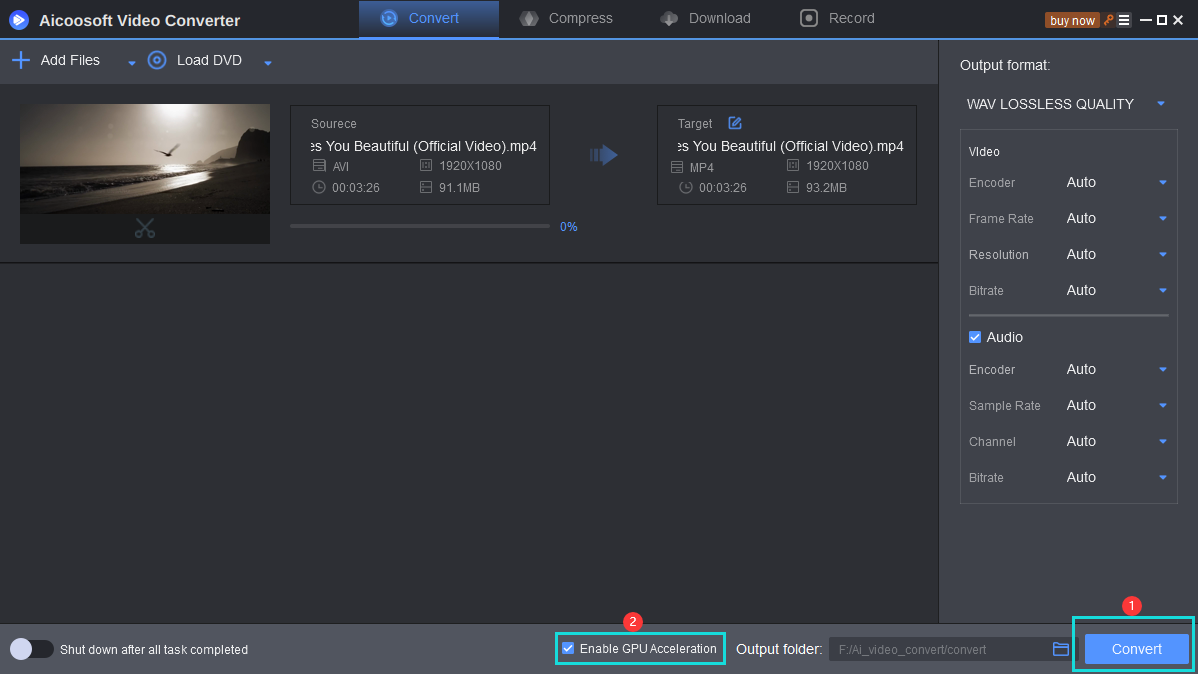 As soon as the AVI file is converted to MP4, choose the "Open Folder" option to find the resultant MP4 file.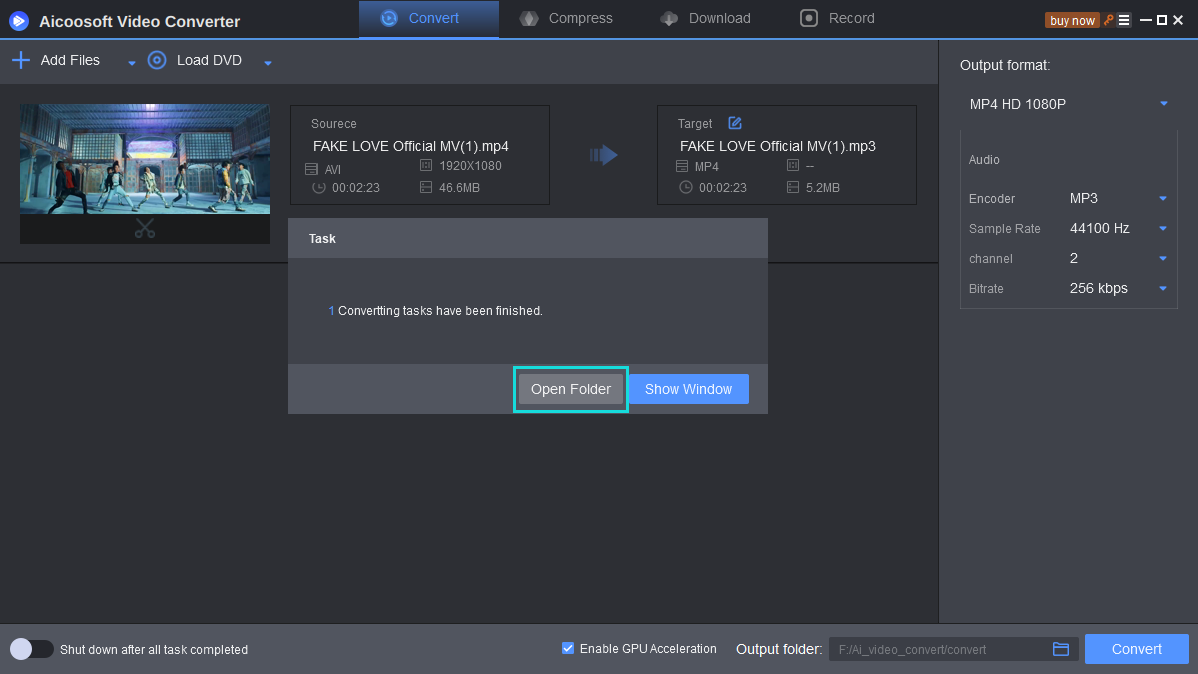 Part 3. Best free AVI to MP4 converter online
Free online AVI to MP4 converter - MediaShare
Besides third-party software, you can make use of an online free AVI to MP4 converter that can make the job done with no installation required. MediaShare is one such free online MP4 converter that is easy-to-use. While AVI uses codecs, converting AVI to MP4allows one to open or save the file quickly and allowing it to playback without losing the quality over time. MediaShare has other affiliated options like audio converter, video compressor/cutter, video editing options like rotate, flip & adjust.
How to convert AVI to MP4 for free?
While you are now familiar with MediaShare, a free online AVI to MP4 converter, here is a step-by-step guide on how to convert AVI to MP4 hassle-free.
Step1: Enter the URL, https://www.onlinefreeconvert.com/AVI-to-MP4.html on the web browser.
Step 2: Add the AVI files from the computer by a simple drag & drop.
Step 3: Select "MP4" as the output format.
Step 4: Hit the "Convert" button to start converting AVI files to MP4.
Step 5
: Download the MP4 file once the process is complete.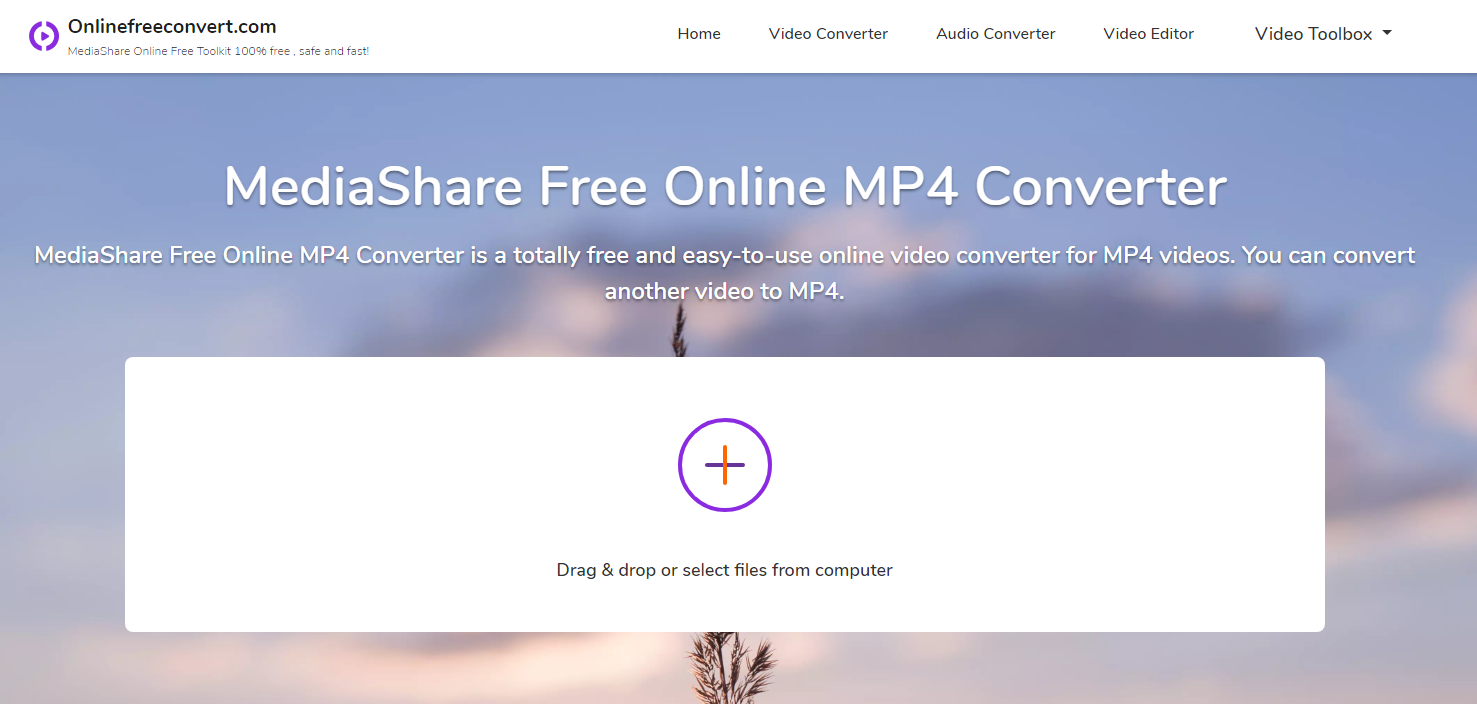 Part 4. Tips for converting AVI to MP4
1. Can VLC convert AVI to MP4?
Yes, you can use VLC to convert AVI to MP4. The VLC media player plays a vital role in playing videos/audio without the need for third-party software, and when it comes to AVI to MP4 conversion, one can use this platform.
2. Why are AVI files so big?
AVI file format is a digital container and not a codec, and hence the size of the converted file depends on the codec & bit rate settings that one uses. Additionally, AVI doesn't do much compression, like MP4, for size reduction. Hence AVI is used in retaining high-quality video.
3. Can handbrake convert AVI to MP4?
Handbrake is third-party software that acts as an open-source video transcoder and is reliable with all sorts of operating systems. It is free and can handle all kinds of format conversion, including AVI to MP4 conversion.
Conclusion
Thus, we are at our final verdict and conclusion. With a brief introduction and discussion over some of the best free unlimited AVI to MP4 converters in the market, we can conclude that Aicoosoft Video Converter has made AVI to MP4 conversion a piece of cake.