"Can iMovie files be exported to MP4 or played as MP4?" - Anonymous.
I have seen many Mac users coming up with the rise of the above question and the answer is probably yes. iMovie files or projects can be exported to MP4 or played in the MP4 only when they are encoded with MPEG-4/AAC data. But as we all know iMovie is propriety software developed by Apple Incorporation especially to play video, and video editing functionality on Mac or iOS devices. But how can one make use of the iMovie files on other media players or devices like iPad? The answer is simple. All you need is iMovie compatible software that can export iMovie to MP4 hassle free on Mac.
Part 1. Can iMovie export MP4?
Yes, you can export iMovie to MP4 on Mac with the help of the iMovie video editing tool, Apple's propriety software, if you get to know to utilize QuickTime property, used to play media files on iMovie. QuickTime comes preinstalled on the Mac devices and hence you can find in on the apps drawer to use it.
How to export the iMovie project to MP4 with iMovie QuickTime?
To accomplish the task, a step-by-step manual below on how to export the iMovie project to MP4 needs to be followed.
Step 1
: Launch and open the iMovie application on the Mac device. Load the project into the program by executing "File> Import media iOS projects".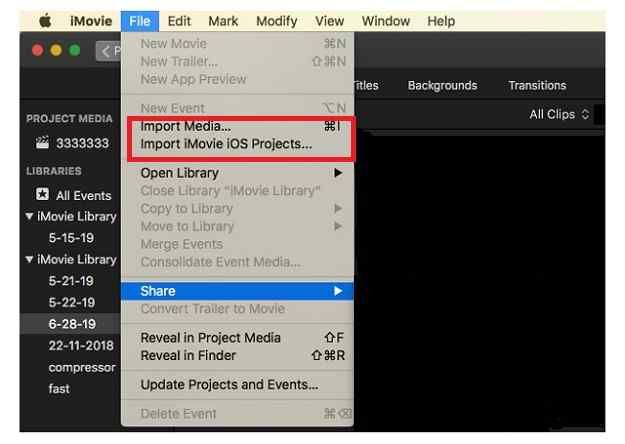 Step 2: Once the iMovie video gets loaded, now, switch over to the "Share" menu and choose the "Export using QuickTime" option from the drop-down.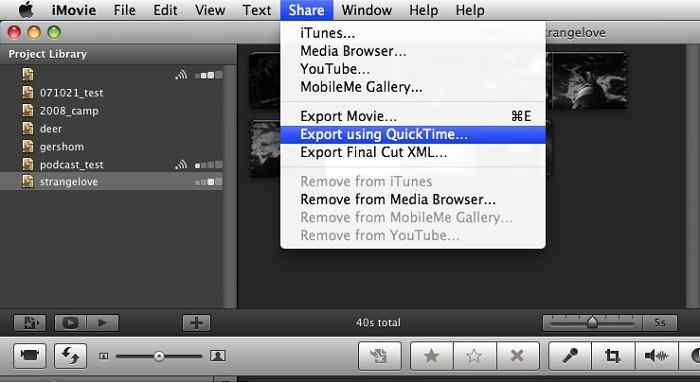 Step 3: A dialog box with the below interface will appear on which you have to enter the new file name and specify the destination where the file is to be saved.
Step 4
: In the Export area, select the option "Movie to 3ivx MPEG-4" from the drop-down that will export the
iMovie to MP4
.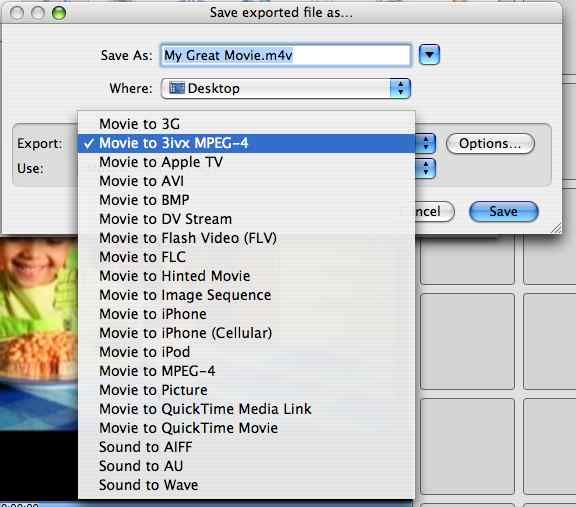 Once done, hit the "Save" button and wait until you receive a "Share successful" notification where the iMovie will be exported to MP4 and you can find it in the denoted location.
This is
how to export the iMovie project to MP4
with QuickTime on MacOS without the need for any third-party application.
Pros:
iMovie provides some basic video editing tools like titles, transitions, frame movements, and different fonts.
iMovie supports Mac and iOS-based devices.
iMovie offers handy green-screen controls and video overlay tools.
Cons:
iMovie isn't reliable or compatible with Windows.
iMovie doesn't possess direct import or AVCHD editing abilities.
Part 2. Best alternatives to export iMovie to MP4 on Mac
iMovie is undoubtedly the best platform to export iMovie to MP4 but if you are a person who wishes to afford an all-in-one solution comprising all editor tools, and conversion capabilities, you can consider trying out the best alternatives to iMovie that we have in store for you.
1. Aicoosoft Video Converter
Aicoosoft video converter is the best alternative to iMovie that stands first on the list. Aicoosoft supports all latest versions of Mac including MacOS 10.13 or the later ones as well. It is an ultimate iMovie film exporter to MP4 that comes up with an in-built video converter, compressor, audio/video downloader, DVD converter, and screen recorder. With an intuitive easy-to-use interface, Aicoosoft offers an attractive video editing toolkit that can be readily used by professionals and beginners.
Key features of Aicoosoft video converter
Convert a file or iMovie project to 1000+ formats like MP4, MPEG, M4V, MKV, and MOV.
Aicoosoft is equipped with lossless conversion technology and GPU Acceleration that does the export at a 30X faster speed for batch conversion as well.
With 10 years of experience in the media field, high-quality produce is guaranteed.
Aicoosoft is 100% secure with no virus or malware.
How to export iMovie to MP4 wwith Aicoosoft video converter?
With Aicoosoft, iMovie export to MP4 is too easy in just 3 steps, and here is a manual to show you how to export iMovie project to MP4.
By entering the link,
https://www.aicoosoft.com/video-converter.html
, download a free version of Aicoosoft for your Mac device.
Step 1

Import iMovie project or files

To start with, launch the Aicoosoft software on Mac, and open it. On the primary window, import the iMovie project or files stored on your device by clicking the "Add Files" option.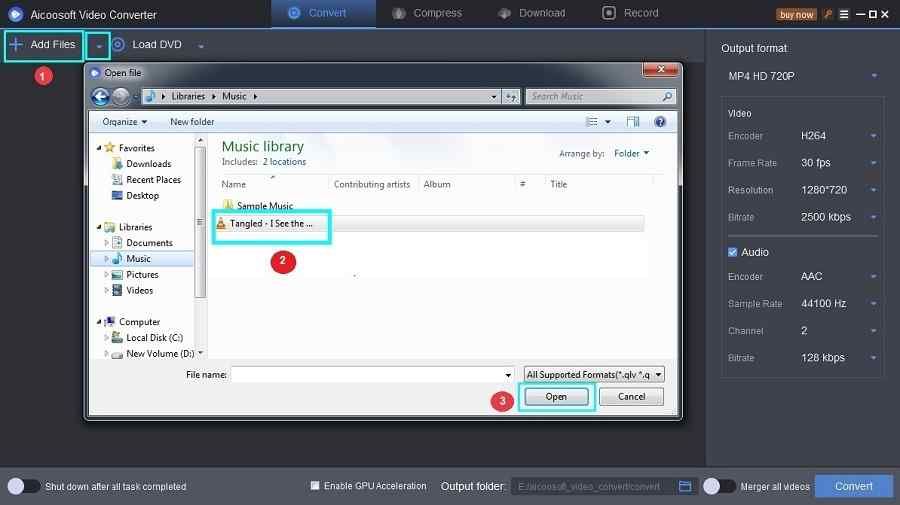 Step 2

Choose MP4 as output format

Once the iMovie is imported, edit the file if needed using the scissors icon below the loaded video.

Else choose the output format as "MP4" from the left panel along with a resolution to

export iMovie to MP4

.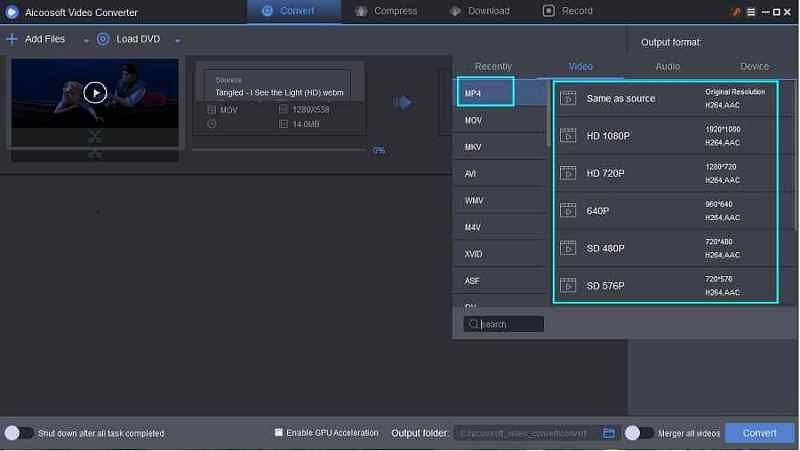 Step 3

Hit the "Convert" button

Enable the "Enable GPU Acceleration" checkbox if required and tap the "Convert" button to start the MP4 export process.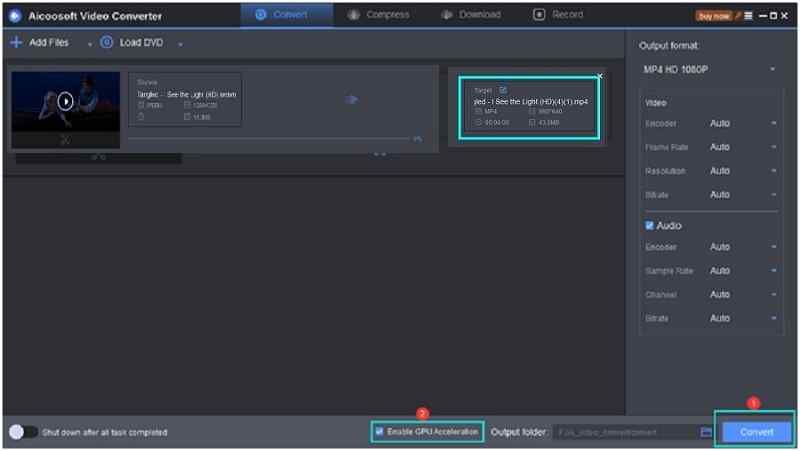 The iMovie file will now be exported to MP4 and you can locate it by clicking on the "Open Folder" option.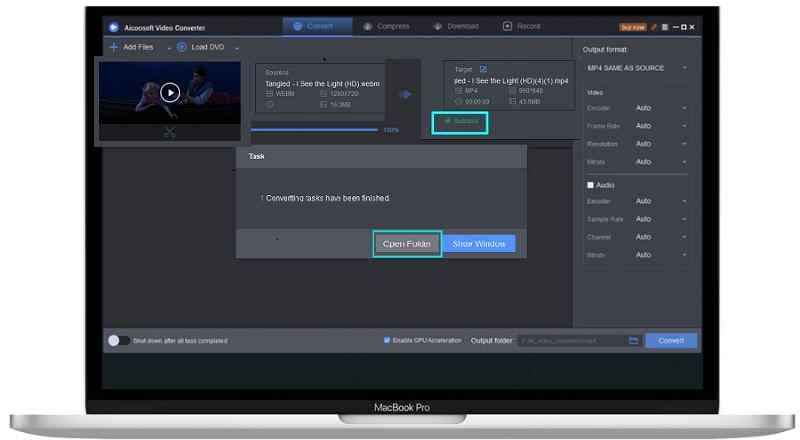 All thanks to the technical development team behind Aicoosoft for making the iMovie export to MP4 an easy task.
2. HandBrake free video converter for Mac
Yes, HandBrake video converter support iMovie export MP4 as well completely for free if you never wish to pay for a video converter for a single purpose. It is a practical option that is good-to-go unlike Aicoosoft and hence has marked its place as the best alternative to iMovie. Before making an iMovie export to MP4 on your Mac device with Handbrake, make sure that your device is completely updated and install HandBrake for Mac as per your system requirements. If you have it already on your MacBook, update to the new version for smooth functionality.
Steps to export iMovie to MP4 with HandBrake
For better understanding, we have a step-by-step guide on how to export the iMovie project to MP4 on Mac with handbrake.
Step 1: Open the Handbrake application on your Mac device and add the iMovie project by clicking the "Source" menu or a simple drag-and-drop will do.
Step 2: Specify the destination directory for the MP4 files to be saved.
Step 3: In the format specification, choose "MP4" from the drop-down. Else you can directly choose your device from the presets panel on the left corner.
Step 4: Specify the audio/video/subtitle format and customize the settings if required.
Step 5
: Once you are done with the above steps, tap the "Start" button on the top toolbar to export iMovie to MP4 on Mac.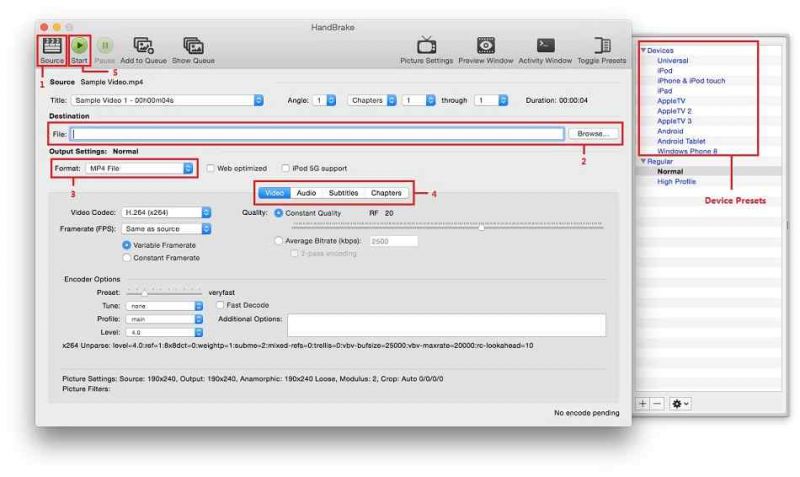 Conclusion
I hope your search or confusion on how to export the iMovie project to MP4 has come to an end or relieved by now. While iMovie is the best software from the side of Apple for an iMovie export to MP4, when it comes to video editing, and other functionalities, Aicoosoft suits to be the best alternative that is easy-to-use with attractive embedded technologies and is strongly from our side. If you are looking out for a simple tool, Handbrake could suffice.