"Can I convert movies to MP4 for iTunes?" - Anonymous.
"iTunes doesn't support this video. Try it out later". "This movie cannot be added to iTunes library" - do you experience such issues when uploading or exporting your favorite movie to iTunes so that you can watch them anytime. While iTunes is the propriety application dedicated by Apple for Mac and iOS device users, specific video file formats are not supported or played smoothly in iTunes. Never worry or get fed up as MP4 conversion comes up for a rescue. Yes, you can convert a movie to MP4 and play it anytime on your device. Check out some of the easy ways to how to convert movies to MP4.
Part 1. Why do you need to convert movies to MP4?
Various video or digital container formats are well suited to store videos, audio, and subtitles like MOV, M4V, and MP4. But when it comes to smooth streaming or playing in media players and libraries, certain restrictions are followed based on codecs and compression.
Especially when it comes to iTunes, audio extension with MP3 and M4A are supported, whereas for video files, MP4, MOV, and M4V are the preferable ones. MOV is a larger file container, but you can't play video podcasts with MOV extension on iPods and specific portable devices. Additionally, iTunes doesn't support another popular and modern format called WEBM, where there rises the importance of converting it to any other compatible video format. For compatibility, streaming video on media players, social media sites, and other platforms, MPEG-4 (MP4) format with an H.264 compression method is preferred and suggested. That is the reason behind to convert movie to MP4.
Part 2. The best way to convert movies to MP4 for iTunes
Now, since you have a reason and a clear view of why you need a movie convert specifically to the MP4 format, let's look at the best way to convert movies to MP4 for iTunes.
Aicoosoft Video Converter
Aicoosoft video converter is recognized to be the No.2 ultimate video converter solution that is cost-effective as well. When it comes to the movie to MP4 conversion for iTunes, Aicoosoft does it in just seconds as a piece of cake and is compatible with Mac & Windows. It could be a batch conversion or a batch edit; Aicoosoft can accomplish the task with a 30X faster speed. Crafted with lossless conversion technology, and the development team behind Aicoosoft guarantees multi-core optimization technique, a high-quality outcome in a limited time!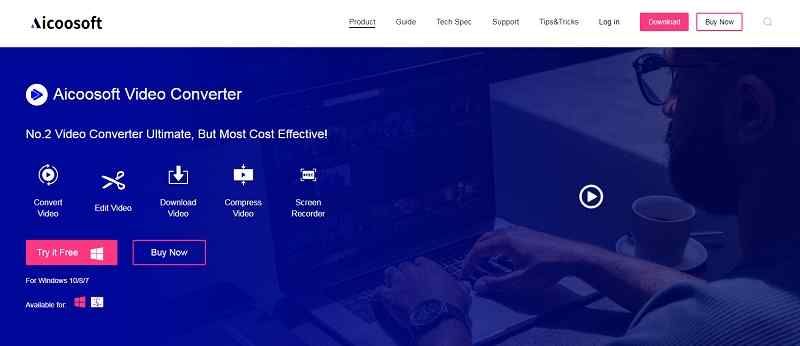 Key features of Aicoosoft Video Converter
Convert movie to MP4 format with 30X faster speed without quality loss.
Convert a film or video file to 1000+ audio/video formats, including the traditional, famous, and modern like WEBM.
Aicoosoft has an in-built audio/video downloader with which you can download a movie converted to MP4 directly from 1000+ streaming sites.
Need to burn the converted movie to MP4 to the DVD? Aicoosoft has a DVD converter supporting process in just three clicks.
How to convert movies to MP4 with Aicoosoft Video Converter?
With no delay, let's get directly to a step-by-step guide to answer how to convert movies to MP4 format with Aicoosoft.
Aicoosoft offers a free trial for its users before purchasing a premium package where you can download it from
https://www.aicoosoft.com/video-converter.html
.
Step 1

Install & open Aicoosoft Video Converter

Once installed, open Aicoosoft, and you will be on the convert tab from where you can add the movie from the device by tapping the "Add Files" option.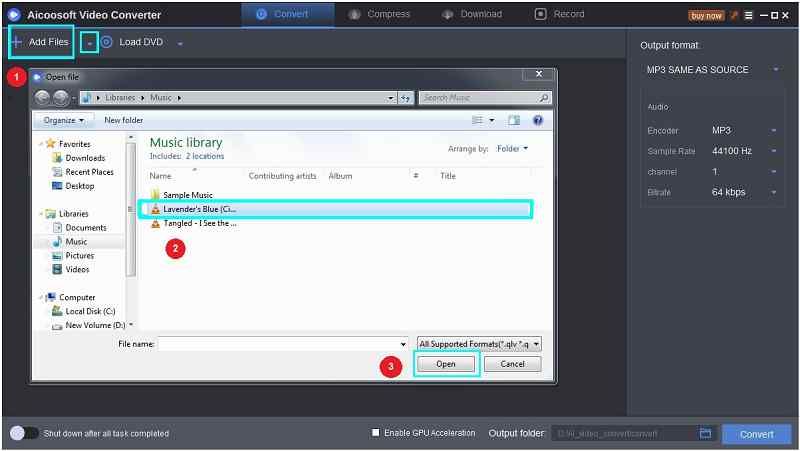 To add the entire folder, you can use the inverted triangle icon.
Step 2

Choose MP4 format

We uploaded a WEBM file here for an example. Once loaded, you can choose the output format as MP4 from the right panel along with resolution.
Step 3

Tap the "Convert" button

You can hit the "Convert" button to start to convert the movie to MP4.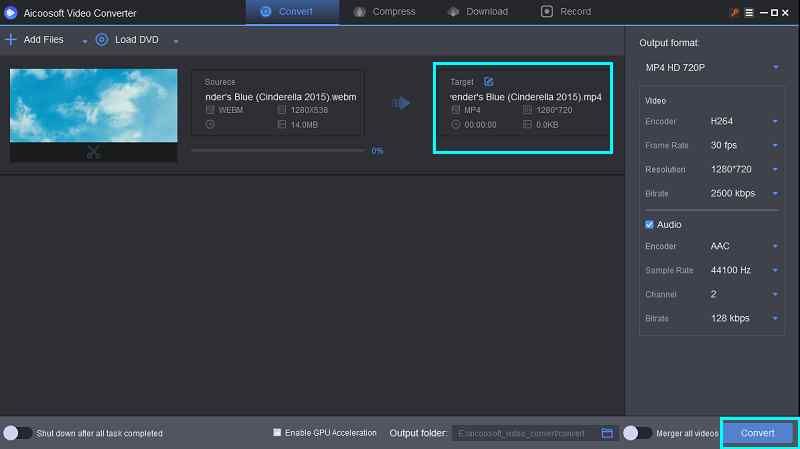 Step 4

Find the MP4 movie

Aicoosoft would take a few seconds or a minute to complete the conversion where on success notification, click the "Open Folder" option to locate the movie.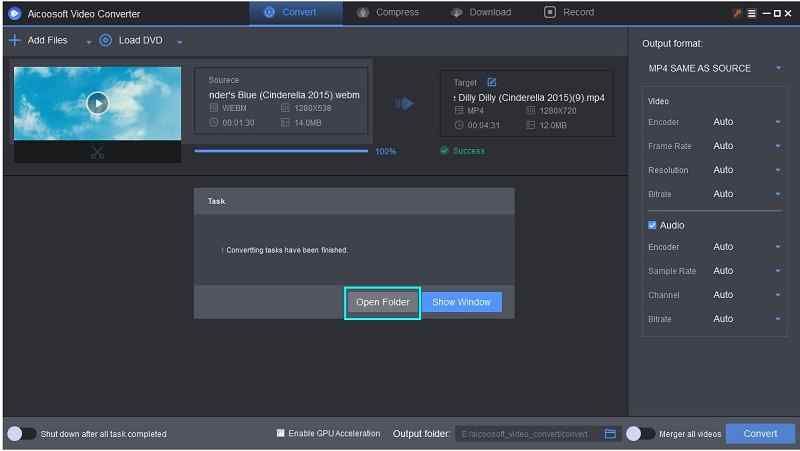 Part 3. Top 3 best free way to convert movies to MP4 for iTunes
It is always okay to look around for otherbest ways to convert movies to MP4,and so, we have picked three top freeways as alternatives.
A. VLC
Yes, VLC can not only play movies or music but can convert movies to MP4 without the requirement of a third-party application. To make your task more accessible, we have a manual guide on converting movies to MP4 with VLC.
1. Open the VLC application and execute "Media > Convert/Save."
2. Now, select the movie files from your computer or device and click the "Add" button.
3. Below the "Show more options" option, choose "Convert" from the drop-down.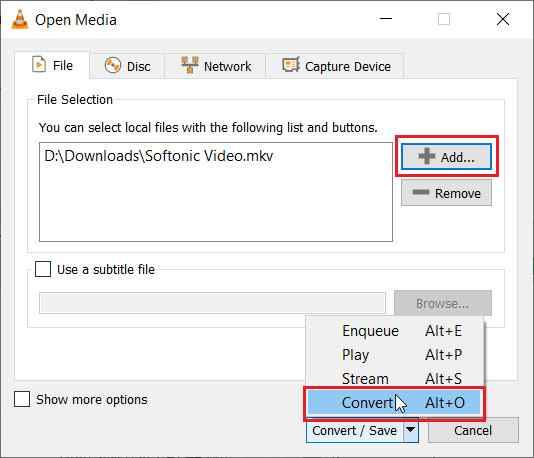 4. Now, a pop-up box will appear relating to the convert perspective where you need to specify the destination folder and the output format (MP4).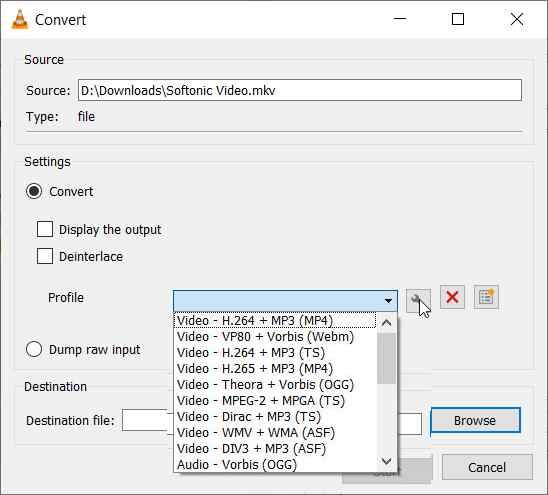 5. Once specified and made the settings, you can tap the "Start" button to do the rest of the process.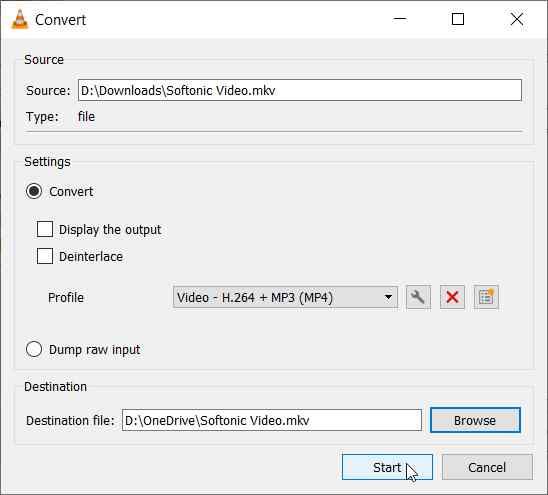 B. HandBrake
HandBrake is our next software tool that can convert movies to MP4 for iTunes absolutely for free. Install the application on your device to start the process.
Steps to convert movie to MP4 with HandBrake
1. Open Handbrake and select the "Open File" option from the Source menu on the top toolbar.
2. Handbrake lets one customize the result file by specifying the container type and size of the video resultant.
3. You then need to browse the location and name in which the MP4 file is to be stored.
4. Then hit the "Start" button on the top toolbar.
5. HandBrake shows the progress of the conversion with percentage completed and time remaining for conversion.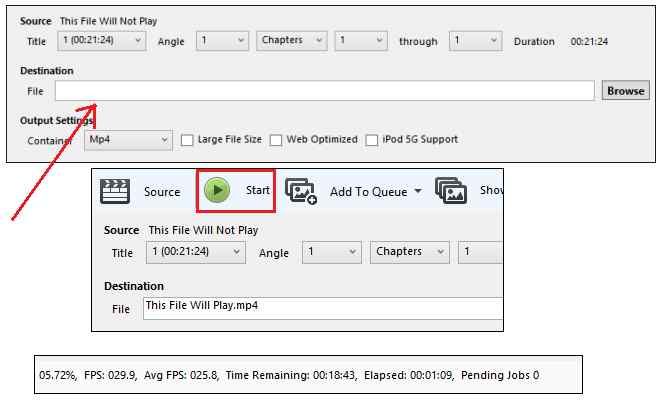 C. Freemake
Freemake is our last free way to convert movies to MP4. To convert movies to MP4 for iPad with Freemake, follow the below steps.
1. Launch Freemake software, open it, and clip the "+Video" option from the welcome window to add the movie file.
2. From the bottom, choose the "To MP4" option.
3. Set the codec type, check the location, and hit the "Convert" option.

4. The process will now start, and you can see the progress on the screen.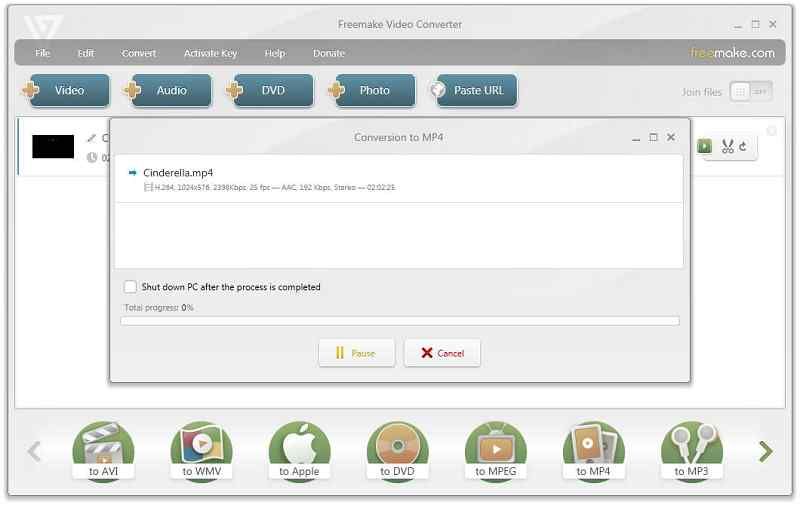 Part 4. FAQs
1. Does iTunes accept MP4 files?
Yes, iTunes supports MP4 files with H.264 compression.
2. What is the iTunes video format?
The primary iTunes video format is M4V, a digital video container developed by Apple. M4V is quite similar to that of the MP4 format.
Conclusion
I hope you have now learned how to convert movies to MP4 for iTunes and why such conversion is mandatory. Raw video converters, like VLC, Handbrake, and Freemake does a great job. But if you are looking out for an ultimate solution to convert movie to MP4, Aicoosoft Video Converter can do wonders with no doubt!