"How can I split MP4 files into parts for free?" – Anonymous
People face issues while uploading large-sized MP4 videos over the Internet due to different ways of shooting. Therefore, the lengthier the file, the longer it takes to upload. Thus, the primary reason behind using MP4 Splitter. MP4 Splitter for Windows and other OS reduces the size and length of MP4 videos and further makes them acceptable over the Internet.
So, stay tuned as we share the best MP4 video Splitters below.
Part 1. How do you split a video into two parts?
Aicoosoft Video converter
You can split a video into different clips to make it easy to upload, transfer, and distribute. To efficiently split your large or even small MP4 files, you are required to have an advanced video editor that can do all such task in simple steps. So, let's start by considering our very own Aicoosoft Video Converter to splitting MP4 videos. Recognized to be the best MP4 video splitter, Aicoosoft is the No.2 ultimate video converter solution that accomplishes the task without quality loss.
Key Features of Aicoosoft Video Converter as an MP4 Splitter
Split MP4 videos 30X faster than other online tools.
It supports 1100+ formats for video conversion, compression, editing, and download.
It has a superfast file uploading speed over other software due to AI technology.
No loss in the original quality of MP4 video after output due to lossless conversion technology.
How to use MP4 Splitter by Aicoosoft Video Converter?
Consider the guide given below to use super-efficient and trustworthy MP4 Splitter by Aicoosoft Video Converter.
The best part is that it is the ideal MP4 Splitter for Windows and MP4 Splitter for Mac for free where you can download it from https://www.aicoosoft.com/video-converter.html.
Step 1

Add MP4 video clips

Launch the Aicoosoft Video Converter software and click the Add Files button to upload MP4 video clips.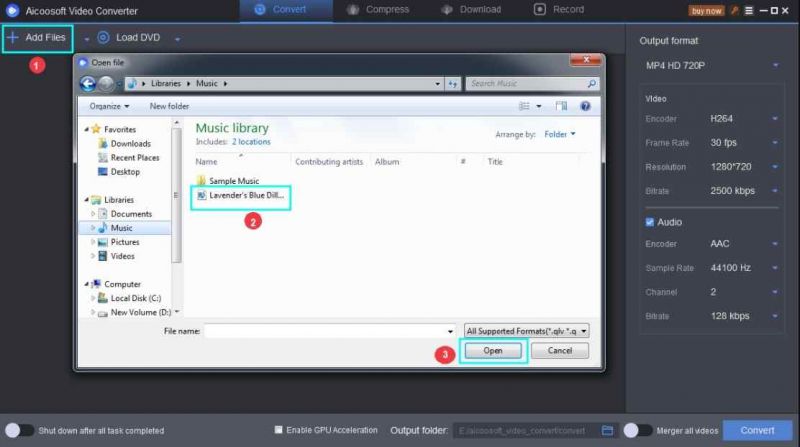 Step 2

Split the MP4 video

The next step is to click the Trim button after the video upload process is complete. To trim the video, click the cut or scissor icon given right above the timeline. You can then choose the time instance via pin option and cut the video you want to trim.

Make sure to select the 'As separate files' option and hit the Save and Close button to proceed.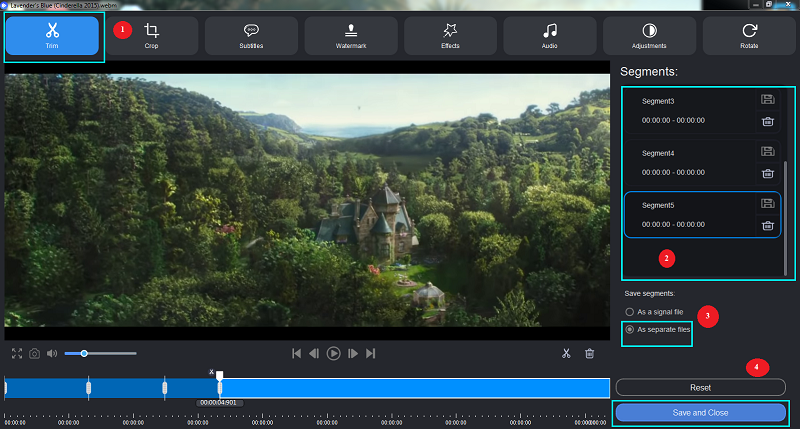 Step 3

Convert & locate the video clips

Now, press the Convert button.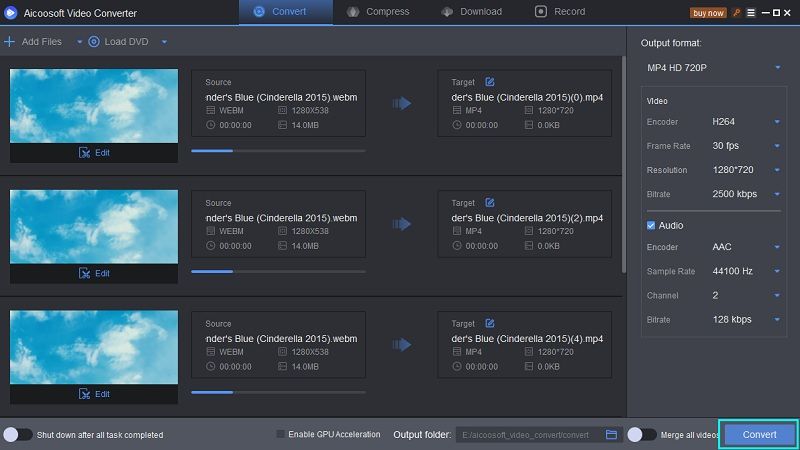 After the process is complete, you can hit the Open Folder button to find the split video clips.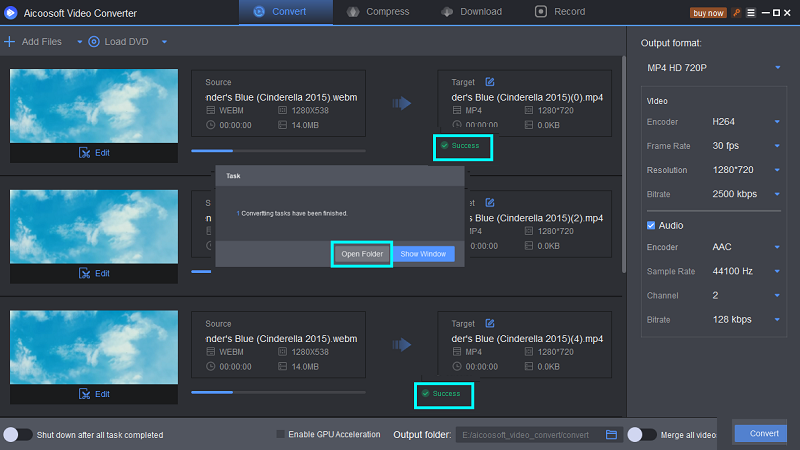 Part 2. Top 6 MP4 Splitters in 2021
If you are looking for MP4 splitter online, you may be disappointed, because most of the online tools can only cut a video, but cannot split the video into several segments. Here, we will recommend the top 6 MP4 Splitter for PC, including some freeware with respective features and their pros and cons. You can choose one or more of them to try.
1. iMovie
iMovie is an MP4 Splitter for Mac free specially designed to meet the video editing demands. You get to see three options over its main interface, including Media, Projects, and Theatre. The Projects option is where you are going to do the entire editing task. You have two choices of Movie and Trailer if you want to edit a movie in iMovie.
To use the iMovie MP4 Splitter online, you are required to first create a project and add video clips. While the clip is in timeline, you can adjust its duration, remove unwanted sections, and add different titles.
The first step is to position the play head or white line in the timeline over the duration you want to split the clip. Then, 'zoom' the clip by pinching it in the center. If you are on Mac, you can do it by selecting option View> Zoom In. Now, tap the clip and action button of scissor and finally hit the Split button.
And, the Mac requires you to enter the following command.
Choose
Modify
>
Split Clip
.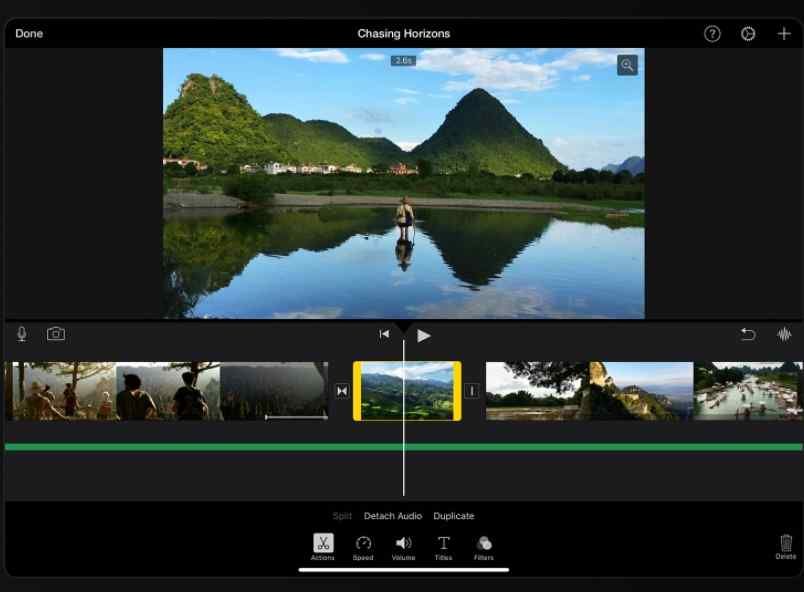 Pros:
Various other editing options
Free
Cons:
Not a custom interface
Not for Windows users
2. Avidemux
Avidemux is another best MP4 Splitter online with simple video editing features. It is also a great option if you want to configure or encode a specific speaker setup video. Avidemux is a freely available video editor to make quick cuts and edits. However, the interface is quite primary and doesn't include any timeline or a central pool for images, video clips, and audio files.
There are A and B icons within the Avidemux, with the help of which you can split the MP4 video. So, you need first to open the program and select the MP4 video. Then, take the required steps of clicking the A and B icon to split it, and you are good to go.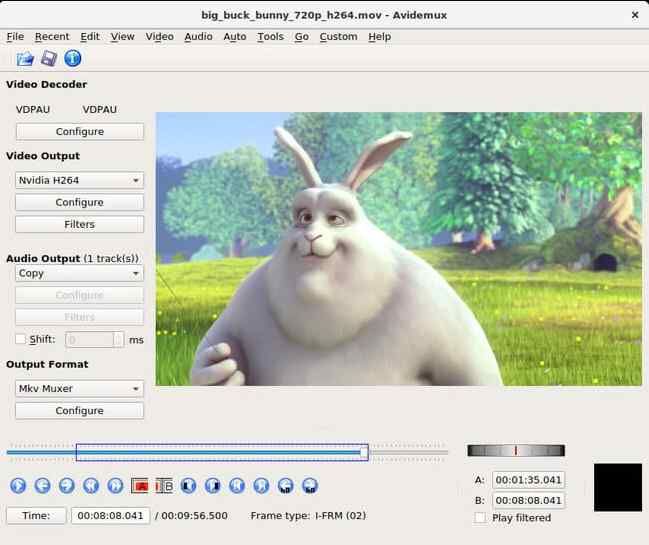 Pros:
Simple user interface
Great encoding options
With de-noising & sharpening filters
Cons:
A bit slow to upload MP4 videos
Outdated interface
3. Windows Movie Maker
Windows Movie Maker is another excellent video editing program designed for Windows users. It offers various tools, including effects, themes, templates, and transitions, to make a good movie. Overall, it's a free app version with an intuitive user interface. You can edit both videos and photos with Windows Movie Maker. All the clips can be visible in the Project library on top. However, it contains a linear Storyboard without any layers.
Using this MP4 Splitter for Windows needs a little bit of learning as the interface may seem confusing, especially to a beginner. Firstly, you are required to hit the Add Videos and Photos button to upload the video clip. You can then select the part in the timeline that you want to split and right-click to confirm. Now, the confusion comes when you can't find the specific video sections.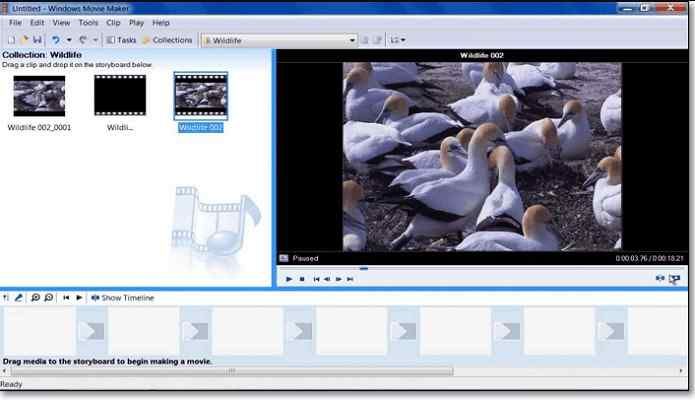 Pros:
Simple user interface
Fun effects
4. Lightworks
Here's another powerful video editing suite by Lightworks. The tool has professional tools that are flexible and fast when it comes to video editing. It further comes with a well-designed timeline to do the video editing task. It comes with preset profiles to export your projects in the right formats. Lightworks is packed with specific real-time effects to tune further your video, including blurs, masks, and color correction.
You are required to upload the video clips and cut the sections you want to split. Press Ctrl + C on the keyboard and then delete the scenes you want to break. Well, we find the process a bit confusing when you have not learned from any tutorials.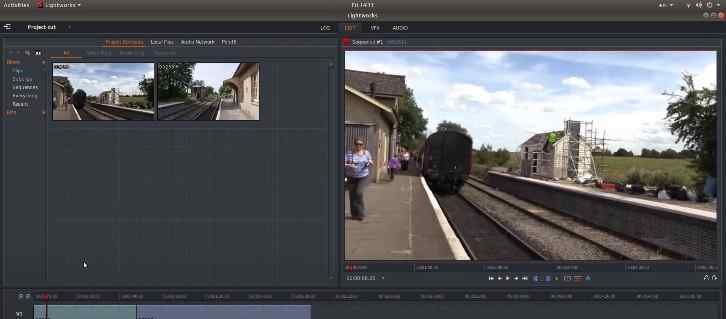 Pros:
Advanced video editing tools
Free for home users
With real-time effects
5. MP4 Splitter - Bandicut
Bandicut is a video editing/joining software with a simple user interface. The users are allowed to trim the parts quickly while keeping the video quality original. With Bandicut, it is easy to choose a cutting area and merge different videos. You can split large videos into smaller clips or trim unwanted sections such as outtakes, commercials, and trailers.
You can use its video splitter (MP4 Splitter) after downloading the free version of Bandicut. You can further select the segments and choose the modes to confirm video splitting.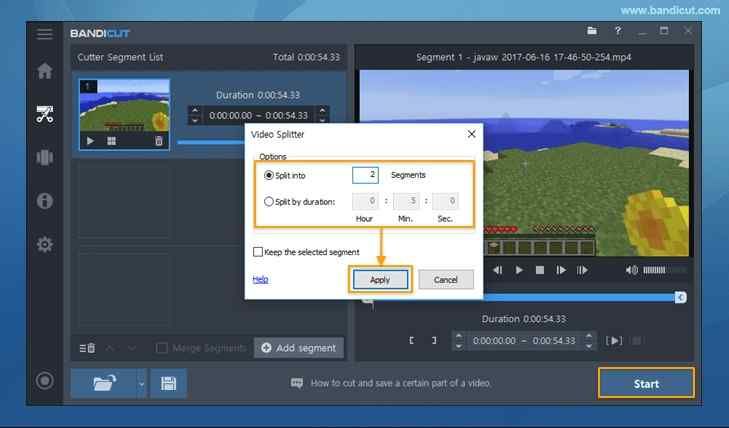 Pros:
Easy video cutter
No loss in original quality
Cons:
Limited features in free versions
6. Clideo
Clideo is a free online tool with various video editing features. It consists of tools to edit, create, combine, and compress videos for better delivery. You can also create a slideshow by uploading any music or video files. All-in-all, Clideo is an online video editor with exclusive characteristics such as Flip Video, Compress Video, Rotate Video, Meme Maker, Merge Video, Add Subtitles, and so on.
If you want to use MP4 Splitter free by Clideo, you must first upload the MP4 clip over its official website. Then, you can use the Clideo's editor tool to split MP4 video into parts. There is also an option to fade in or out the video basis the parts you want to extract or delete.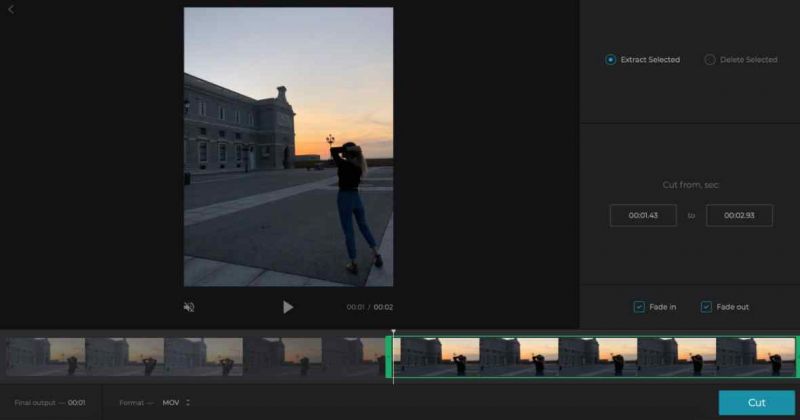 Pros:
Various editing tools
Free & online
Conclusion
Thus, after discussing the six best MP4 Video Splitters, it's high time to mention what our reliable pick would be for you. No doubt, the online tools we mentioned are pretty good at their tasks, but every instrument is quite outdated and slow in its performance. Also, since they are online tools, they aren't that secure. Therefore, they may not compete with Aicoosoft Video Converter, which is super fast and trustworthy software than any online tool available in the market.