Nowadays everyone has a Whatsapp account on their mobile phones. Whatsapp is a highly popular messaging app that is used around the globe to send or receive messages, calls, documents, photos, and videos. Sending large mp4 files through Whatsapp is a hot topic among users because most of us are struggling or searching on Google how to reduce mp4 file size for Whatsapp. After all, Whatsapp doesn't allow users to send large files. Read this article to learn how to compress MP4 video files for Whatsapp.
Why do we need to reduce mp4 file size for Whatsapp
The maximum file size allowed to sent or forward any media through WhatsApp including videos, photos, or voice messages is 16MB. This is equal to about 90 seconds to 3 minutes of video in most phones. Depending on the quality of your phone's video camera the maximum video duration can vary. You can record a lower resolution video if you want to send a longer video and send it to your contacts by using the feature of attaching media in a chat. A video with a maximum duration of only 30 seconds can be shared on Status. You can't share longer videos on Whatsapp status. Not only this Whatsapp also has a restriction on the format of files. The supported formats on WhatsApp include AVI, 3GP, MP4, MKV, and MOV. Video file support is also affected by video and audio codecs. 
Part 1. How to reduce mp4 file size for Whatsapp without loss quality
If you are confused about how to reduce mp4 file size for Whatsapp without losing quality then you can use Aicoosoft Video Converter. With this software you can convert, download, edit, record and compress MP4 video files videos without any trouble. Aicoosoft Video Converter is used in more than 150 countries and is recommended by thousands of media websites. Aicoosoft Video Converter is secure, professional, and easy to use. It comes with a free trial version and gives 24-hour customer support to its users. Aicoosoft Video Converter is compatible with both Windows and Mac OS.
Key features
Convert video/audio files to more than 1000 formats
30X Faster Video Conversion rate
Convert 4K/HD Video effortlessly without any change in quality
Compress HD Videos
Power Packed with other useful tools such as video editor and video recorder
User friendly interface
Cost-efficient
High-quality performance
How to reduce mp4 file size for Whatsapp without losing quality?
To reduce MP4 file size without losing video quality follow these easy steps:
Step 1

Download Aicoosoft Video Converter

Open aicoosoft.com and download Aicoosoft Video Converter. Follow the instructions to install Aicoosoft Video Converter on your computer.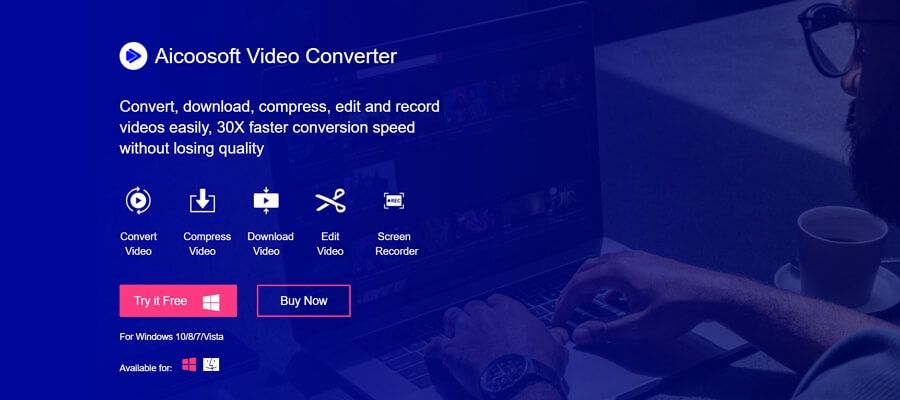 Step 2

Add a Video

Open Aicoosoft Video Converter and add a video by clicking on the Add Files button at the upper left corner.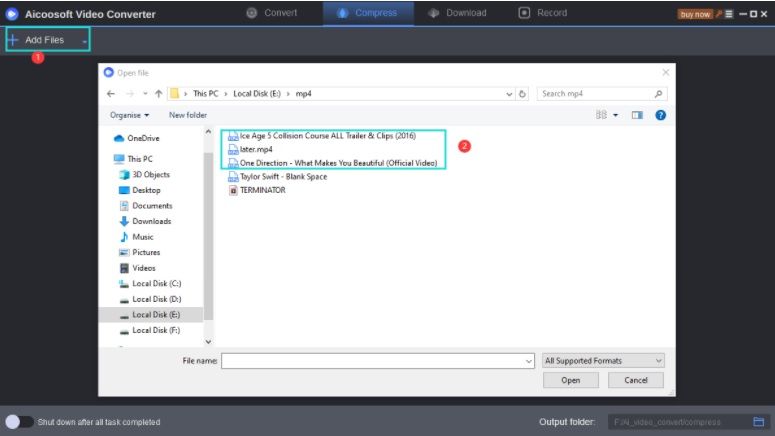 Step 3

Choose the resolution and format

Click the inverted triangle icons beside the video format to choose the resolution and format of the output according to your need.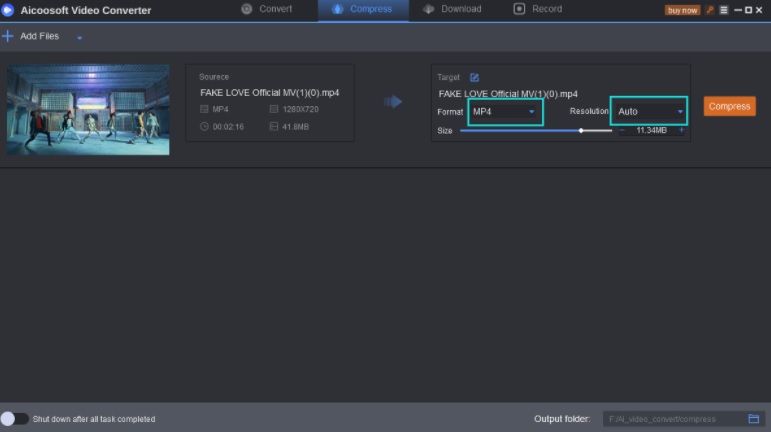 Step 4

Start Compressing your MP4 Video file

Start compressing the video by clicking the Compress button on the right side.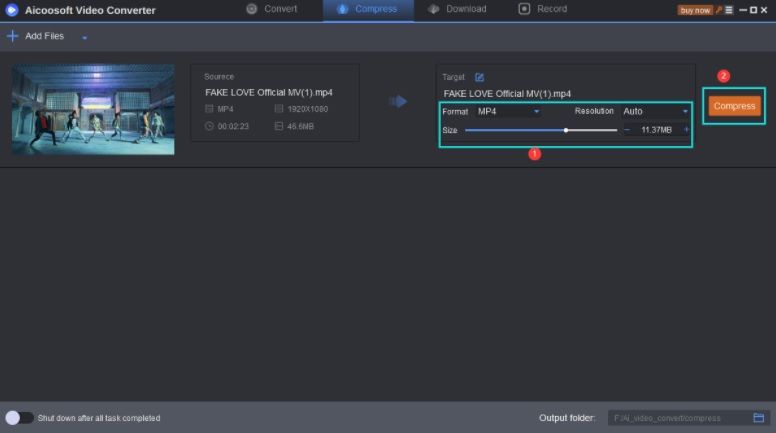 Step 5

Locate the compressed MP4 Video file

Click the Output Folder icon at the lower right bottom to open the folder containing the saved compressed videos.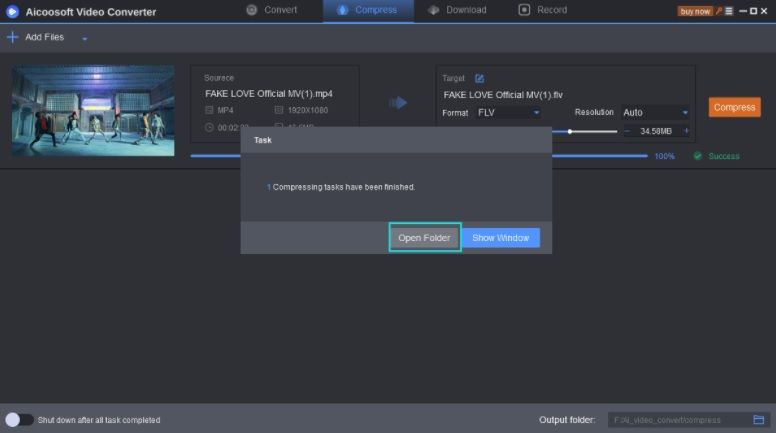 Part 2. How to compress mp4 video to smaller size online free for WhatsApp?
You can easily compress mp4 video files to a smaller size with Clipchamp. Clipchamp is a free online video editing software that allows you to trim, combine, edit, and reduce the size of mp4 video files.
Pros:
Easy user interface
Faster input
Cons:
Occasional bugs
Compressing videos may cause a loss in video quality with grains
Not a standalone app
Mid-range performance
Only available as Google Chrome extension
How to compress mp4 video to smaller size online
You can compress your MP4 files online to a smaller size with Clipchamp by following these steps:
Step 1

Upload your video

Open Clipchamp and upload your video to Clipchamp's Utilities dashboard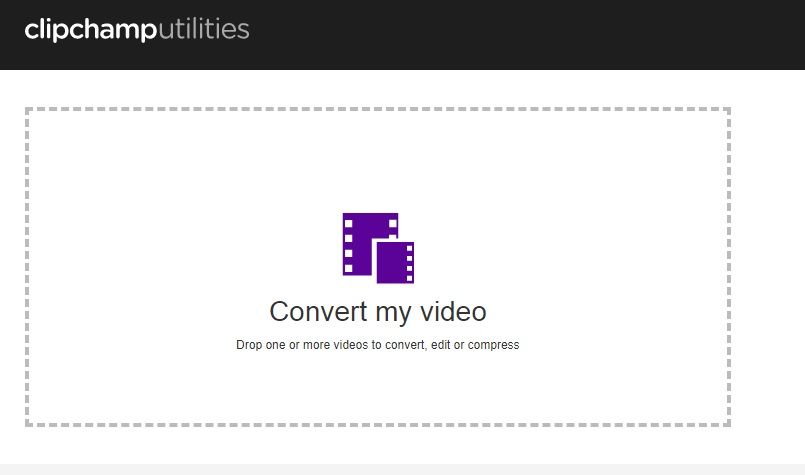 Step 2

Select Settings

Customize the settings according to your need or use the recommended settings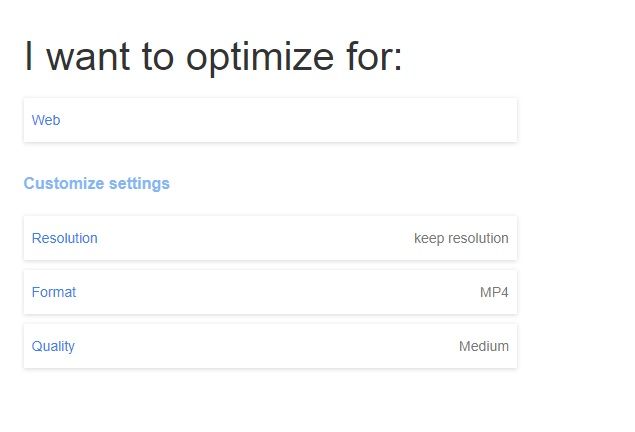 Step 3

Compress

Click Start to initiate the compression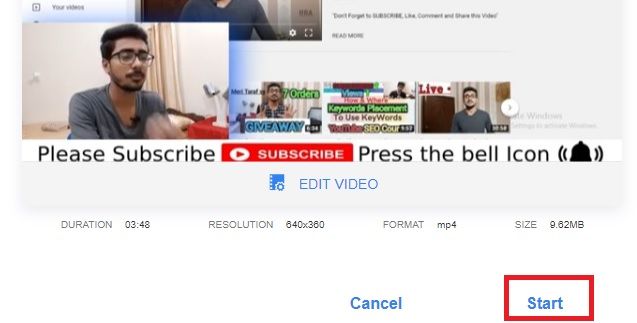 Step 4

Preview

Preview the compressed video online. If you are satisfied with the results Save the compressed video to your computer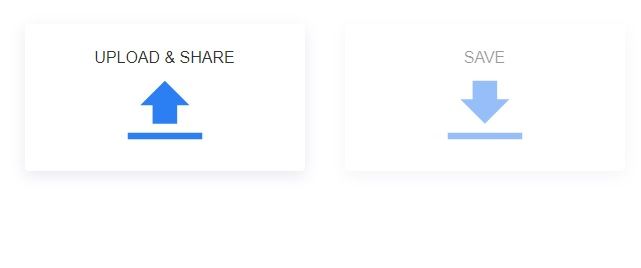 Part 3. Best Whatsapp Video Converter for Android/iPhone
If you are looking for the best Whatsapp video converter for Android/iPhone then the Video Converter, Editor is the most suitable option. Without altering the quality of final video this app can easily convert, compress and edit your videos. It supports various file formats such as MKV, MOV, MP4, AVI, etc.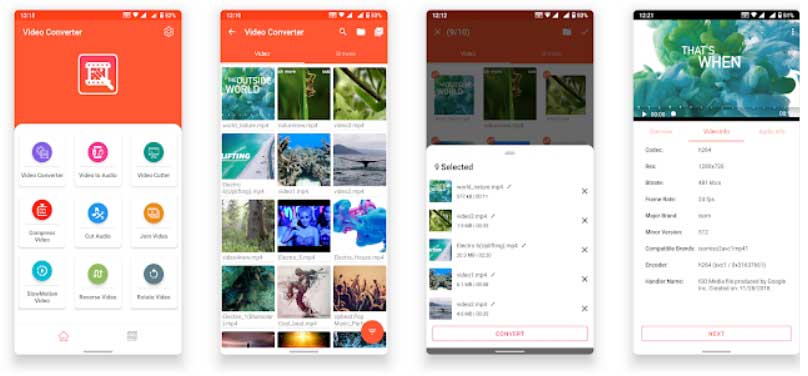 URL: https://play.google.com/store/apps/details?id=jaineel.videoeditor&hl=en&gl=US
Pros:
It has an easy user interface and even a novice can use it
You can convert your videos to many different formats
It has multiple language support
Cons:
You need to buy the full version to explore all features
Better video converters are available in the market than Video Converter, Editor
Slow video conversion rate
Part 4. Frequently Asked Questions
How can I send a large video on WhatsApp?
You can send large videos on Whatsapp by compressing the video or by trimming it to smaller videos. You can download or use an online video editor to reduce the size of MP4 video files.
How do I keep video quality on WhatsApp?
To keep the video quality on Whatsapp instead of sending a video directly from the gallery use the attachment option to send the video as a document. When you send a video as a document Whatsapp doesn't reduce or compress its quality.
Why WhatsApp is not sending full video?
Whatsapp has a video limit of 16MB and it doesn't allow its users to send or receive any files greater than this size. You can use a video editor to reduce the size of the MP4 file.
What is the Whatsapp video size limit?
The maximum size to receive or send any video on Whatsapp is 16MB.
Will MPEG play on DVD player?
DVD players do recognize MPEG formats and thus MPEG files can be played on a DVD.
How to reduce the size of the mp4 file for email?
You can easily send large mp4 files through email by zipping them or you can use a video converter such as Aicoosoft to compress them. Aicoosoft video converter is super fast and supports 1000+ video formats.
How to send video on Whatsapp without compressing?
If you want to send videos on Whatsapp without compression then send your videos as Documents. Open Whatsapp chat and tap the paper clip icon. Select Document and browse through your phone to select the video. Tap Send. Your video will be sent without any loss in quality.
Does WhatsApp support m4v?
Whatsapp only supports AVI, MP4, 3GP, MKV, and MOV video formats. If you want to send an m4v file on Whatsapp then first convert it to a supported format.
Does WhatsApp compress videos?
Yes, Whatsapp compresses videos so that it can upload the video faster on its server and less bandwidth is used.
Conclusion
You might have found the answer on How to reduce mp4 file size for Whatsapp by reading the above article but not all methods work proficiently. It is highly recommended that you use Aicoosoft Video editor to compress or reduce the size of large MP4 video files because it is praised and used around the world.