"Does anyone know a great tool to convert DVD to MKV? I have a bunch of DVDs that I want to convert to MKV so I can have digital copy on my computer. Any help would be greatly appreciated"
Converting DVDs to any format is never easy, especially when you don't have the right tool to do it. While there are a lot of tools in the market that may claim to help you convert DVD and Blu-ray to MKV, most are ineffective and may end up damaging the video or converting it to a much lower quality than the original.
If you are looking for an easy, yet effective way to rip DVD to MKV, this article will share with you two great solutions to choose from. Let's begin with the best tool for the job.
Part 1. How to Convert DVD to MKV without Losing Quality
The best tool to use when you want to convert DVD to digital formats like MKV without losing the quality of the original video in Aicoosoft Video Converter. It is the best tool for downloading, compressing, editing, recording and converting videos to other formats at an affordable rate. The following are some of its most useful features:
Aicoosoft allows you to easily convert DVD to MKV and 1000 other different video formats

It has a very simple and easily navigable interface, designed to make the whole process very easy

Since the conversion speed when using Aicoosoft is at least 30X faster, you can convert any video to MKV in minutes

You can also use it to record, download and edit videos
Begin by downloading Aicoosoft to your computer, run the installer to install the program on to your computer and then follow these simple steps to use it to convert DVD to MKV;
Step1
Run the program and select the "Convert" tab at the top. Click on "Load DVD" to begin adding the DVD that you want to covert.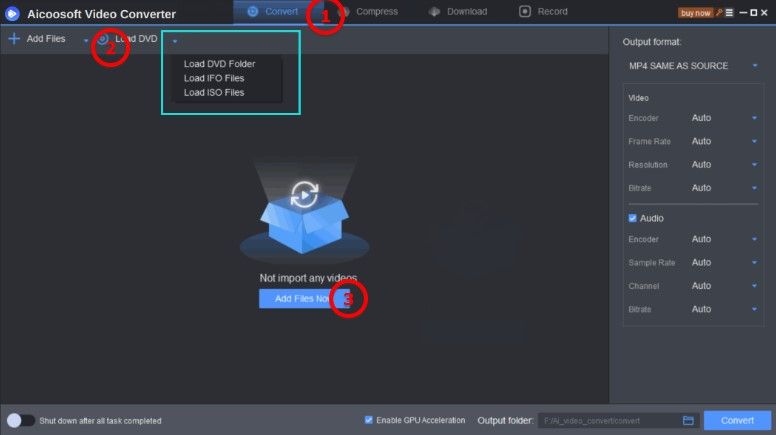 Step2
Next, you will want to select the output format you want to use. To do that, click on the dropdown menu under "Output Format > Video" and then select "MKV" (if you are unable to see MKV format on the list, use the "Search" function to use it. If there are any additional settings you would like to change such as the output quality, you can also select those in this window.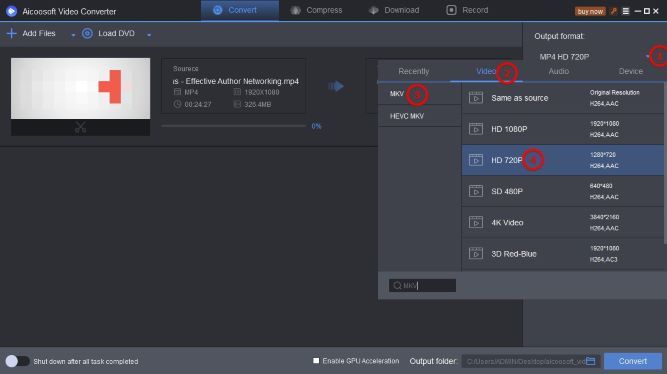 Step3
When you're happy with all your selections, click on "Convert" to begin the conversion process.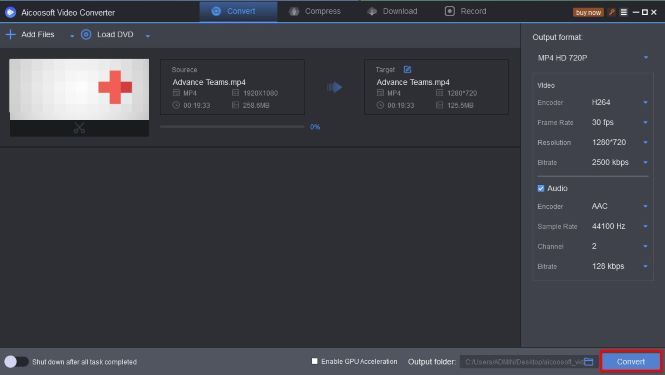 Step4
A popup will appear notifying you that the process has been completed. Click on the "Open Folder" button to locate the MKV file.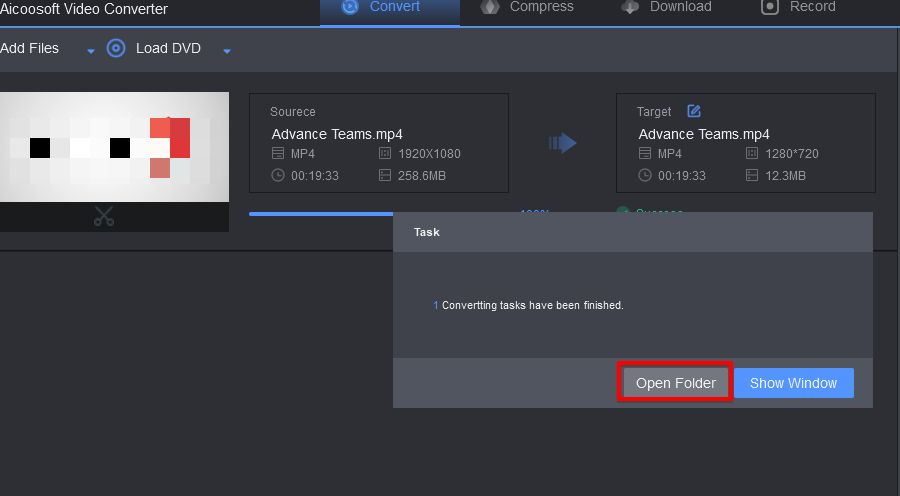 Part 2. How to Convert DVD to MKV for Free
If you would rather not use a premium program to convert DVDs to other formats like MKV, there are some free options out there for you. But most of them are ineffective, difficult to use and often unreliable. The only free tool that we feel we can recommend to you is Handbrake Video Converter. this is a free, open-source tool that can be used to rip DVD to a number of different formats including MKV. But like most free tools it has its own shortcomings. The following are some of its pros and cons;
Pros:
It is an open-source program and will therefore be completely free to use and download.
Unlike most other free video conversion tools, Handbrake doesn't take up too much of your computer's resources.
Cons:
You may find the interface a little difficult to navigate and use.
It only supports two output formats; MP4 and MKV.
How to Convert DVD to MKV using Handbrake
To begin the process of converting DVD to MKV using Handbrake, download and install this free tool to your computer and then follow these simple steps;
Step1
Open Handbrake and then insert the DVD into the computer's disk drive. You may also want to make sure that the DVD doesn't have copy protection as Handbrake may fail to rip it if it does. In the main window, click on "Source > Open File" to add the DVD to the program.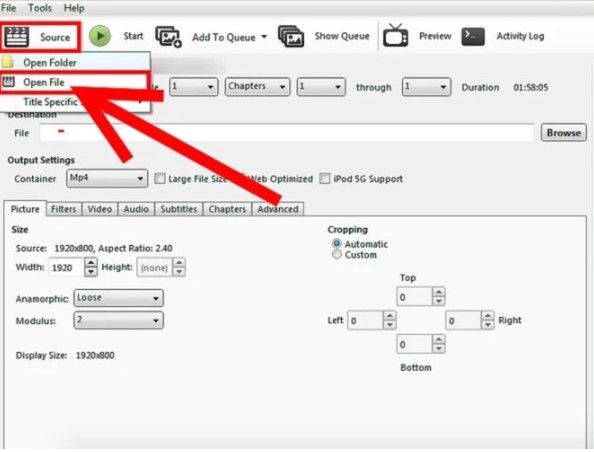 Step2
In the drop-down menu next to "Container" under "output Settings" select "MKV" as the output format we want to use. You also have a number of settings that you can use to customize the video as desired.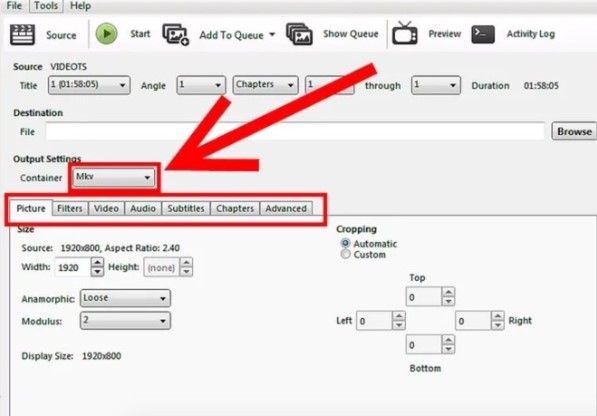 Step3
Once the various parameters are set just as you want them to be, click on "Start" to begin the conversion process. The video will be converted and then added to the pre-selected output folder.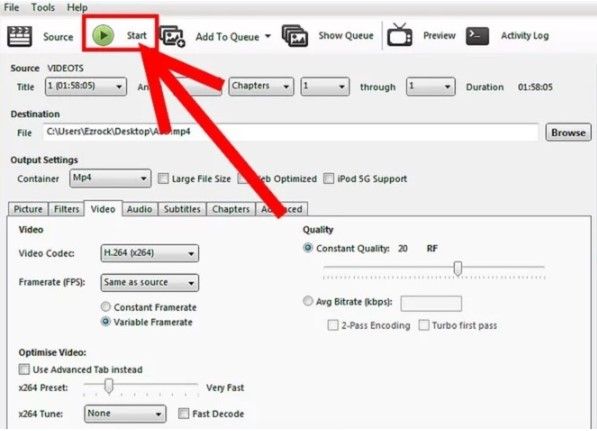 Part 3. How to convert DVD to MKV online
Aconvert is an online tool that can easily convert all kinds of images, videos, audios, archives, documents, icons, and ebooks for free. You can also convert multiple files at once with its option of batch conversion. Aconvert supports different formats such as WMV to MP4, AVI to MP4, WEBM to MP4, MP4 to MKV, MOV to MP4 or MP4 to GIF, etc.
Pros:
You can use it free of cost
Time-efficient and easy to use
You can use it without downloading it on your computer
Cons:
It has a file size limit and you can only convert a file of up to 200 MB.
How to convert VOB files in DVD to MKV online
If you want to convert VOB to MKV then use the following steps:
Step 1: Add Files
Go to www.aconvert.com/video/ and click on Choose Files to add the VOB file you want to convert. Select the file by browsing through your computer. Make sure the file is up to 200 MB in size. Click on Open.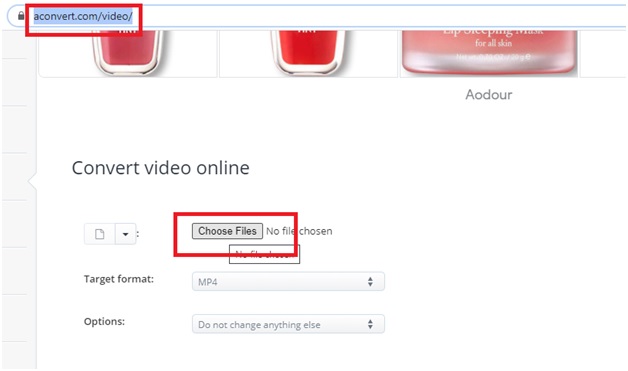 Step 2: Select the format of the target video
Click on the Target format to view the drop-down menu and select your desired format. The output can be in the FLV, MP4, AVI, MPG, WMV, MKV, WEBM, MOV, M4V, RM, VOB, M2TS, ASF, OGV, or GIF. Click on Option and select Change size, bitrate, or frame rate to further adjust the output video.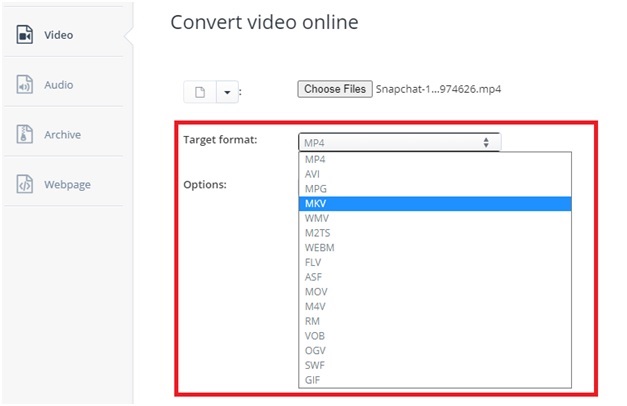 Step 3: Convert and Save
Click on Convert Now and wait for a few minutes. Your output file will be shown under Conversion Results. Click on the Save icon to save this file o your computer.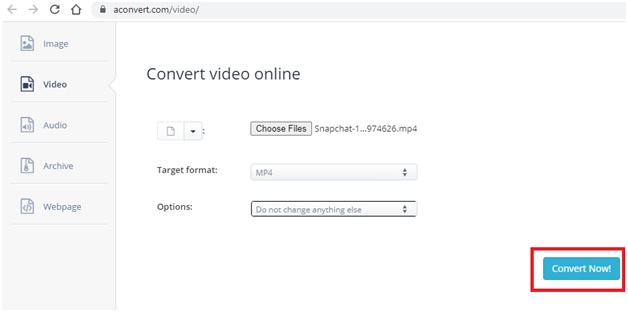 Part 3. Frequently Asked Questions
Here are some of the questions most people and probably you, have about this process of converting DVD to MKV;
1. Can DVD Players support MKV Files?
MKV files are not compatible with DVD players, but they are the main format on Blu-ray. The most common formats on most DVD players us MPEG formats like MPEG- 1 and MPEG-2, although there are some players that will even plat VOB and MP4.
2. Can Blu-ray players play MKV?
Yes, all Blu-ray players will support MKV files. In fact, it is the most common file type on Blu-ray players. You may therefore want to use one of the above solutions to convert DVD to MKV if you want the video to be playable on a Blu-ray disc
3. What File Formats can Blu-ray players play?
Apart from MKV format, Blu-ray discs can support a variety of other formats including MPEG-2 and MPEG-4. They are also capable of supporting multiple file formats of DTS and Dolby as well as PCM audio formats.