VOB is known as the container format in DVD-Video media. This file format contains a majority of the data that is stored on a disk which includes digital video, audio, navigation content, DVD menus, and subtitles. Files in VOB format have a. VOB file extension. The VOB format is mainly based on the MPEG program stream format, but the reason for converting it to MP4 is that it has additional limitations and specifications in private. Moreover, the VOB files are always in large file sizes.
On the other hand, MP4s are one of the more common video file formats. It is used for downloading and streaming videos from the internet. It's a highly versatile and compressed video format. Not only that, but it can also store audio, subtitles, and still images.
The main difference is that MP4 allows the files to be much smaller in size than other video formats. Although reducing the file size doesn't immediately impact the quality of the file, either. Most of all the original quality is retained, thus making MP4 quite a portable and web-friendly video format. If you are looking for an answer to your question "Can I convert VOB files to MP4?" then this article will answer your questions perfectly.
Part 1. How to convert VOB to MP4 in VLC
Talking about VLC, it is not only used for playing audio and videos, but it is also used as an excellent convertor for several formats. So VLC not only converts VOB file to MP4 but also various other formats. Seeking VLC as a converter is a good option because it has zero limitations, and most of the video and audio files are adaptable to its convertor. Although it handles the task easily and simply, still it is a converter feature not always preferable. In the following steps, we will be having a detailed step-by-step process about how to transfer VOB to MP4 in VLC media player exactly:
Step 1: Open the VLC media player and click on the Media option. Then click on the Convert/save option.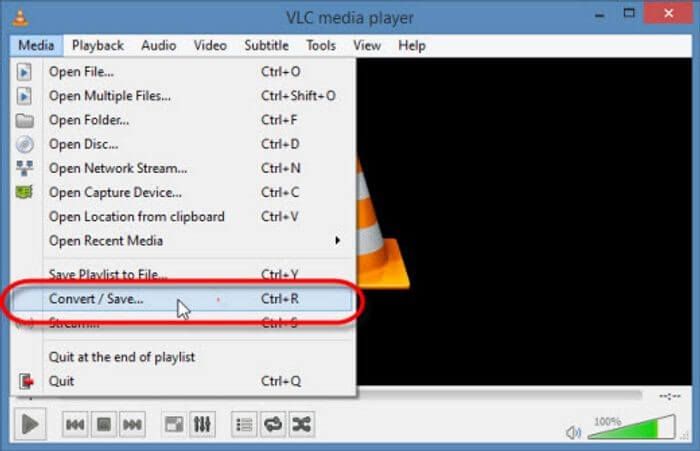 Step 2: You need to choose the video you want to convert to MP4. For this, go to the Add button and select one or multiple videos according to your convenience.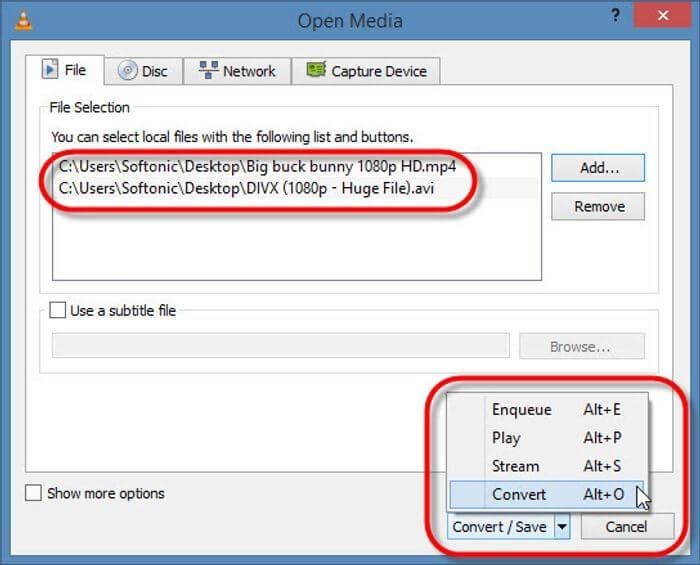 Step 3: Next step is to give a name to the video for which you need to go to the Target File box access the Destination folder, and give a relevant name to the video.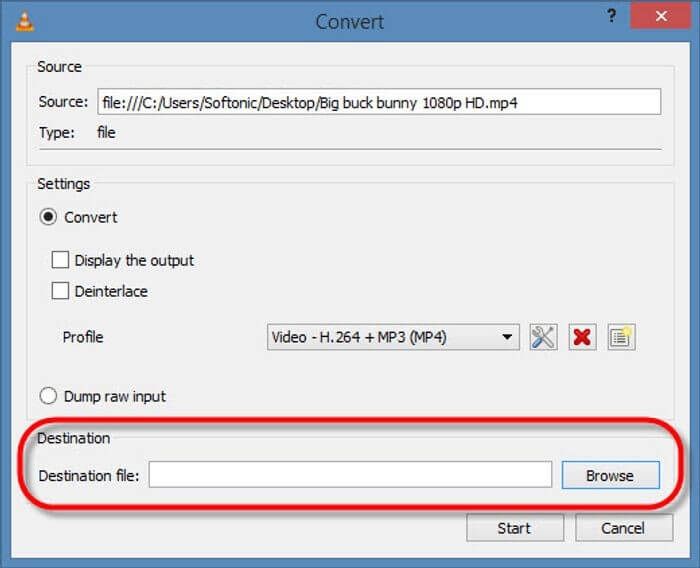 Step 4: Now, after giving a name to your video, you have to transfer the file to MP4. For this output go to Profile and select MP4. There are other options, like, AVI, ASF, and WMV, to which you can also convert the file.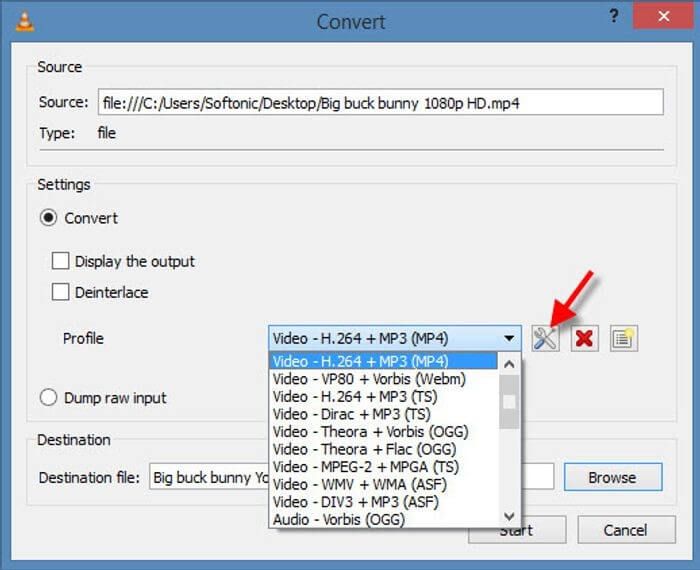 Step 5: Click on start to let the process of conversion begin. The time of completion depends on how lengthy your file is or how fast your computer is. After the file is converted into MP4, it will be saved in the folder.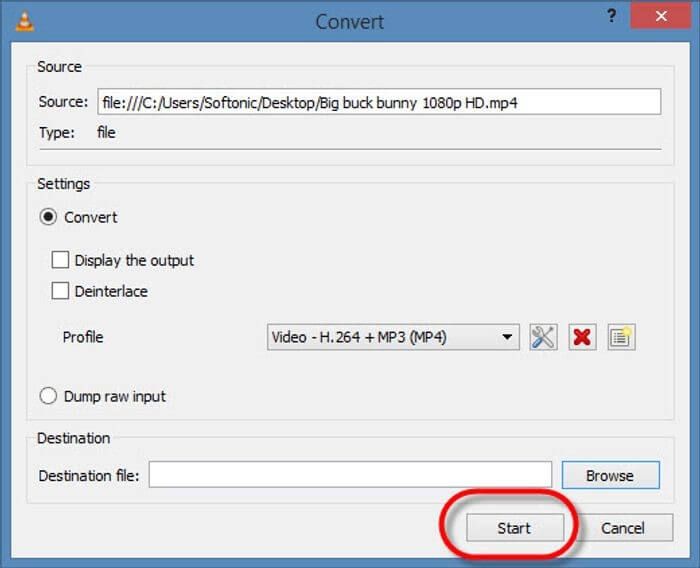 Pros:
It is simple and straightforward to use.
It contains all the tools needed.
It can also be used to create or connect to a video stream.
It is compatible with OS X.
Cons:
One cannot use tags.
One has to open the files directly from the folder.
Part 2. Best two ways to convert VOB to MP4 without VLC
Here are two best ways to convert VOB files to MP4 free without using the VLC.
1. Fastest way with high quality – AicooSoft Video Converter
AicooSoft Video Converter is based on Al Technology as compared with traditional video convertors. Its unique feature is that it is quite powerful in terms of video downloading. Videos can be converted for any device such as iPhone 11 Pro, Huawei Mate 30 Pro, etc. Adding to this, more advantages of this video convertor are 30X video conversion speed, professional video compressor, and in-built video and audio downloader. Overall it is a complete solution for converting, editing, downloading videos, and furthermore.
Key features
Some of the Features of AicooSoft Video Converter are highlighted below:
Converting Feature- One can convert their videos to any format they want. They can select one or multiple videos at a time and convert multiple VOB files to one mp4to their desired format.
Compression feature- It enables you to compress your videos, which includes compressing video for editing, for sharing on social sites, for email, etc. Not just that bust it compresses your video in seconds without any compromise in the video quality.
Downloading feature- Al video converter allows you to download videos from 10,000 video sharing sites. It also lets one download HD videos, including 4K, 1080P, 720P, and more, in just a click.
How to convert VOB video files to MP4?
There are some steps listed below that will answer your question "can VOB files be converted to MP4".
Step1

Add VOB video files

If you do not have AicooSoft Video Converter downloaded, download it, and then open it on your screen. Then you can add video or videos by dragging or clicking the Add Files button at the upper left corner.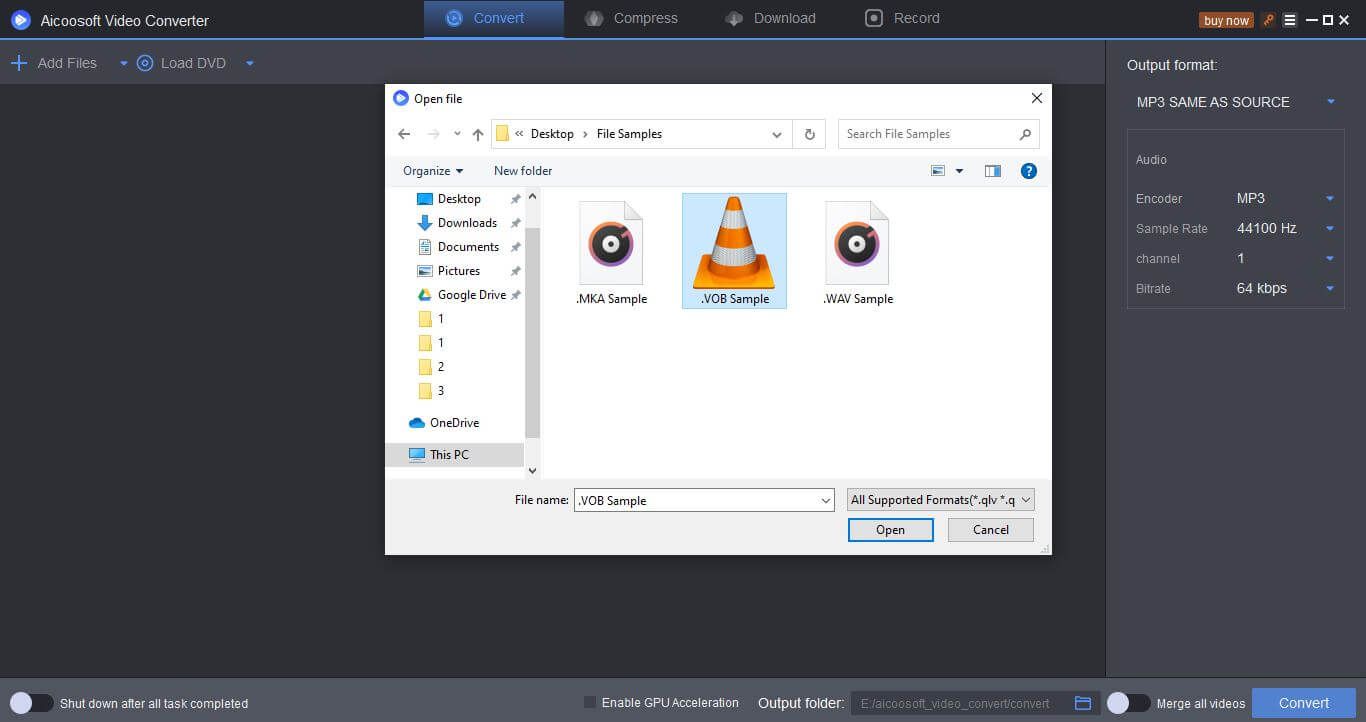 Step2

Select MP4 as Output format

Next step is to choose M4 as output format. By clicking the inverted triangle beside the Output format, you can choose your format for output. Select MP4 and you can convert VOB files to MP4 on Mac and Windows.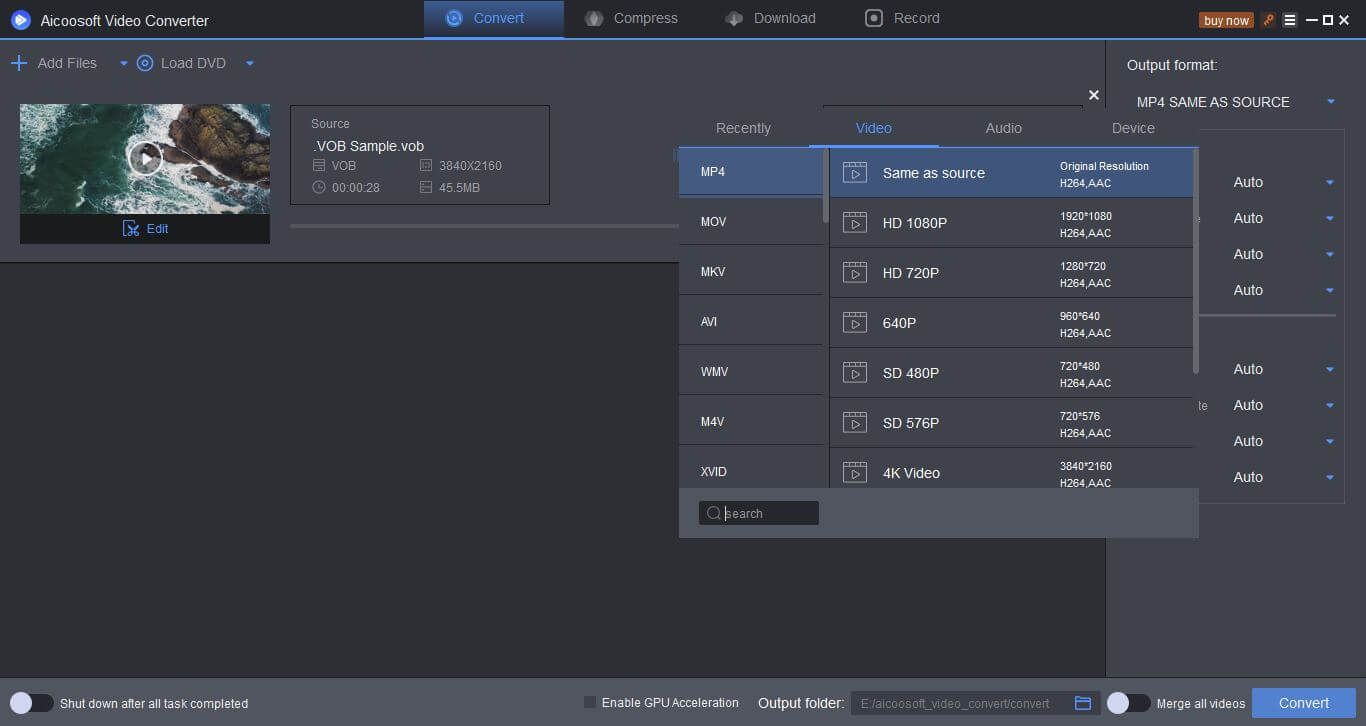 Step3

Start the conversion

After selecting the output format, we need to convert the file. That can be done either by clicking the Convert button at the lower right or by clicking the Convert button beside each video added.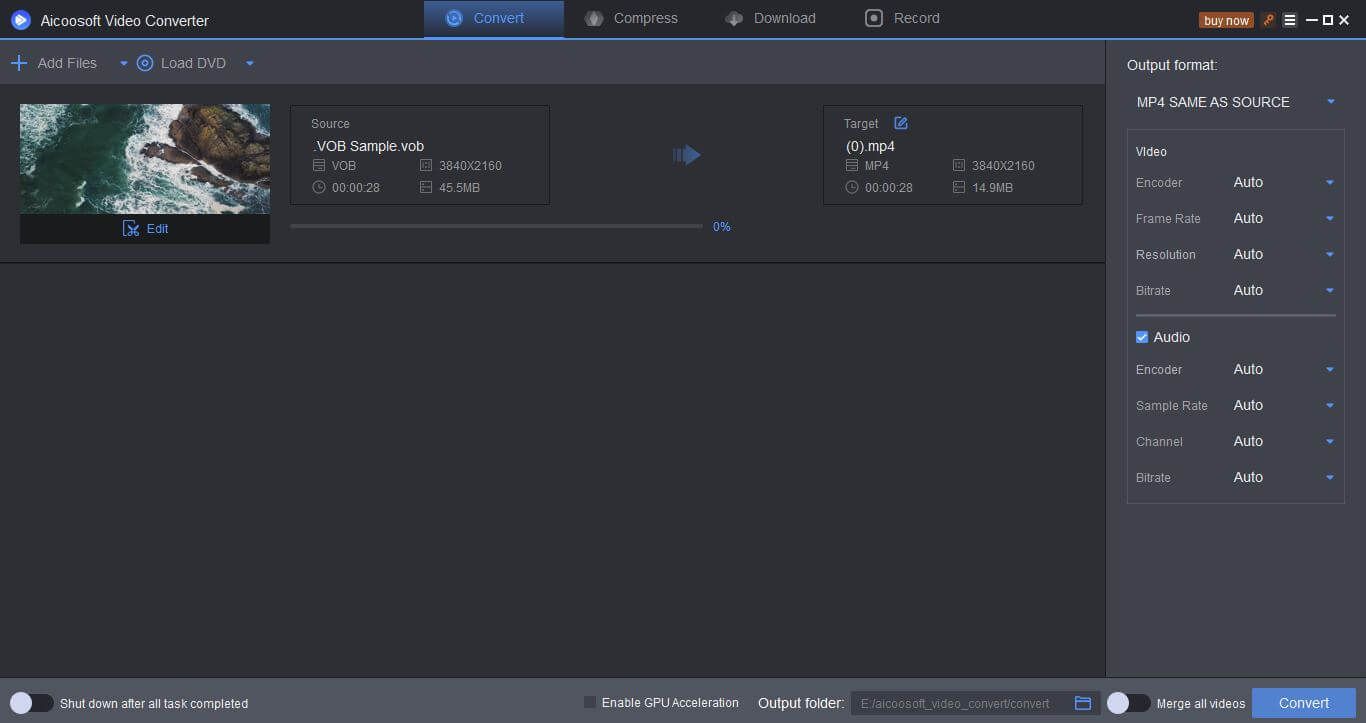 Step4

Locate the converted files

To locate the converted file, click the Folder icon at the lower right to open the file location of the converted video(s).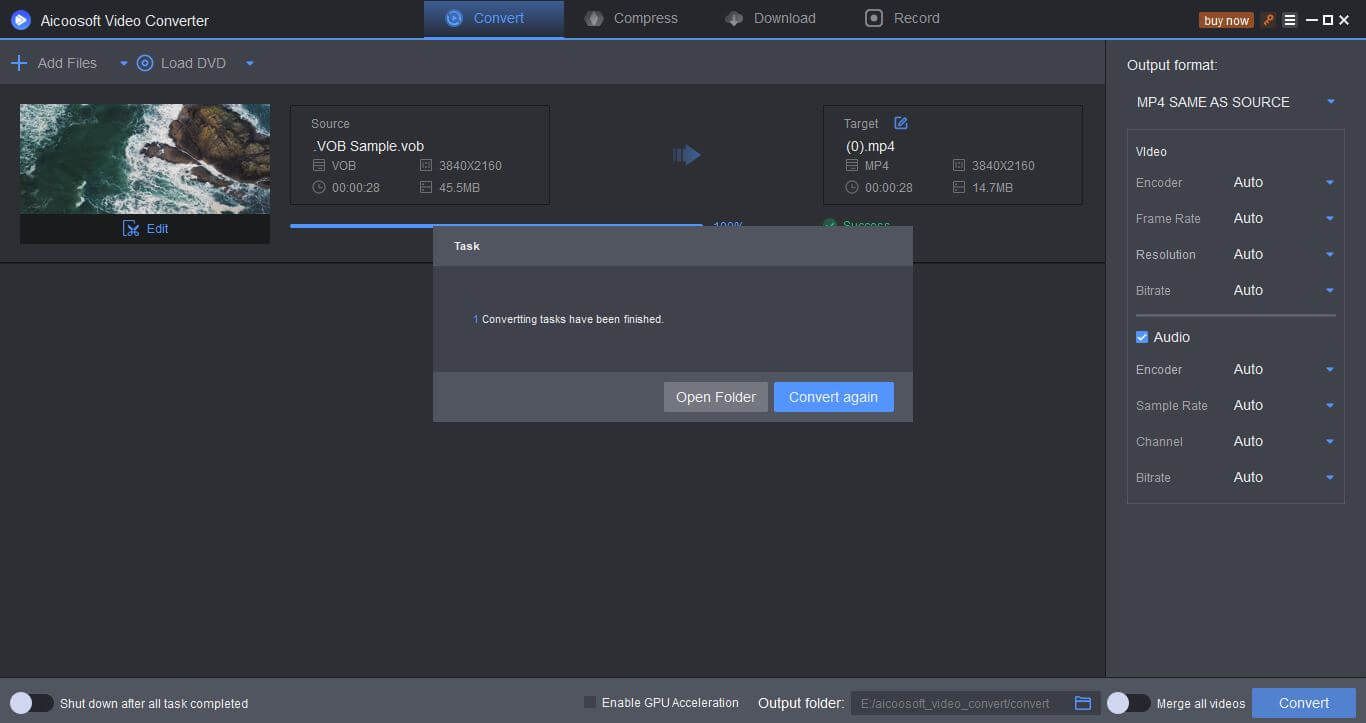 2. Free online way to convert VOB to MP4
FreeConvert.com is a site that works for free and works on any web browser. Moreover, it guarantees file security and privacy. Files are said to be protected with 256-bit SSL encryption and automatically deleted after 2 hours.
How to convert VOB to MP4 using FreeConvert.com?
Step1

Select VOB files

Click the Choose Files button to select your VOB files that you want to convert to MP4.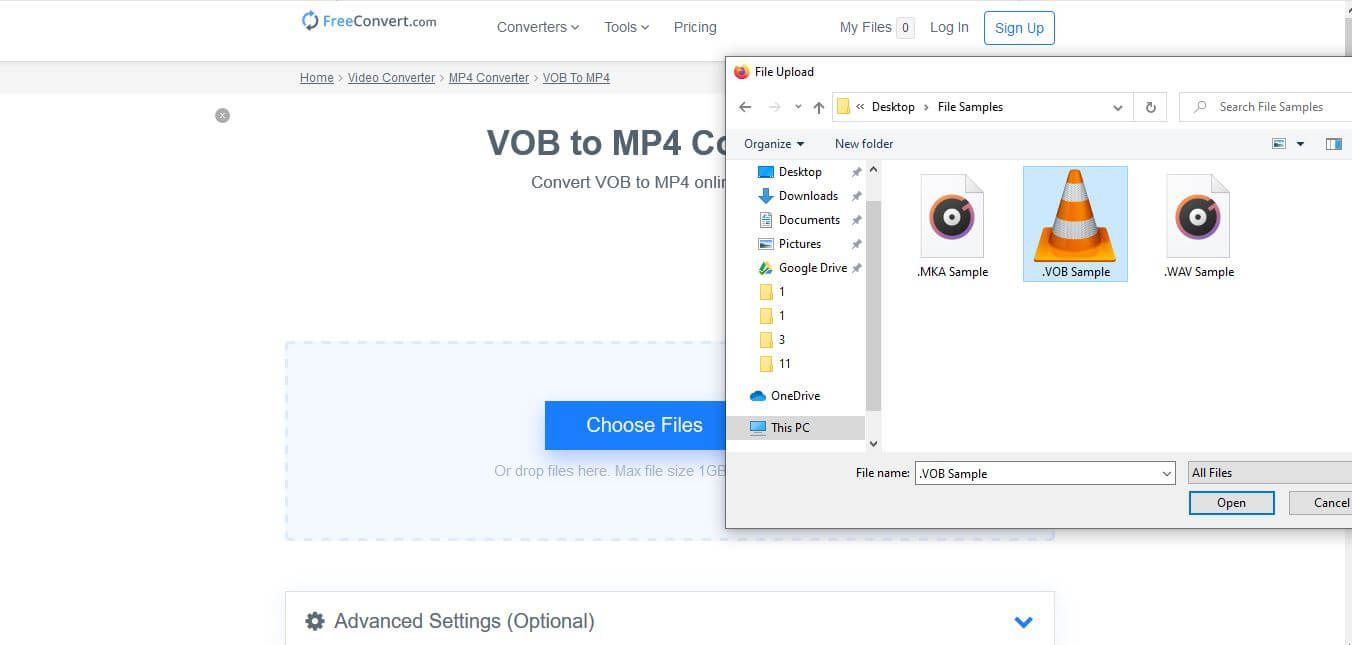 Step2

Start the conversion

Click the Convert to MP4 button to start the conversion of the file from VOB to MP4 format.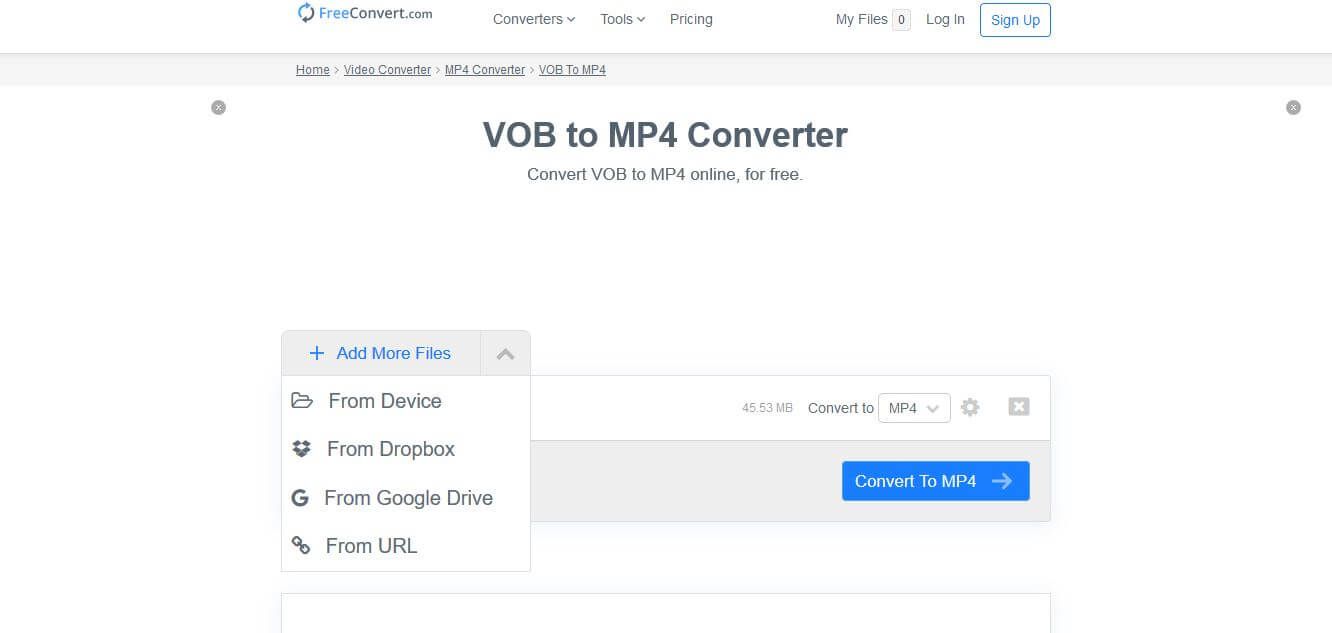 Step3

Download MP4 file

Click the Download MP4 button when the conversion is done.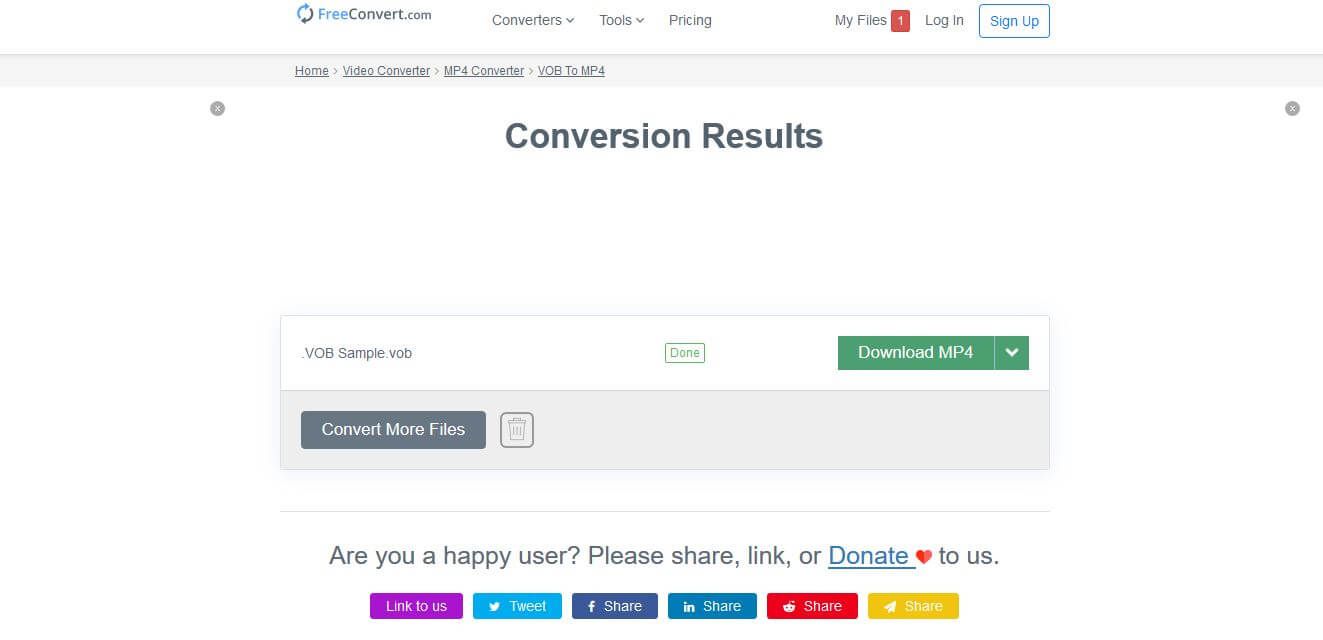 Pros:
Free to use
Easy to use
Support various video formats
Cons:
No additional settings
Cannot work offline
Conclusion
After checking through all the methods of transforming a VOB to an MP4 format file, one can say without thinking much that AicooSoft Video Converter is the most reliable software product. It not only allows you to convert a file but also to download, edit, and even more. It compresses the video in such a way so that it does not occupy much space, but at the same time, the quality is not being compromised. Moreover, its downloading feature is compelling, which makes it relatively easy to work for professionals. This app is efficient and at the same points a time-saver, making itself one of the most user-friendly software.