Are you weary of using many online video/audio converters but still surfing over the internet to find the best free MP4 toMP3 converter for your PC or Mac? Give us a chance to make it simple as we have come up with the list of top 10 best MP4 to MP3 converters freeware today. Make sure you stick till the end so that anyone will catch your eyes for sure!
Part 1. Best effective MP4 to MP3 converter for PC -Aicoosoft
Aicoosoft Video Converter
Want to know why is Aicoosoft Video converter the best MP4 to MP3 converter on the market? It converts videos with an intuitive, easy-to-use interface that can be preferred by newbies and professionals. With 30X faster-converting speed, Aicoosoft convertsMP4 videos to MP3 soundtrack of high quality in just seconds. Additionally, with the diverse built-in video editor toolbox, one can bring the creation to perfection. Why are you waiting? Download a free version of the Aicoosoft Video converter today and give it a try!
Key features of Aicoosoft video converter
Aicoosoft comes with advanced converting technologies like AI, GPU Acceleration, and multi-core processors that fasten the conversion process.
One can convert video/audio to all latest and popular formats like MOV, M4V,till WEBM in just three clicks with Aicoosoft.
Aicoosoft comes up with the feature of a screen recorder that captures shot in one-click that is easy-to-use.
Aicoosoft is 100% secure with no virus or malware, making the privacy of your file protected.
How to convert MP4 to MP3 using Aicoosoft Video Converter on Windows?
Once you have downloaded and installed the free version of Aicoosoft Video Converter on your PC, follow the below guide to experience the best MP4 to MP3 conversion.
Step1
Open Aicoosoft and switch to the "Convert" section. Start adding the MP4 files by clicking the "Add files" option to add files from the PC.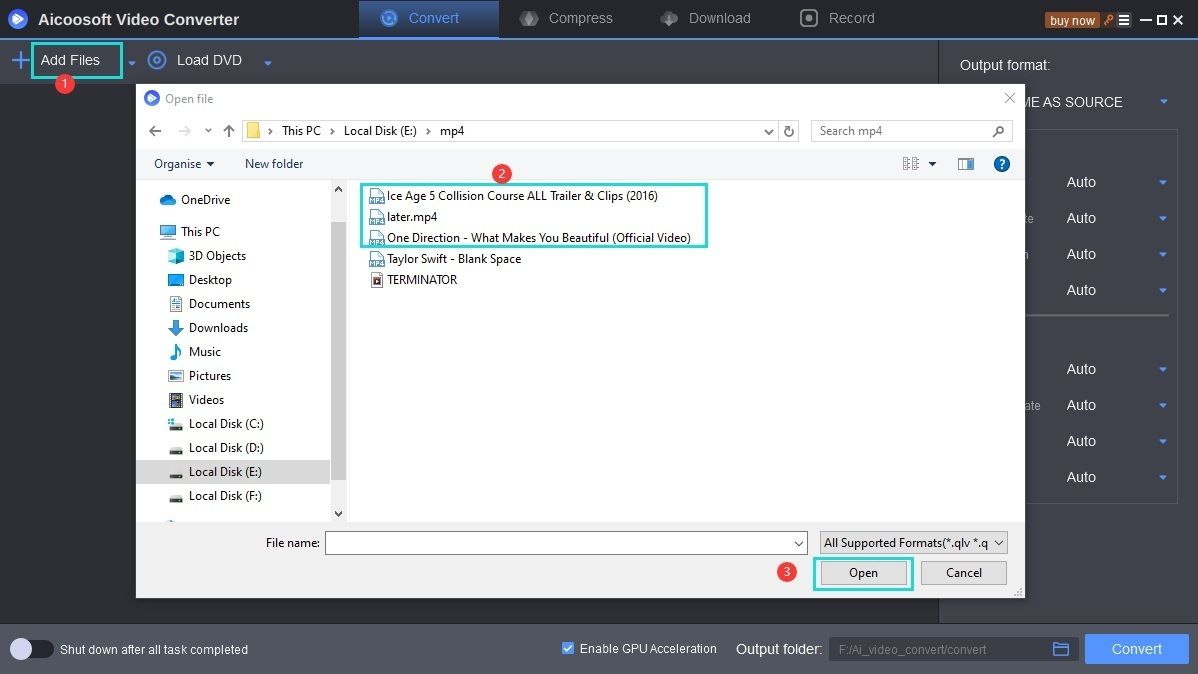 Step2
Once the added video appears on the screen, choose the right corner's output format as "MP3."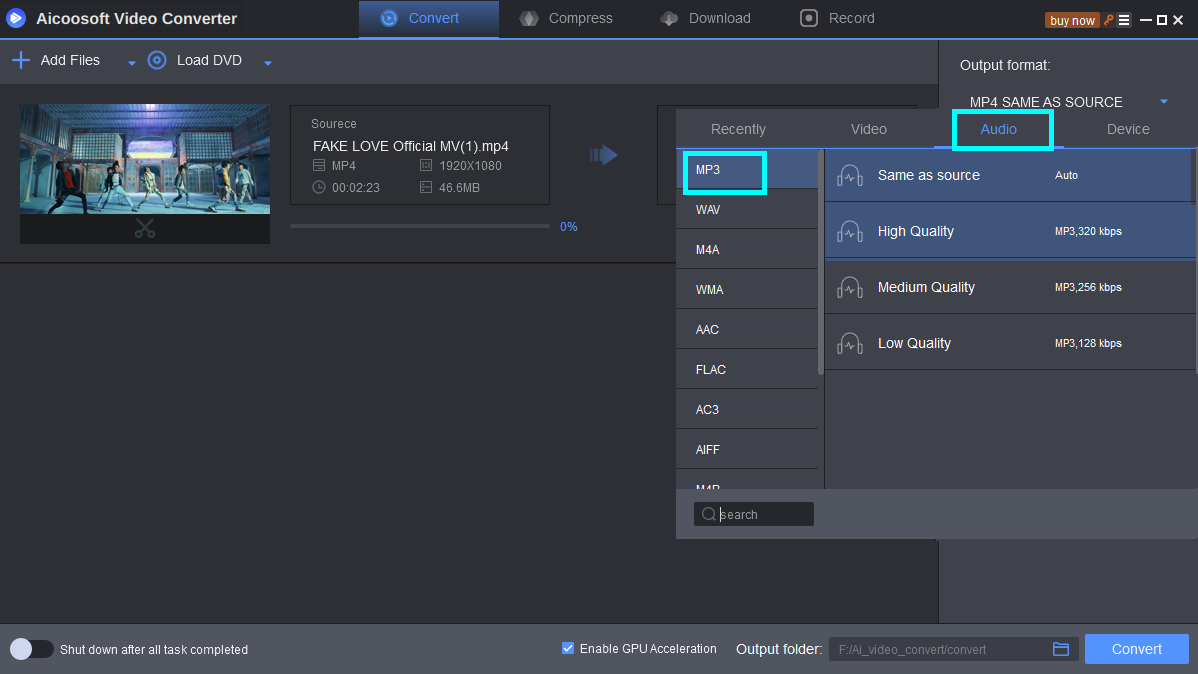 Step3
Enable GPU Acceleration and tap the "Convert" button to start the conversion process.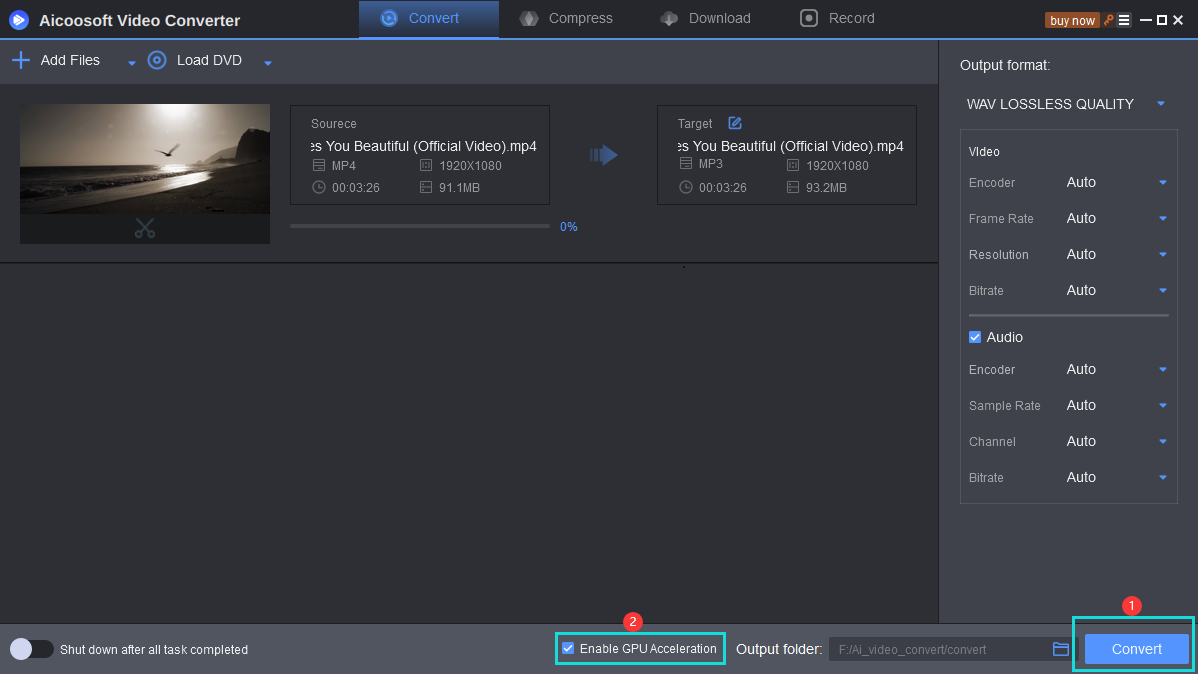 Once the conversion is complete, you can get the MP3 file by clicking the "Open Folder" option.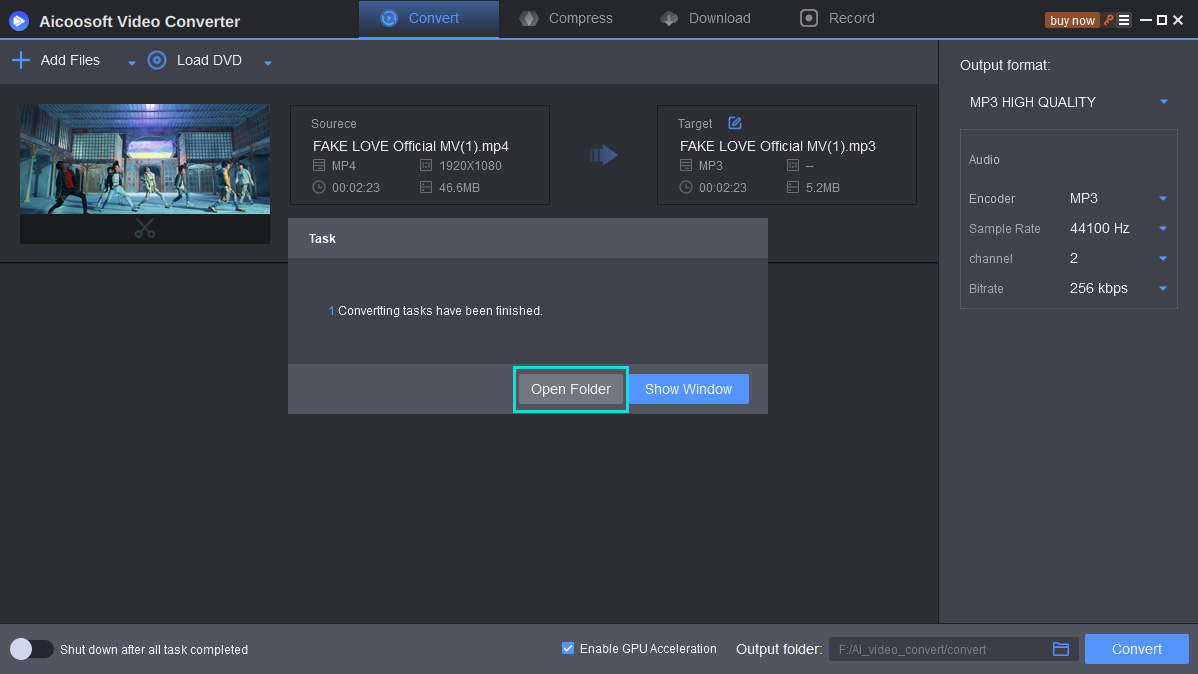 Part 2. Top 10 best freeware MP4 to MP3 converters for PC/Mobile
1. Wondershare UniConverter
As the first best MP4 to MP3 converter for pc, we have UniConverter from Wondershare that does wonders by being a one-stop video converter for any media file or memory. Like Aicoosoft, UniConverter is also robust due to full GPU acceleration that makes the batch conversion in just seconds and perfects the creation with the built-in handy feature set. Additionally, UniConverter is a video downloader and DVD burner as well.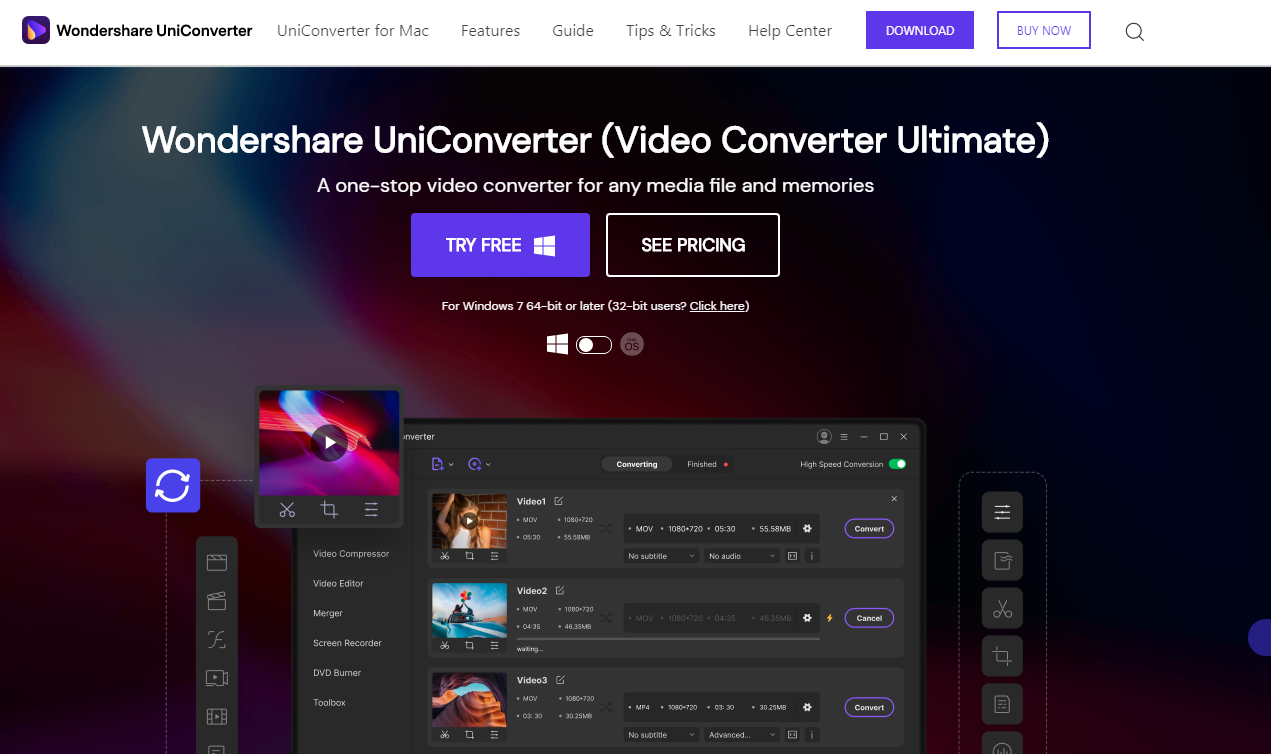 2. Movavi Video Converter
Movavi is our next best MP4 to MP3 converter that supports conversion over 180+ formats with HD included. To users who require SuperSpeed conversion, Movavi is the best option as it is powered and boosted with technologies like NVIDIA, HD Graphics, and AMD hardware acceleration. Additionally, Movavi offers 200 presets using which you can optimize various devices, including the popular models.
3. VideoProc
Here is VideoProc marked as the No.1 fast video processing software crafted with Level-3 Hardware Acceleration, buttery smooth video edition, and transcoding. It comes as a free version that facilitates file conversion over small video files, whereas one can get the full version at the cost of $29.95. VideoProc supports about 420+ formats and is recognized for its high-quality 4k/8k video edit/convert specialty.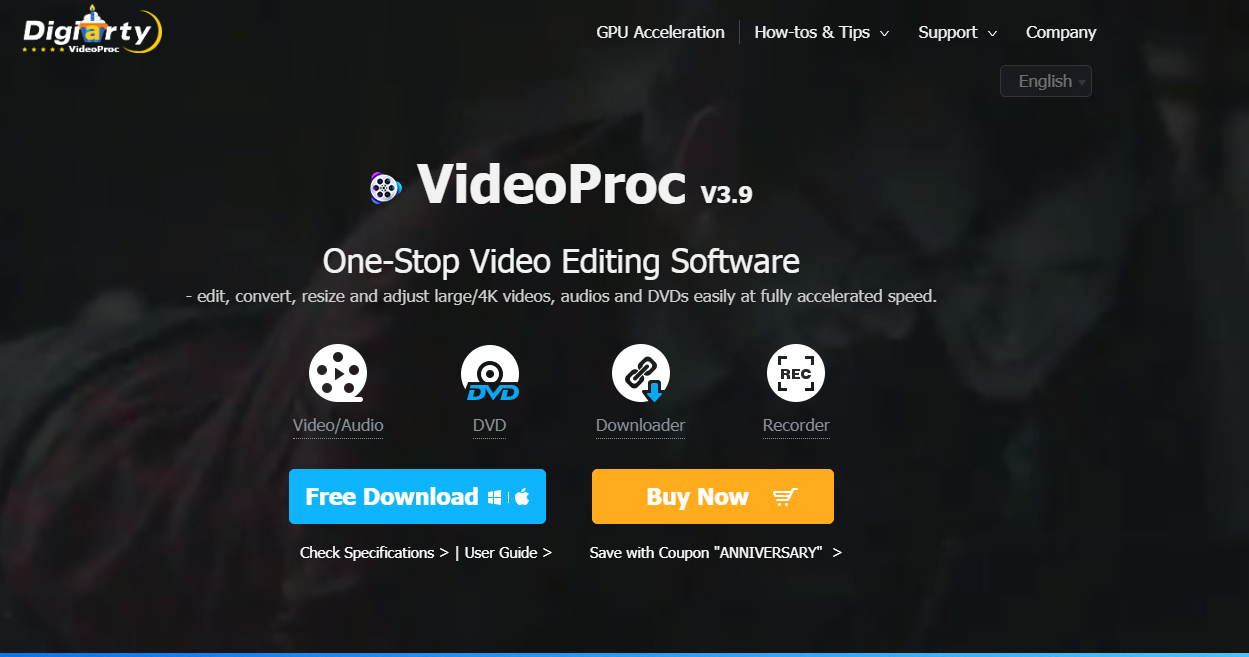 4. HandBrake
Here is our next best MP4 to MP3 converter that is free to download, HandBrake suited for small studio artists and freelancers. HandBrake is compatible with various device platforms like Windows, macOS, and Linux, providing over various features like batch conversion, manual & automatic scaling, deinterlacing, and cropping to its users. Finally, HandBrake is an open-source transcoder that involves libraries like FFmpeg, x265, and so on.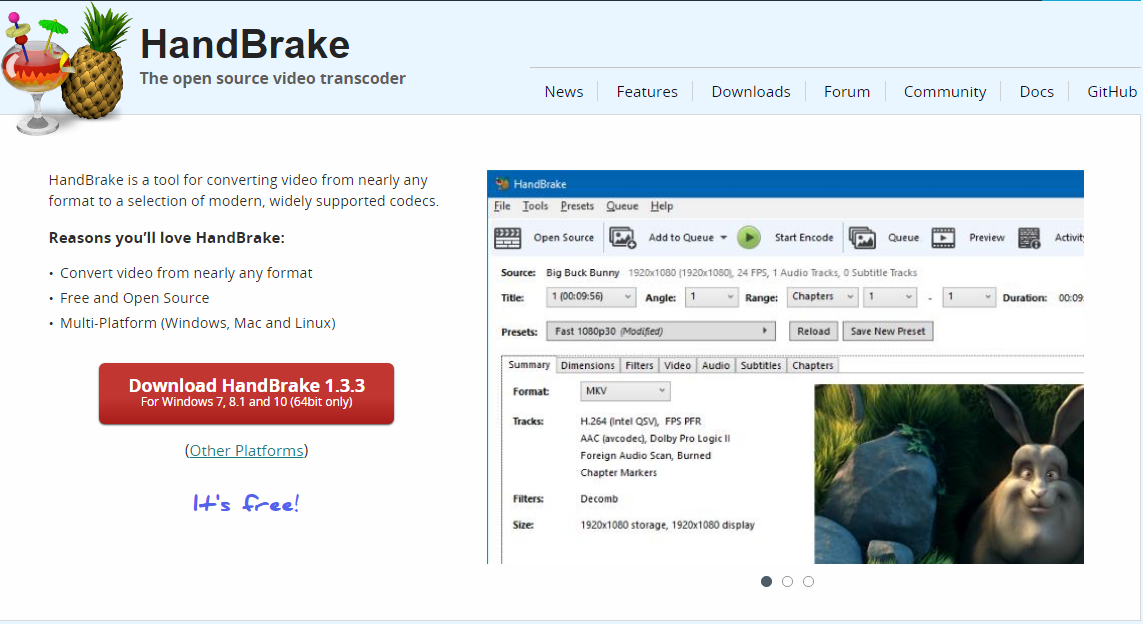 5. WinX HD Video Converter Deluxe
WinX HD video converter can transcode or convert video to any format with 47X faster speed with GPU Acceleration. With WinX, one can take full advantage of the Level-3 Hardware Acceleration in restoring 4K/1080p high-frame video faster with no CPU overheating. Additionally, WinX supports the download of 8K/4K/HD video/audio from more than 1000+ video sites, extracts audio, screenshot from the video, and creates a photo slideshow.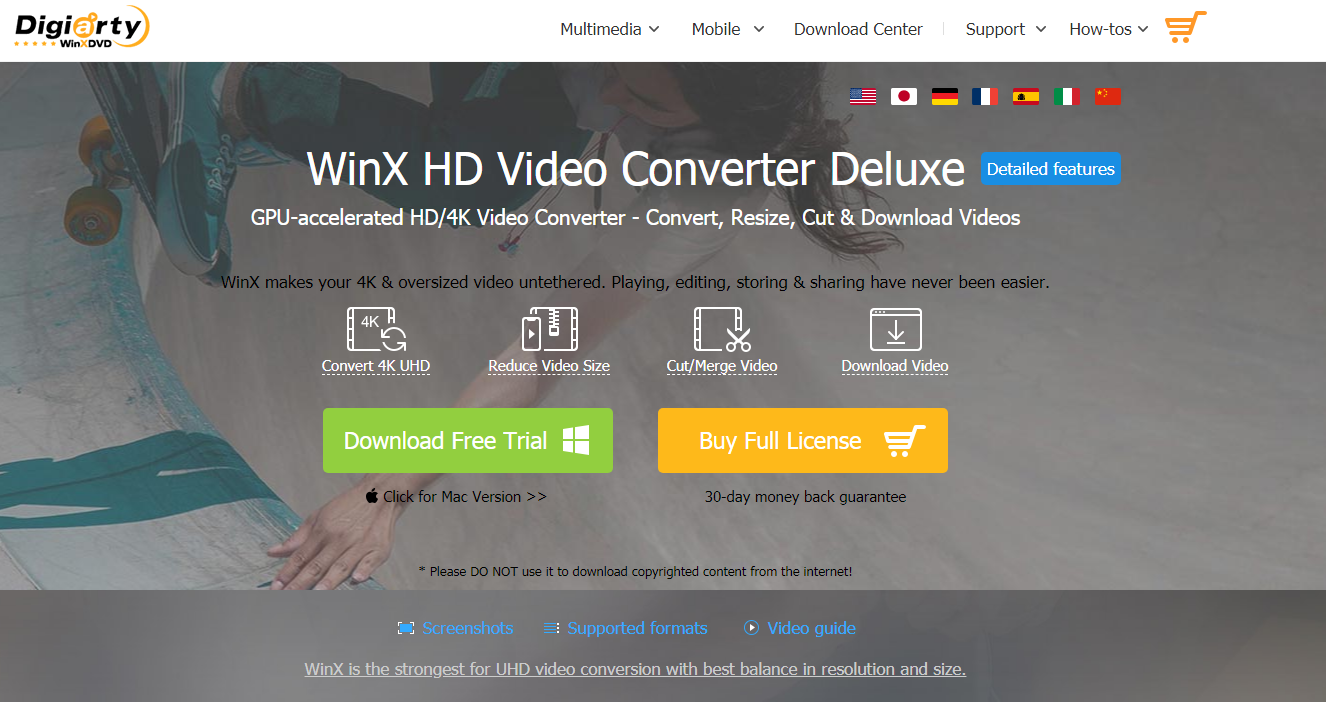 6. Gihosoft Video Converter
Gihosoft Video Converter is our next best free MP4 to MP3 converter for Mac that supports Windows. This free software tool can convert video to any format like MOV, SWF, 3GP, WEBM, and transfer them directly to mobile devices. With Gihosoft, you can edit and enhance one's creation with narrations and built-in filters. It is free to download, and you can purchase a license for a year for $39.95 (1 device) or $179.75 for supporting 5 PCs.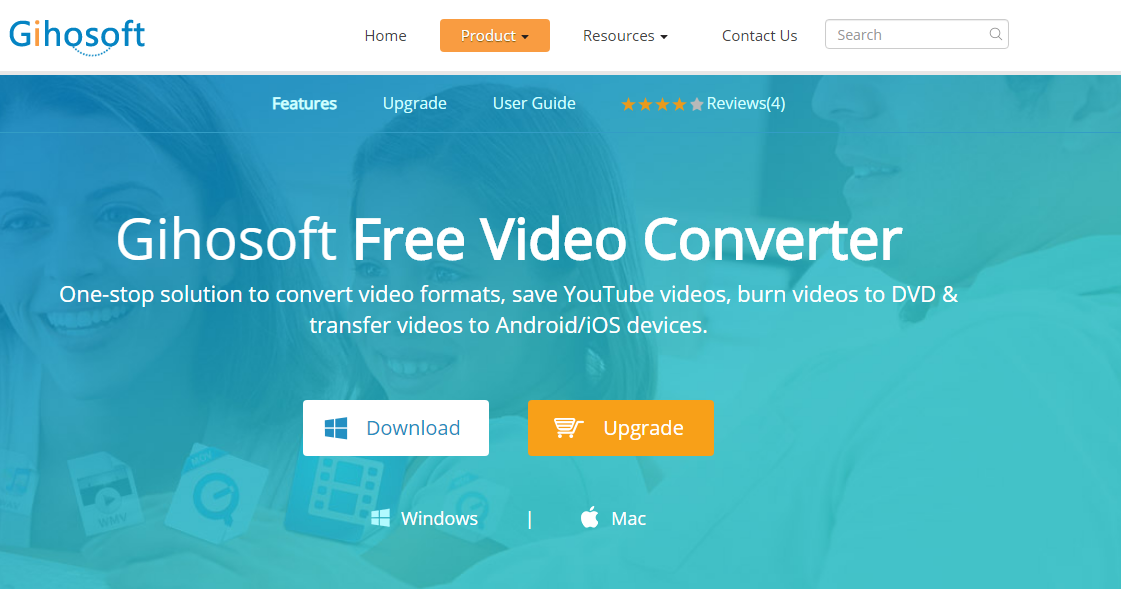 7. NCH Prism
Suppose you are looking out for the best MP4 to MP3 converter freeware with handy features. In that case, NCH Prism is here that does the job of a video converter, video compressor, video editor, video preview, and DVD converter. NCH Prism is an award-winning video file converter with light-fast conversion, compression & encoding settings, and batch conversion. Try it today for free else get upgraded to a one-year license for $33.24!
8. AVS Video Converter
While all the above MP4 to MP3 converters are preferred for PC, or Mac, here is AVS Video Converter that is also the best MP4 to MP3 converter for Android to freelancers and small studios. It is a simple software that isn't just a video converter but also a video editor/remaker, audio editor/converter, media player, photo editor, image converter, document converter, disc creator, and a registry cleaner. Finally, AVS speeds up the process with GPU Acceleration and has preset for the new generation devices.

9. DivX Video Software
DivX Video Converter stands as our next best free MP4 to MP3 converter known as an award-winning video software suited to play, create, and cast favorite videos to various latest formats like HEVC, MKV till 4K. Alongside, DivX offers three of its components like player, converter, and media server for free to be enjoyed by its valuable users. The must add feature about DivX is that it possesses Pro features like AC3 edition, DTS-HD plug-in, and DFX Audio enhancer for the paid version!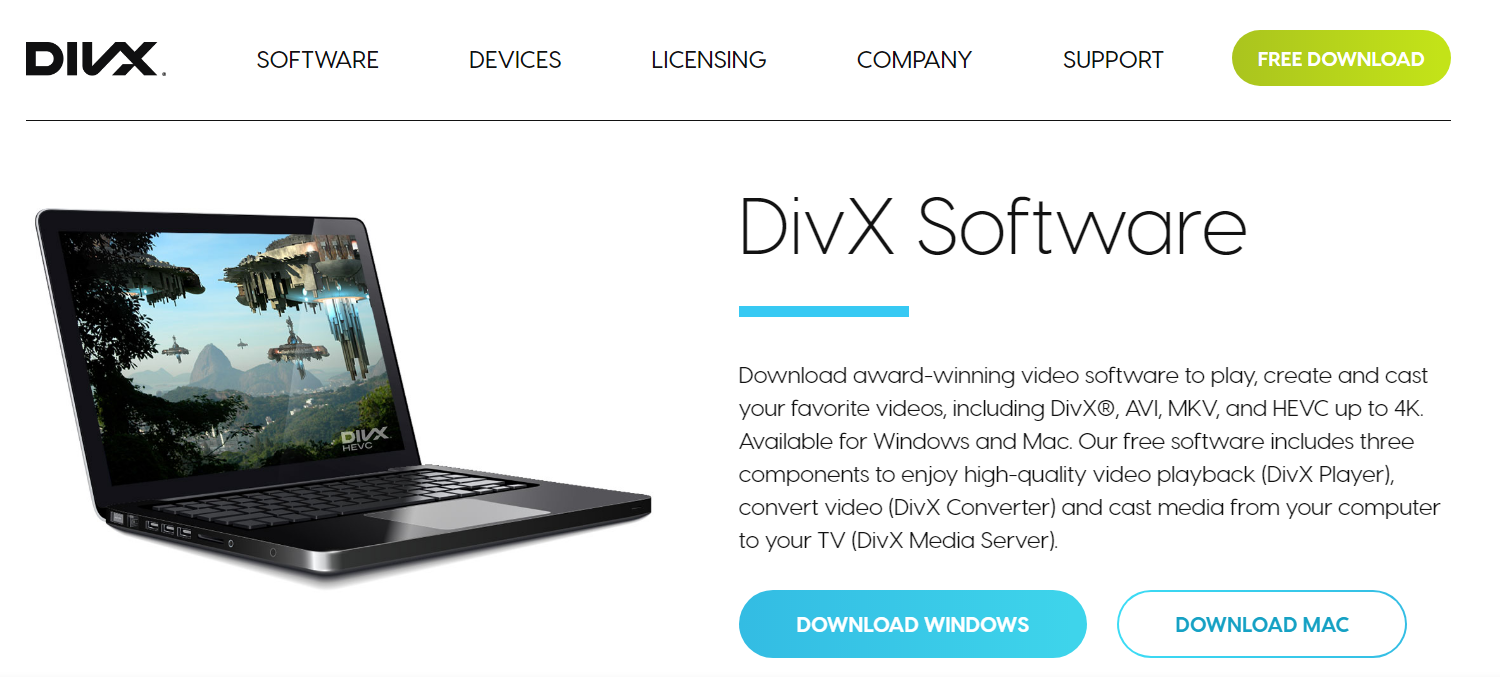 10. Freemake Video Converter
Last but not least, here is Freemake Video Converter as our final best MP4 to MP3 converter that has gathered over 10 million users to date. With existence for more than ten decades, Freemake supports over 500+ audio/video formats and can be categorized as No.1 best MP4 to MP3 converter for Android with affiliations over other gadgets like iPhone, Nokia, Blackberry, and consoles. With no limitations or trials, one can convert absolutely for free with Freemake Video Converter!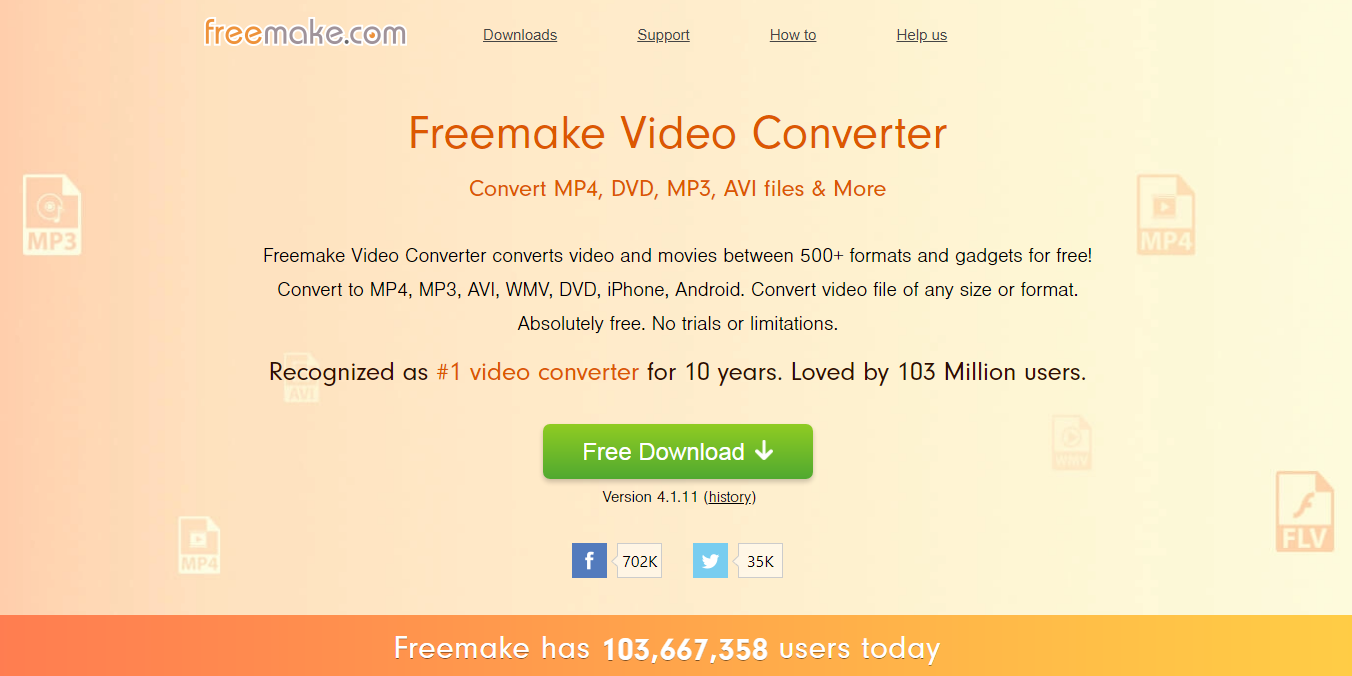 Conclusion
Thus, I am sure you will be able to choose the best MP4 to MP3 converter as per your choice with our article today and as a prime suggestion, Aicoosoft comes up on the line. Never hesitate to download these best MP4 to MP3 converters for Mac, Windows and mobile devices and give them a try before making any purchase.