MP4 and MP3 are two different formats to store data on your device. Now, before you directly dive into the concern to convert MP4 to MP3 Windows 8, we'd like to state some interesting facts. Even though both MP4 and MP3 formats get created by MPEG (Moving Pictures Experts Group), there is a difference in both video and audio. MP4 creates audio, video, subtitles, texts, and still images. On the other hand, MP3 is only for audio. Many-a-times, there can be a need to convert MP4 to MP3 on Windows 8 using online software. But, the question of reliability always comes beforehand with these technical solutions. Therefore, we try to provide you only the trustworthy solutions that are quite practical, famous, and quickly usable in this century.
So, let's begin with the solution on how to change MP4 to MP3 on Windows 10.
P
art 1. How to convert MP4 to MP3 in Windows Media Player
Originally known as Media Player, WMP (Windows Media Player) is a software application by Windows to play and organize video and audio files. It's a free downloadable application from the website of Microsoft. Like other technical solutions, its versions also get updated from time to time while introducing new capabilities. Mainly, it uses the WMA, WMV, and ASF file formats to encode videos and audios downloaded from the Internet or ripped from other storage media or compact devices.
Also, you can use it to search or organize media files on a hard drive. Some versions also support playing the radio station broadcasts via the Internet, including the creation of playlists. After knowing all these essential aspects, let us now move to how to convert MP4 to MP3 on Windows Media Player.
Step by Step Guide to Convert MP4 to an MP3 Windows Media Player
Step 1: Open MP4 file on Windows Media Player
Launch Windows Media Player on your computer or laptop. Go to the MP4 file you want to convert to the computer media folder. Right-click the specific video files and hit the Windows Media Player, as shown in the figure below.
Step 2: Play the MP4 file and go to "Organize" button
However, after right-clicking the Windows Media Player in Step-1, the file will be played by default. After it plays, you need to go to the Organize menu and hit the Options button.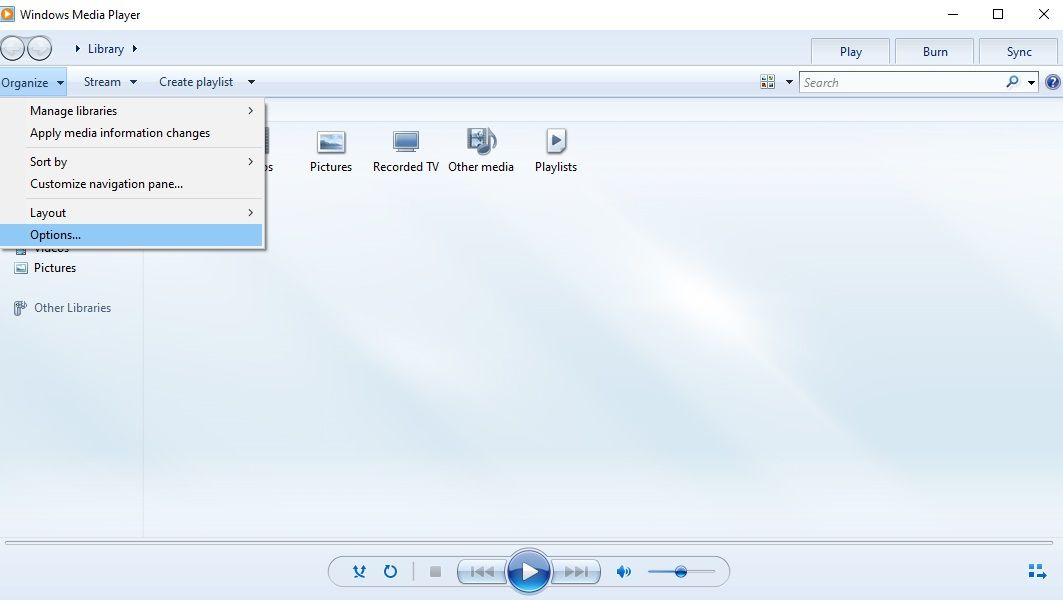 Step 3: Tap the "Rip Music" button
The third step to convert MP4 to MP3 windows media player requires you to hit the Rip Music option and click the Change button to select the converted file's location.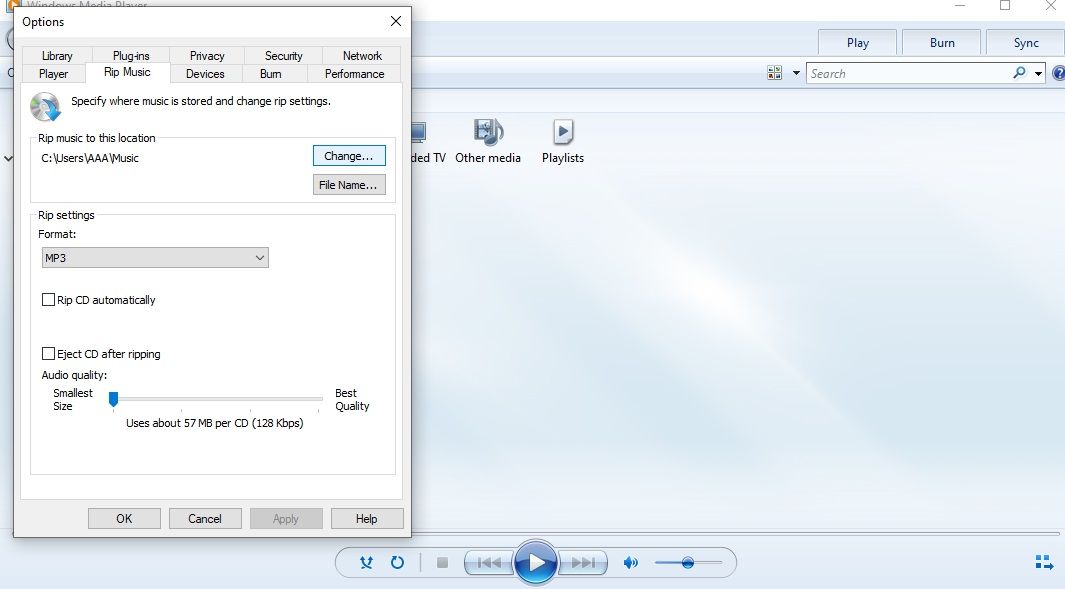 Step 4: Select "MP3" format as output
Then, you need to scroll down and select the format as Mp3. Hit the Ok button to confirm. It will then convert MP4 to MP3 on Windows 10 in windows media player.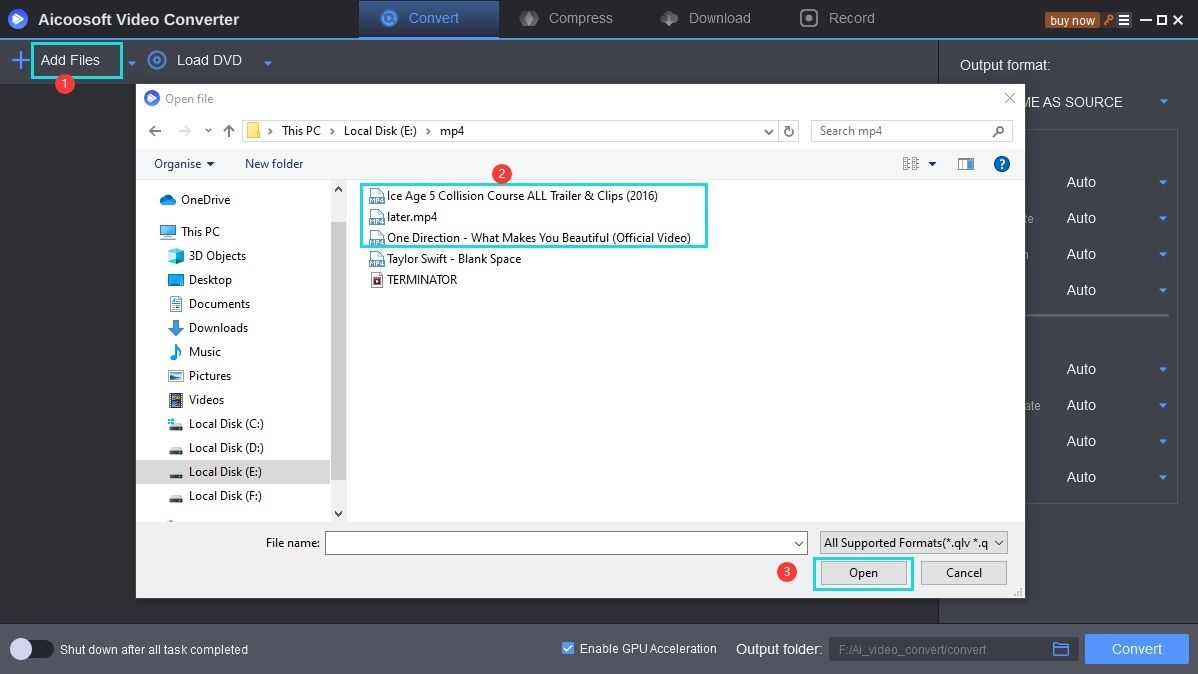 Pros:
Free
Available in windows itself
Multiple uses
Cons:
Not able to properly stream videos
Confusing steps as the video plays separately
Part 2. Best 2 Ways to Convert MP4 to MP3 Without Windows Media Player
1. 100% Reliable Way With High-Quality - Aicoosoft Video Converter
Hopefully, you may now consider using the Windows Media Player to convert MP4 to MP3 on Windows 10 or how to convert Mp4 to Mp3 on Windows 8. However, there are more trustworthy solutions keeping in mind the cons of using Windows Media Player.
Thus, we've come up with the Aicoosoft as one of the best, reliable, and quick ways to convert MP4 to MP3 on Windows. Aicoosoft is determined to provide video conversion solutions in an easy-to-go manner. In the market of unlimited technical products, it is highly challenging to identify the best professional converter that fulfills all your needs without any complexities. The advanced yet straightforward and speedy operation kept in mind that we decided to mark Aicoosoft as our best-recommended pick.
Key Features of Aicoosoft
Not just the video conversion, but Aicoosoft also consists of impeccable features, as discussed below.
It supports HD video conversion and compression in a very cost-effective manner. You can expect 30 times more speed to convert any DVD or video files to digital files. For the purpose, it can easily convert 4K, HD, H265(HEVC), and H264 (AVC), 720P, and 1080P videos in any format.
There isn't requirement to invest in a separate video editor as Aicoosoft; it also consists of advanced video editing options, including filters, inbuilt background music, trim, crop, etc.
Then, there is an inbuilt video and audio downloader that supports more than 1000 sites and contains automatic conversion of MP4 to high-quality MP3 videos.
How to convert MP4 to MP3 using Aicoosoft Video Converter on Windows?
Step1

Add MP4 video file to Aicoosoft

After finding the Mp4 files that you want to convert, go to Aicoosoft, and click Add Files or Add Folder option.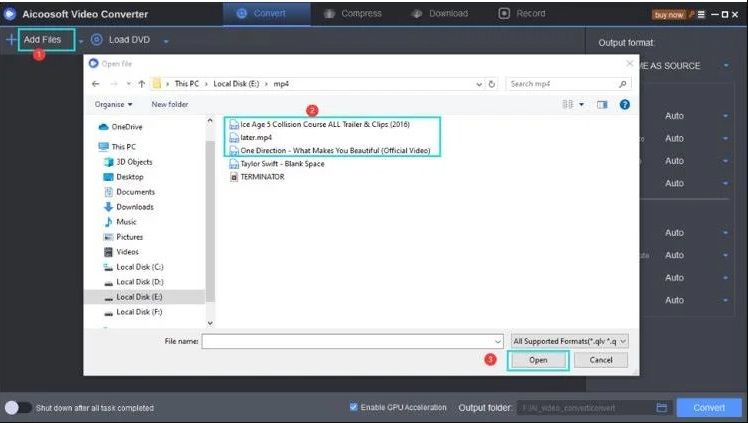 Step2

Select the output format and hit the "Convert" option

You need to select MP3 from multiple audio format options.

Now, you can hit the Convert button, as shown in the figure below.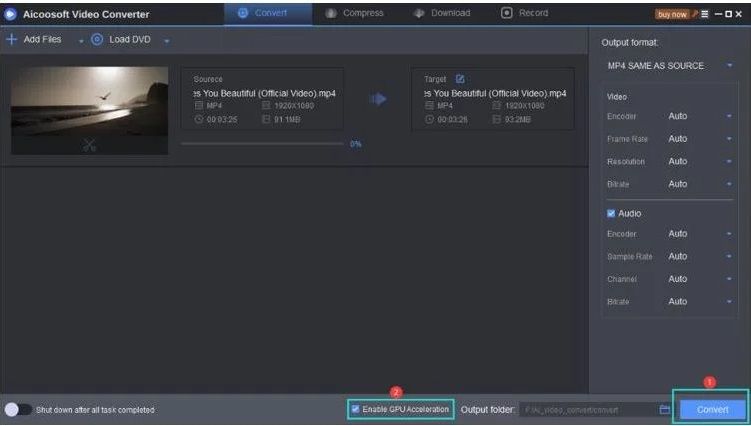 After conversion, you can simply go to Output folder and get your converted file.
2. Best Free MP4 to MP3 Converter for Windows
Freemake.com is the best free and online MP4 to MP3 video converter. It can easily convert MP4 videos to MP3 format in easy steps. It also supports other file formats and contains inbuilt editing tools to shorten length, correct aspect ratios, and so on.
Let's get over to the ultimate steps required!
Step1

Download Freemake and add MP4 files

Unless there is a powerful internet connection, you can download offline Freemake to get the task done. After installation, add MP4 files by clicking the +Video button.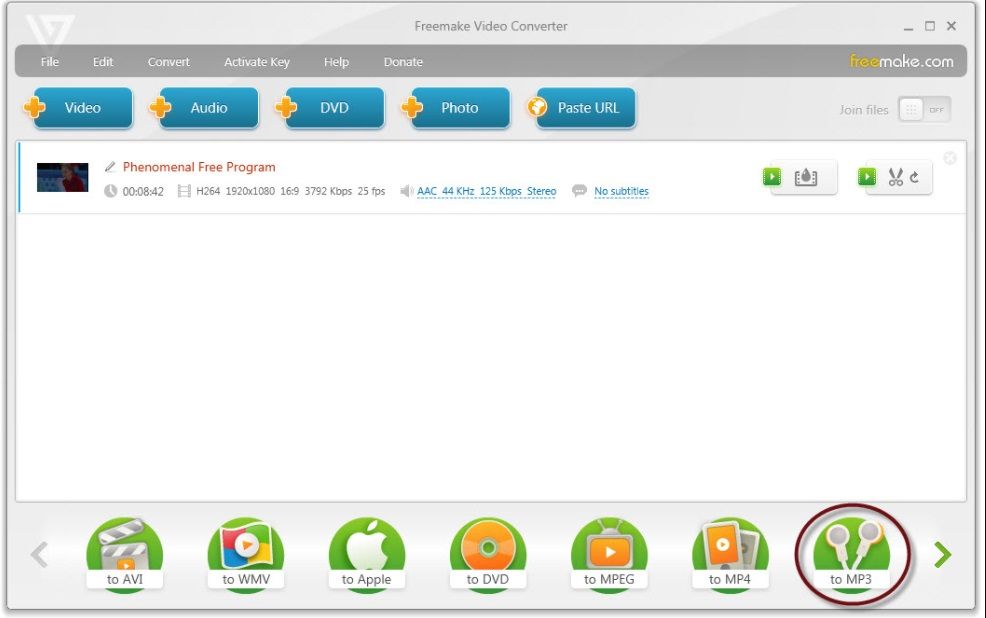 Step2

Convert to MP3 file format

Before you convert MP4 to MP3 on Windows 10, make sure to add it to the Favorites list to be easy to convert next time when you launch the software.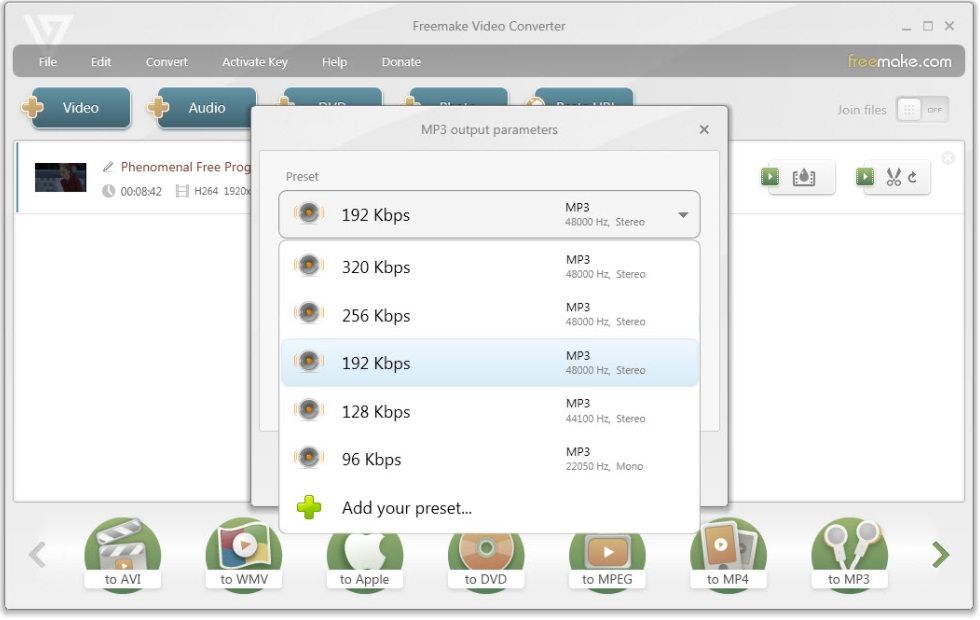 Step3

Make changes to the conversion parameters

You can add final changes to conversion or click 'Same as source,' as shown in the figure below.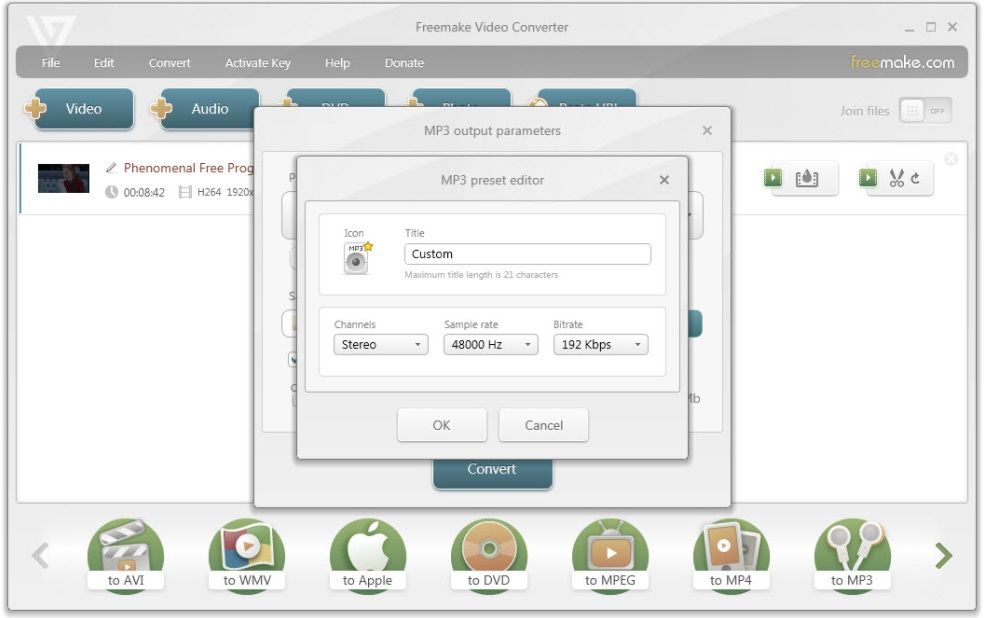 Step4

Confirm

You can finally export the converted file to a specific folder or send it to other devices that support MP3 media playback.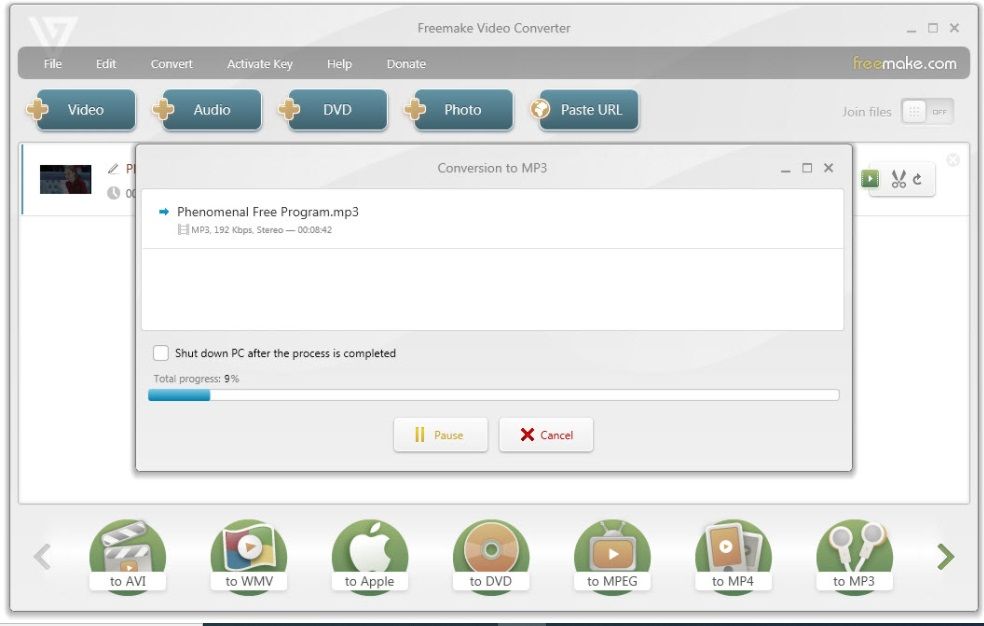 Pros:
Free
Inbuilt video editor
Both online & offline availability
Cons:
Not much reliable due to online viruses
System crashes
Conclusion
So, these are some of the best free ways to convert MP4 to MP3 on Windows 10. Even though we have options like Windows Media Player and Freemake, Aicoosoft tends to overcome all the unreliable technical disadvantages. When you have a video playing problem in Windows Media Player, you get to have online viruses and system crashes in Freemake.
Thus, going with a trustworthy yet advanced solution by Aicoosoft is not at all a bad idea!