"Can anyone help with how to add subtitles to my MP4 video?" - Anonymous.
People often ask this question when they don't know the significance of adding subtitles to an MP4. Well, the most expected benefit of doing so comes when you want to target the global audience. No matter how the language you wish to add the subtitles, they should enhance the viewer experience and widen the entire reach for people worldwide. They can exactly tell what your MP4 video is presenting.
After knowing the importance of subtitles, the article will introduce you to the ten best video editors on
how to embed subtitles into the MP4 video
. So, without further ado, let's start with our Part 1.
Part 1. How can I add subtitles to MP4 permanently?
Here is the solution to how do I permanently add subtitles to MP4.
You must hardcode or burn them with the video as social media platforms don't allow uploading the SRT files with videos. To do so, you must first create the SRT file in whatever video editor you are using.
那么,如何创建 .srt 文件扩展名?创建 SubRip 字幕文件需要在您的计算机上安装文本编辑器。确保文本编辑器知道如何使用开始和结束时间戳制作文本的不同部分。它必须遵守以下时间戳格式。
[小时]:[分钟]:[秒],[毫秒]
完成整个 SRT 文件的创建后,找到一个可靠且快速的视频编辑器,它可以轻松导入 SRT 文件,并使用所需的字幕使您的视频更精彩。我们强烈推荐 Aicoosoft Video Editor 为 MP4 添加字幕。由于集成了先进的研发技术,它比任何其他可用的视频编辑器或转换器快 30 倍。
使用 Aicoosoft 的视频转换器,您可以同时进行,即添加和调整 MP4 的字幕。让我们来研究一下为什么爱酷软件是您为MP4 添加字幕的最佳选择。
Part 2. Top 10 video editos to add subtitles to MP4 file
Now, we will discuss the ten best video editors to add subtitles to MP4.
1. Aicoosoft Video Converter
Aicoosoft Video Converter is an all-in-one professional conversion tool available for various sorts of entertainment users, DVD users, and video editors. You are only required to follow 3-4 steps to add subtitles to MP4 via Aicoosoft. It also provides a facility to edit the subtitles and change its color option, font style, and position as per your needs.
There is only a need to add the subtitles file, edit them, and press the Convert button to merge them with the MP4 video, and you are good to go.
Now, let us explore the key features of Aicoosoft, as given below.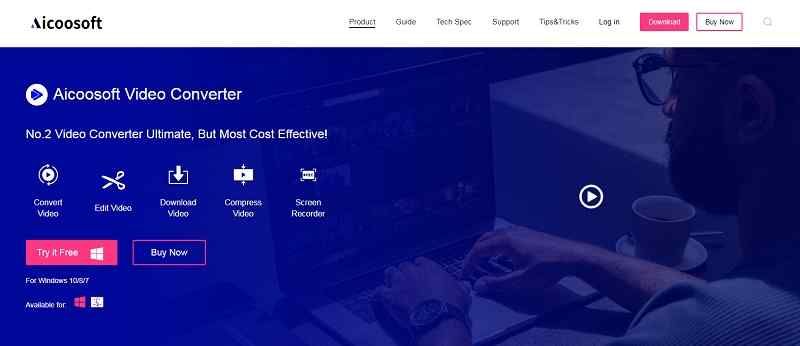 Key features of Aicoosoft Video Converter
Aicoosoft video converter comes up with a 30X faster conversion speed.
Import, add, and edit external subtitles for your movie with Aicoosoft effectively.
There would be no loss of original video quality after the conversion process with AI technology.
Besides a video converter, it also includes a fast video compressor and a video editor with advanced features to enhance the video's final look over the same platform.
How to add subtitles to an MP4 file with Aicoosoft Video Converter?
Step 1

Add the MP4 file

From the welcome interface, click the "Add Files" option and start adding the MP4 files.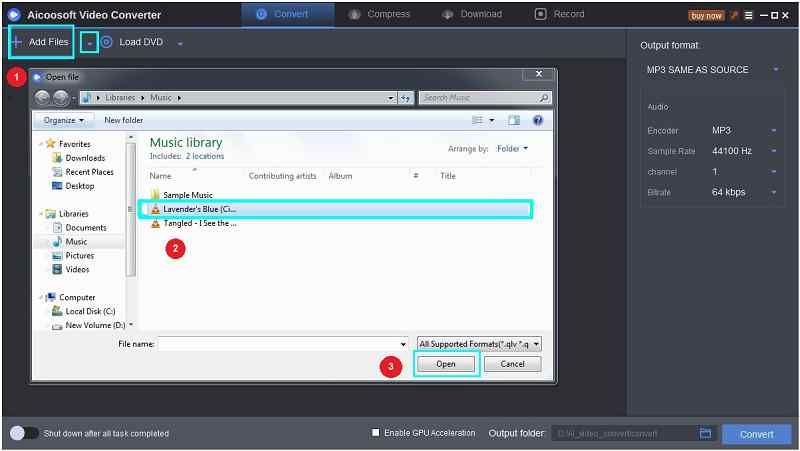 Step 2

Add the subtitle file

Once loaded, click the scissors icon to proceed.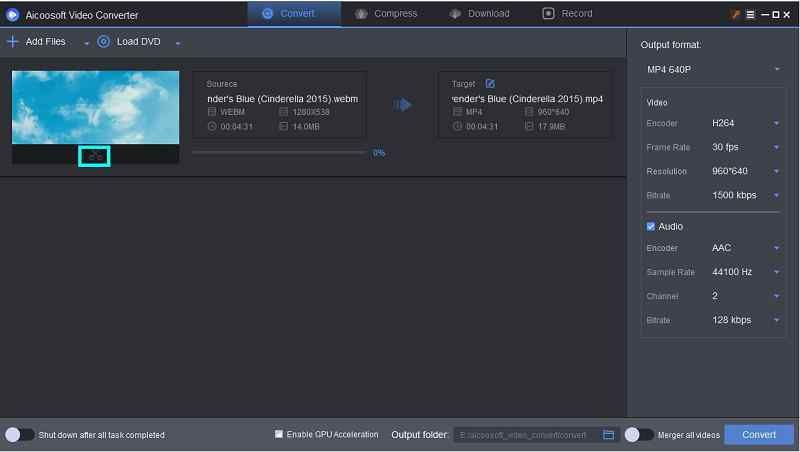 Choose the "Subtitles" option and from the right panel, click the "Add" option to add the subtitle file.
Step 3

Edit & start the conversion

Edit the subtitle as per your convenience and hit the "Apply" option to apply the changes followed by the "Save and Close" button.
In the next window, choose an output format and tap the "Convert" button to complete the process.
Click the "Open Folder" option to find the subtitled MP4 file.
Pros:
Fast conversion
Easy installation
Various other inbuilt features for ease of user
Available for both Mac and Windows OS
2. HappyScribe
Happy Scribe is another popular online tool for transcription and subtitling. Well, you have to look for its subtitling option to add subtitles to MP4. As per the process, you must select the video file; subtitles file, and hit the Generate button to confirm. All you need to purchase credits for using their services, after which you can also auto-generate subtitles.
Pros:
Easy process
Also consists of a transcription service
Intuitive user interface
Cons:
Excellent performance for transcription services only
Slow files uploading.
3. VisualSubSync
The VisualSubSync is a subtitle maker that supports various subtitle formats, including SSA/ASS and SRT. It is designed by Audio Waveform that also allows you to get network suggestions, check for errors, and to use the speed indicators.
Pros:
Supports various subtitle formats
Use audio waveform representation
Cons:
Too complex to understand
4. Clideo
Clideo is an online tool available for various purposes, including Video Combination, Video Editing, Adding Subtitles, Flipping Video, Reversing video, and so on. Here, you can either add an SRT file or create subtitles manually. There is an option to edit subtitles as well with versatile compatibility on various devices.
Pros:
Intuitive user interface
Various other features
5. Movavi
Read this Movavi Video Suite brief review if you want to know how to embed subtitles into the MP4 video. It is essential software with plenty of features for its inbuilt video editor. To add subtitles to MP4 with Movavi, you are required to download its subtitle adder that is available for both Windows and Mac operating systems.
Pros:
Simple user interface
Great for video editing
Limited features in free version
Cons:
Lengthy subtitle adder process
6. Subtitle Edit
Subtitle Edit is an open-source and free video editor to add subtitles. It is a pretty efficient tool for synchronizing, adjusting, creating, and adding subtitle lines. With Subtitle Edit, you can also readjust subtitles if they are not synchronized, and you can further make new subtitles.
Pros:
Lots of format support
Freeware program
Cons:
Hard for beginners and non-professionals
7. MacX Video Converter
The MacX Video Converter requires you to download subtitles from various sites before adding them to a movie or video clip. However, it provides minimal features in its free trial version. You can further various editing tools offered within the MacX Video Converter.
Pros:
Various inbuilt features
Simple user interface
The free trial also available
8. Subtitle Workshop
As the name suggests, the Subtitle Workshop is an omnipotent tool to add subtitles. It comes with various features, including text & time connected operations, reading & writing engine, spell checkers, and other custom tools.
Pros:
Simple user interface
Supports various subtitle formats
Multi-level undo-redo system
Cons:
It is too complicated a process for beginners
9. Aegisub
Aegisub is a cross-platform, free, and open-source online tool to create and modify subtitles. It consists of other features to further style your subtitles, including an inbuilt real-time video preview. It uses audio waveform technology to add subtitles to the video.
Pros:
Real-time video preview
Can manually add subtitles
Cons:
Challenging for beginners to understand the process
Confusing interface
10. AVC (Any Video Converter)
Any Video Converter is our final solution to how to embed subtitles into the MP4 video. It is a free video conversion and downloading toolkit that encodes videos in different formats with attractive filters and inbuilt devices profiles. It supports batch conversion of videos in one-click.
Pros:
Free
Supports batch conversion
Cons:
No efficient subtitle adder
11. VEED (Online Video Editing Software)
Tired of complex video subtitling software? Say hello to VEED! An easy-to-use online video editing software where you can add your subtitles in three easy ways: use auto-generate feature, type manually, or upload a file. Whichever option you choose, you can still edit your subtitles; add/delete words, change timing, font color and size.
Pros:
VEED offers a free version of easy-to-use subtitling tool
It automatically generates captions and can manually upload your own subtitles
VEED supports multiple formats (SRT, VTT, ASS, SSA, TXT)
Cons:
The free version has limited features (50 MB, subtitling feature not available)
Visible watermark in the free version
Conclusion
Thus, this article was all about adding subtitles to MP4 with the 11 best video converters available. Even though the market is full of many free online tools to extract subtitles from MP4, you may not get the required trust and speed as the Aicoosoft Video Converter provides. So, it's better to make a better decision beforehand with Aicoosoft Video Converter than to regret later.