"Hello, I have a lot of Home DVDs of my kid's birthdays that I want to convert to digital formats and send them to a few family and friends. Does anyone know if it can be done and what is the best way to Convert DVD to digital files?"
If you are in the habit of recording videos of your kids or family members during family events like birthdays and family get-togethers, then you probably have a lot of DVDs of such events in your collection. The problem with DVD is that they are often not the best way to share video, particularly in the digital age. To share a DVD, you probably have to mail it or physically bring it to someone, which can be quite problematic when compared to digital files that can simply be attached to an email or text message.
It is therefore not uncommon to find yourself needing an effective to convert Home DVDs to digital files. In this article we are going to be sharing with you the best way to do that.
Part 1. How to Convert Home DVD to Digital Files Easily
Perhaps the best way to convert DVDs to digital files is to use Aicoosoft Video Converter. This is a third-party video converter that is useful when you want to convert, edit, compress, download and record videos on your computer. We shall see how you can use it to convert your DVDs to digital formats shortly. But before we do that, let's take a look at some of its main features;
It supports the conversion of videos and audios to up to 1000 different formats without losing the quality.

It is 30X faster than most other tools in the market and therefore the best solution if you have a lot of videos to convert.

The DVDs can be converted into high resolution HD and 4K videos.

It is not just a video converter. You can also use it to download videos from the web and even edit videos on your computer.
To use Aicoosoft Video Converter to convert your DVDs to digital formats, download and install the program on to your computer and then follow these simple steps:
Step1
Once the installation is complete, open the program and make sure the "Convert" tab at the top is selected, before clicking on "Load DVD" to begin adding the DVD you want to convert into the program.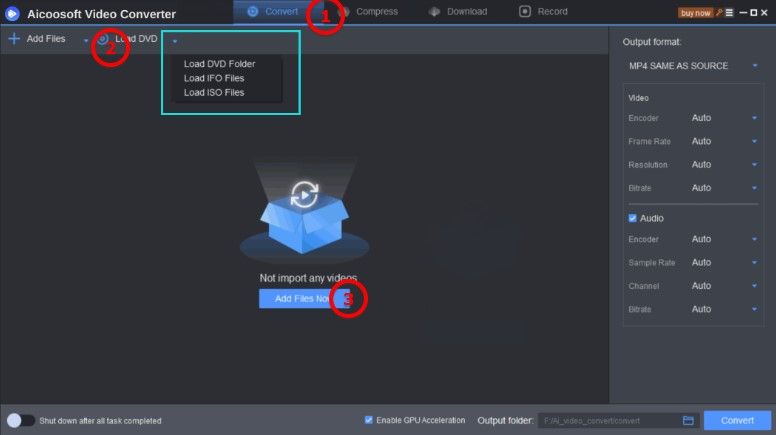 Step2
On the right-hand side of the Window, click on the drop-down arrow next the current format of the to "MP4 SAME AS SOURCE" to select the format you would like to convert them to. There are a lot of formats to choose from, so if you are unsure, we recommend going with "MP4" as it is supported by numerous devices.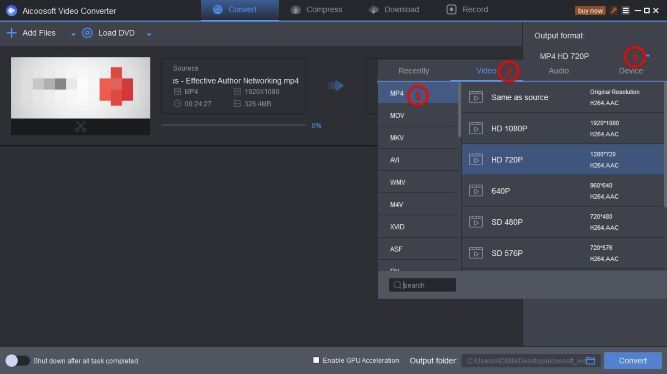 Step3
Click on "Convert" to begin the conversion process which will take anywhere from a few seconds to a few minutes depending on the length of the video.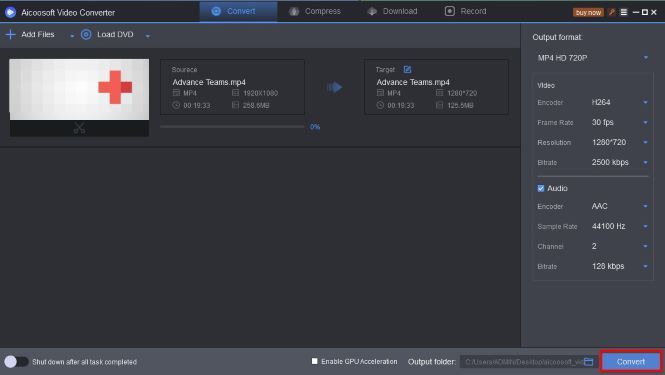 Step4
When the process is complete, you should see a popup appear on the screen. Click on the "Open Folder" button to locate the converted file.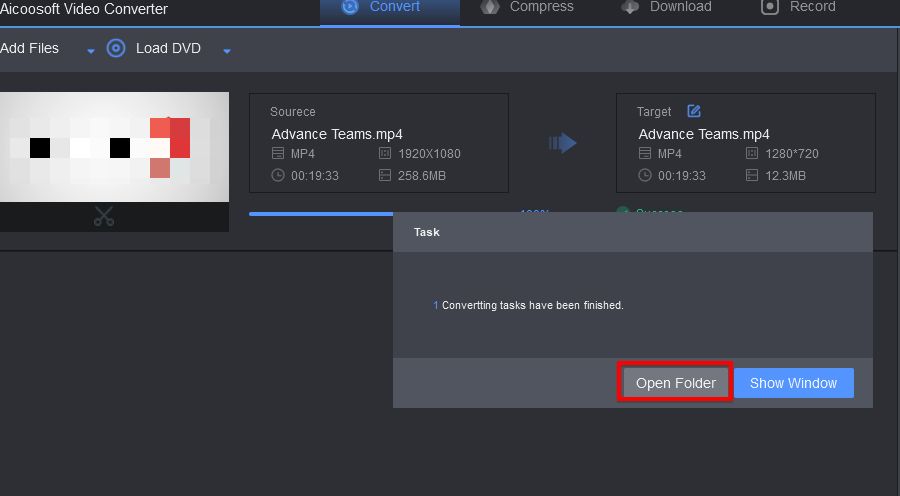 Part 2. How to Convert Home DVD to Digital Files for Free
There are also a lot of free tools that you can use to convert DVDs to digital formats. One such tool is Handbrake Video Converter, an open source solution that allows users to easily convert videos to various formats for free. But the program is not perfect. The following are some of its pros and cons;
Pros:
It is open source, which means you will never need to pay for the program.
It is a fairly light installation that will not take up too much of your computer's resources.
It is ideal for the extraction of videos from physical sources like DVD.
Cons:
The interface has a steep learning curve.
It doesn't offer a wide variety of output formats to choose from since it only supports MP4 and MKV .
To use this free tool to convert DVDs to a digital format like MP4, download and install Handbrake Video converter on to your computer and then follow these simple steps;
Step1
Open Handbrake on your computer and then insert the DVD into the computer's disk drive. Then click, "Open Source" at the top and in the side bar that pos up, select the DVD disc.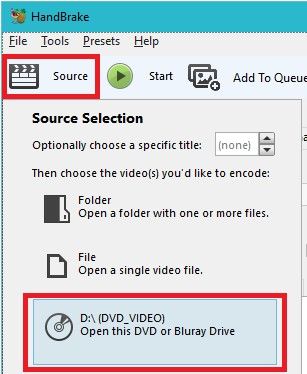 Step2
Click on "Browse" to select the output folder for the converted file. In the "Output Settings" make sure that "MP4" is selected as the "Container" and then click "Start" at the top to start the process. Make sure the DVD remains in the disk drive until the process is complete.

Part 3. Frequently Asked Questions
The following are the answers to the most common questions we get about this process, and are probably on your mind;
1. Can I Copy Files from a DVD to my Computer?
Yes, you can easily copy software or media on DVD to your computer. All you have to do is insert the DVD into the disk drive on your computer, open it using Windows Explorer and right-click on the media to select "Copy". You can then select a different destination on your computer to save the copied file. The problem is that the file you get after copying in this way may not be compatible with most devices or media players, hence the need to convert DVD to digital formats.
2. Can You Rip a DVD in Window Media player?
You can rip audio files from a CD using Windows Media Player, but it is not possible to do the same with video files on DVD.