WAV is an acronym for Waveform Audio format which is the raw form of audio tracks. So it does not lose the original quality and can play a single, contiguous, array of audio samples & blocks of samples in a specified order. Hence, due to this reason, one can convert any form of video into the WAV format.
At present, people frequently browse for good MP4 to WAV converter hence; we take up this as our today's topic. There is a varied range of online free MP4 to WAV converter tools available but very few are convenient and offer free service. We have taken up 3 of them, and with no delay, let's get to know them one-by-one...
Part 1. Various scenarios where one needs to convert MP4 to WAV
MP4 is basically a digital container that can store both audio & video whereas WAV is especially dedicated to audio, and can be streamed readily on any music players. But there are various scenarios where one needs to convert an MP4 file to MOV.
Does your music or audio player doesn't support MP4 format, converting it to WAV is a fine idea.
MP4 is a lossy file format while WAV is lossless hence to retain good quality file, the conversion is required at times.
Although MP4 files are small in size due to the compression method, WAV files are of better quality when compared to MP4 where conversion of MP4 to WAV might sound great.
Part 2. 100% best MP4 to WAV converter for Mac/Windows
We have tested a wide range of online video converters extensively and shortlisted the top three best MP4 to WAV converter suitable for any platform. This will guide you to avoid any confusion while choosing the online MP4 to WAV converter.
Aicoosoft Video Converter
Aicoosoft has brought the revolution in the domain of video conversion where conversion of MP4 to WAV happens in just a second in one-click. Aicoosoft implements AI in order to fasten the conversion process keeping the quality intact. In comparison with the traditional video converters, Aicoosoft maintains a balance between the conversion speed & quality and assures high-quality output deliverance to its users. By deploying advanced GPU acceleration and lossless conversion technology, MP4 to WAV conversion gets done at a 30X faster speed.
Key features of Aicoosoft Video Converter
By the in-built multi-core processor optimization technique, the conversion speed is highly optimized in Aicoosoft.
Apart from conversion and compression, one can edit the videos as per the convenience with the adorable toolbox offered by Aicoosoft.
One can convert the input video/audio to more than 1000+ formats.
One can compress HD videos from HD cameras, camcorders, and any other standard devices at an ease.
How to convert MP4 to WAV using Aicoosoft?
Step1

Add the MP4 files

Open the Aicoosoft software and click on the "Convert" option on the top of the toolbar.

Start adding the MP4 files by clicking on the "Add Files" option from the right corner.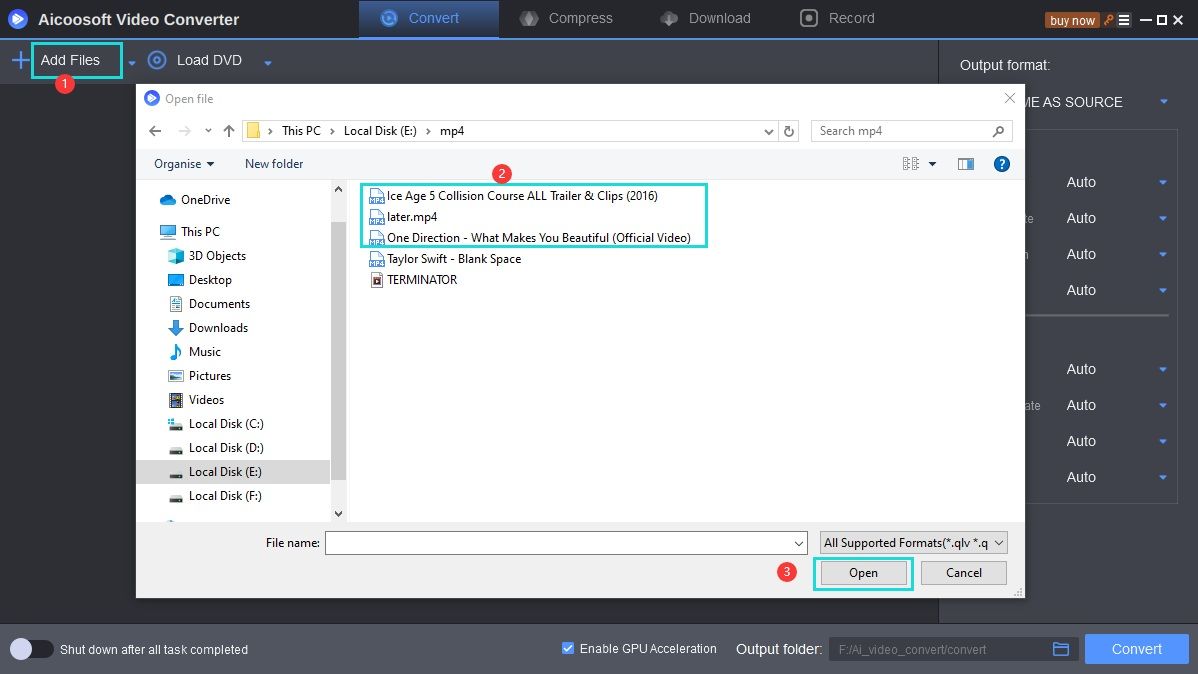 Step2

Choose the WAV format as output

Once the video is loaded, switch over to the "Audio" section and select "WAV" along with a resolution or you can go on with the "Lossless Quality" option.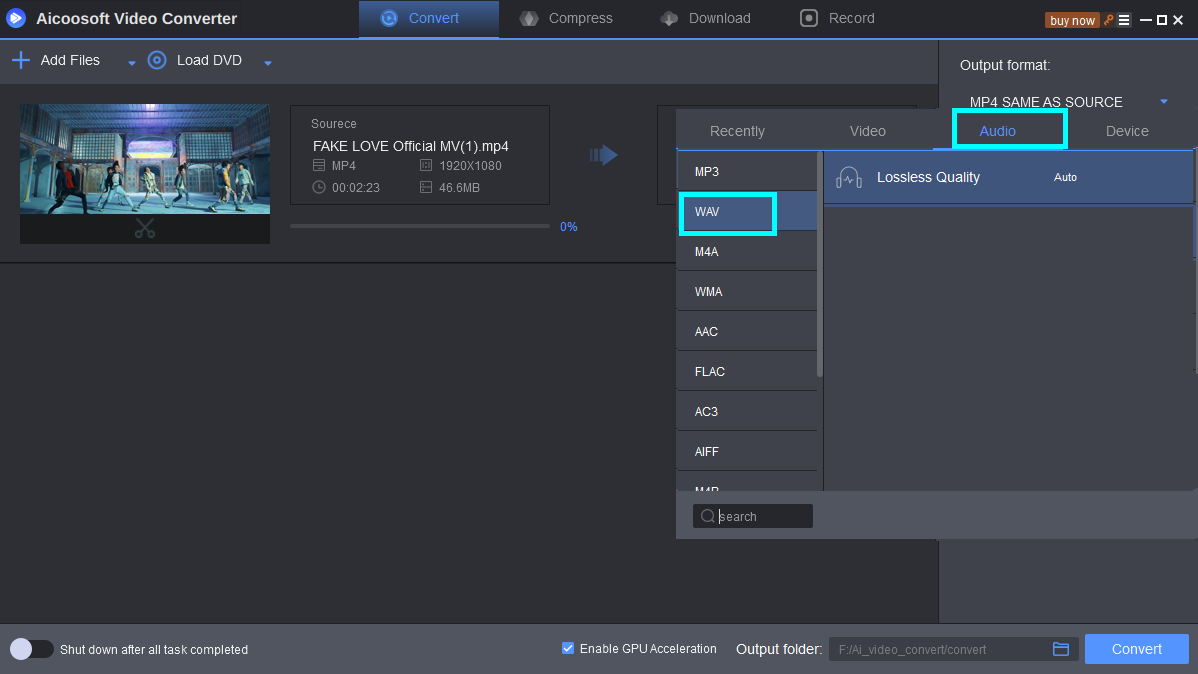 Step3

Start the conversion process

After selecting the output format, enable the GPU Acceleration checkbox and tap the "Convert" button on the end of the screen.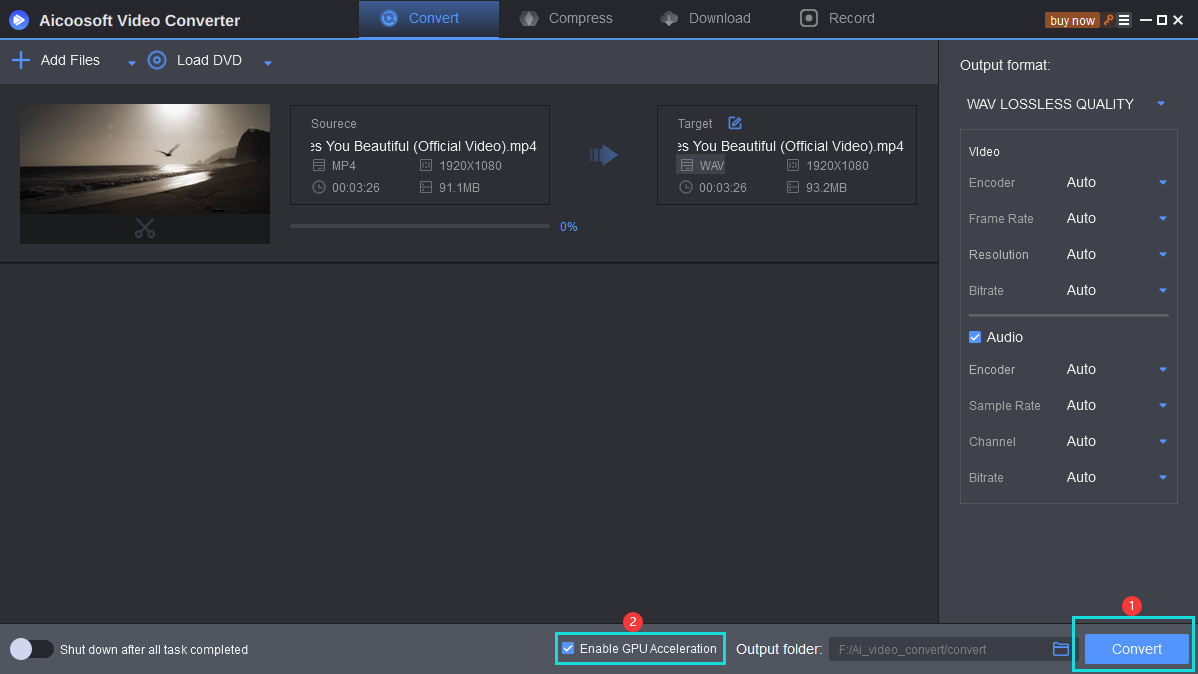 Step4

Locate the converted WAV file

If the converting task is complete, you will get a pop-up notification where clicking on the "Open Folder" button will help you to find the output WAV file from the Aicoosoft folder.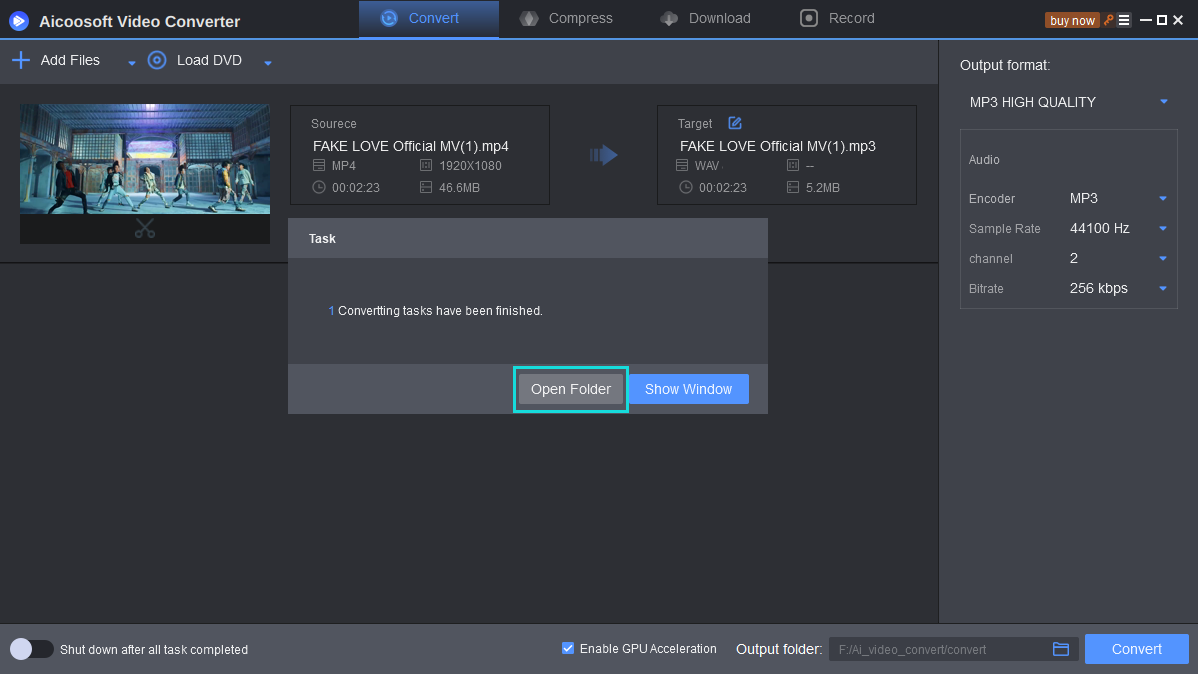 This is how one can easily convert MP4 to WAV with the aid of Aicoosoft for free in just seconds.
Part 3. Best free MP4 to WAV converter online
Today the internet is flooded with multiple options for free online MP4 to WAV converters where the popular tool is Convert Video Online that is preferred by many users at present...
Convert video online (https://convert-video-online.com/) is an online MP4 to WAV converter that is 100% free and a fast MP4 to WAV converter. It is a web page that allows one to upload MP4 files from PC, Google Drive, Dropbox, or in an URL. This online converter tool follows a simple user-friendly interface allowing one to adjust settings as per convenience.
In Convert video online, one can upload files up to 2GB giving away high-performance conversion. With no limitation for file conversion, Convert video online supports 300+ formats including the latest ones like h265/HVEC support. If you are concerned about security, one never needs to worry as the files will be deleted automatically from the server of Convert video online.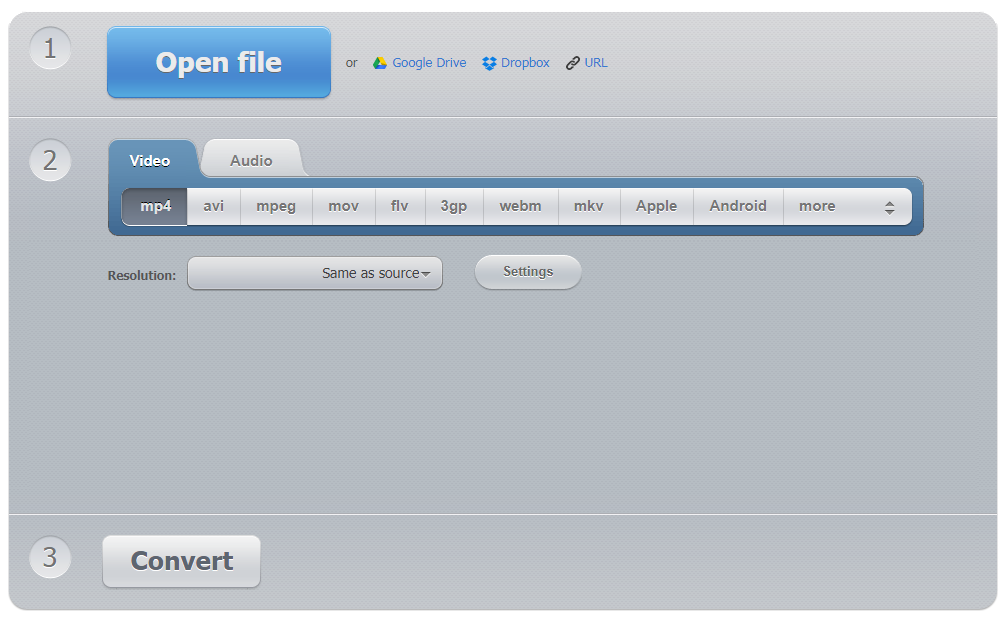 Part 4. Best free MP4 to WAV converter software
Next, it's going to be a free MP4 to WAV converter software called VideoProc about which we are about to discuss in detail here.
VideoProc V3.9 is one-stop video editing software that makes MP4 to WAV conversion easy, and free. Unlike Aicoosoft, VideoProc is equipped with GPU Acceleration that is level-3 Hardware-accelerated software powered by Intel, AMD, and NVIDIA programs that serves to be on the backend in delivery of buttery smooth conversion & transcoding techniques.
Apart from conversion, VideoProc is packed with an easy & advanced editing toolbox that can enhance your creativity in terms of stabilizing, fisheye fixing, noise removal, GIF maker, adding watermark, MKV maker, and creating M3U8.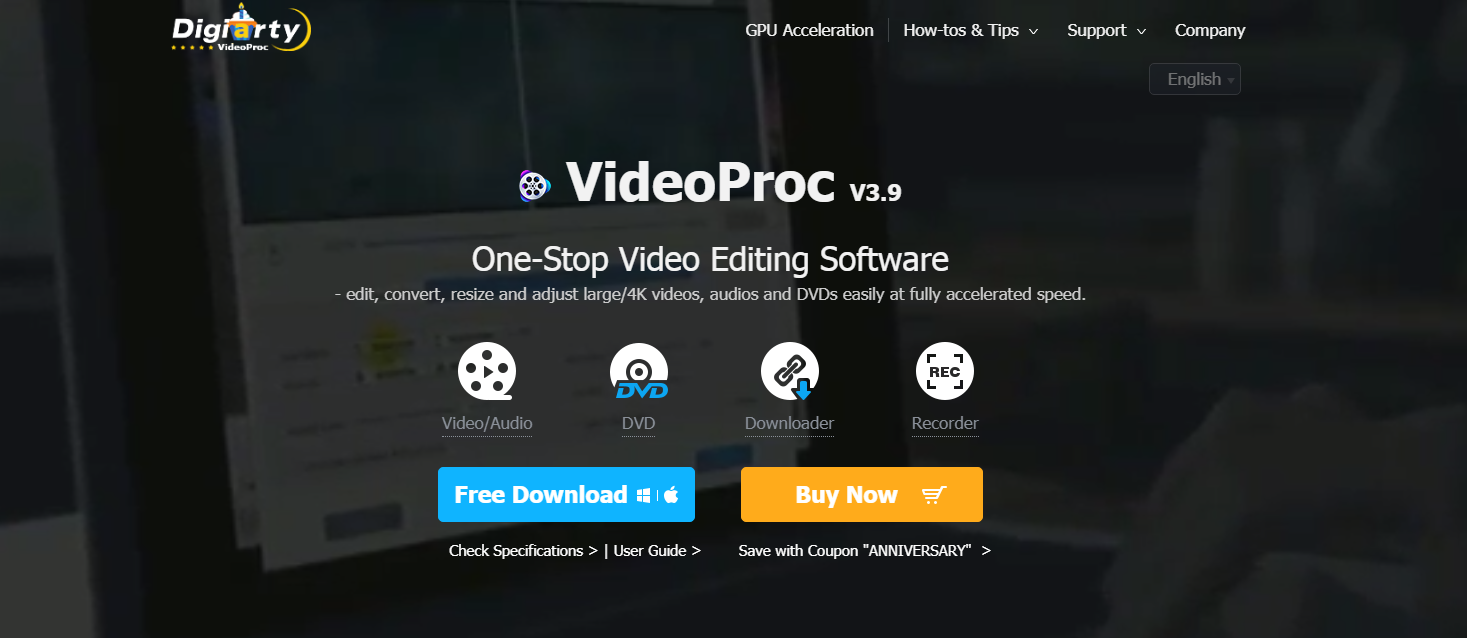 Conclusion
By now you would have known the best MP4 to WAV converters that can make the task easier and hassle-free along with practical implementation. All thanks to the endeavors of Aicoosoft for developing an all-in-one compatible solution as a revolution in the industry. The latter is already recommended by users globally for converting any form of a multimedia file without compromising on the quality. So, that's all for today, and stay tuned for more! Till then, experience seamless video conversion with Aicoosoft.