MKV files are not an audio or video compression format rather they are multimedia container formats that can incorporate video, subtitles, and audio into a single file. Most of the TV shows or movies streamed on the internet nowadays are in MKV extensions mainly for HD sources (1080p). There is a high chance that you will come across MKV files when you are getting videos from other people or downloading them from the Internet.  MKV videos can become a problem because of their distribution, large size, storage, and even playback on some of the devices. Read this article to compress MKV videos easily and quickly with the best MKV compressors available free and online.
Part 1. How to compress MKV video online and free?
Online Converter is a free and simple video conversion software. It allows you to convert your e-books, documents, videos, audios, and images to other file formats. With Online converter you can also convert currency and measurement units.
Pros:
Completely online and free service
Cons:
Password protected or encrypted videos and other files are not supported
Can't compress HD videos of large size
How to compress MKV videos online
To compress MKV file online through Online Video Converter follow these easy steps:
Step 1

Open Online Converter

Open https://www.onlineconverter.com/. In Video Converter open the drop-down list of Tools and select Compress Video and click Go.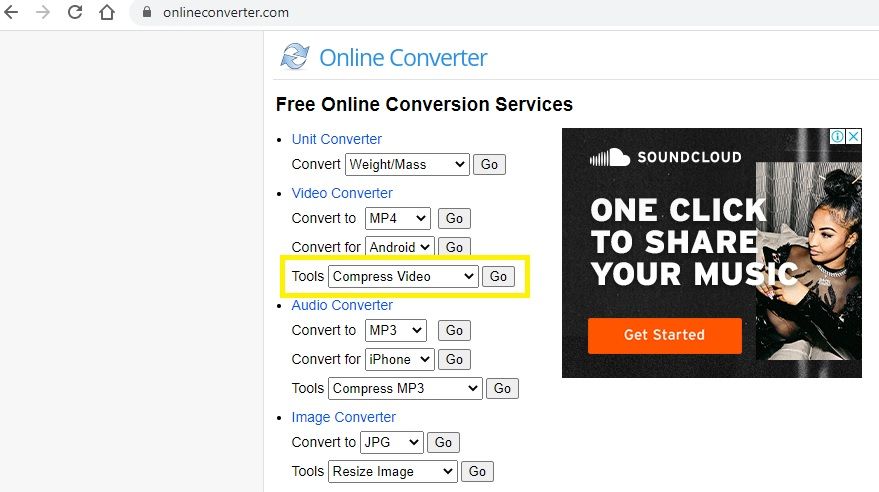 Step 2

Upload a file

Now Upload a file directly from your computer or open it from a URL.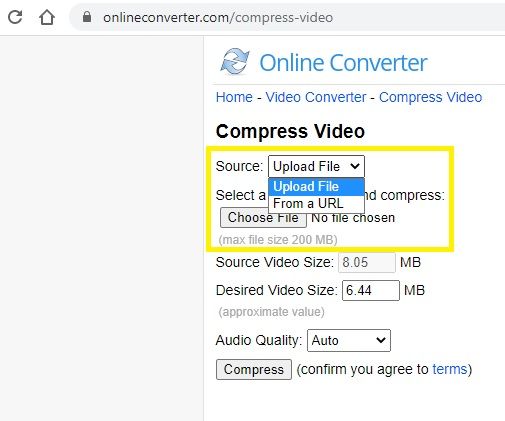 Step 3

Adjust settings of the output video

After uploading a source video size will appear. Adjust the desired video size according to your need. Select audio quality from the drop-down menu.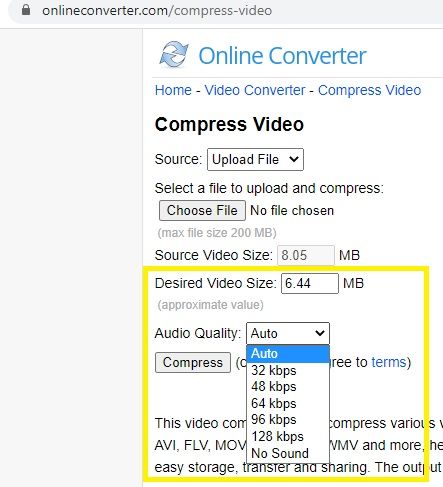 Step 4

Compress MKV file

Click the Compress button to reduce MKV file size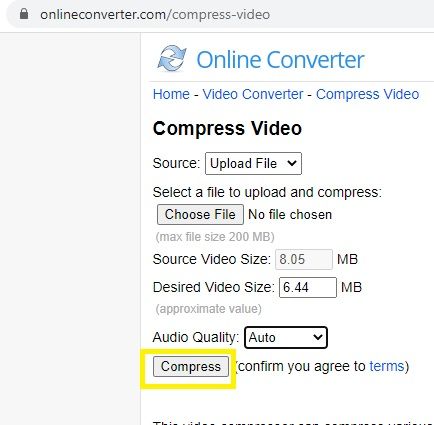 Part 2. The best MKV compressor to compress MKV without loss quality
Aicoosoft Video Converter is an ultimate state of the art video converter which allows you to edit, record, convert and compress videos. Smoothly reduce MKV file size with Aicoosoft by changing its format and resolution. You can also edit your MKV videos by rotating, cropping, and trimming before compressing them. Aicoosoft is committed to its user to boost their experience to a much greater extent so they can create and enjoy videos proficiently and quickly.
Key features of Aicoosoft Video Converter
Cost friendly and easy to use
Aicoosoft is not only cost-efficient but user friendly as well. Even a person with no technology-related knowledge can use it without any difficulty.
Compress HD videos
You can compress HD videos and change their bit rate, resolution, format, and file size flexibility.
Convert HD/4K videos
It can convert HD/4K videos to any format for playback without any loss in quality
Screen Recorder
Aicoosoft video converter allows you to capture screen with just one click. You can record gaming videos, tutorials or teaching videos.
Powerful Video Editor
Aicoosoft has a very powerful video editing tool with variousoptions like trim, watermark, effects, crop, subtitles, and rotate.
Supports 1000+ formats
More than 1000 audio/ video formats are supported by Aicoosoft.
High-Quality Output
It provides high quality and state of the art output video.
30X Fast Video Conversion
Aicoosoft video converter has a 30 times faster video conversion rate than other software available in the market.
Download from 1000+ websites
You can store audio and videos from more than 1000 website due to its powerful downloading features
How to compress MKV without loss in quality?
Here is an easy step by step guide to compress MKV file without loss in quality:
Step1

Launch Aicoosoft Video Converter

Open the website https://www.aicoosoft.com/ and click on the Download option. After completing the download, install the Aicoosoft Video Converter on your computer. You can either use a free trial version or buy a premium version of Aicoosoft video converter to explore all features.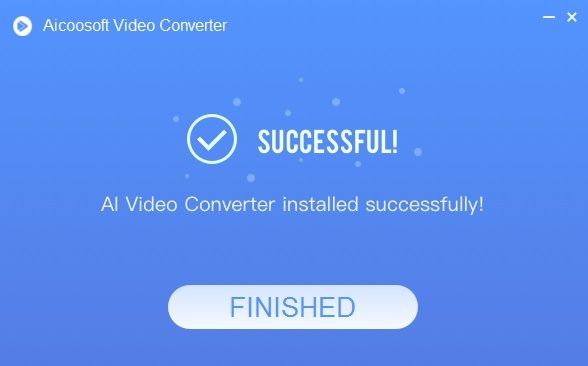 Step2

Open the converter and upload MKV files

Launch the Aicoosoft video converter and upload your MKV files. Click on the + icon to Add Files.
Step3

Add Single or Multiple MKV files

You can select a single file or multiple MKV files from your computer. Select the desired file and click Open.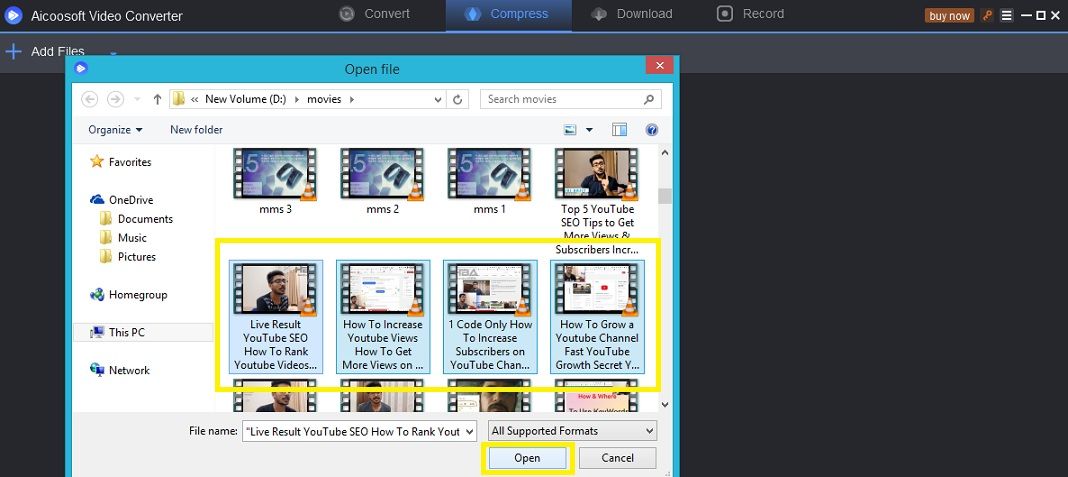 Step4

Customize Settings

After adding files change the format and resolution of the video according to your desired need. You can also increase or decrease the size of the desired video.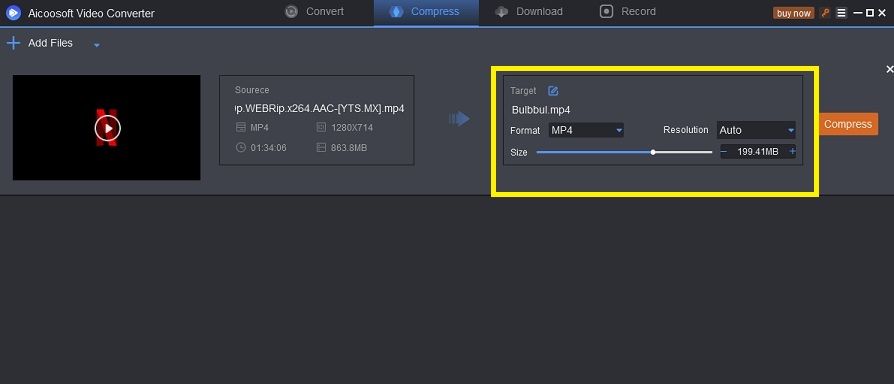 Step5

Compress MKV file

Now click on the Compress option to start compressing the MKV file. After a few seconds, you will have the output with a reduced MKV file size and your desired resolution and format.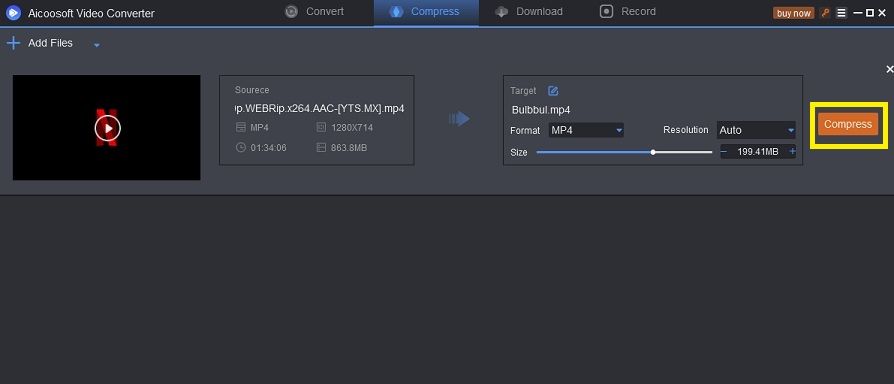 Step6

Locate the Compressed MKV files

You can open the compressed MKV files by clicking on the Output Folder icon at the bottom of the converter.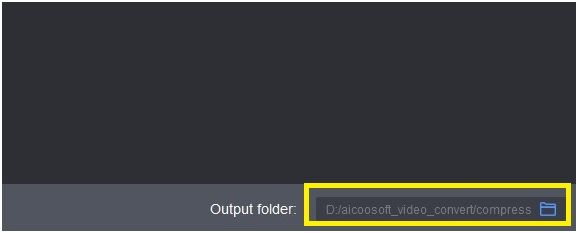 How to edit MKV video to change videos size
Aicoosoft video converter is one of the most powerful video editing tools. It allows you to trim, rotate, adjust, and crop your videos easily. You can also add subtitles, watermarks, and effects to your videos. Aicoosoft supports more than 1000 different audio and video formats. It is 30 times faster than other software. Aicoosoft also allows you to delete unwanted segments in a video. You can also merge different segments to make one video.
Trim MKV videos
If you want to trim MKV videos then use the Aicoosoft video converter. Follow these easy steps:
Step 1: Edit the MKV video
In the Aicoosoft Video converter click on the Edit option. You will see a new window with different editing options like trim, crop, subtitle, watermarks, audio, effects, etc. Click on Trim.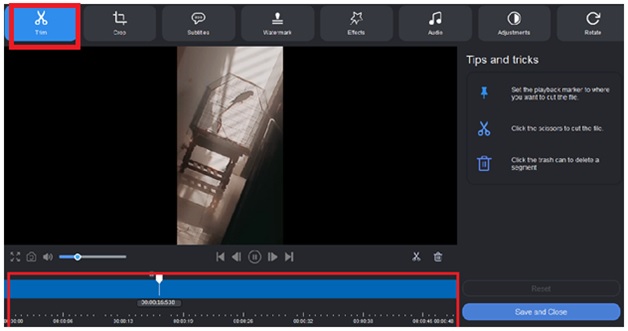 Step 2: Cut the MKV video
Click the Scissors to cut the MKV video file. You will see different segments of the video. Select the segment you want to save and click on the Save option. If you want to delete a specific segment select it and click on the Bin option. You can also save these segments as a single file or as separate files.

Step 3: Save the trimmed MKV video
Click on Save and Close to save the trimmed MKV video file.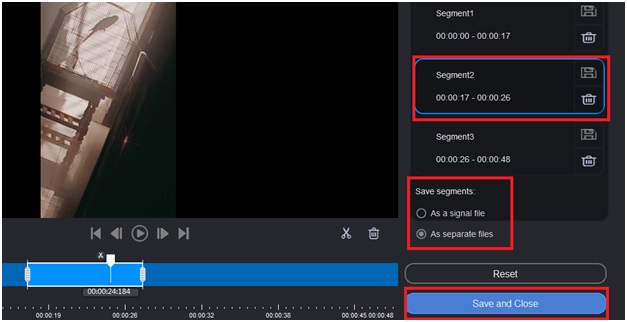 Crop the MKV videos
With the Aicoosoft video converter, you can easily crop any MKV video in a few minutes. Follow these steps to crop your MKV video:
Step 1: Crop the MKV video
In the Aicoosoft video converter, click on the Edit option. A new window will appear with different editing options. Click on Crop.

Step 2: Adjust the video
Using the crop frame cut away the edges. You can also adjust the Width, Height, and aspect ratio of this video. After you are done cropping the video click on Apply.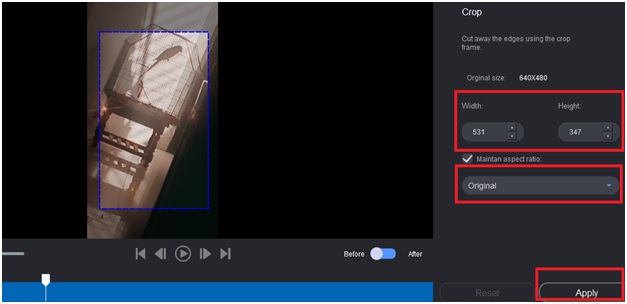 Step 3: Save the cropped video
Click on Save and Close to save this cropped MKV video and close the editing window.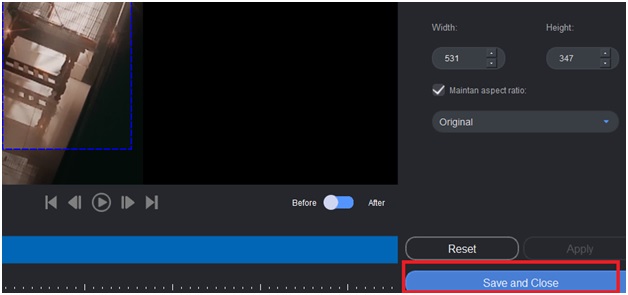 Part 3. Frequently Asked Questions
Why are MKV files so big?
MKV files are big because they have many features packed in them such as subtitle tracks and multiple audio tracks.
Is MKV good quality?
MKV is an open-source and has many features packed into it such as high audio quality and flexible framework. It is extensible to future formats and supports all audio and video compression formats known today.
Is MKV better than AVI?
MKV has great video & audio quality and can support multi-tracks and subtitles whereas AVI is compatible with most players and devices. MKV is usually larger in file size than AVI but if you want high video quality than choose MKV because it is capable to store HD movies of high quality.
Does VLC play MKV?
Yes, many other formats including MKV can be played by the VLC media player.
What players play MKV files?
To play an MKV files you either need to download the appropriate codecs for the media player or use an MKV compatible media player. VLC can be used for this purpose because you don't need to install anything as it has built-in support for MKV files. Other players include Bigasoft Total Video Converter, uView, KMPlayer, SMPlayer, DAPlayer, Aicoosoft Video converter, etc.
How do I make an m4v file smaller?
To reduce the size of an m4v file you can compress it. Many video compression tools are available on the internet for this purpose.
How to compress AVI video online?
You can compress AVI videos online by using an AVI compressor such as Aicoosoft.
What is the best HD video compressor online?
The best HD video compressor available online is the Aicoosoft video converter. It is 30X faster and can compress HD/4K videos without any loss in quality.