MP3 files are mainly audio files which are not always compatible with social media sites like Facebook, YouTube and Twitter. These sites have a program that doesn't allow MP4 format files to be uploaded. So to upload a video or audio, you need to convert MP3 to MP4 free. You can choose any random MP3 to MP4 converter online, but selecting the best you can save you from the bad quality output and wastage of time during the process. Further ahead, we discuss the best solution for this conversion and about other online conversion solution for free.
What is MP4/MP3 formats?
MP3 is the abbreviation for MPEG-1 Audio Layer 3 which stores audio information digitally. It started becoming popular than CD's as MP3 files take less storage space. MP3 format takes very less space to store files on your computer or mobile devices.
Whereas MP4 is the abbreviation for MPEG-4 Part 14, but it does support not only audio files, but also videos and images and even subtitles. MP4 has become so popular because it is compatible with all operating systems and devices. This makes it easy to play MP4 files anywhere and everywhere.
Part 1. Best free MP3 to MP4 converter - Aicoosoft Video Converter
Aicoosoft Video Converter is advanced software that allows conversion of files, like URL to MP4 files within a few seconds. It moreover comes with a bunch of editing tools that help in enhancing the quality of the video and changes the effect to it. Furthermore, it can compress, download and screen record over the desktop. It comes with such a premium feature because of the Al Technology present in this software. Some of its in-built tools are 30X video conversion speed, professional video compressor and in-built video and audio downloader.
Key features of Aicoosoft Video Converter
This feature is what the software is mainly about. It helps to batch convert MP3 to MP4 within 30X faster speed in over 1000 formats.
Compression feature of the software allows you to compress the videos with ease without losing the original quality.
It allows downloading videos from more than 10000 online streaming sites. It is even compatible with downloading premium quality HD videos from YouTube and other sites as well.
It supports editing of videos as well and offers you premade effects and filters to use with the videos.
You can even record the online video or system screen with this software.
How to convert MP3 to MP4 with Aicoosoft Video Converter
Step1
Make sure you have installed AicooSoft Video Converter on your computer and open it on your computer. First, add the MP3 format files by clicking on the "Add Files" option.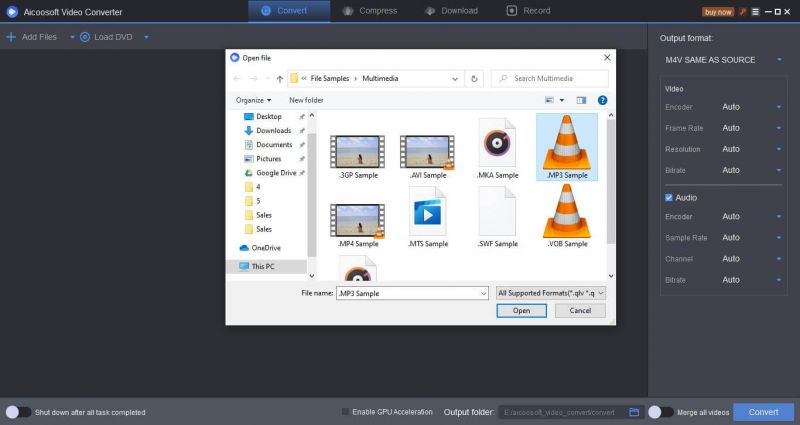 Step2
After the files are added, you will need to select the output format from the "Output Format" option at the Right upper corner then select "Videos" tab and click on MP4 format. Start the process of conversion from MP3 to MP4 by clicking on the "Convert" option, down below on the screen.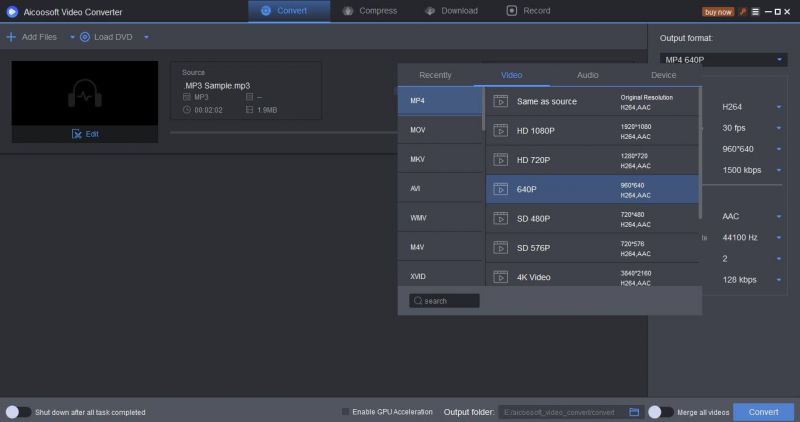 Step3
After the conversion is complete, a box appears. Click on the "Open Folder" option to locate where the converted MP4 file has been stored.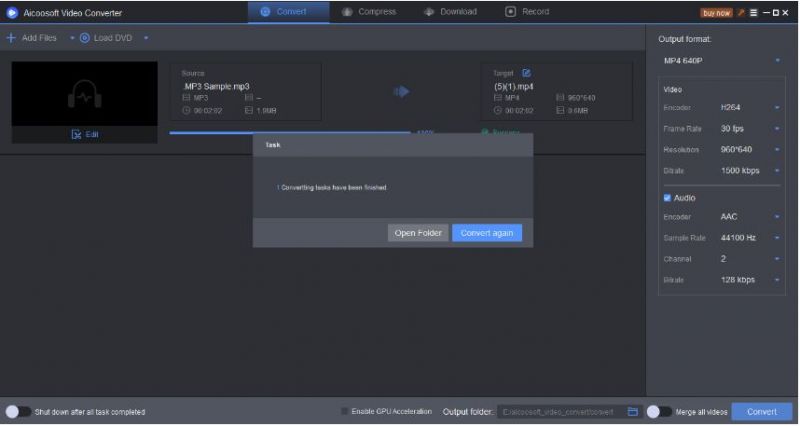 Part 2. 3 best ways to convert MP3 to MP4 online free
A few best online converters for MP4 that do not charge money are listed down below. All of them are free to use and easy to use, but on the other hand they have no additional settings and functions.
1 - Tovid
This is one of the free online converters. Tovid is used to convert MP3 audio files into MP4 format files. You can convert MP3 to MP4 for Facebook a song into a video and merge it with one or several images through this software and its tools. It is also suitable for uploading videos over video sharing sites like YouTube. Tovid can crop and zoom videos and the pictures to be added into a video. After the conversion and editing is done, You can directly upload that file over YouTube.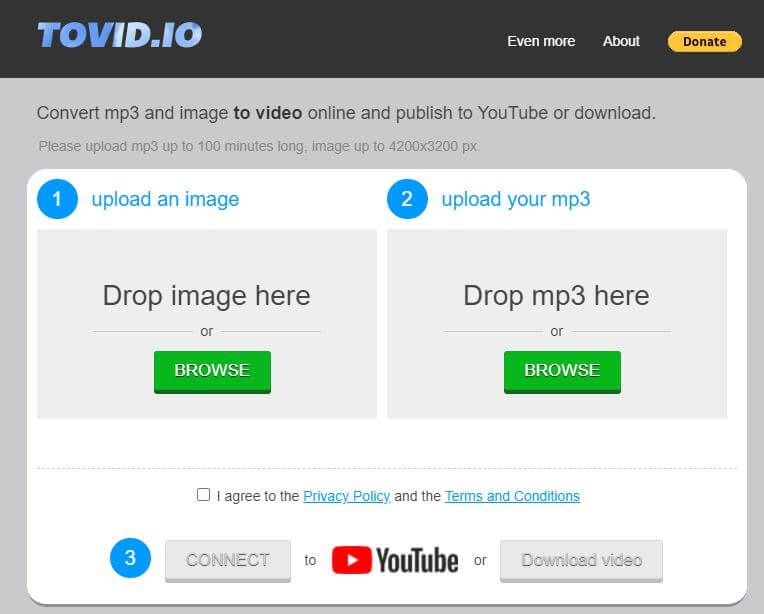 2 - Zamzar
URL https://www.zamzar.com/convert/mp3-to-mp4/
This is an example of another online converter that can be used without the need of purchasing it. It allows the conversion of MP3 to MP4 without needing to install software, downloading or even registration. It further allows converting the videos of YouTube directly just by pasting the URL of video in over 30 formats.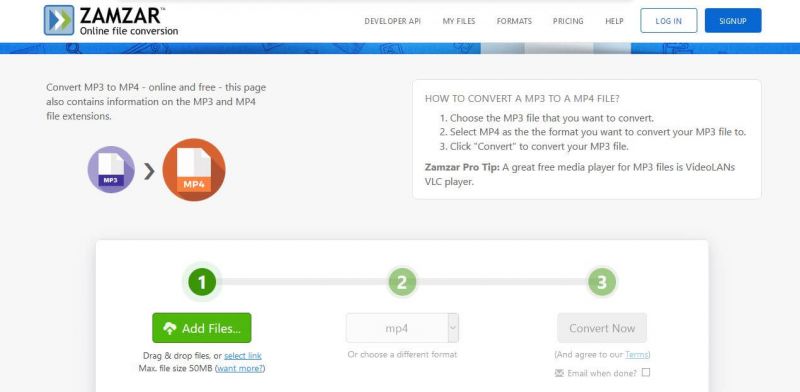 3 - FreeConvert
URL https://www.freeconvert.com/
This is another online converter used for converting MP3 to MP4 without losing quality. It comes along with advanced settings option, which in turn allows you to access some exciting tools that help you to enhance the outcome. It always strives to give a good quality output. Moreover, it is compatible with most web browsers. They even provide a secure and safe conversion as the files are protected under 256-bit SSL encryption and files automatically gets deleted after 2 hrs.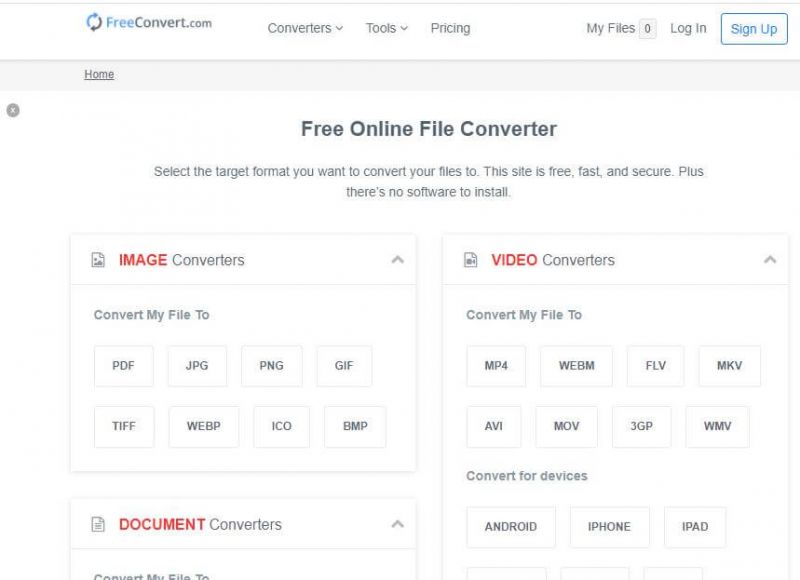 Conclusion
While converting a file to MP4 for uploading on social platforms like, Facebook, Twitter and YouTube, you should always focus on the quality of the video. Because a lot of online converters offer free process, but the quality of the video gets hampered, and the output is not as desired. Whereas Aicoosoft video converter not only provides HD quality video but also takes care of the system by providing 100% security guarantee. If you choose this particular software, they get additional editing tools and compressor that enhances the video quality and at the same time compresses or shortens the file length.