Is your favorite MP4 video file on Mac or Windows taking a lot of space? Is your hard drive lagging and hence needs a clean? Why don't you try compressing the MP4 files to a smaller size so that they can be placed and kept a copy on your device? But it isn't that easy as if you make the lossy compression file size reduces using deleting data, and aggressive compression results in low video quality. Then how can one compress MP4 video of high-quality? We have the ultimate guide on how to compress MP4 without losing quality online in our today's article.
Part 1. Why should one compress an MP4 file?
MP4 files follow a lossless file format, and hence the file size is more extensive with high resolution and quality. It is a digital container format that can hold audio, video, and subtitles. Therefore it is of international standard. As the file size is more extensive, uploading or downloading an MP4 file without low quality is difficult or challenging to require excellent Internet connectivity.
Hence, one needs to compress an MP4 file to a smaller size without losing quality to stream readily to any video sites or social media platforms.
Part 2. How to compress MP4 videos on Mac and Windows?
Are you a Mac or Windows user who requires an ultimate tool to compress MP4 files for free? We picked up the Aicoosoft video converter today, and you can know more about it in this session.
Aicoosoft Video Converter
Aicoosoft is an ultimate No.2 video converter tool that compresses MP4 video on mac more efficiently for free. It is cost-effective software that is a professional video compressor platform suitable and well-to-go for the long-run. With no download, you can directly compress/convert the MP4 files to various popular formats like MP4, MOV, M4V, AVI, from 100+ popular sites like YouTube, Dailymotion, Instagram, and Vimeo. When coming to quality, a high-quality outcome is assured even in HD video with 1080P.
Key features of Aicoosoft Video Converter
Personalize and compress the MP4 files by customizing various settings like resolution, video format, and bit rate.
Compress multiple MP4 files at an ease hassle-free in one-click with Aicoosoft.
Download numerous MP4 files directly from 1000+ audio/video streaming sites with the in-built video & audio converter.
Convert the MP4 video files at a 30X faster speed to more than 1000 formats with Aicoosoft.
How to compress MP4 video using Aicoosoft?
Here's a step-by-step guide on
how to compress MP4
using an Aicoosoft video converter. Aicoosoft offers a free version to its users to download and install it on your PC from the link,
https://www.aicoosoft.com/video-converter.html
, by clicking on the "Try it Free" button.
Step 1

Add MP4 files

Open Aicoosoft software and switch over to the "Compress" option on the top toolbar.

Start adding the MP4 video files to compress by clicking on the "Add Files" option on the left corner. Instead, you can add a complete folder by clicking the inverted triangle icon on the right corner of the "Add Files" option.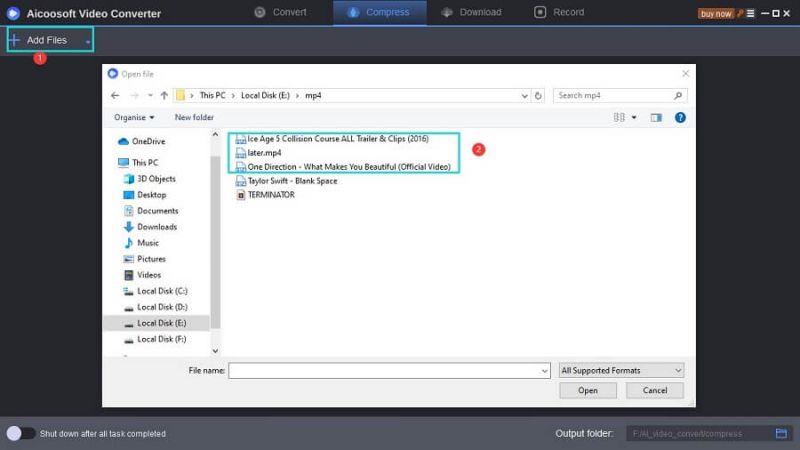 Step 2

Confirm the format and output resolution

Once the selected videos appear on the screen, on the target session, choose the format as "MP4" and specify the resolution in which you require the output file to be.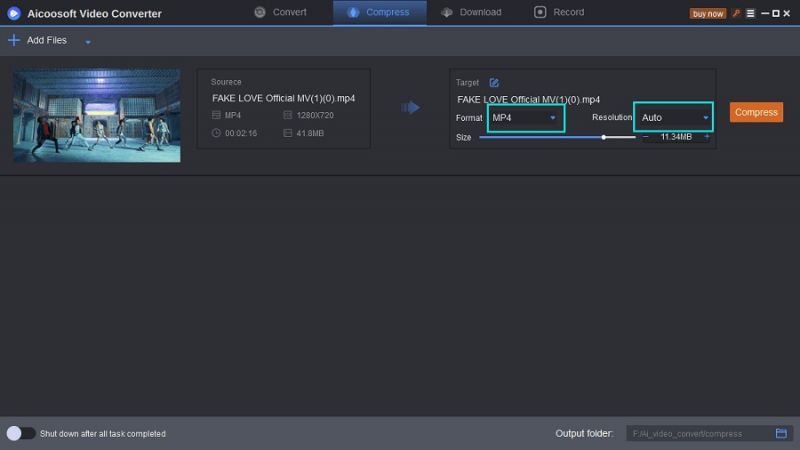 Step 3

Hit the "Compress" button

After specifying the size and format, you are ready-to-go if you hit the "Compress button.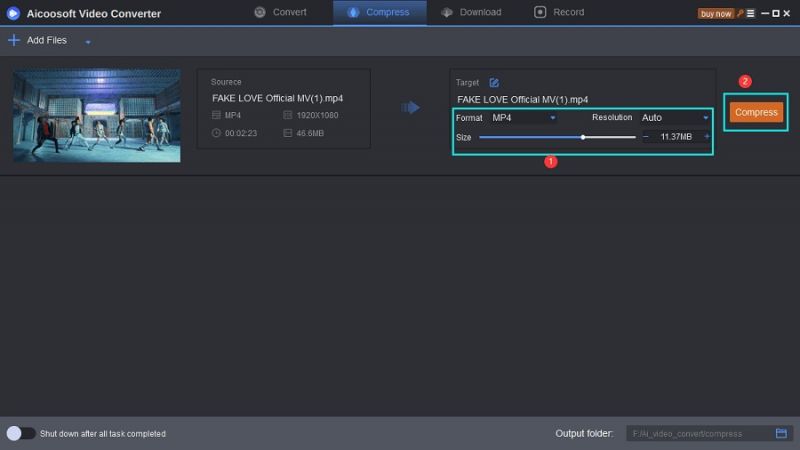 Once the compressing process gets over, you can find the resultant file by clicking the "Open Folder" button.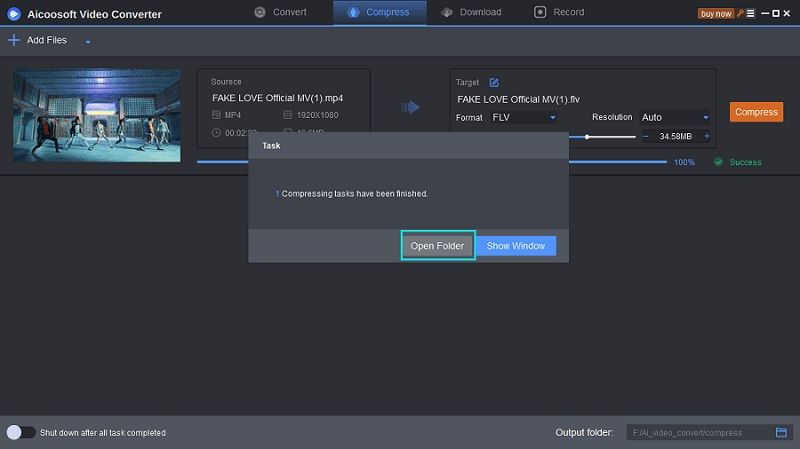 In just three steps with a simple user-interface, you can compress MP4 video on Mac at ease with Aicoosoft.
Part 3. How to compress MP4 without losing quality online free?
To compress the MP4 file, Aicoosoft is not the only option, but you can choose the other option of going online as well. Get to know how to compress MP4 online for free in this session with Clideo.
Clideo - online MP4 compressor
Clideo is an online video compressor that compressesMP4 videos to smaller sizes online for free with high-quality. Clideo offers compression over other formats like MOV, AVI, 3GP, WMV, and MKV too. Apart from compression, Clideo offers attractive video editing options like merge, loop, reverse, crop, resize, stop motion, meme maker, rotate, cut, video maker, and still a lot more. Clideo is a cloud-based tool that is fast and compresses video up to 500MB for free.
How to compress MP4 for free online?
Are you excited about how does Clideo compresses the MP4 video file? Let's look at a manual guide on how to compress the MP4 file with Clideo in 3 steps.
Step 1: Enter the link, https://clideo.com/compress-MP4, on your preferred web browser.
Step 2
: Drag and drop the MP4 file from your Mac, Windows, or iPhone. You can choose the file from Dropbox, Google Drive, and the YouTube URL from the inverted arrow.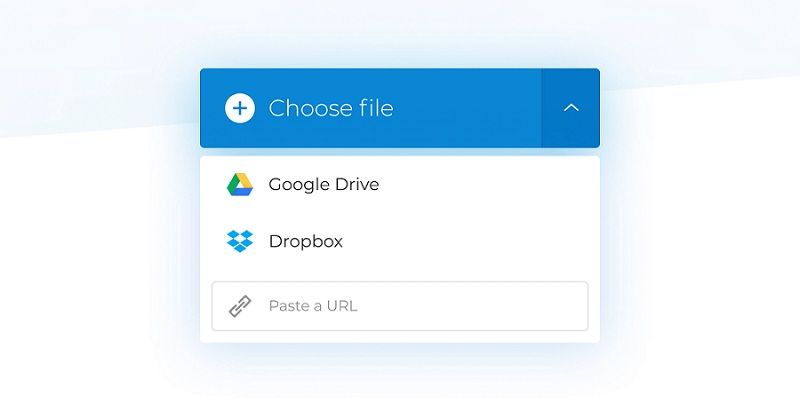 Step 3: Now, Clideo will start compressing the video. Please wait till the process gets complete.
Step 4
: Once the process gets over, you can download the compressed MP4 file by clicking the "Download" option. On the top, you can see the compressed percentage and the new file size.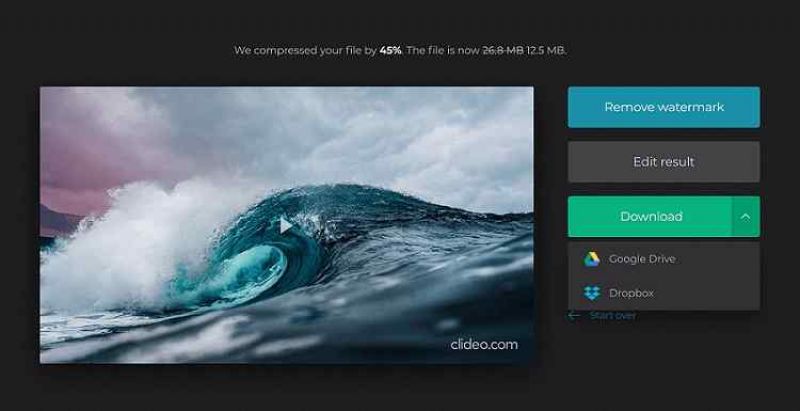 You can play the compressed MP4 file, and if the quality is good, you can download or click the "Start Over" arrow to compress again.
Part 4. FAQs
1. What affects video file size?
While there are various factors associated with the MP4 file that might affect the file size like resolution and duration, the crucial role is the video bitrate, frame rate, and video codec that determine the video quality encoding mechanism.
2. What determines video size?
The resolution of the video in terms of height and width is what determines the video size. While the resolution is in pixels, it is the number of horizontal lines from goes from top-to-bottom. If the pixel is 1080P, the video is a larger one containing more information.
3. Can Windows Media Player compress videos?
You can play an array of videos in Windows Media Player, and it supports a few simple video editing options. But, this application doesn't facilitate the video compression feature.
4. Can VLC compress video?
Yes, VLC can compress the video as per your requirements. In addition to playing multimedia video files, VLC can be a video converter and compressor.
Conclusion
Yes, MP4 compression is no longer a lossy process when you have an Aicoosoft video converter on-hand. With more than just high-quality MP4 compression, batch conversion is made possible in just seconds with Aicoosoft. Never forget to give Clideo a try to compress MP4 files online for free that comes in handy!