MP4 developed by Moving Picture Experts Group is based on the HTML5 programme. This programming is what makes and compatible with most of the operating systems. On the other hand, SWF or Small Web Format is developed by Adobe Systems. SWF is used mainly to create animation-related videos, including vector and raster graphics and texts. Even though MP4 is quite popular, SWF has always been the first option to embed and share videos. Later in this context, we will discuss the software that allows us to convert MP4 to SWF free.
What is the SWF format?
SWF Format had been created by Adobe Systems used for creating animated videos mainly. It may also consist of vector and raster graphics, even texts and interactive actions written in ActionScript. It is best suitable for embedding or sharing videos over the internet. Moreover, if the user is sharing a video that needs interaction with the audience, then he/she must use SWF for having a better interaction with the viewers.
Part 1. How to convert MP4 to SWF on Mac/Windows
Aicoosoft Video Converter converts videos with intuitive and is user-friendly interface. This MP4 to SWF converter comes along with a box of editing tools that can help you to raise the video's quality. It can trim and merge multiple segments of a clip to get a finished output. It can be useful to Video editors, Home video users, DVD users, and other entertainment users. As this software is based on Al Technology, it comes with those extra editing skills that can be used after converting video from MP4 to SWF format. It also offers you MP4 to SWF converter free program which allows you to convert the files on Mac or windows using trial version.
Key features of Aicoosoft Video Converter
Video conversion is the most powerful feature of the software which enables you to convert videos from one format to more than 1000 formats with just few clicks.
It compresses the video to decrease size without losing the original quality.
It also allows you to download the videos from over 10000 videos streaming sites in any format of your choice.
The program is able to edit the videos as well which allows you to make your videos looks better.
It also has a feature which allows you to record the computer screen or online videos.
It supports both Mac and Windows system.
How to convert MP4 to SWF with Aicoosoft Video Converter
Step1
Make sure you have Aicoosoft Video Converter installed on your computer and open the software. First, press on "Add Files" option in the upper left corner. You can also add more than one video together in batch.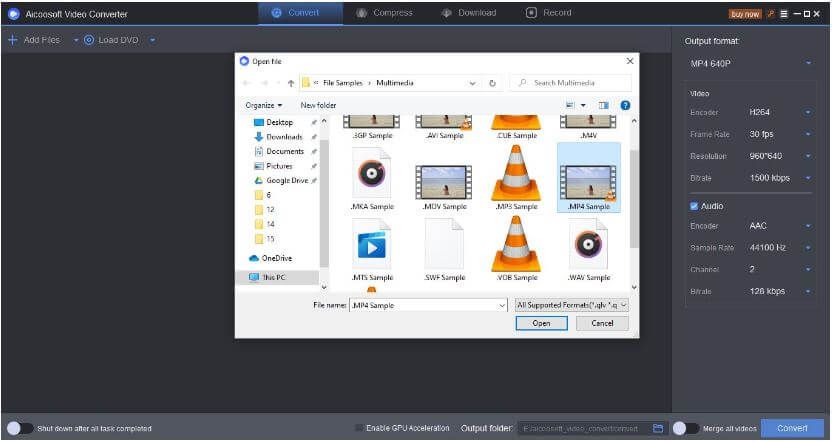 Step2
You can also rename to output file name using the software directly. Here, we will choose the output format from the Format button on the right side of the screen. Click the option under "Output Format" at the right side it shows a list consisting of audio, video, and device options. Select SWF as your output format from the "Video" tab of the popup box. Click on Enable GPU/Acceleration the select output folder where you want to save file then click on the convert option at the lower right now.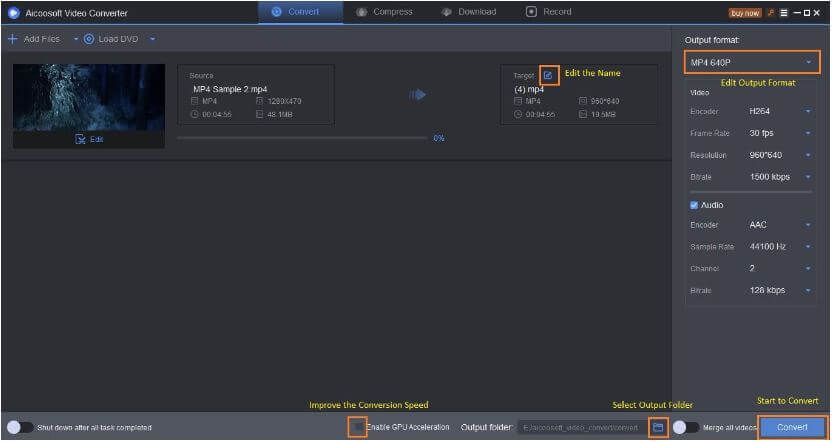 Step3
After you have successfully finished converting the video, select the "Open Folder" option to locate the folder where the new MP4 file has been saved.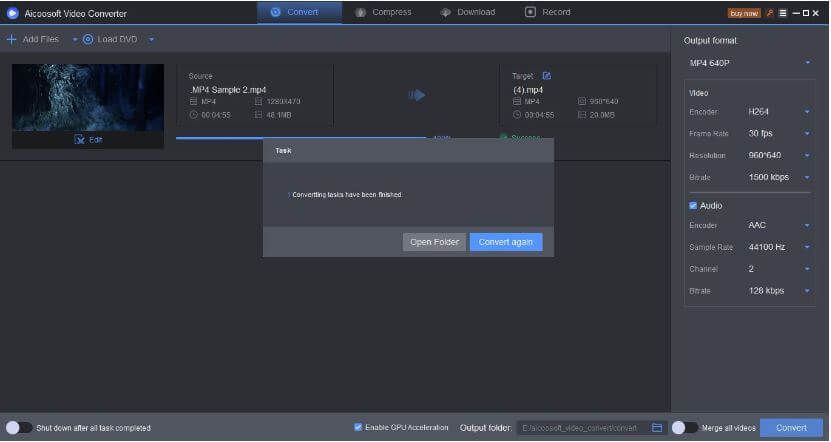 Part 2. FAQs
1 - Can VLC play the SWF file?
Yes, SWF files can be played on VLC. If an SWF file is played, VLC will automatically convert it into MP4 and play it. But more interactive animated content or anything that includes a lot of interaction with the programme cannot be played over VLC.
2 - Can Windows Media Player play SWF files?
No, Microsoft does not support SWF files. One needs to convert it into an MP4 file format, and then the content can be played over Windows Media Player.
3 - What program opens SWF files?
Adobe Systems develop SWF so one can play it on Adobe Flash or VLC Media Player. This software is compatible with SWF files.
Conclusion
On knowing about both SWF format and MP4 format, we came to know its different uses and the conversion previously.
As for the conversion, one must be using an Aicoosoft Video converter. It supports both Mac and Windows. Whether you are looking for MP4 to SWF converter Mac or looking for MP4 to SWF converter Windows, it can meet your requirements very well. It converts and edits video and saves time by completing the process within a few seconds. It gives a professional output but is very simple and user-friendly. Lastly, it has satisfied more than 10,000 customers worldwide and claims a 100% guarantee from viruses and malwares.