YouTube built up its empire in the world of the Internet in terms of entertainment and knowledge. Every day millions of videos get uploaded to YouTube belonging to various aspects like technology, fashion, latest trends, food, and gadgets. Need to buy a new phone on the market? YouTube review videos are best-to-go options. Are you feeling boring? There are tons of short stories and animated movies that you might be interested in. Similarly, there are various circumstances where YouTube lends a hand.
Various options, like saving videos offline or sharing the link and playlist creation, help keep our favorite videos always reachable. However, you might always lookout for a reliable software/app that can download the favorite YouTube video high-quality. Another problem of such downloading is the risk of encountering the full memory message on the device. Hence, we have brought the best YouTube to MP4 converter, which might interest you.
Part 1. Best YouTube/Playlist to MP4 converter for PC - Aicoosoft Video Converter
Are you confused about finding the best YouTube to MP4 converter for PC that can download and convert for you? Here is Aicoosoft Video Converter from our side as the top recommendation to make you cover the process in a single tap.
Aicoosoft has an in-built video/audio downloader. Apart from downloading the video, it converts the YouTube video directly to MP4 or other high-quality formats, including HD videos. Aicoosoft is a reputed software with a user-friendly interface and intuitive design, allowing users to convert, compress, download, and burn videos to DVD at ease.
Key features of Aicoosoft Video Converter
Aicoosoft supports video/audio download over 1000+ video/audio sites like Facebook, YouTube, and Dailymotion.
Aicoosoft's video downloader allows one to download HD videos of 1080P and 4K quicker and easier.
In just one-click, users are allowed to download videos to high-quality MP3 formats automatically.
With 30X faster conversion speed, you get better-quality videos.
How to download YouTube/Playlist to MP4 with Aicoosoft Video Converter?
I hope you have now known why Aicoosoft video converter is the best YouTube to MP4 video converter in the roll and with no delay, let's find out how one can download YouTube/playlist to MP4 with Aicoosoft.
Before the conversion, make sure you download and launch the free version of Aicoosoft by clicking the "Try it free" option from the link,
https://www.aicoosoft.com/video-converter.html.
Step1
Open Aicoosoft and switch over to the "Download" tab on the top of the welcome interface.
You can directly click on the "Add URL" in the middle of the screen else swipe over the option "Download and Convert" to specify the format and resolution.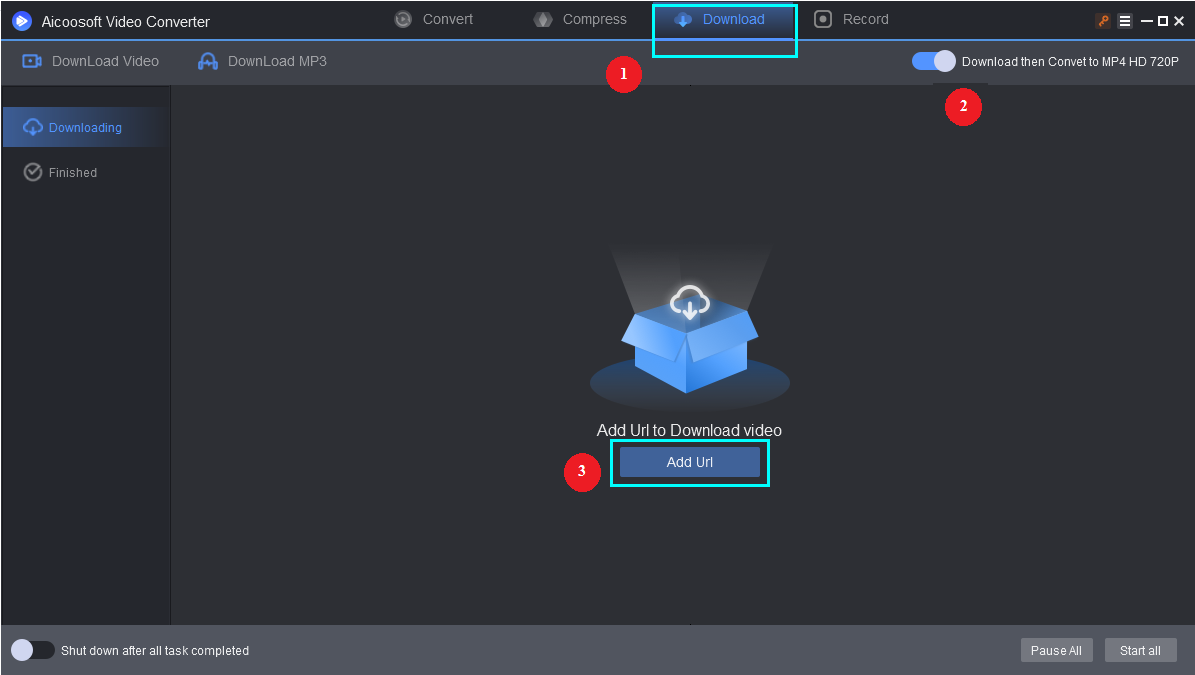 Step2
Now, paste the YouTube video link to be downloaded and tap the "OK" button.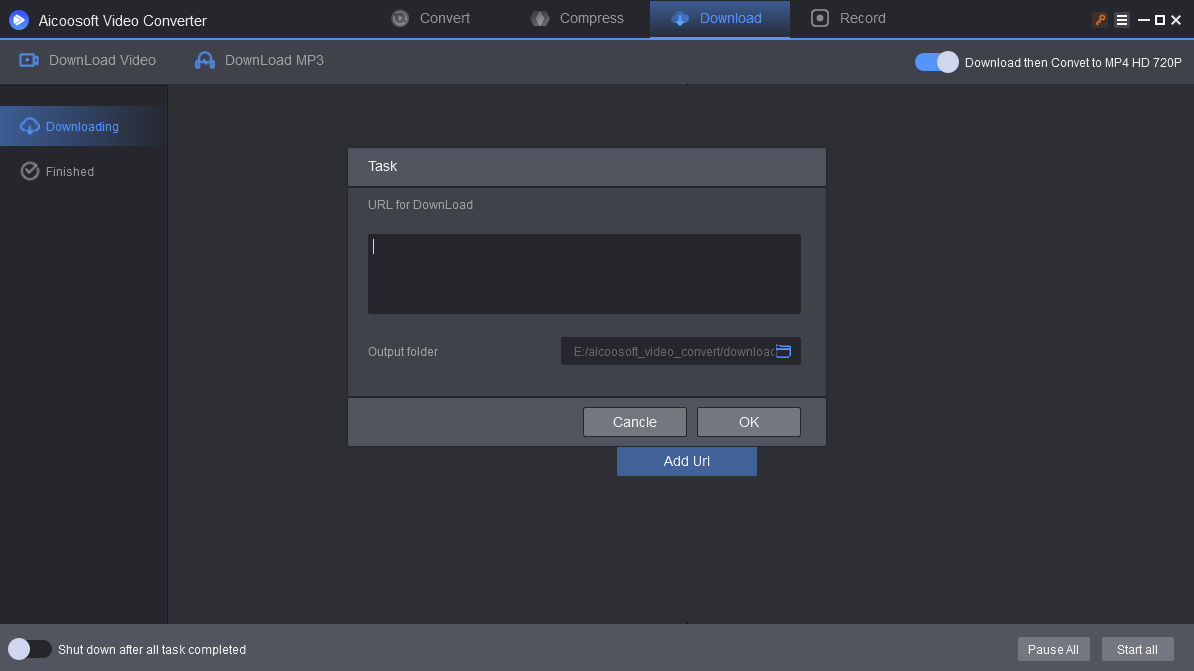 Step3
In the upcoming window, you can change the conversion settings or the download criteria to your taste and specify the video download pixels.
Once done, tap the "Download" button to proceed.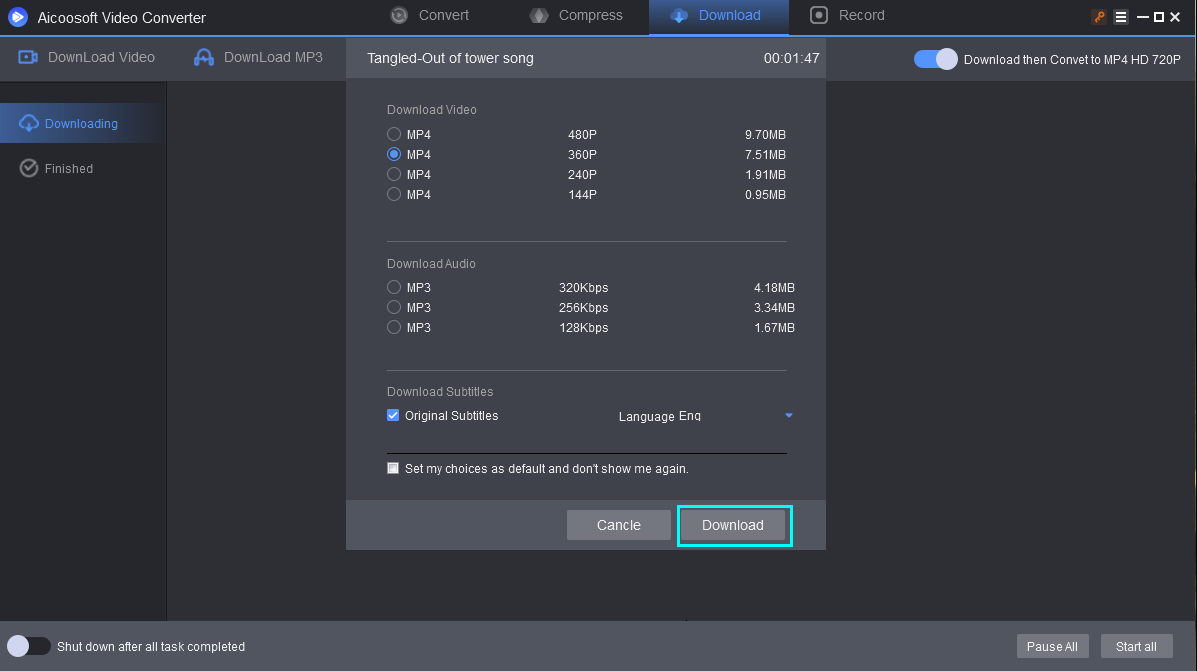 Step4
The video will now get downloaded directly in the MP4 format, and the status of progress will be changed to "Finished" on the right corner once done.
To access the converted MP4 file, you can click the "Open in folder" option on the left of the file and get it!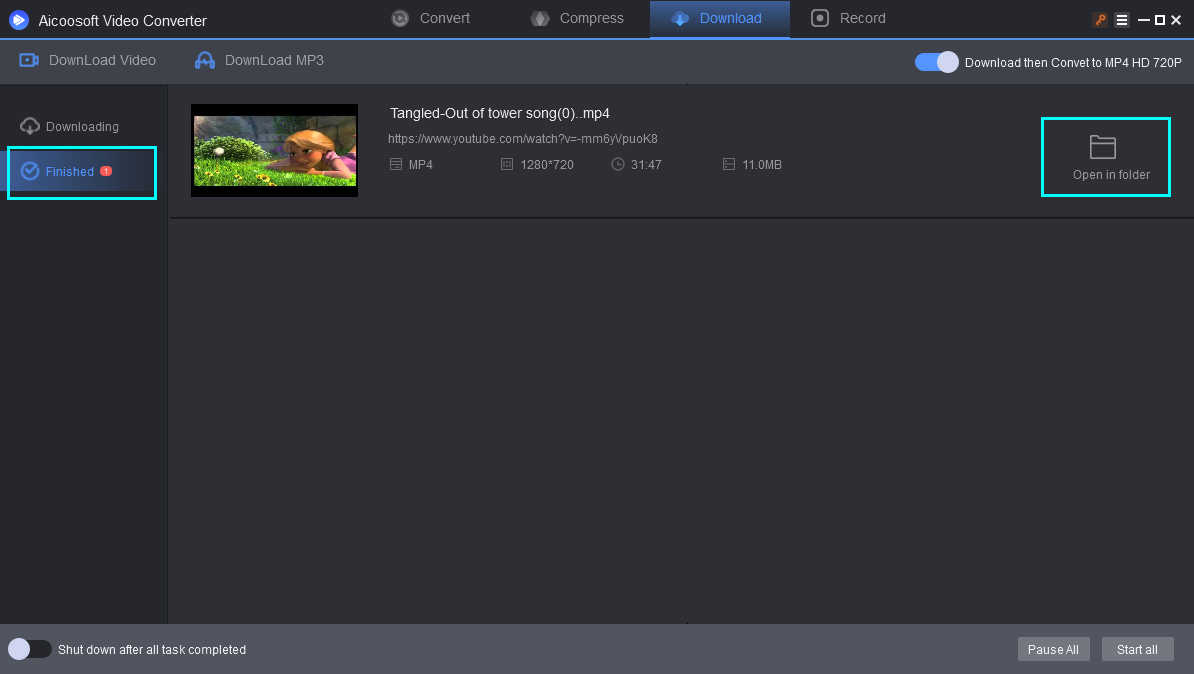 That is how one can convert YouTube video to MP4 with Aicoosoft hassle-free that is safe and clean.
Part 2. Best Youtube/Playlist to MP4 converter online – Ontiva Youtube converter
Third-party software like Aicoosoft is not the only option as a Youtube video converter for MP4 that does wonders, but one can apt or take an online Youtube to MP4 converter as the second option. If you wonder what could be the best choice, we would like to bring the Ontiva YouTube converter to your notice.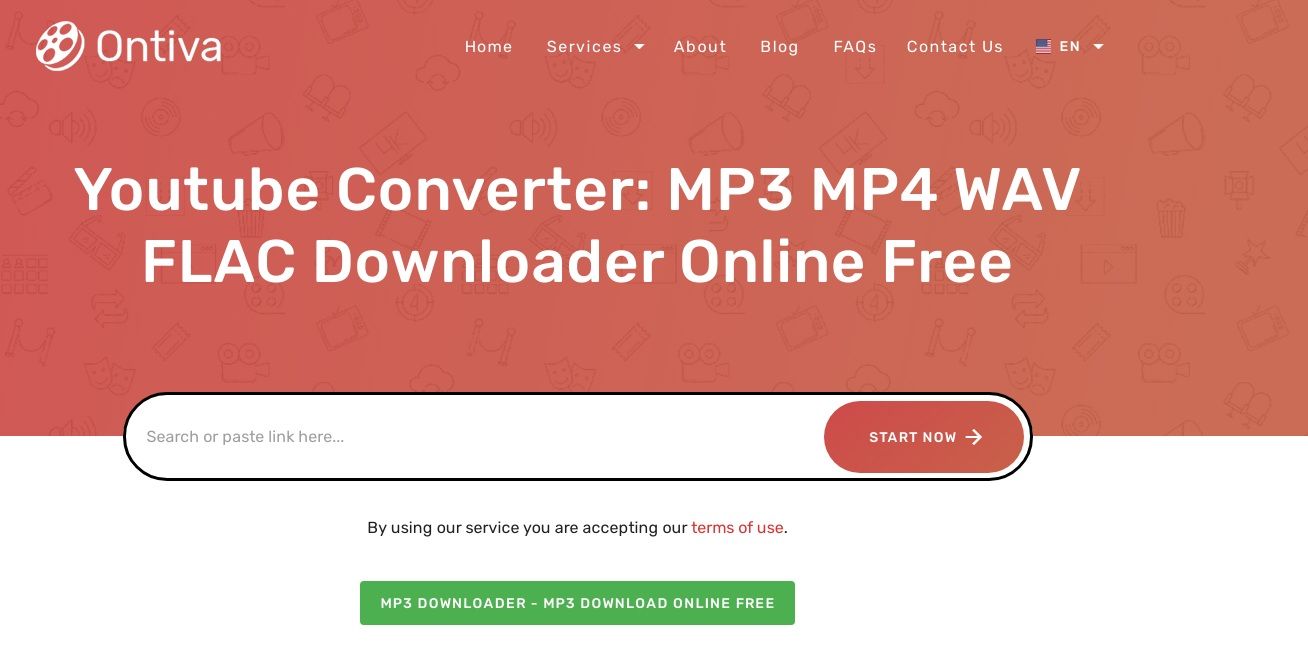 Ontiva YouTube video downloader is an online media conversion tool recognized as the best online Youtube to MP4 converter for free. One can download and convert the YouTube video directly to any format like MP4, MP3, WMV, MP2, FLAC, MOV, and still a lot more. Being a YouTube downloader/converter in a single tool, Ontiva's technology allows unlimited downloads and conversions.
Ontiva is a high-speed online Youtube to MP4 converter crafted with cutting-edge technology that does download and conversion at lightning speed. It has YouTube playlist converter/downloader as well but to use the service, and you have to register an account in Ontiva. Apart from being an innovative Youtube to MP4 converter, it uses SSL encryption to protect user data and, thus, gains reputation among its users.
Pros:
Ontiva is free-to-use, safe, and doesn't bundle or disclose any personal information about the user.
While YouTube to MP3 and Youtube to MP4 converter is a common category, Ontiva comes up with a new YouTube option to the WAV converter.
All the conversions are anonymous as data gets deleted immediately.
Cons:
Ontiva has a freemium pricing level where basic features are free, but a paid subscription is a must for premium capabilities.
Part 3. Best YouTube/Playlist to MP4 converter for mobile - Videoder
Have you ever imagined having a Youtube video converter to MP4 on your mobile so that your boring time could be fun or you can watch your favorite video offline whenever you are interested? Videoder, a free Youtube to MP4 converter/downloader,is what all you need to download on your smartphone at present.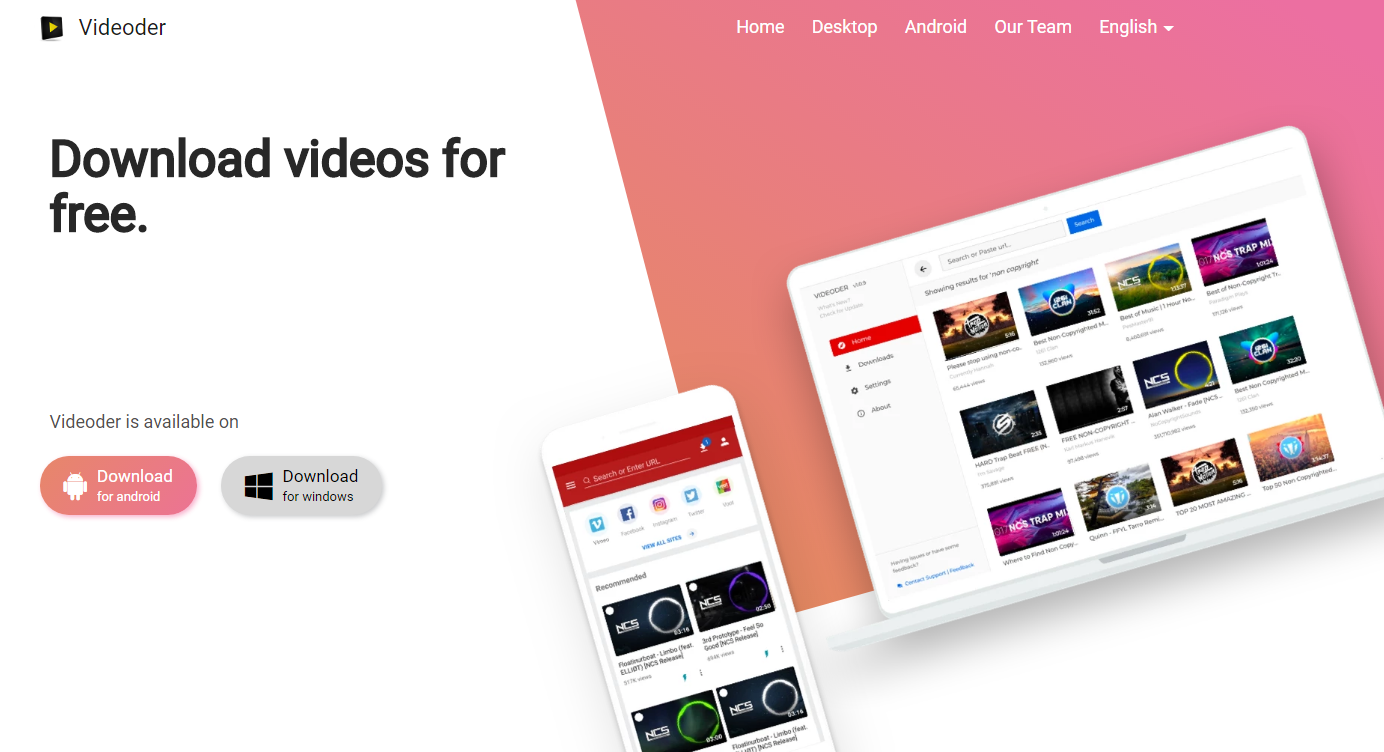 With Videoder, one can download multiple videos for free from various video streaming sites like YouTube, TikTok, Facebook, Instagram, IMDB, Ted, Twitter, Voot, Dailymotion, VK, Ozee, and still a lot more. Not only for Android, but Videoder is available for Windows & Mac as well. It is the only app that lets you download 4K videos and dive into the world of entertainment.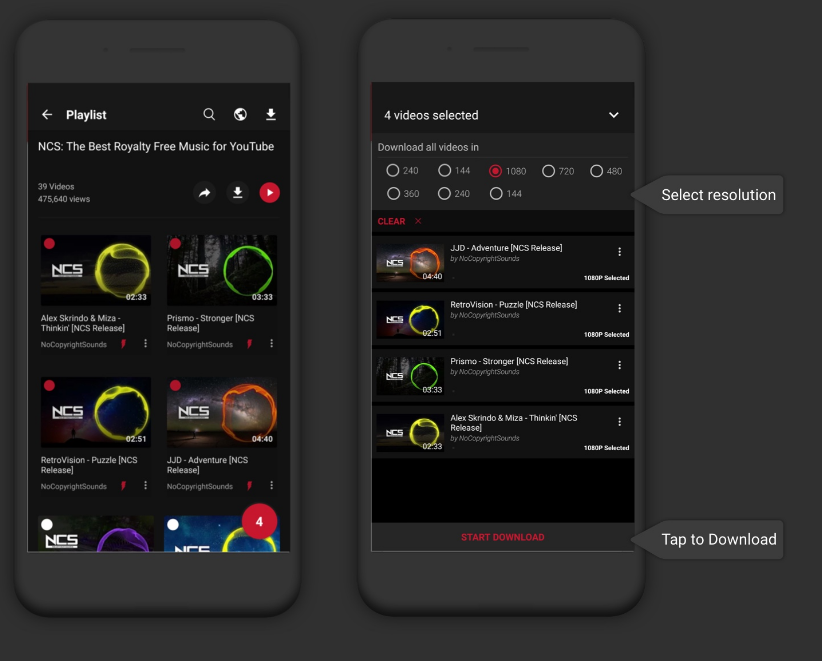 Videoder has a separate feature called the YouTube playlist downloader that lets you download YouTube playlists and convert them to MP4 or MP3 in a single-tap. It enables you to download videos from 1000 sites with up to 10X faster downloading. Alongside, it is packed with great features like modern design, album art & tag editor, and copy link detection tool.
Pros:
It has a built-in browser with an adblocker.
Downloads and converts YouTube videos at a 10X faster rate.
Videoder is the only YouTube to MP4 converter with 40 million downloads to date.
Cons:
Videoder crashes at times during massive file conversion.
Conclusion
In short, all the YouTube to MP4 converters on our list proved their expertise in the field and are best-to-go. So, now you decide and choose your favorite YouTube MP4 converter online for free amongst all and never forget to give Aicoosoft to give a try that is best recommended for the long-run!