M4V is a video container format developed by Apple to encode TV shows, Movies, and other content on iTunes. For protecting the copyrights of M4V files, DRM protection is used. As a result, DRM-ed M4V videos can only be played by authorized devices that support iTunes. M4V videos without DRM protection can be played on different devices and players.  One of the biggest hurdles in producing and publishing large files online is that it is challenging to edit or compress them. Extremely high-quality films can be produced by M4V file format, but their large size makes them very challenging to burn it to DVD, post online, or share with friends. The ideal solution for this problem is to use an M4V compressor to get a more manageable and compatible file type. Fortunately, there are many different software that can compress M4V video to a smaller size with your desired format and resolution. It will become a piece of cake to upload, edit, or share these compressed M4V videos online. You should strongly consider the following options if you are looking for the best software to compress M4V videos:
Part 1. How to compress M4V video online and free?
To compress M4V online and free many software are available in the market. Online Video Converter is one of them. It is a free and online video converter that allows you to convert your M4V files to different formats and sizes. 
Pros:
No downloading of the software required
Simple interface
Cons:
Average performance
No batch compression
Only compress files of up to 200 MB in size
How to compress M4V videos online
You can Compress M4V online by following these steps:
Step1
Open the website of Online Video Converter. Select the Compress Video tool to compress your files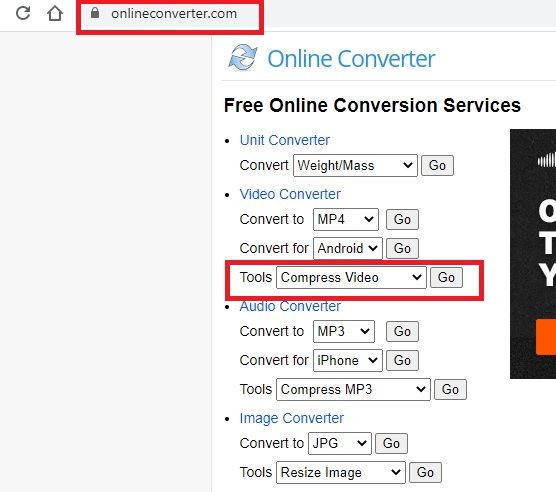 Step2
Add files by clicking on Choose files. You can only select a single M4V file of up to 200 MB in size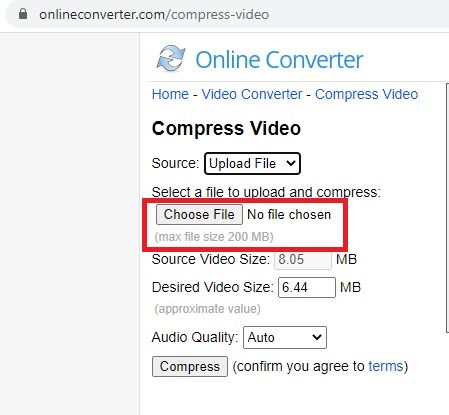 Step3
Customize the settings of the output video according to your needs. You can also increase or decrease the size of the desired video.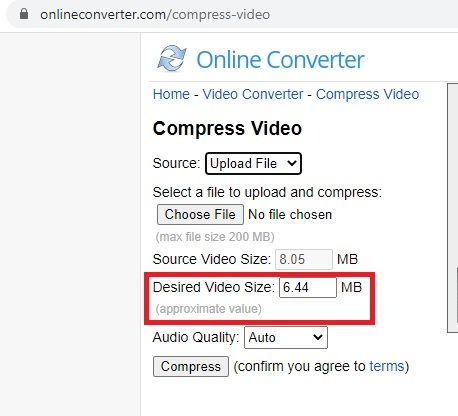 Step4
Click on the Compress button to compress the M4V file. Wait until the compression is done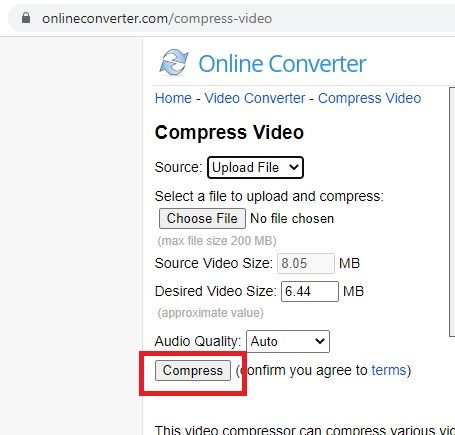 Step5
Download the compressed M4V files in your computer
It might take some time to compress M4V online depending upon the file size and the speed of your internet connection. This process might also be slow as Online Video Converter has a slow video conversion rate as compared to Aicoosoft Video Converter.
Part 2. The best M4V compressor to compress M4V without loss quality
Aicoosoft Video Converter can compress HD videos from Camcorders, GoPro, HD cameras, and more with the blink of an eye due to its advanced AI technology. You can compress M4V videos without loss in quality by changing video format, video resolution, bit rate, or by customizing the file size. Aicoosoft Video converter gives you multiple options to compress M4V files. You can add multiple files at one time to compress a batch of M4V files.
Besides, it is also a power-packed video converter, video editor, video downloader, screen recorder, and DVD converter.
It's astonishing and exclusive features make it stand out in the crowd. Aicoosoft video converter is undoubtedly one of the best M4V compressors as it has thousands of satisfied customers around the globe and is highly recommended by many media houses.
Key features
Compress HD/4K Videos
30X faster video compression with video compression settings
Compression of HD videos at one click with no loss in quality
Multiple formats supported to convert audio/video files
Equipped with advanced AI technology
Powerful built-in editor and screen recorder to edit and record M4V videos
Download videos from more than 1000 websites
Multiple Video Conversion
User Friendly
Compatible with Mac and Windows
How to compress M4V without losing quality?
Follow these easy steps to compress M4V video without loss in quality:
Step1

Install and download Aicoosoft video converter

Install and download Aicoosoft video converter on your computer.
Step2

Launch the Aicoosoft video converter

Open the Aicoosoft video converter. You will see multiple options like convert, compress, download, and record. Click on the Compress button.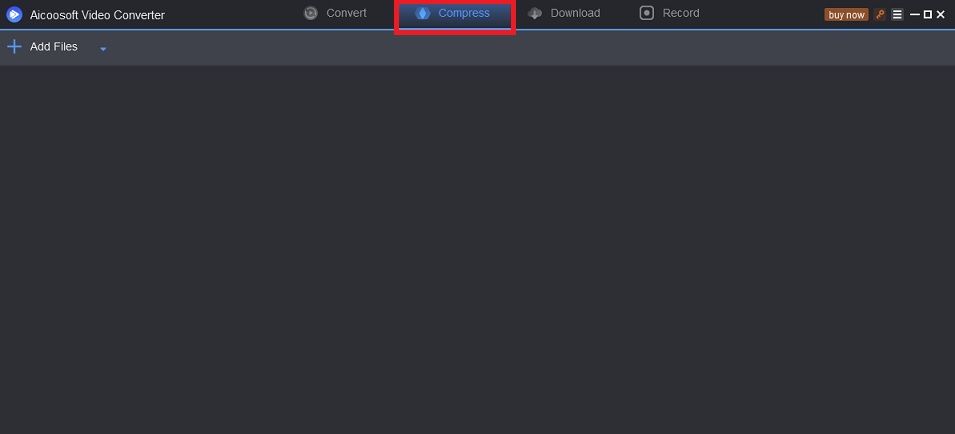 Step3

Add M4V video file you want to compress to Aicoosoft video converter

Click on Add files to add M4V files from your computer.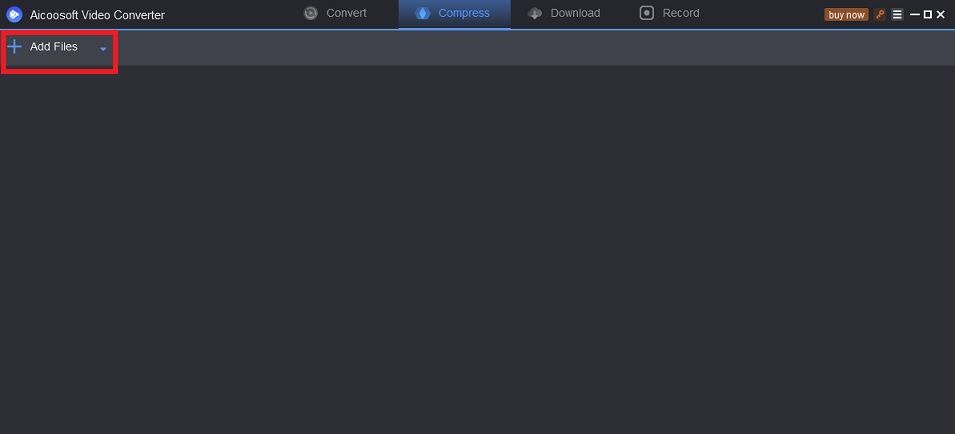 Select an M4V file that you want to compress. For batch compression select multiple M4V files. Click on the Open button.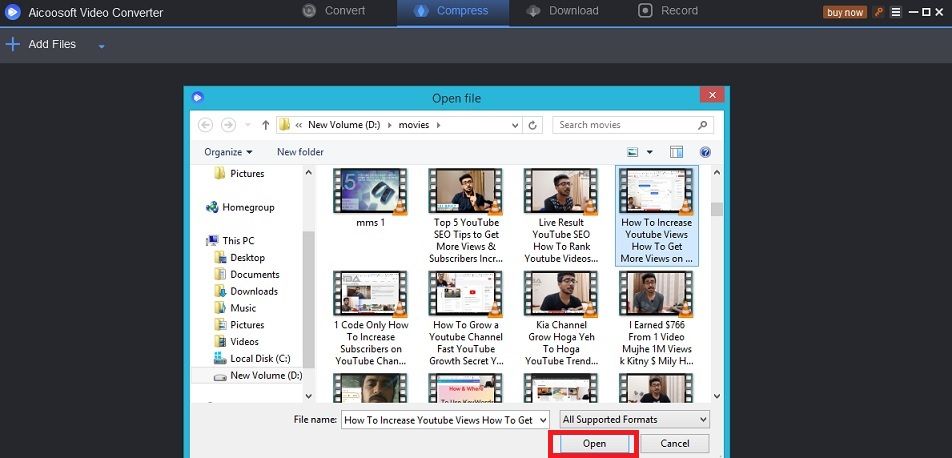 Step4

Select the parameters for the compression of the M4V file

Click on the drop-down menu of Format to select the desired format. Click on the drop-down menu of Resolution to select the desired resolution. Adjust the Size of the output video.

Step5

Compress your M4V file to a smaller size without a loss in quality

Click on the Compress button to start the compression process. Within a few seconds, your output file with compress M4V will be ready.

Part 3. Frequently Asked Questions
How do I compress an m4v file?
You can compress an M4V file by using an M4V compressor such as the Aicoosoft Video converter. Add the files and customize their size, format, and resolution in the Aicoosoft video converter to compress them. In a few seconds, you will have your M4V compressed file.
Can I rename m4v to mp4?
No, renaming M4V files as MP4 files isn't possible. M4V files may be protected by Apple's DRM and Apple uses it to encode video files in its iTunes Store. As M4V files are copyright protected, you can't convert the files and they can only be played on the machine it was bought on with iTunes.
Which is better mp4 or m4v?
MP4 is better than M4V because MP4 format can be played on all devices and media players as it lacks DRM whereas M4V are protected by DRM and can only be played on Apple device.
Can windows open m4v?
You can play M4V files that are not protected by DRM on a Windows media player or VLC player. If your M4V file is DRM protected you can use a video converter such as Aicoosoft to convert it into a supported format.
Can handbrake convert m4v to mp4?
Yes, the handbrake can convert M4V to MP4 format only if they are DRM free. Launch Handbrake and add the M4V files that you want to convert. Select the output format as MP4. Click convert. You can use Aicoosoft as an alternative for handbrake for the DRM protected M4V files.
Conclusion
The quality is not very great when you compress M4V videos online. So, it is highly recommended that you use a professional M4V compressor like Aicoosoft to attain high-quality M4V compressed videos.