Nowadays, MP4 video format becomes more and more popular. It is supported on almost all the social networking sites and on Mac, Windows, iPhone, iPad, iPod, Android and other tablets. Otherwise, there are more than 1000 video/audio formats in the world that were made on the different requirements. If you cannot open a video/audio format on your device or cannot upload it to the social networking sites, you can convert it to MP4 format. Furthermore, almost all media players support MP4, so you can open .mp4 files very conveniently.
But there are still existing some situations that you need to convert MP4 files to other formats. For example, you want to burn your MP4 files to a DVD. DVD doesn't support MP4 files, so you must convert MP4 to MPEG-2 format and then burn into a DVD. Fortunately, MP4 converters can convert other video/audio files to MP4 and vice versa.
In this article, we will tell you top 10 best MP4 converters in the world.
Advantages and disadvantages of MP4 format
The MP4, short for the less catchy title of MPEG-4 Part 14, is an extremely popular video format that was greatly inspired by the QuickTime File Format. Much of its current notoriety can be attributed to the fact that it was developed and, later, used to great effect by Apple. In fact, the MP4 format was embraced by the iTunes platform at was arguably the Apple company's peak in terms of worldwide notoriety.
Pros:
One of its main advantages is the fact that the video format is used on numerous video players besides iTunes, such as VLC, Windows Media Player, or GOM Player. Therefore, MP4 files will play on the majority of well-known media players.
Being championed by the behemoth video-sharing platform that is YouTube has no doubt helped. But the support is justified by what the format has had to offer. For example, closed caption file formats, which help with the video subtitles, can be easily integrated over an MP4 video.
The quality is also beyond reproach. The MP4 format is helpful in streaming video over the internet while losing little of its quality in the process. MP4 files are able to produce videos of near DVD like quality and the format is compatible with most modern technology. Video sharing platforms often actively encourage users to upload their files in MP4 format for these very reasons. Besides this, the fact that it supports 3D objects make it of great use in developing presentations.
Cons:
While few, one of the downsides of using this format has to do with the process of editing these types of files. It is not infrequent for MP4 files that are imported to cause the video software to crash. Therefore, while the MP4 format may sit at the top of the list in a number of areas, it can hardly be referred to as the best video format for editing.
Together with AVI, MP4 has been the most widely spread file extension for several years. This bares the question. Which one is of better quality, AVI or MP4? While the race is narrow and yet to be fully run, MP4 may slightly outrank the AVI format. This is because of the fact that the MP4 format does include a number of more modern features that the older AVI container was simply not designed to have.
Part 1. The best mp4 converter for Windows/Mac
As for the best MP4 converter, we recommend Aicoosoft Video Converter without hesitation. It can perform your MP4 videos to various video format in seconds, and vice versa. It can not only convert, but also compress, download, edit and record videos easily. The conversion speed of this converter is 30X faster than other traditional converters that you can find in the market. It works well both on Windows and Mac and meets your requirements better than other converters. If you are seeking for best MP4 converter for Mac, best MP4 converter for Windows and best MP4 converter for PC, Aicoosoft is your first choice undoubtedly. Give it a try.
Key features of Aicoosoft Video Converter
The key features that make Aicoosoft one of the best software's for MP4 conversion are:
This MP4 video converter uses AI technology for MP4 conversion. Unlike other video converters, it has a better balance between the conversion speed and output video quality.
Since the converter uses lossless conversion technology, and advanced GPU acceleration technology, the converted file can keep the same quality with the original file and converts MP4 videos into other format with lightning-fast speed.
It is very easy to use and the interface is designed very friendly, so even nonprofessional people can use it to convert MP4 videos.
Besides all the above advantages, it also has a built-in audio and video downloader, which enables you to download videos from more than 1000 audio and video sharing sites. You can even download HD videos from streaming sites quickly. It can also convert audio and video formats into more than 1000 audio and video formats without loss of quality.
All these features make Aicoosoft one of the best video converters present online.
Step by step guide to convert MP4
With Aicoosoft, you can convert MP4 video format with just couple of clicks. You don't need to be familiar with programming, video formats or settings. Just launch it, add your video, select the output format, click Convert and that's it! Read this quick guide to find out how to convert videos to MP4.
Step1

Launch and import video/audio files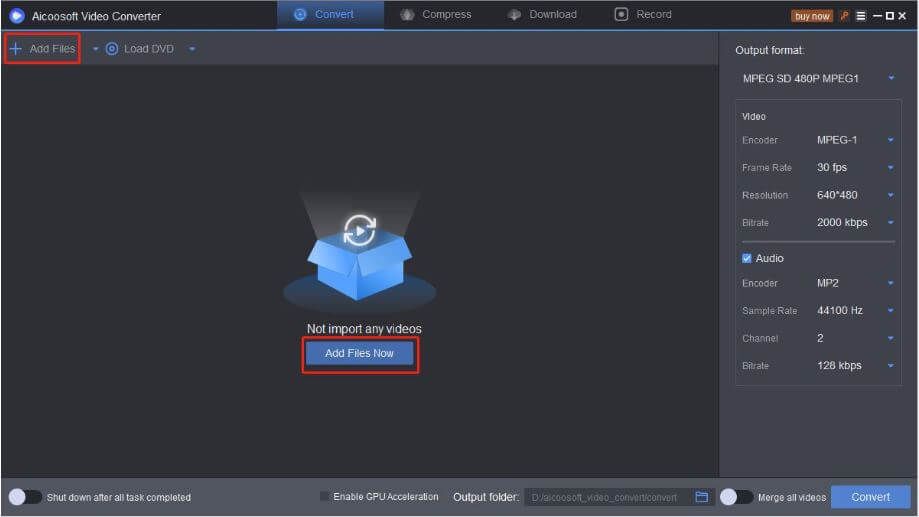 Step2

Select MP4 as output format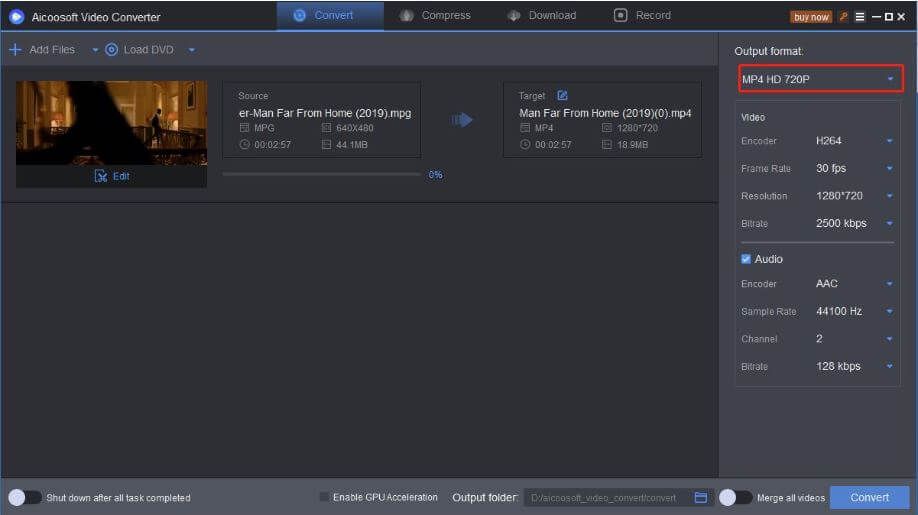 Step3

Convert to MP4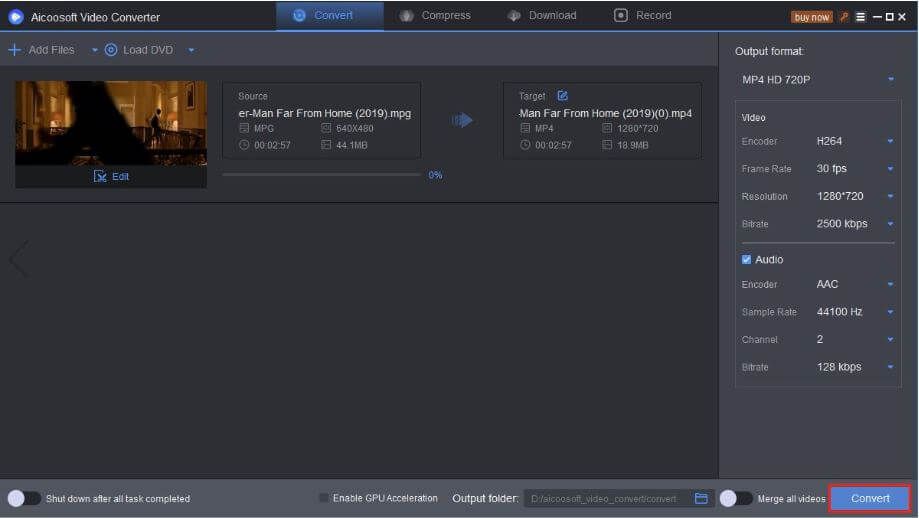 Tips: You can use Aicoosoft to convert any videos to MP4 format and vice versa very easily, but there are many additional settings and functions in Aicoosoft that you don't use in the guide. If you want to make the converted files outstanding and different from the original ones, they are helpful.
Part 2. Top 9 best MP4 converters for PC and Mobile
In this part, we will introduce other 9 best MP4 converters, 5 for PC, 2 for iPhone and 2 for Android. All of these converters also support to convert MP4 to 1000+ video formats and vice versa.
1. Any Video Converter
Any Video Converter is available for Windows or Mac, it can be downloaded and installed in a few minutes. No ads, spyware, or malware. You can use any input or output format, including formats for various tablets and mobile devices. It's easy to convert MP4 videos with this tool.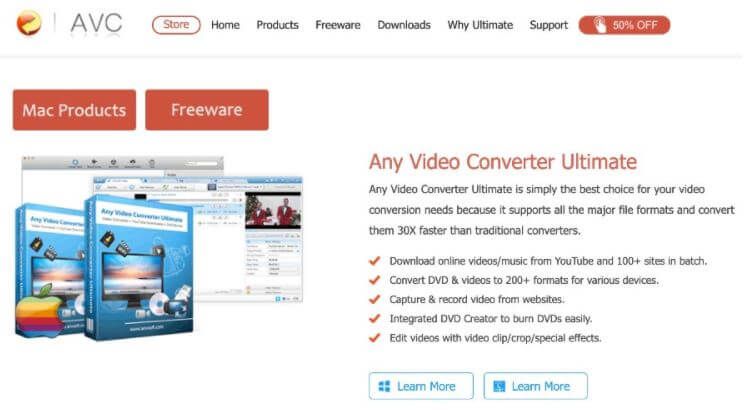 Pros:
Many conversion options
Available on both Mac and Windows
Can work offline
Easy to use
2. DVDFab Video Converter
This software is packed with support for the best video graphics and computer processors, which makes it one of the fastest converters. It can perform whatever conversion you could want, including any videos to MP4. And the functions don't stop there. You can add watermarks or subtitles to your video, or trim and crop. Convert from any video source and enjoy a wide range of output file formats for all kinds of devices.

Pros:
Fast conversion speed
Support various video/audio format
Beatiful interface
Can work offline
3. Freemake Video Converter
Freemake Video Converter has been existing for ten years and is used by almost 100 Million users around the world. It allows you to convert from YouTube, Vimeo, Dailymotion, and many more to MP4. Furthermore, there are many additional functions in it, and you can cut, join, rotate, and edit your videos, add subtitles and encode clips.

Pros:
Support various video/audio format
Premium features for free
Download video easily
Allow editing, ripping, and burning of files
Cons:
Watermark on free version
Low conversion speed
Only available for Windows
4. Wondershare UniConverter
Wondershare makes a large variety of quality video programs, and the Wondershare UniConverter is no exception. You can easily convert any videos to MP4 and vice versa. Conversions are fast, depending on the size of the files and how many you are trying to convert at once. Though it allows batch conversions, we found with this one it runs faster if you convert one at a time.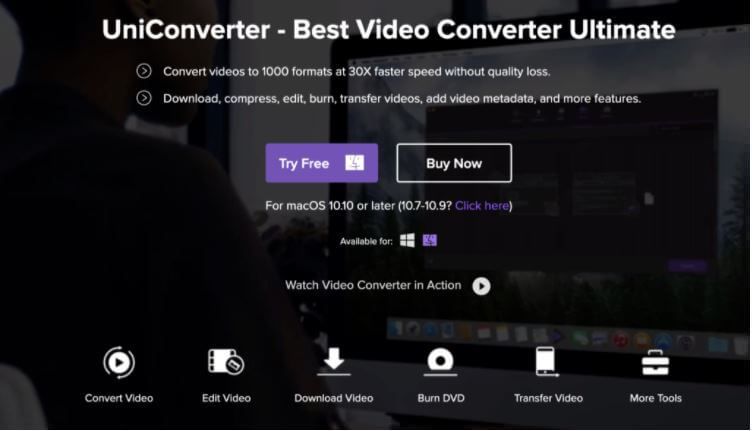 Pros:
Support various video/audio format
Ease to use
Can work offline
Allow editing, ripping, and burning of files
Cons:
Watermark on free version
Low batch conversion speed
High price
5. VideoProc
VideoProc can convert HD/4K/8K videos to MP4, MP3, FLV, MKV, iPhone, iPad, and more at 47x real-time faster video conversion speed with intelligent Full GPU acceleration. This all-in-one program also enables you to edit videos for further usage and record PC/iOS screens.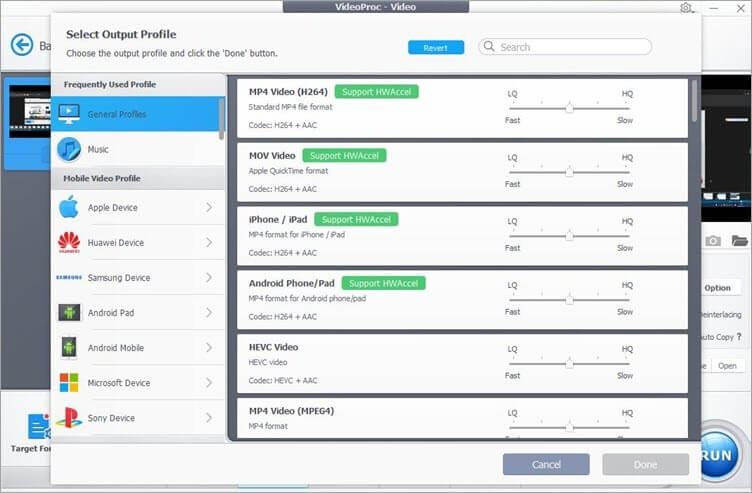 Pros:
Support various video/audio format
Fast conversion speed
Can work offline
Allow editing, ripping, and burning of files
6. Movie Player 3
Starting with the video player app for iPhones, Movie Player 3 supports a wide variety of video formats. The list is rather long but some of the popular ones include MP4, AVI, FLV, MOV, WMV, MPEG, and MKV. Other features include the ability to play videos from Dropbox and other cloud storage sites, email attachment, and browser. It gives you even more control over the source of the video. No need to transfer files using iTunes. You can save videos in folders that can be password-protected for security and privacy.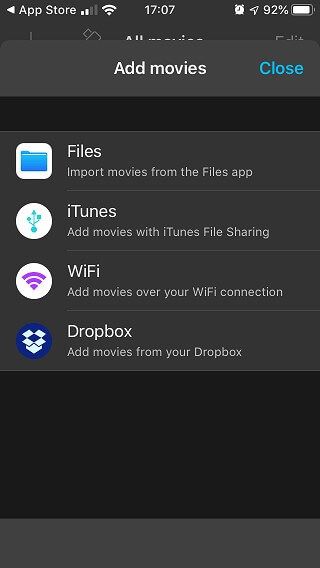 Pros:
Support various video/audio format
Easy to use
Cons:
No additional setting
Only support iOS system
7. iConv
iConv is one of the best video converter apps for iPhones that can also convert MP4. Another cool feature is batch mode where you can convert more than one video from one format to another. Supports all cloud storage sites and comes with advanced controls for bitrate and codec. It can trim video and even audio files. The free version of the app supports a limited number for formats and features.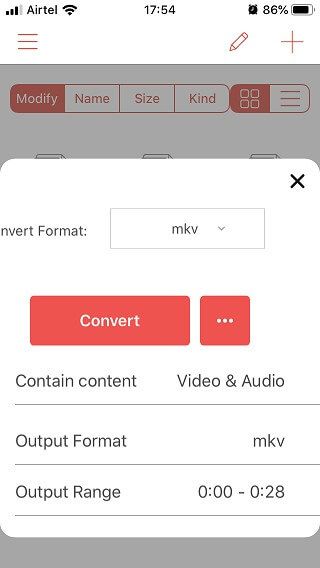 Pros:
Support various video/audio format
Easy to use
Allow editing
Cons:
No additional setting
Free version only supports several formats
8. VidCompact
If you are looking for a free MP4 video converter for Android with impressive performance, VidCompact is specially developed for you. It offers several functionalities to handle your videos from Android devices. It can convert almost all audio and video formats such as HD video, WMV, MP4, MP3, FLV, AVI, and many more. VidCompact also provides editing features so you can cut, merge, trim, rotate, and stabilize videos. Thanks to ease-of-use features that allows you to convert videos without too much effort.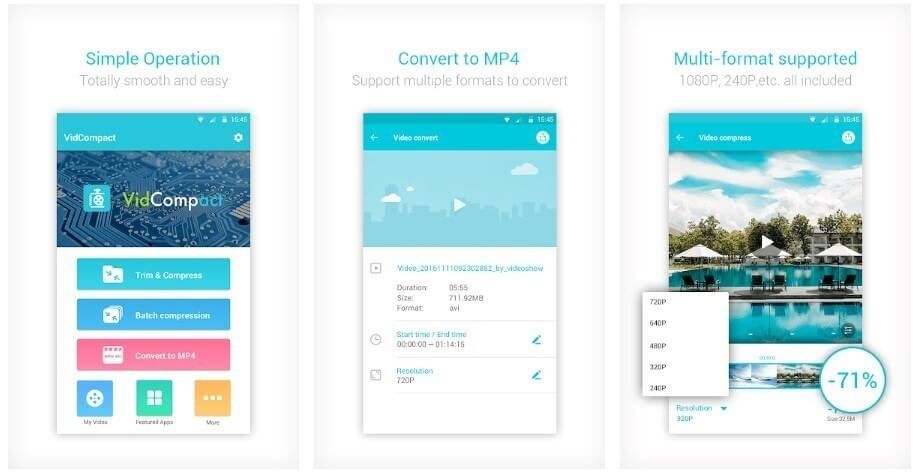 Pros:
Support various video/audio format
Easy to use
Can trim and compress video
Batch conversion
Cons:
No additional setting
Can work only on Android system
9. Video Format Factory
Video Format Factory is another best MP4 converter apps for Android. Its simplicity and ease-of-use features become the highlight of this converter app. Video Format Factory delivers fast conversion to all major audio and video formats such as MP4. MP3, FLV, WMA, WAV, and many more. This app can also help compress your videos to save space on the device. Unlike most compressors that significantly reduce the quality, the useful app compresses videos but keeps its quality. Interestingly, you can also split videos and customize output format as well as remove watermark and create GIF video.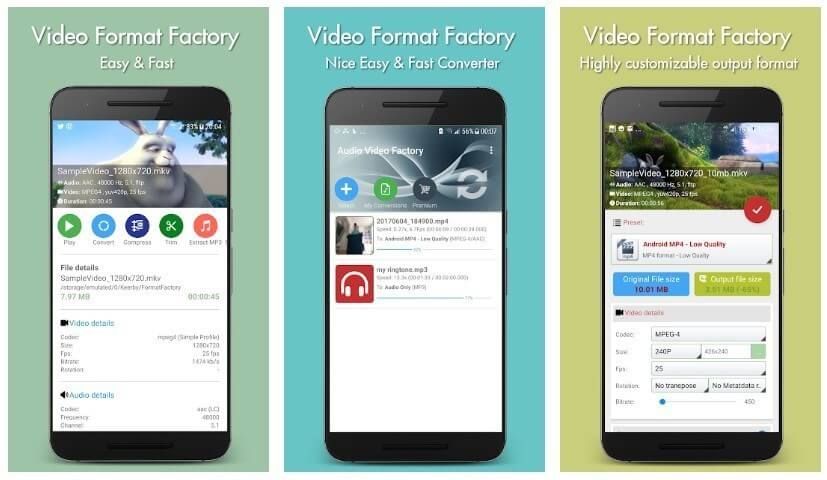 Pros:
Easy to use
Can trim and compress video
Fast conversion speed
Cons:
Can work only on Android system
Conclusion
We introduced top 10 best MP4 converters here, including best MP4 converters for Mac and Windows, best MP4 converters for iPhone and iPad andd best MP4 converters for Android. All of them can convert MP4 videos to other video foramt and vice versa. We also analyzed the advantages and disadvantages of all. Which one is the best choice? We recommended Aicoosoft in this article. Then, how do you think about it?