"I have a lot of MOV files on my PC and iPhone. The problem I face is that I wish to keep a copy of all the MOV files on both my desktop and my new Android smartphone. But widely, MOV files never get played on Android devices as it is mostly for iOS devices. So, what can I do now, is there any solution to make use of these MOV files in an alternative way?"
To keep your MOV files safe without losing them, you can try converting MOV files to MP4. With various MOV to MP4 converters in the market, read below to find out the best free MOV to MP4 converters in detail.
Part 1. Why one need to convert MOV to MP4?
Before getting to know the best MOV to MP3 converters, let's first see some scenarios where one needs to convert MOV to MP4 and a table on what makes the differences & similarities between MOV and MP4.
User scenarios where MOV to MP4 conversion is needed
#1 "While I loaded many MOV files of high quality in my Mac device, I was wondering to which format I could convert my files so that I can keep it safe on my device. Fortunately, MP4 helped me out"- Anonymous.
#2 "Although MOV was the perfect high-quality file format to share & store digital data. I could not play it on every device, share them easily, or make it a playback. By then, MP4 conversion made things possible"- Anonymous.
MOV Vs MP4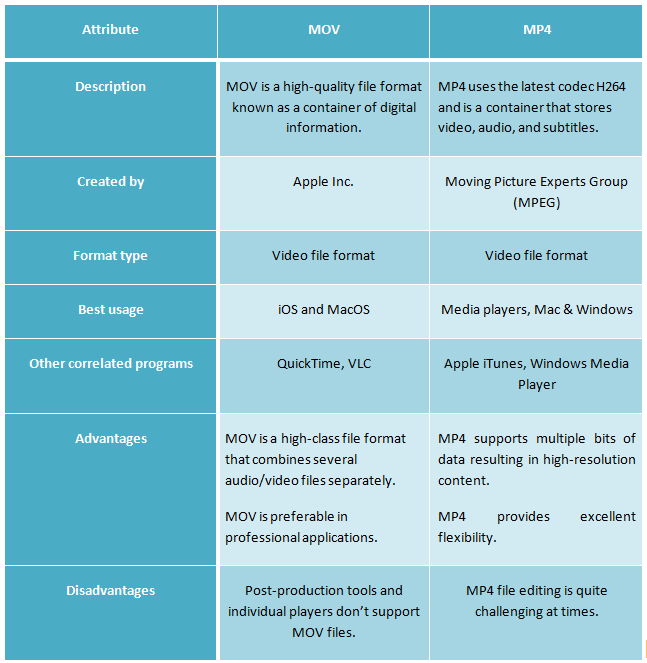 Part 2. Best MOV to MP4 converter for PC
Aicoosoft Video Converter
As the best MOV to MP4 converter for PC, we have the Aicoosoft video converter in line for you. Aicoosoft does the MOV to MP4 conversion at a 30X faster rate and hence is the No.2 Video converter ultimate solution that is cost-effective. With the support of over 1000+ formats, Aicoosoft can convert high-quality MOV video files to MP4 lossless with AI technology. This super-speed video converter has multi-core processor optimization technology that accomplishes the task within seconds, including the batch conversion.
Key features of Aicoosoft video converter
To maintain high-quality throughout the conversion, Aicoosoft uses advanced Lossless conversion technology.
GPU acceleration, along with AI technology, is the main reason behind the lightning speed conversion rate of Aicoosoft.
Supports conversion overall popular video/audio file formats and directly burns them to DVD using the DVD converter option.
How to convert MOV to MP4 with high quality using Aicoosoft?
Step1

Launch Aicoosoft and add files

Install the Aicoosoft software on the PC and open it. Start adding the MOV files by clicking the "Add Files" option on the top.

Aicoosoft allows one to add a complete folder by clicking the inverted triangle icon next to the "Add Files" button.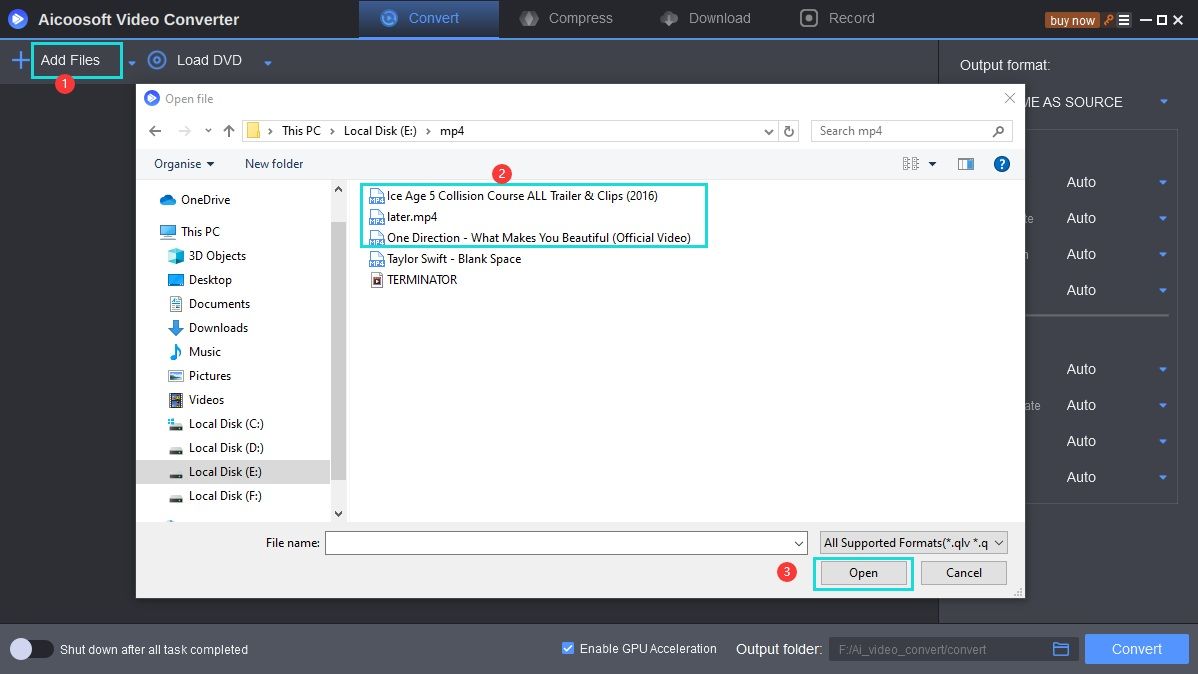 Step2

Choose the MP4 file format

Once the video appears on thescreen, choose the output format from the left corner.

From the "Video" section, choose "MP4" as the format and resolution type.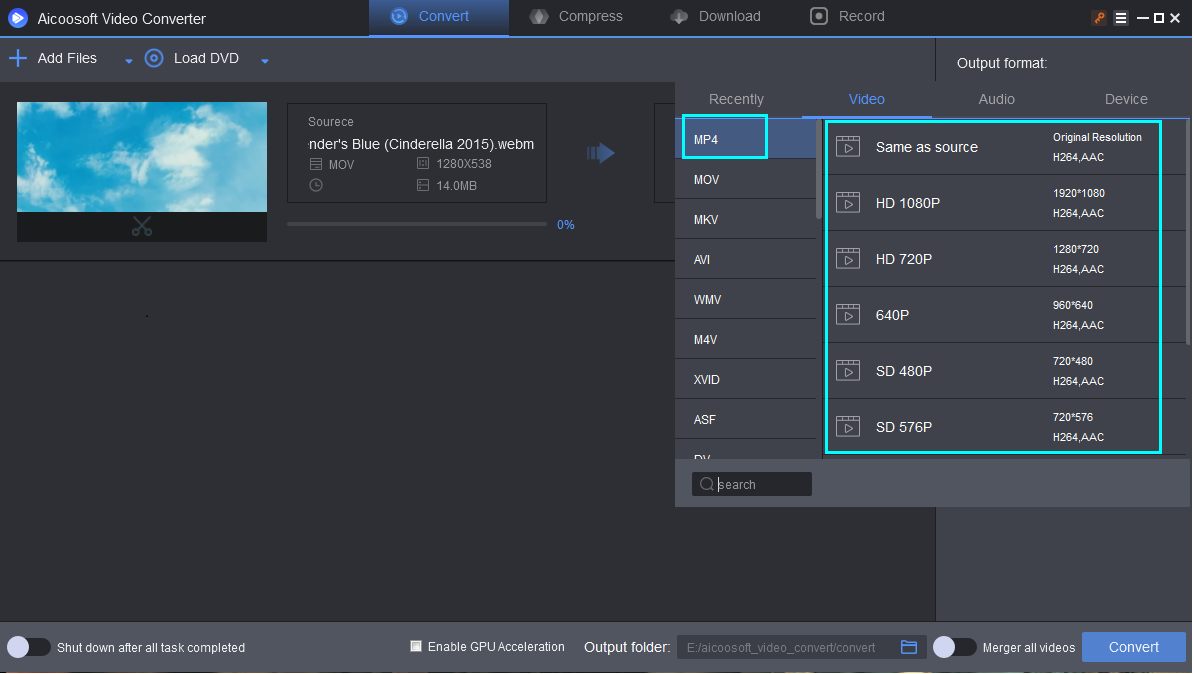 Step3

Start the conversion

Now, enable GPU Acceleration by clicking the checkbox at the bottom of the page. Tap the "Convert" button on end to start the process.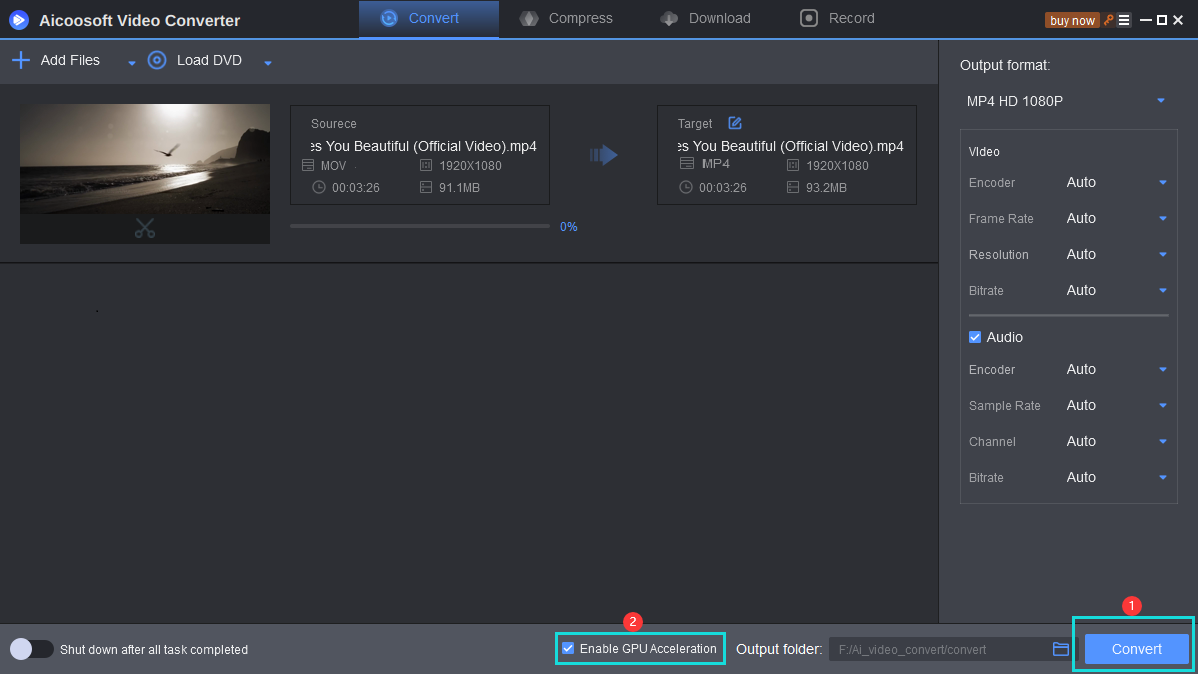 Step4

Locate the output MP4 file

Once the process is complete, you will be notified with the pop-up stating, "Converting tasks have been finished."

Hit the "Open Folder" option and find the converted MP4 file.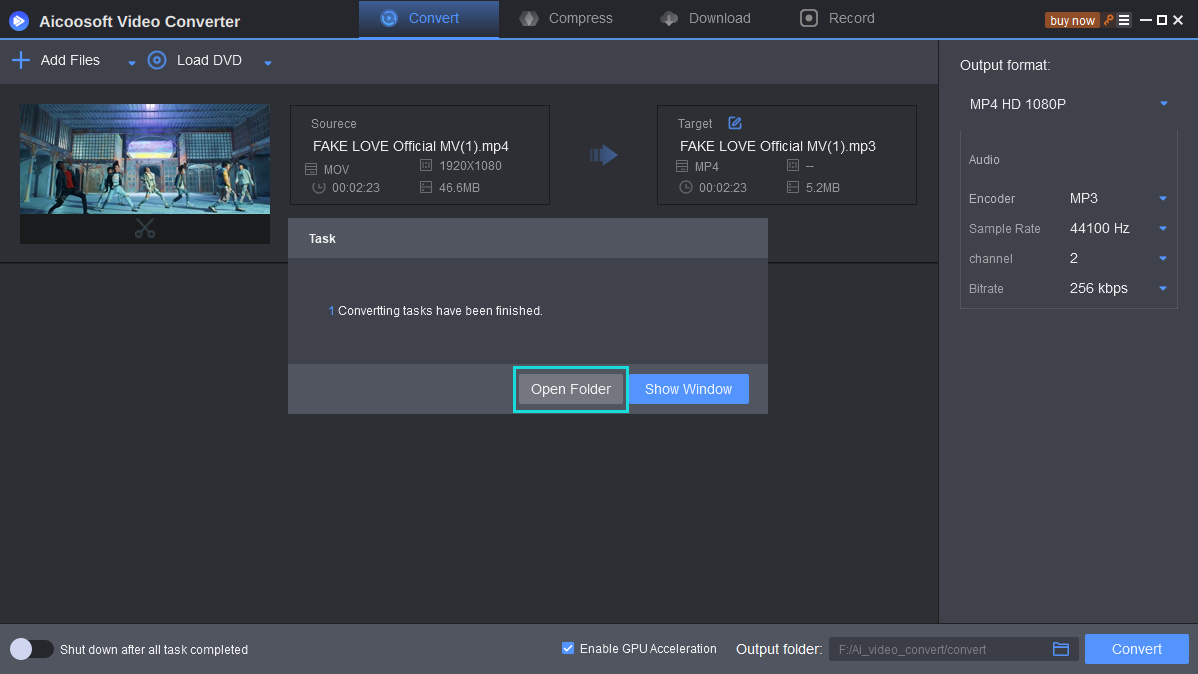 Part 3. Best MOV to MP4 converter for mobile
VidCompact - free MOV to MP4 converter for mobile
If you are a smartphone user who requires a mobile-compatible best MOV to MP4 converter for android, VidCompact is the best choice.It is a free and powerful MOV to MP4 converter introduced by EnjoyMobi Video editor & video makerstudio, which does more than a converter.
Although being a mobile application, it supports raw formats and advanced ones like HD and HTML5. Apart from conversion, VidCompact offers editing options like stabilize, crop, trim, reverse, merge & cut, and rotation.It can act as a compressor; file size reducer, and video clips reducer.
One can download VidCompact, the best MOV to MP4 converter app, from the link, https://play.google.com/store/apps/details?id=com.xvideostudio.videocompress&hl=en_IN and now, let's see how one can convert MOV to MP4 with VidCompact.
Step 1: Open the VidCompact app on your mobile, followed by the MOV file. Switch over to the converter section from the home screen and tap on the "Convert to MP4" option.
Step 2: Edit the video if required.
Step 3
: Hit the "Start" button to start the conversion process.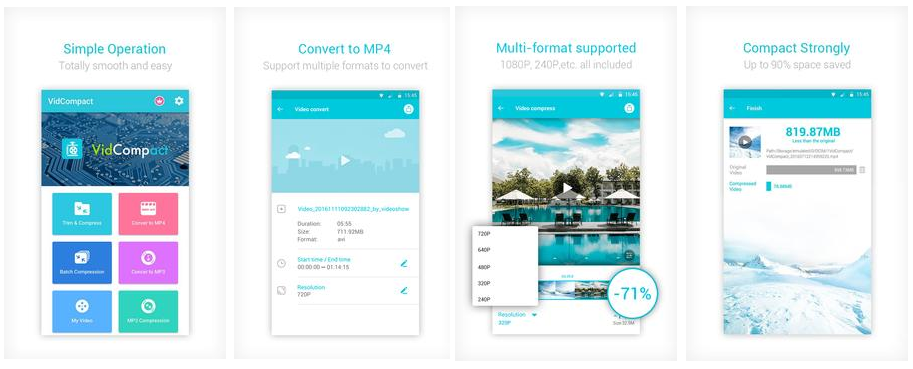 Part 4. Best MOV to MP4 converter online
Onlinevideoconverter - Online MOV to MP4 converter
To makeover a MOV to MP4 conversion, there are other possible ways apart from third-party software, Aicoosoft, and mobile app, VidCompact. Suppose you are wondering what the other method is. In that case, it is none other than the online tool where the best MOV to MP4 converter online is Onlinevideoconverter that is 100% free-to-use and converts MOV files to MP4 of superior quality. The Onlinevideoconverter supports converting a MOV file from PC, converting a video file from a YouTube link, and recording a video.
To convert a MOV file to MP4 online using the best converter MOV to MP4, Onlinevideoconverter, follow the below step-by-step guide to accomplish the task.
Step 1: Enter the link, https://www.onlinevideoconverter.vip/ on your web browser.
Step 2: Click the option "Convert a video file" on the second.
Step 3: Now, drag & drop the MOV file from the PC and select the output format as "MP4" once the file is uploaded.
Step 4
: Hit the "Start" button and once complete and download the resultant MP4 file.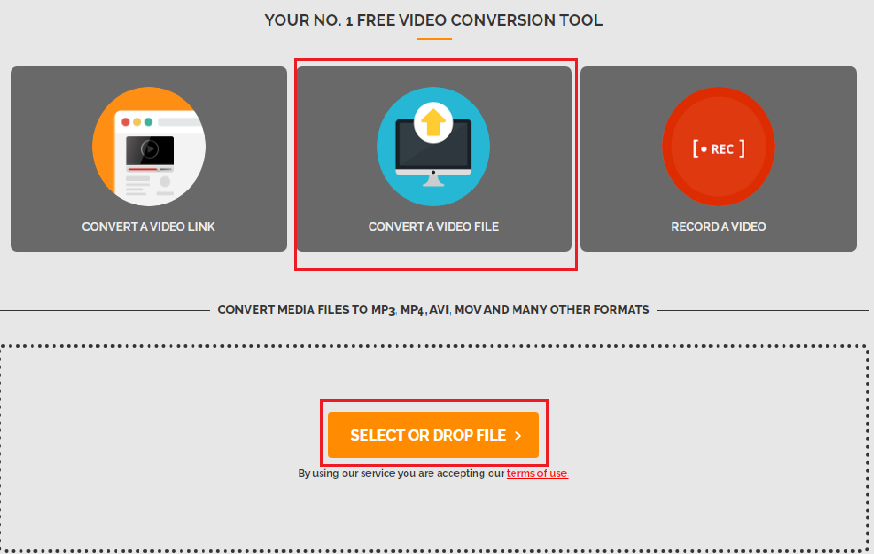 Conclusion
With a brief introduction to the best free MOV to MP4 converter, Aicoosoft, and other 2 online free MOV to MP4 converter for PC/Mobile/Online with their practical implementation, we hope we have given a solution to safeguard your MOV file by converting it to MP4 and keeping it streaming on various devices!