All you need to know are the different ways on how you can convert WebM to MP4 and further decide upon what's the ideal solution. Well, do you have any reason to reverse the excellent WebM format to MP4? No worries, there could be many reasons and the compatibility with software being the main. The MP4 is also a great format that you can play on the machines, even with low technical characteristics. And the significant difference between the MP4 and WebM format is the video codec used. The MP4 design bases upon H.264 video format, whereas the WebM format bases on VP9 or VP8.
Quality-wise, the WebM is said to be the superior format among both. Still, people used to search for the best WebM to MP4 converter mostly for compatibility reasons. So, let's introduce you to 7 such best WebM to MP4 converter online as follows.
Part 1. Top 7 WebM to MP4 Converters
It is effortless to convert WebM to MP4, provided you have a fast, reliable, and genuine converter available online. Well, there are many depending upon the expansion of the market of technical products. But, not all of them are worthy enough to consider. So, what is the fastest solution? Without further ado, let's introduce you to the powers of Aicoosoft as the ideal WebM to MP4 converter online available. It's not just a video conversion tool but helps you out with the best video compression and video editing as well. You will get to enjoy 30 times more video conversion speed with Aicoosoft than any other video converter available online. So, that's a big plus everyone is looking to have these days.
Keeping in mind the reliability of Aicoosoft, we'd like to keep it at the top position following by other considerable yet less efficient video converters available online. So, let's get started with our top 7 picks!
1. Aicoosoft Video Converter
It's super fast and easy to convert WebM to MP4 with Aicoosoft in just two steps. Aicoosoft video converter is most popular due to high conversion speed without losing any original output video quality. On the other hand, a list of various online tools except Aicoosoft is either time-consuming or not that reliable regarding security issues. Aicoosoft has managed to grab a place in the hearts of video editors, DVD users, and other entertainment users.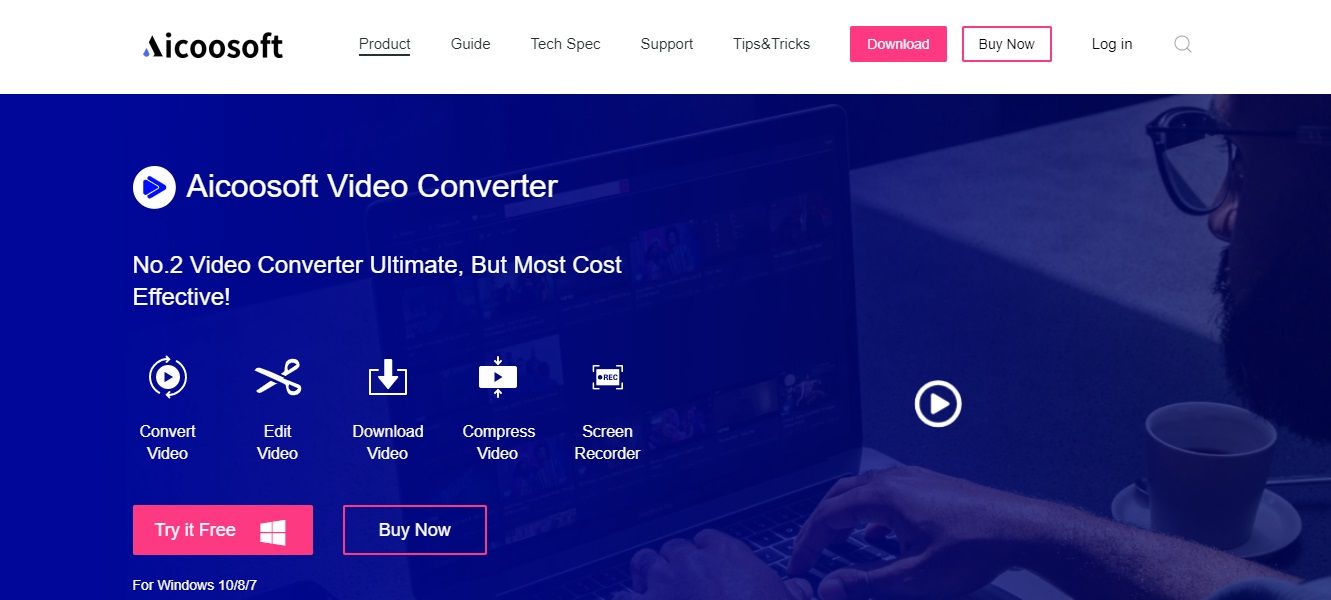 Key Features of Aicoosoft Video Converter
Aicoosoft is known to convert 4K/HD quality videos, including H265 (HEVC), H264 (AVC), 720P, 1080P, etc. without losing any output quality.
It can easily compress videos from HD cameras, GoPro, Camcorders, and other sensitive parameters of AI technology.
Its 30X conversion speed comes with GPU acceleration, Lossless conversion technology, and multi-core processor optimization.
Aicoosoft consists of an all-in-one professional video editor, including tools such as Trim, Merge, Crop, Adding Image, Text, Watermark, applying filters, background noise, and so on.
Pros:
Powerful & fast video conversion speed
Advanced video editing tools
Simple user interface
Highly compatible with most devices
Inbuilt professional downloader & video compressor
Cons:
May take time for installation
2. Cloudconvert
Cloudconvert is another WebM to MP4 online file converter with support to various documents, audios, videos, ebooks, images, spreadsheets, etc. You must visit the official site of Cloudconvert and hit the Convert from and Convert to tab for the purpose. It has one of the powerful APIs with custom integrations for your app.

Pros:
Powerful API
Good data security
Easy to convert
Cons:
Time consuming
Not compatible with most formats & devices
3. Convertio
Convertio is a file converter with support to 300+ formats, cloud compatibility, custom settings, and guaranteed security. It is a free WebM to MP4 online converter determined to features including audio converter, video converter, image converter, document converter, and OCR. So, there are no such advanced video editing features and high compatibility with new AI devices.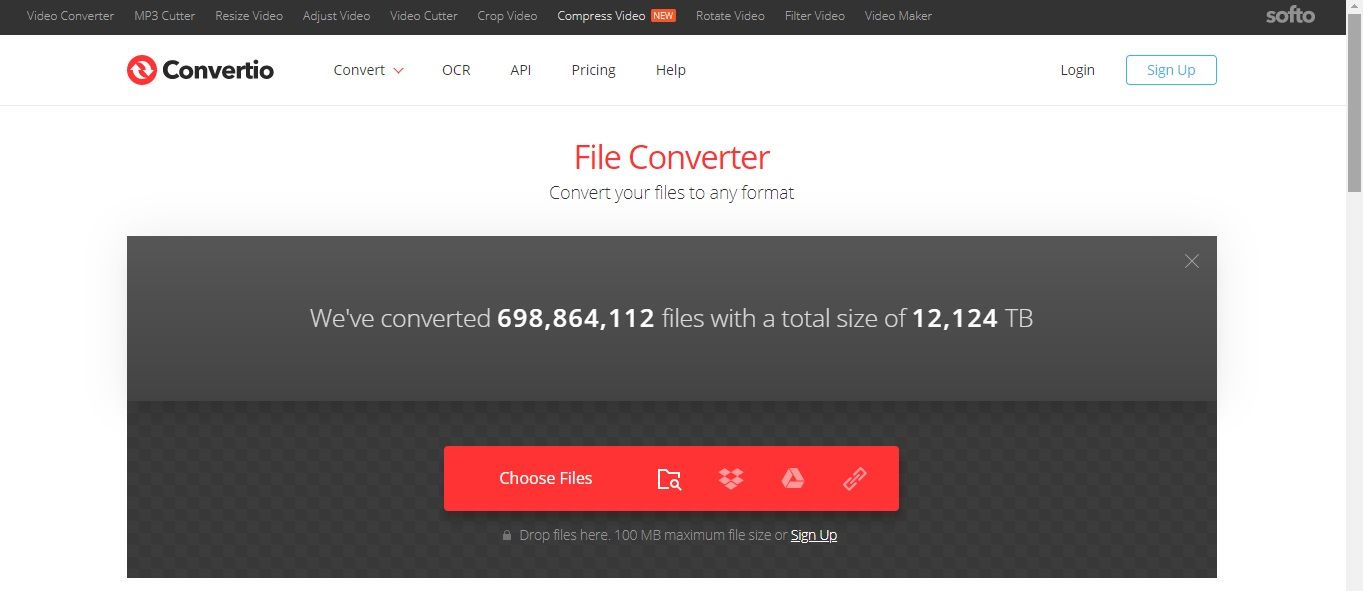 Pros:
Online & free converter
Determined to various conversions
100% privacy guarantee
Simple to use
Cons:
Doesn't work as mentioned
Slow loading speed
4. Media.io
Media.io is an online uniconverter by Wondershare. Regarding software reliability, people used to trust Wondershare products, but all of its products are not competitive enough compared to Aicoosoft. Take video conversion, for example! Media.io is one of the top performers in video editing, but their video conversion aspect doesn't go well.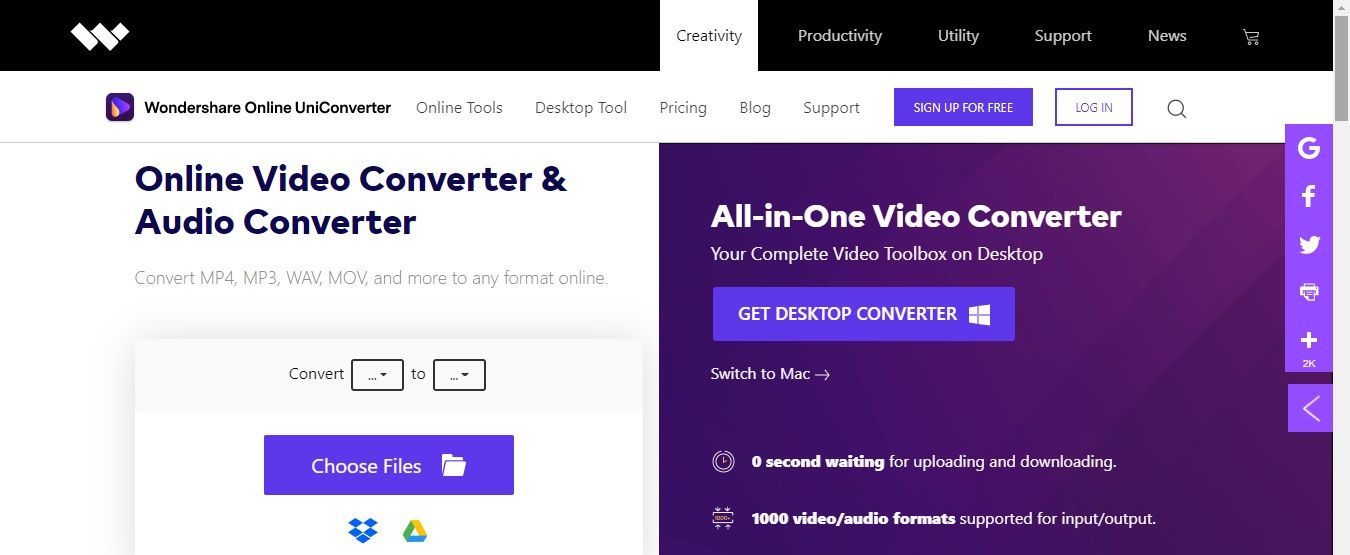 Pros:
Free
Easy user interface
Supports various conversions
Cons:
Not efficient
No advanced features
5. Online-Convert
Online-Convert is another WebM to MP4 online file converter, which also consists of various other converters including document converter, software converter, ebook converter, and so on. Well, you have to hit the specific tab of video converter to let the conversion begin after selecting your target format.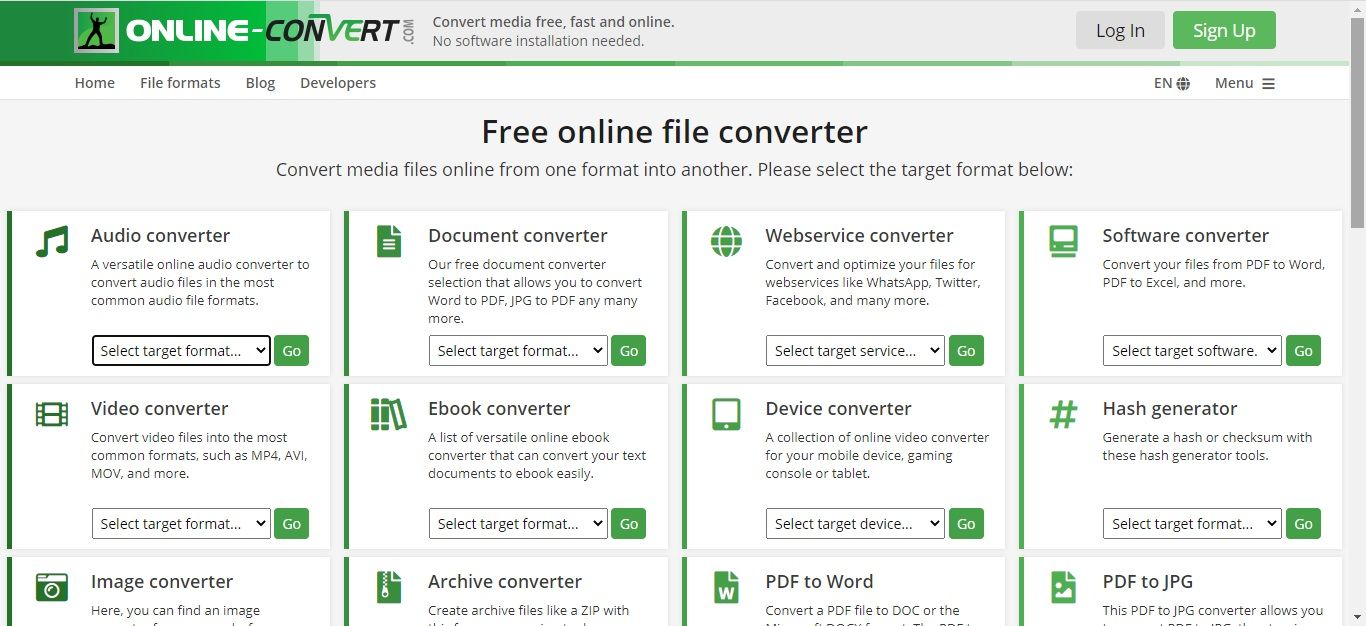 Pros:
Lots of conversion aspects
No pre-registration required
Online & free
Cons:
Outdated video conversion process
Lack of format support
6. Video2edit
Another neck-to-neck competition is Video2edit, which supports files directly from Dropbox, URL links, local storage, Google Drive, etc. It is easy to encode within various video or audio formats, including MP4 to MP3, WebM to MP4, MP4 to WMV, etc. As the name suggests, it can also do some editing like changing the frame rate, screen size, codec, and rotate videos, cut videos, etc.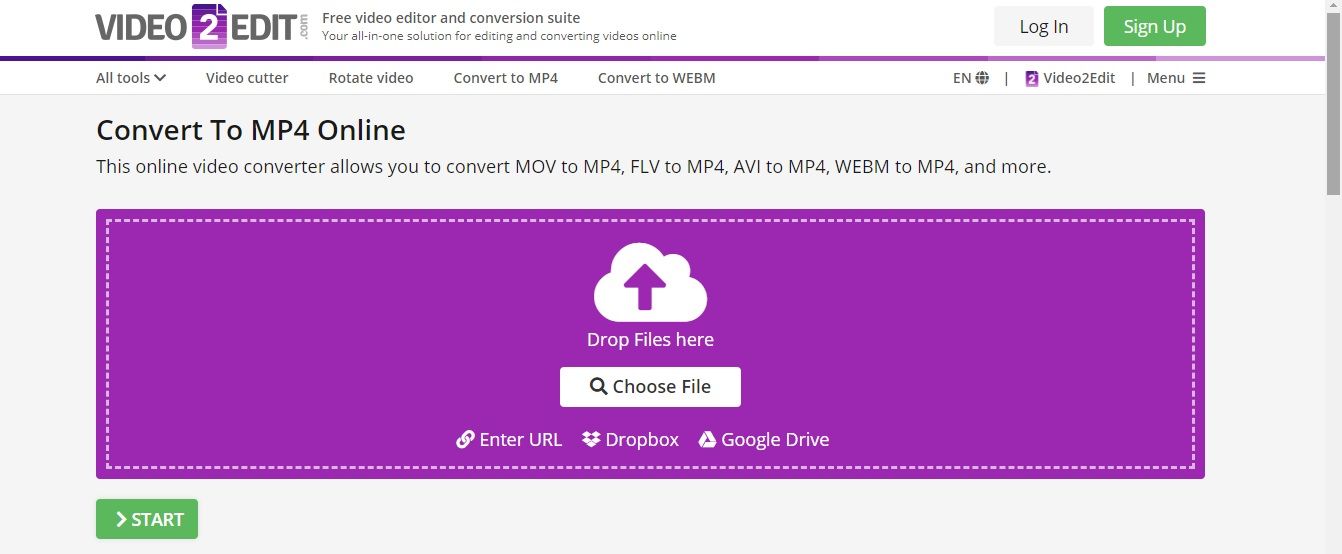 Pros:
Vraious editing tools
Easy process
Fast
Cons:
Tiny & limited upload size
Lots of ads
Not secure
7. AnyVideoConverter
The AnyVideoConverter is another freeware to convert WEBM to MP4. It comes with fast speed and support of the batch conversion of files. However, you need a lot of time installing the software on your system. Most of the time, compatibility issues occur with AnyVideoConverter.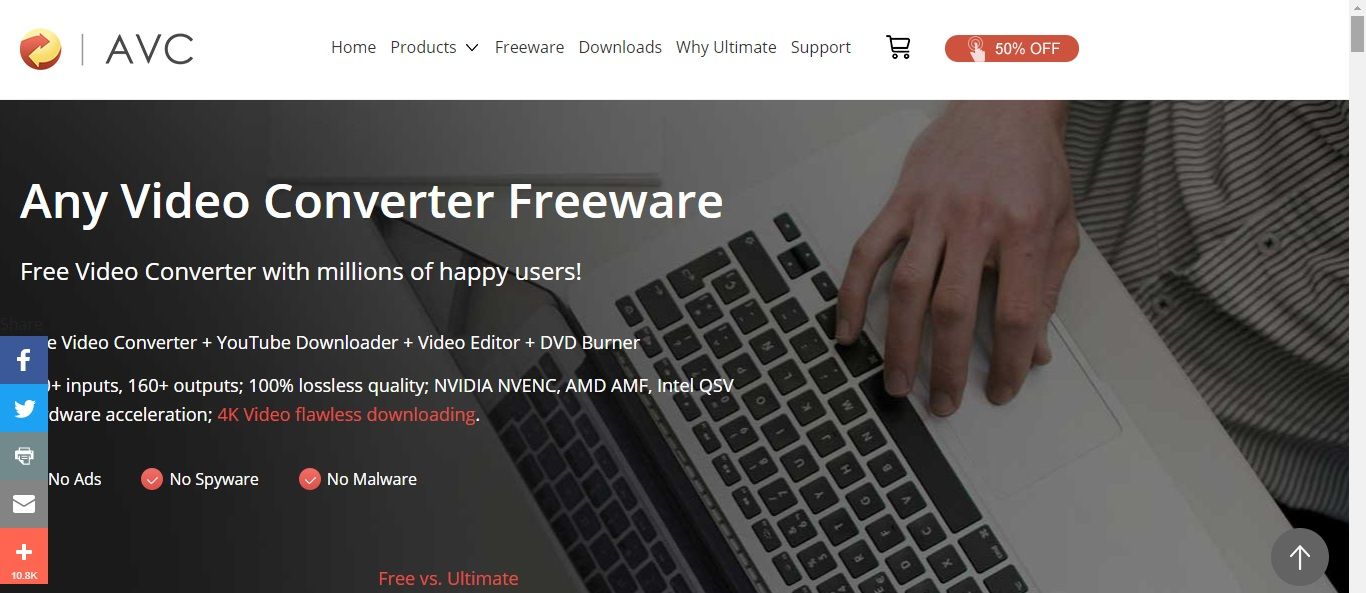 Pros:
Also a video editor
Fast conversion
Lossless quality
Cons:
Not completely free
Outdated technology
Part 2. Comparison
Now that you read the process on how to convert WebM to MP4, it's time to conclude with our final words and recommendation. No doubt, lots of online converters are available in the market, but you can't just trust any site for private data. Many sites are even not responsible for data breaching and user security issues. Therefore, it's better to take the step smartly and choose Aicoosoft as the most reliable and focused video conversion tool. It offers users with everything they need for professional video editing, conversion, and compression.
| Factors | Aicoosoft Video Converter | CloudConvert | Convertio | Media.io | Online-Convert | Video2Edit | Any Video Converter |
| --- | --- | --- | --- | --- | --- | --- | --- |
| Speed | 30X faster speed | very slow | slow site loading speed | 10X faster speed | Slow speed | Medium speed | 5X faster speed |
| Format Support | 1000+ formats | 200+ formats | 300+ formats | 1000+ formats | 500+ formats | limited file formats | 800+ formats |
| Any Extra Features | video editor, compressor, downloader | No extra features | No extra features | Video Editor, compressor, converter, GIF maker | No extra features | No extra features | Video converter/downloader |
| Professional Technology | Lossless conversion, GPU Acceleration | Outdated API integration | No advanced technologies | No advanced technologies | No advanced technologies | Outdated technology | Updated technology |
| Free version | Free trial & premium | Free & online | Free & online | Free & online | Free & online | Free & suite version | freeware & pricey subscription |
Conclusion
So, these were the best WebM to MP4 converters to make your job easier and faster. Do try all of them and share the recommended Aicoosoft with your friends and family.