"I am a vlogger who is new to the trend. I always wish to Vlog like a pro so that my videos can get a huge hit score. At times, editing my shot videos becomes difficult where I need to cut segments and merge it accurately, so the flow never gets missed out. And since I need to upload them on social networks, trimming a large MP4 to a shorter length is another hectic task. Is there any ultimate MP4 cutter solution that can help me out?"
Are you a video creator or vlogger who wishes to thrive in making yourself popular and make your videos stand out in the crowd? Else is your video lagging due to blur or imperfect background at specific clips and needs to be taken out to make it perfect? All you need is the best MP4 cutter, and that is what we have today in our article.
Part 1. Best free MP4 cutter for PC
Aicoosoft video converter stands the best free MP4 cutter for PC with no doubt and here is the reason why it is.
Aicoosoft Video Converter
Aicoosoft is an MP4 cutter and joiner software compatible with both Mac and Windows. It allows you to trim and take out the unwanted segments or clips from an MP4 video and join them together or separately with another clip so that the footage comes outstanding, making it stands out of the crowd. The intuitive, easy-to-use timeline-track over the video helps in useful trim/merge functionality, letting one preview the video clip instantly and correcting them as per the requirement. Aicoosoft, apart from an MP4 cutter, is a video converter that converts the resultant video to the desired format like MOV or AVI.
Key features of Aicoosoft
Aicoosoft offers a useful trim/merge video tool that trims and merges video clips efficiently for a movie or slideshow.
Cut out the unwanted segments and stitch it up creatively and flexibly with an instinctive timescale.
Crop/resize the video and share them on social media, or as a playback.
Convert the trimmed video directly to popular formats like MOV, M4V, and AVI.
How to use Aicoosoft as an MP4 cutter and joiner software for PC?
While summarizing up the MP4 cutter features of Aicoosoft is simple, the implementation is trouble-free as well. Want to know how? Yes, in just three simple steps, Aicoosoft gives up the processed MP4 file to you, and here is a manual on how.
Note: Download the free version of Aicoosoft, MP4 cutter for pc fromhttps://www.aicoosoft.com/video-converter.html and install it.
Step 1

Import the MP4 files or folder

Open the Aicoosoft software and click the "Add Files" option from the primary window.

With Aicoosoft, you can also upload a file folder as well by clicking the inverted icon on the right side of the "Add Files" option.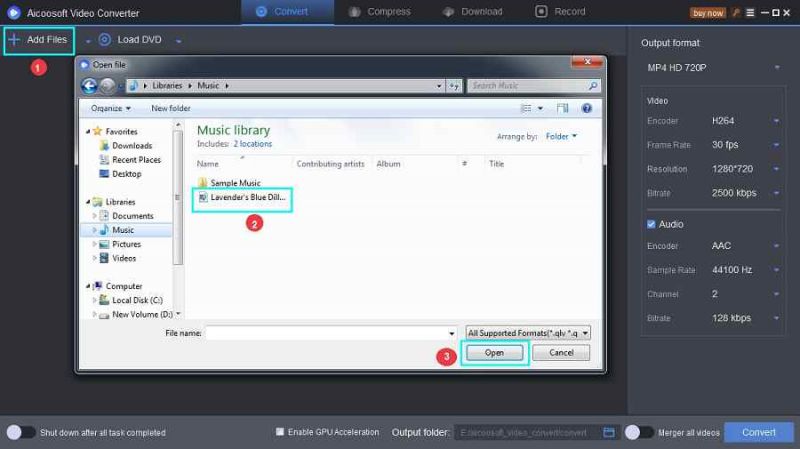 Step 2

Cut the MP4 video

From the loaded video, click the scissors icon that you can find below.

In the next interface, from various options, hit the "Trim" option that stands first.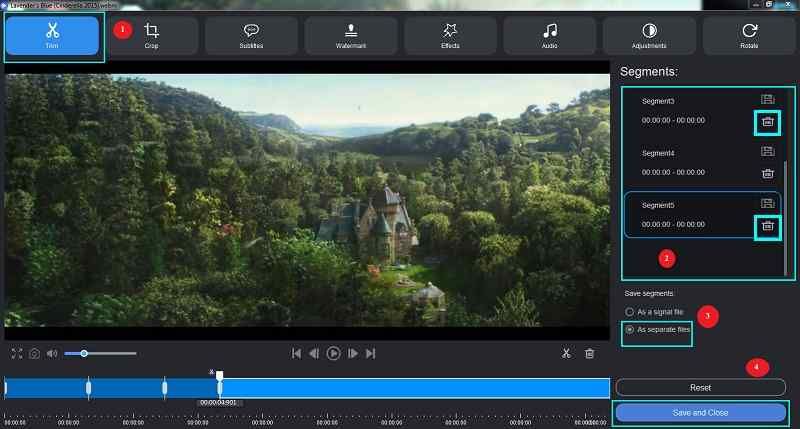 You can now start trimming the video accurately from the timeline using the scissors icon just above the track. The shortened segments will appear in the right corner.
Keep the segments needed, and delete the ones unnecessary.
You can save the segments as separate files, and once complete, tap the "Save and Close' button on the end of the screen.
Step 3

Join/merge the clips

You will then reach the interface like below with the actual video and the outcome that is ready for conversion. Ensure that the "Merge all videos" is swiped right, and then tap the "Convert" button.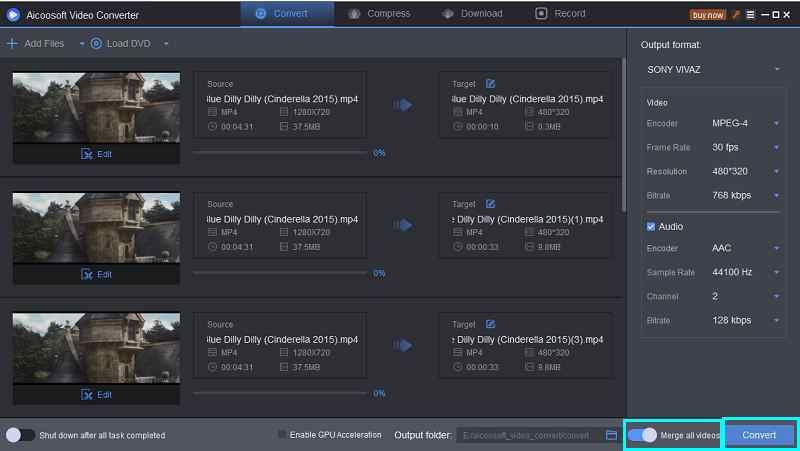 Step 4

Locate the resultant file

The file will now be merged and converted to your destined format as well whereby, clicking the "Open Folder," you can find the MP4 file.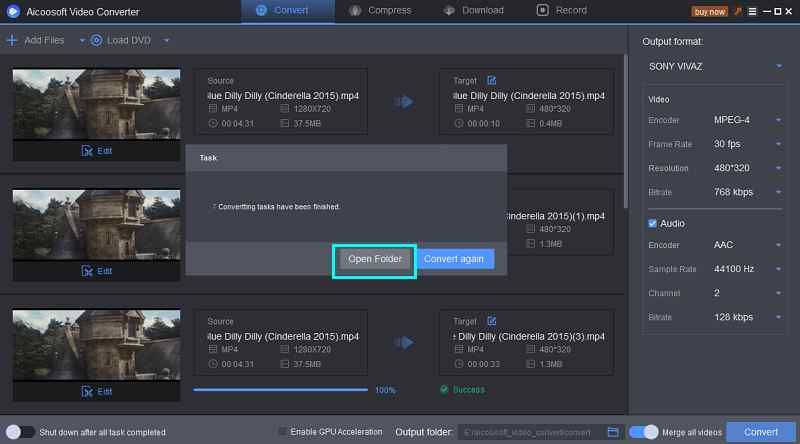 I hope you have now got an idea of using Aicoosoft, MP4 cutter, for PC to makeover all your video editing in upcoming days!
Part 2. Free MP4 cutter and joiner software
Bandicut
URL https://www.bandicam.com/bandicut-video-cutter/
Bandicut is a free MP4 cutter and joiner software that we have in line for you next to Aicoosoft that is suitable for the fastest lossless cutter & joiner action. It follows an easy-to-use interface allowing you to trim parts of the MP4 video without quality loss. Apart from the cut/merge, Bandicut also comes up with a Bandicam screen recorder feature, MP3 extraction from video, multiple video files merging, and numerous video split. Bandicut is equipped with hardware-accelerated H.264 video encoders that deliver high-speed deliverance with super quality.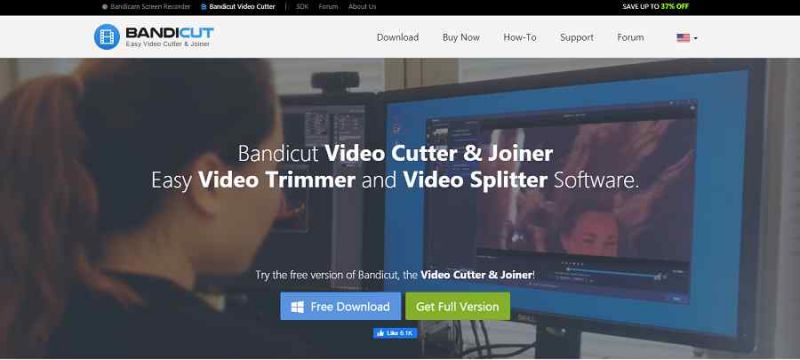 Pros:
Bandicut is a lossless video cutting software that performs without re-encoding.
Bandicut goes well with various formats like MPEG, MOV, WMV, TRP, FLV, and MKV.
Bandicut provides easy navigation and short exporting time.
Cons:
Bandicut watermark is visible on the videos that you edit using the free version.
It lacks features like video capture, 3D video editing, and media library.
Part 3. Online MP4 cutter and joiner
Never want third-party software like Bandicut as you require an online MP4 cutter and joiner that do the job with no installation or registration. Kapwing might help you at this instant. Know more, as this session is for you.
Kapwing
URL https://www.kapwing.com/tools/trim-video
Do you have a long video that you need to cut to a shorter length, but there is no time to install an application? Kapwing is an online tool suited to makeover basic editing like trim/merge, crop, convert, filter, fit, flip, rote, resize, and still a lot more ultimately free-of-cost. The team behind Kapwing realized the need of the user and designed it so that this online tool allows you to select the best highlights from your video that will make your video wonderful when streamed on Snapchat, Instagram, and other social media platforms.

Pros:
Kapwing offers surplus features like background removal, meme generator, subtitler, montage maker, and photomontage.
Kapwing uses sliders and arrow keys to ensure trim/merge at perfect timings.
Kapwing is super-fast and easy-to-use.
Cons:
You will find Kapwing watermark on all the videos edited using its free version.
Conclusion
Hence, with an introduction to the best MP4 cutter in the market, called Aicoosoft video converter, that does wonders in making your video beautiful, we strongly recommend to take up Aicoosoft as an MP4 cutter and joiner software that will facilitate you in all the video-related editing. Besides, Kapwing and Bandicut do not stand out against Aicoosoft. However, both still are experts and a better choice for online tools!