Do you have an MPEG4 file that you will like to convert to another media format, but don't know what software or program that you can use to perform this operation? Then you need to read through this article as it's structured to help you discover the best 3 MPEG4 converters for PC/Online. Mind you, the list is partitioned into two categories: two web-based programs and one PC software. So let's dive in!
Part 1. Best Way to Convert MPEG to MP4 on Mac
Aicoosoft Video Converter is a video converting software that allows you and I to transform MPEG4 media files into 1000 different formats freely and quickly. Some of the formats that it supports include MPEG4, MKV, MOV, MP3, AVI, to mention a few. It has an excellent speed of conversion, 30X.
The software is designed with a simple user interface with a drag-&-drop feature incorporated into it during development.
Other than video conversion, the toolkit supports video compression, recording, and editing. Furthermore, you are allowed to download high-quality video/audio clips of your choice from over 1000 video sharing platforms.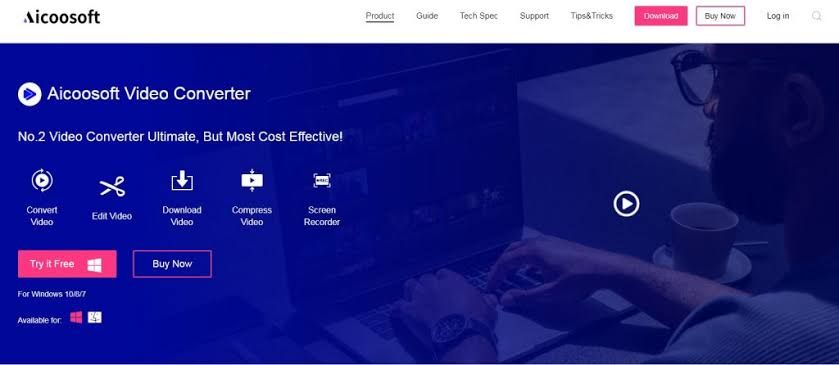 Key Features
Video Conversion: The software lets you convert one or more AVI files into various formats at a go without compromising the quality. Are you wondering how it does this? Well, the toolkit employs the AI-tech built in it to carry out all operations.
Video Compression: Compress multitudes of media files such as 4K/HD files into smaller sizes for free. It features two modes of compression; minimal and maximal compression. So you must select one of them. FYI, the minimal compression mode reduces the size of a file by 67% while the maximal compression does by 86%.
Video Recording: You are allowed to make a video clip of yourself or that of your PC freely. How do you go about this? It's easy. Just click on the video recording feature, set the time frame, video quality, and frame rate.
Video Download: What type of video file do you want to download on your PC? Is it HD/4K, MKV, AVI, MP4, or MOV? Just mention it and you will get it on Aicoosoft Video Converter. This is because the toolkit supports 1000+ video sharing platforms.
Stepwise Guide to Convert MPEG4 to MP4
Download and install a suitable version of the software, Aicoosoft, on your PC, then follow the tutorial guide below to convert your MPEG4 files:
Step1

Import the AVI File

Navigate your way to your PC local disk and then select your preferred MPEG4 file to convert. Do this by using the drag-&-drop feature on the toolkit interface or click on the 'Add Files' option.
Step2

Select your Target Format

Next, you are to select an output format that the imported file will be converted to. Aicoosoft supports thousands of output formats, choose one and then hit the 'Convert' button.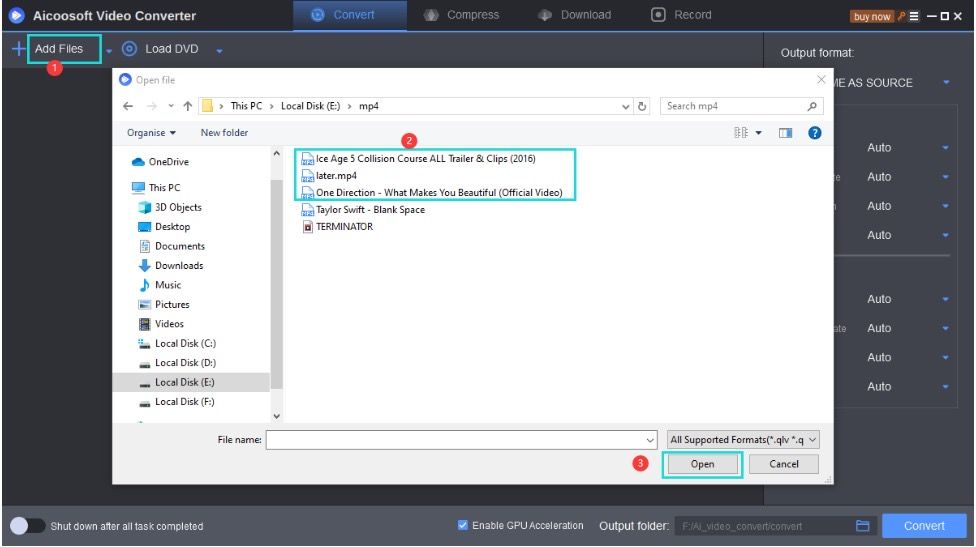 Step3

Download the Converted File

Finally, hit the 'Download' button to export the converted file to your hard drive.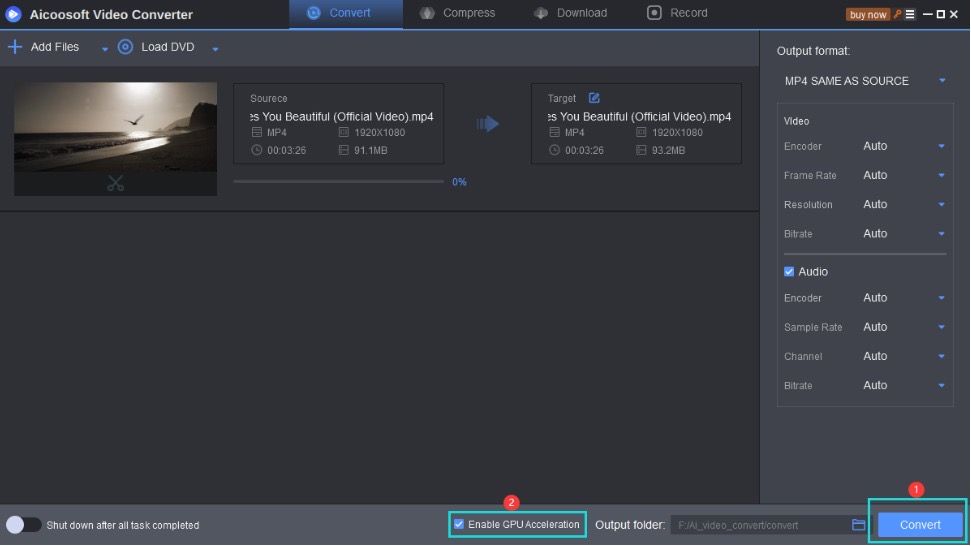 Part 2. 2 Simple Ways to Convert MPEG4 to MP4
Find below, the top 2 free web-based AVI converters available on the internet:
1. CloudConvert
CloudConvert is an open-source program that converts between MPEG4 and 50 other media formats including MP4. Also, you could use it to convert to other source formats such as PDF, Doc, ebooks and many more. The program is user friendly and quick. It offers a free trial and paid version with the former having some restrictions which can be uplifted when you subscribe.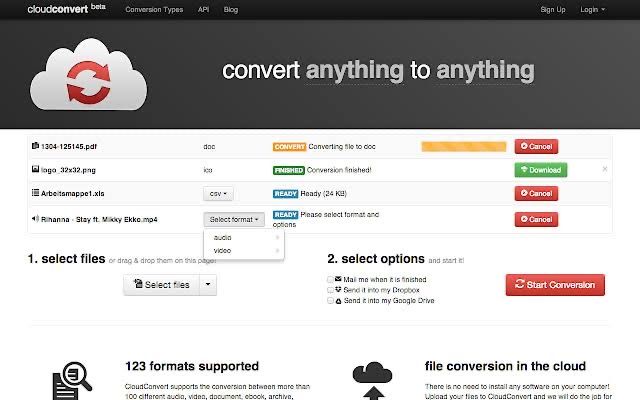 Pros:
End-users do not need to install or register a profile to use the program
Convert your files to source formats such as PDF, Doc, ebook, etc
It's free to use
Cons:
End-users must subscribe to a package to enjoy all the feature of the program
The quality of your files may be compromised during conversion
There is no way for you to edit videos or make a video clip
2. FreeConvert
FreeConvert is the last program we are introducing here. The toolkit converts video files like AVI to other formats such as MP4, MPEG4, ISO, and several different formats. To use the program, you don't need to create a profile or register an account. However, it does offer a free and premium version with the former restricting end-users from certain features. But when you subscribe to the premium package, you can access all features.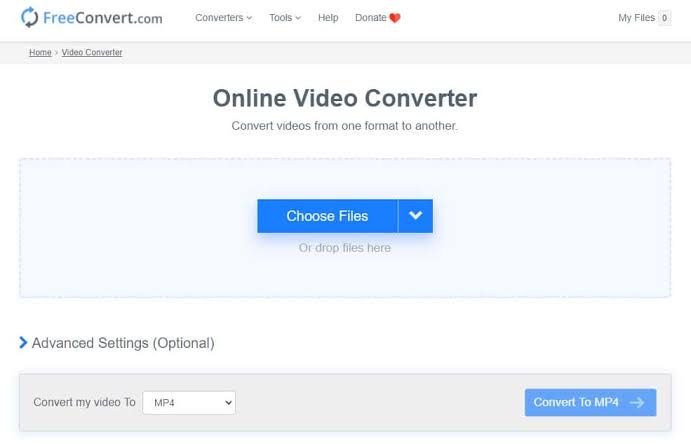 Pros:
Converts AVI to other video formats like MP4, MKV, and more
It offers a free version
It's quick and simple to use
Cons:
You have to subscribe to a premium package to access all the feature of the program
It supports a limited number of media formats
There is a limitation on the size of files you upload
Conclusion
Generally, there are tons of thousands of video converting software that supports MPEG4 conversion, however, making the best selection is never a walk in the park. But with this article, you can easily handpick your preferred MPEG4 video converter. Although we did provide 3 toolkits in the article, we do recommend Aicoosoft Video Converter as it's the best amongst them.