MP4 and other formats of videos make up so much of the content we consume these days. They may be produced for entertainment, interest, or education. No matter how, you must accept that videos are a part of our daily life.
But it is impossible to play any video on your Mac because the media player on your Mac cannot open all the video format. Some of them even support only the popular video format, such as MP4, AVI, WMA, MP3, MPEG, MPG. So, what should we do to deal with this problem?
Fortunately, there are video converters existing in the world. Video converters allow you to view various video files and enable you to convert them into a variety of formats. This means you can view any video files yourself and can convert files to the correct format before sending them to your friends or colleagues. Since MP4 is the most popular video format today, we will talk about MP4 converters for Mac here.
A quick Google search will reveal thousands of options available for video conversion. There are lots of free and paid tools out there, but they vary greatly in terms of performance, features, and price. When deciding on the best video converters for Mac, we looked for tools that met most of the following criteria.
Easy to use for beginners
Converts video without loss quality
Fast conversion speed
Supports thousands of output formats
Supports multiple operating systems
Reasonably priced or free version without watermark
Doesn't install additional software
No ads on it
In this article, we will introduce top 3 MP4 video converters for Mac users, one for paid and two for free. These converters are really good and worth your attention.
Part 1. The most effective mp4 converter for Mac
As for the most effective MP4 converter for Mac, we recommend Aicoosoft Video Converter without hesitation. It can perform your MP4 videos to various video format in seconds, and vice versa. It can not only convert, but also compress, download, edit and record videos easily. The conversion speed of this converter is 30X faster than other traditional converters that you can findt in the market. It works well both on Windows and Mac and meets your requirements better than other converters.
Key features of Aicoosoft Video Converter
The key features that make Aicoosoft one of the best software's for MP4 conversion are:
This MP4 video converter uses AI technology for MP4 conversion. Unlike other video converters, it has a better balance between the conversion speed and output video quality.
Since the converter uses lossless conversion technology, and advanced GPU acceleration technology, the converted file can keep the same quality with the original file and converts MP4 videos into other format with lightning-fast speed.
It is very easy to use and the interface is designed very friendly, so even nonprofessional people can use it to convert MP4 videos.
Besides all the above advantages, it also has a built-in audio and video downloader, which enables you to download videos from more than 1000 audio and video sharing sites. You can even download HD videos from streaming sites quickly. It can also convert audio and video formats into more than 1000 audio and video formats without loss of quality.
All these features make Aicoosoft one of the best video converters present online.
You can pay for it or use the free version. The price of the paid version is only $29 for lifetime license. Either paid version or free version, there is no watermark on the converted files.
Convert MP4 vidoes with Aicoosoft Video Converter on Mac
With Aicoosoft, you can convert your MP4 video with just couple of clicks. You don't need to be familiar with programming, video formats or settings. Just launch it, import your video, select the output format, click Convert and that's it! Read this quick guide to find out how to convert MP4 videos.
Step1

Launch and add MP4 videos to Aicoosoft Video Converter on your Mac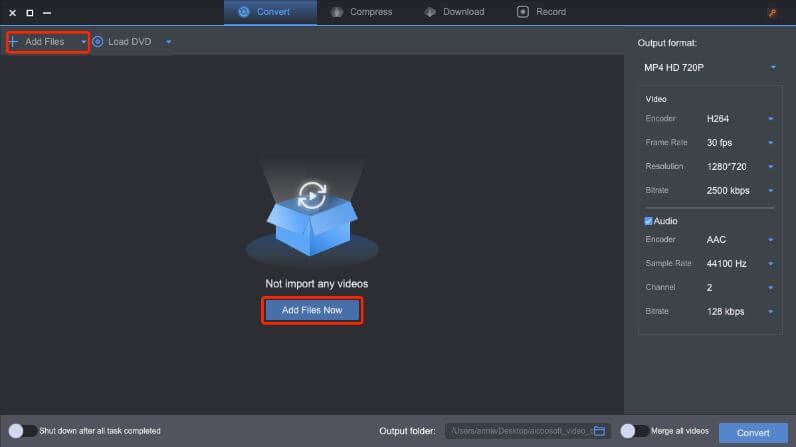 Step1

Select the output format from the drop-down in the red retangle as show in the picture below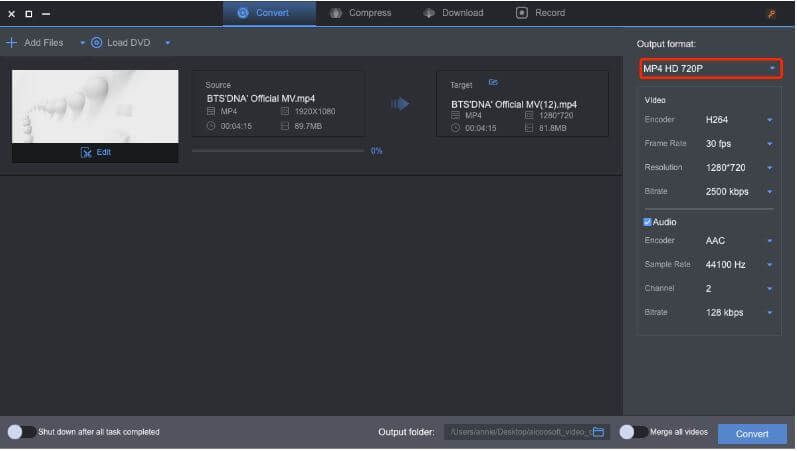 Step1

Click Convert to convert MP4 videos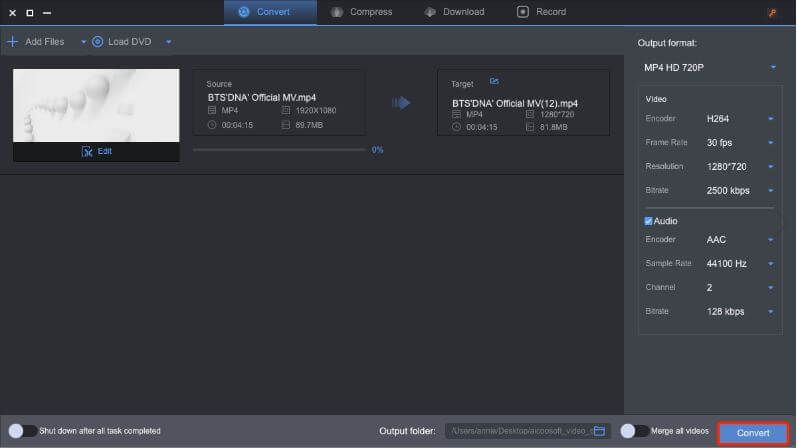 Do you find that Aicoosoft meets with all the criteria that we describe at the begining of the article? If you are seeking for best MP4 converter for Mac, Aicoosoft is undoubtedly your first choice.
Part 2. Top 2 free MP4 converters for Mac
1. Handbrake
HandBrake - Best for basic open-source video conversion.
HandBrake distinguishes itself early on from other similar tools by simply being open-source and completely free to use. You can use HandBrake for Windows and Linux as well, but it is the Mac version that has made this video converter quite popular among the masses.
As the tool is free, you won't be able to upgrade the app and there are no third-party ads as well. This gives the app a very dated look, laced with a tacky user interface which can be a challenge for first-time users.
However, once you do get used to the tool, HandBrake can be your companion, rendering basic video conversion benefits. As HandBrake is again a completely free tool, impervious to updates, it is also plagued by the issue of slow conversion speed. On the other hand, the format quality of the converted video is quite good.
HandBrake is compatible with a variety of output formats, which include MPEG, MP4, M4V, MOV, etc. It can also handle 4k resolution. Again, these formats are relatively less than what you would have received in a paid tool.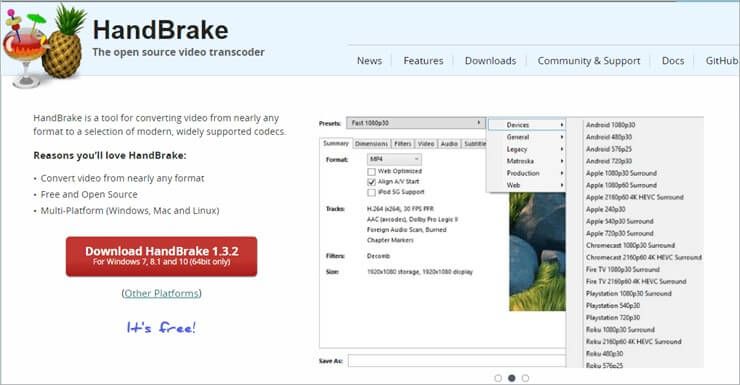 Pros:
Completely free
High-quality video
Solid range of editing options
No ads or upsells
Cons:
Could be easier to use
Slow speeds
2. FFmpeg
FFmpeg - Best for advanced professionals in video editing and conversion.
Right out of the bat, we would like to state that FFmpeg is not at all user friendly. It is a free and very powerful tool for video conversion but is far from easy to use. However, to solve this issue FFmpeg comes with a graphical user interface.
With GUI, it still isn't a beginner-friendly tool and is best suited for advanced professionals. In their hands, this tool can accomplish a lot. FFmpeg today is very old and outdated. However, if you want a tool that is configurable and doesn't mind its complex settings then you can give it a try.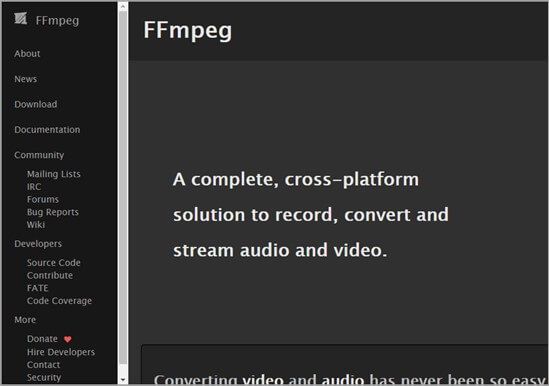 Pros:
Completely free
High-quality video
Solid range of editing options
No ads or upsells
Cons:
Could be easier to use
Slow speeds
Part 3. FAQs
1. What is the best video converter?
As you can see, our recommended video converters represent a broad range of software. Ultimately, the tool you choose should depend on exactly what you're looking for in a video converter. Price is often top of the list of criteria, but here are some other important aspects to consider:
Functionality: A video converter's feature list is a good place to start in your decision-making process. For example, if you just need simple conversions, you can get away with a barebones software, but if you're looking for editing options and features like subtitles or captions, you may need to look for a more robust tool.
Formats: Most of the converters on our list support a broad range of formats, but be sure to check these include the ones you plan to use most often.
User-friendliness: Some video conversion tools, especially those with lots of features, can seem a bit overwhelming, especially for beginners. Thankfully, many tools offer free trials so you can test out their usability before parting with your cash.
Customer support: There are plenty of reasons you might need to contact customer support when setting up or using a video converter. Having live-chat support available is ideal, but at the least, you'll want your provider to have an intuitive knowledge-base and an easy-to-use webform for submitting queries.
2. Which is the best free video converter?
In general, a paid tool is bound to give you a better experience than its free counterparts, but you might find a free converter does the trick. We've introduced one completely free option: HandBrake. While these aren't necessarily bad options, there are some possible downsides to be aware of:
Watermarks: Some providers will add their logo to free conversions to help advertise the service or encourage users to upgrade to a paid, watermark-free tool. Some watermarks are unobtrusive, for example, remaining in the corner of the video, and may be acceptable to some users. Others are large and appear in the center of the frame throughout the video, making them more of a nuisance.
Length limits: Common in freemium software, a provider might limit the conversion length to something like five minutes or half of the original video.
Limited features: It requires resources to keep software updated with the latest features, so you may find that a free tool doesn't have the functionality you're looking for.
Prompts to upgrade: Freemium tools will often bombard users of the free software with upsell popups. This doesn't impact use of the tool itself but can become an annoyance over time.
Conclusion
As you can see, there are thousands of options to choose from when it comes to settling on an MP4 video converter for your Mac. Depending on what you want from your video converter app, you might want to opt for a full-featured video converter.
If you want a video converter with plenty of features, fast conversion speed, and clean interface, then we recommend you to use Aicoosoft Video Converter. The price of it is reasonable and the result worth it.
If you have no money to spare but are in dire need of a video converter, then Handbrake will do just fine. MMmpeg is another choice, if you don't care that it is outdated and not easy to use.