"Can I extract audio from MP4 in VLC" - Anonymous.
As we are all aware, VLC is a famous media player used to play your favorite music, but do you know that it is a video converter as well. Yes, with support over limited formats like WMA, OGG, and FLAC, it is still in usage by many to extract audio from MP4. But if you are not familiar with how to use it, never worry. We are here to make a practical implementation on how to extract sound from an MP4 file and introduce the best alternatives that can do wonders and the extraction as a piece of cake!
Part 1. How to extract audio from MP4 file with VLC?
As a traditional and our first way to extract audio from MP4, we have our best and popularly known guest, VLC, the mainstay of the media player's house. With free-of-cost and no third-party application installation, VLC can accomplish the task, and if you aren't clear how to extract audio from MP4, follow us with the below steps.
Steps to extract audio sound from MP4 file with VLC
Step 1: Double-click on the VLC media player on your PC and open it.
Step 2
: Execute the "Media>Convert/Save" option from the top toolbar.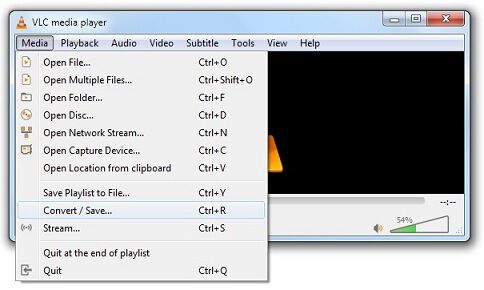 Step 3: From the appearing pop-up dialog box, choose the MP4 file from which you wish to extract the audio, and tap "Open."
Step 4
: From the lower right corner, tap the "Convert/Save" button and from the profile session, choose the audio format as per your desire.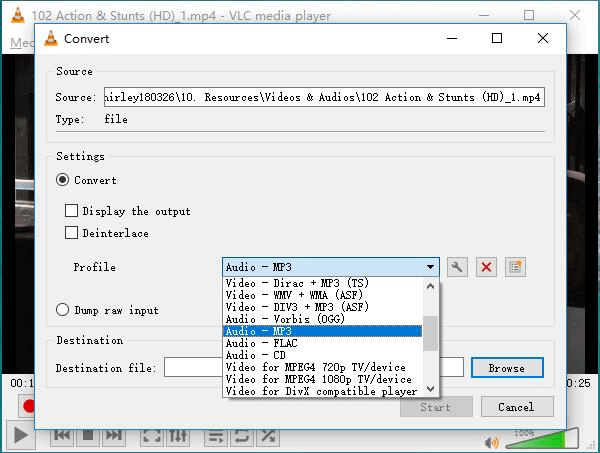 Step 5: Browse the location where you want to save the resultant file on the "Destination file" box by entering the file with the name along with the .mp3 extension, followed by the "Save" button.
Step 6: Once done, you are just a one-step-ahead of where you need to tap the "Start" button to start the process.
While VLC is a versatile media player where you can enjoy your favorite songs and movies, I hope you have come to know
how to extract audio fromMP4
for free.
Pros:
VLC has a built-in equalizer with which you can boost the audio without affecting the quality.
With keyboard shortcuts, you can easily have control over VLC.
No codec installation is required to read audio/video further in VLC.
Cons:
Finding songs from the VLC library could be difficult.
With VLC, you cannot use tags.
Part 2. Batch extract audio from MP4- Aicoosoft
While VLC is suitable for an essential audio extract, you need to open the MP4 file directly and can only process one MP4 file at a time. Thus, if you need further editing, there comes the importance of an ultimate solution like an Aicoosoft video converter.
Aicoosoft Video Converter
Aicoosoft video converter is an ultimate No.2 video converter solution that is most cost-effective than the other popular ones in the industry. With Aicoosoft, you can batch extract audio from MP4 at ease with high-quality. With support overall possible formats and codecs, Aicoosoft surprisingly facilitates 1000+ structures that are more than enough to carry over all your conversion process. The team behind Aicoosoft has equipped the software with Lossless conversion technology and optimization techniques that are the backbone behind such a successful track!
Key features of Aicoosoft video converter
Aicoosoft is a super-fast video converter that extracts sound from the MP4 file in just seconds.
Multi-core processor optimization, AI technology used in improving the conversion speed.
Aicoosoft offers an all-in-one editor toolbox with attractive features like trim/merge, crop/resize, watermark, and still many more for your video creation.
You can directly download the MP4 file to the mp3 format with the built-in audio & video downloader by Aicoosoft.
How to batch extract audio from MP4 files with Aicoosoft?
Yes, as specified, Aicoosoft can
batch extract audio from MP4
, but to prove it from our side, here is a guide on
how to extract audio from MP4
. For a great user experience, Aicoosoft gives a free trial where you can download it now from
https://www.aicoosoft.com/video-converter.html
.
Step 1

Open Aicoosoft & add MP4 files

Launch Aicoosoft software on the PC, and add the MP4 files by tapping the "Add Files" option from the top else the inverted triangle icon on its right to choose the entire folder.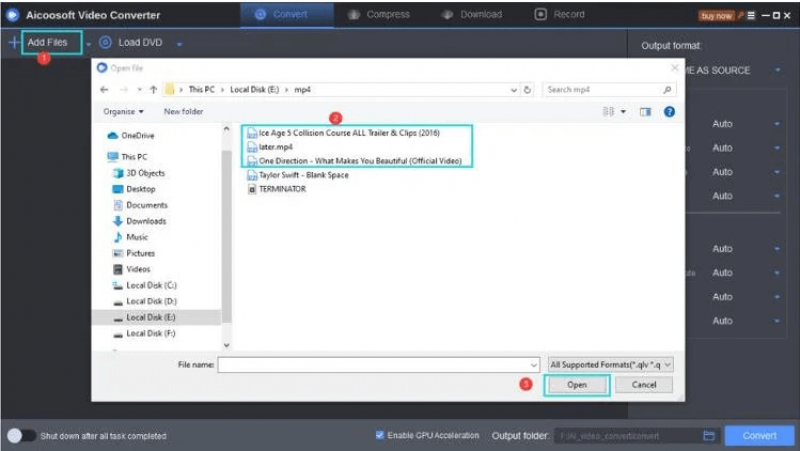 Step 2

Choose the output audio format

Wait until the video imports to the screen, then from the right corner, choose the output format from the drop-down.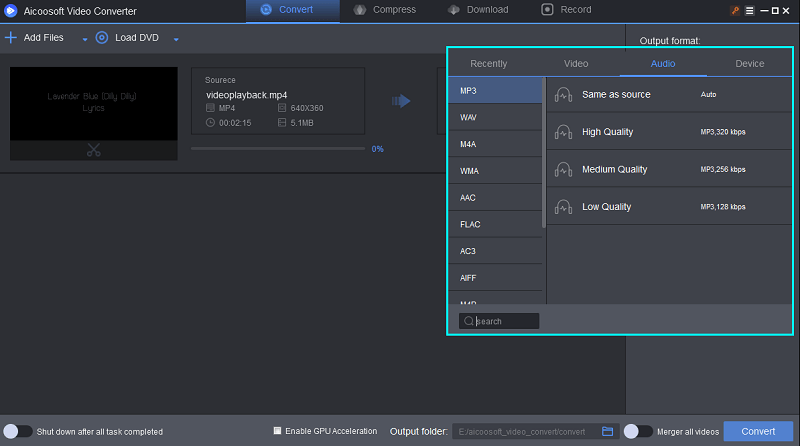 Step 3

Convert & locate the file

The audio will now extract from the MP4 file if you click the "Convert" button on the bottom. You can tick the "Enable GPU Acceleration" checkbox to ensure faster speed conversion.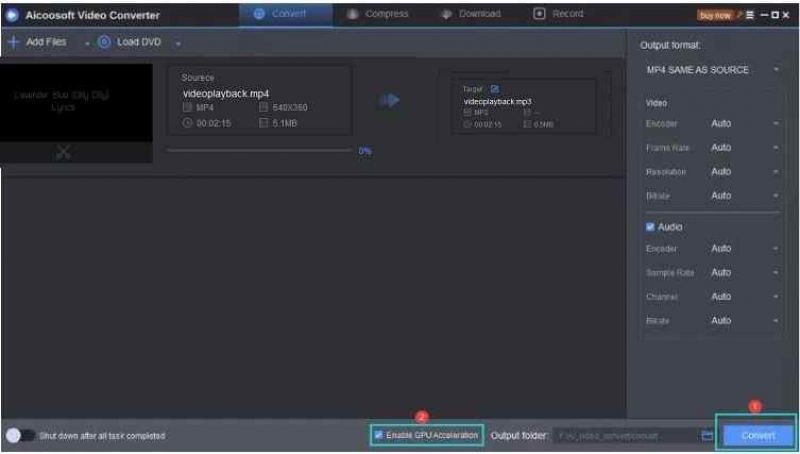 After extraction, you will receive the "Success" notification, followed by which you can find your file by clicking the "Open Folder" option.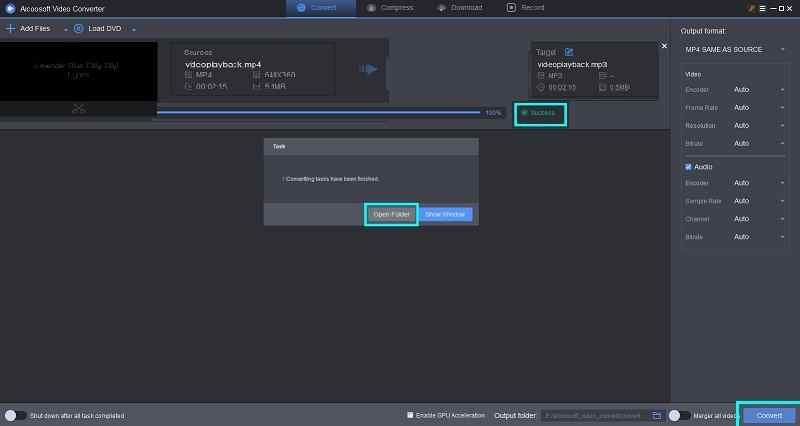 All credit and thanks go to the Aicoosoft team, which has made a batch audio extract from MP4 a hassle-free process!
Part 3. How to extract sound from MP4 online for free?
While VLC and Aicoosoft are applications that need an installation, there is still one more option that is none other than going online. Yes, various online extractors can extract sound from MP4 online, where Fileconverto has got its place today.
Steps on how to extract music from MP4 online for free
Step 1: Enter the link, https://www.fileconverto.com/extract-audio-from-video/ on the web browser.
Step 2: Click the option "Browse" and choose the MP4 file from the PC.
Step 3
: Tap the "Submit Now" option to proceed.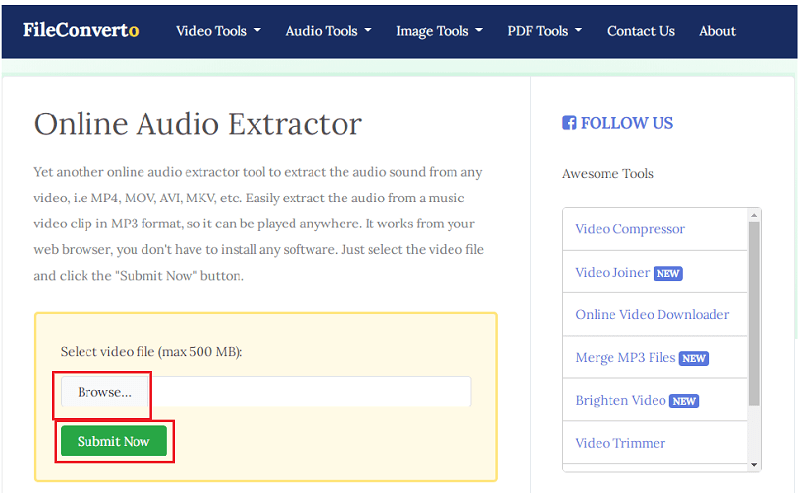 Step 4: The video will load, whereby clicking the "Start" button, the process will get started.
That is how you can
extract sound from MP4 online
with Fileconverto easily.
Conclusion
If you have been using VLC still now to extract audio from MP4, from now on, it's time to try something new in the market where Aicoosoft Video Converter comes first in terms of quality and speed. While VLC is still popular, Aicoosoft adds up a little more tool for your video creation. So, never hesitate to give it a try today.