"Does Windows 10 have a video converter?"
There may be occasions on which you would want to convert a video from one format to another. Many reasons are responsible for the same, the basic one being non-availability of a video player that can play the video in the format you have. Similarly, the need to play your video on multiple devices, which cannot be done unless and until the video is, converted to a compatible format by using say a Microsoft Video Converter for Windows 10 may also be a valid reason.
Movies & TV app is usually the default video player on Windows 10. With this app, you can quickly access your videos collection. This app supports most DRM free videos. Likewise, this app is compatible with multiple video formats, which include m4v., mp4., mov., asf., avi. and wmv. to list a few.
However, two video players, which work best for Windows 10 are the Windows Media Player and vlc player.
1. Windows Media Player:
The Windows Media Player comes as an optional feature for Windows 10. Windows Media Player 12 is the latest available version of this player. This video player supports the following formats and is essentially a go to, to convert mov to mp4 Windows media player.
Windows Media Formats such as .asf, .wma, .wmv and .wm
Windows Media Metafiles such as .asx, .wax, .wvx, .wmx, wpl
Audio visual interleave i.e. .avi
MP4 video files such as .mp4, .m4v, .mp4v, .3g2, .3gp2, .3gpp
Moving Pictures Experts Group such as .mp3, .mpeg, .m1v, .mp2, .mp3, .mpa, .mpe, .m3u
2. VLC Video Player:
A video player that is generally unaffected by codec errors is the VLC player. People prefer the VLC player because it is capable of supporting multiple formats and versions. VLC can play almost every other audio and video file. This player is hundred percent safe to download. In order to keep viruses at bay, you need to download this player from a trusted website. VLC supports a number of individual formats, which include mpeg, avi, asf, ogm, flv, mxf and mkv to list a few.
Part 1. Is there a free Utility to convert video files to MP4 in Windows 10?
If you are looking for an entry-level video converter that can convert files of any size and format, then Freemake Video Converter is the application that you should be heading to. With this app, you can convert videos and movies in 500 plus formats free. You can convert mov to mp4 windows free using this application.

You can convert files to mp4, mp3, avi, wmv, DVD, iPhone and Android using the Freemake Video Converter. Even though this app floats ads, it is safe to download the same.
After being around for over 10 years, over 103 million users have had a pleasant experience on this platform.
However, the question is as to whether or not the Freemake Video Converter is actually free. Well, the answer is No. There are ads running on this app, which can pose a hurdle and make this app a non-user-friendly endeavor. A paid version is also available in this converter. There is a vast difference between the paid and free version.
Let us now look at the Pros and Cons of this all-rounder video converter.
Pros:
Capable of downloading and converting online videos
Supports all the modern Windows versions
Helps to merge video files
Can assist with importing subtitles
Supports multiple input formats
Aids to merge video files
Can work with multiple mobile devices
Cons:
Has not been upgraded for about 3 years
The process of conversion is slow
Part 2. How to convert MOV to MP4 on Windows 10 online?
Did you know that there is an option for you to convert MOV to MP4 Windows 10 and that too online? The Online Video Converter app is sure to come handy to convert MOV to MP4 Windows online.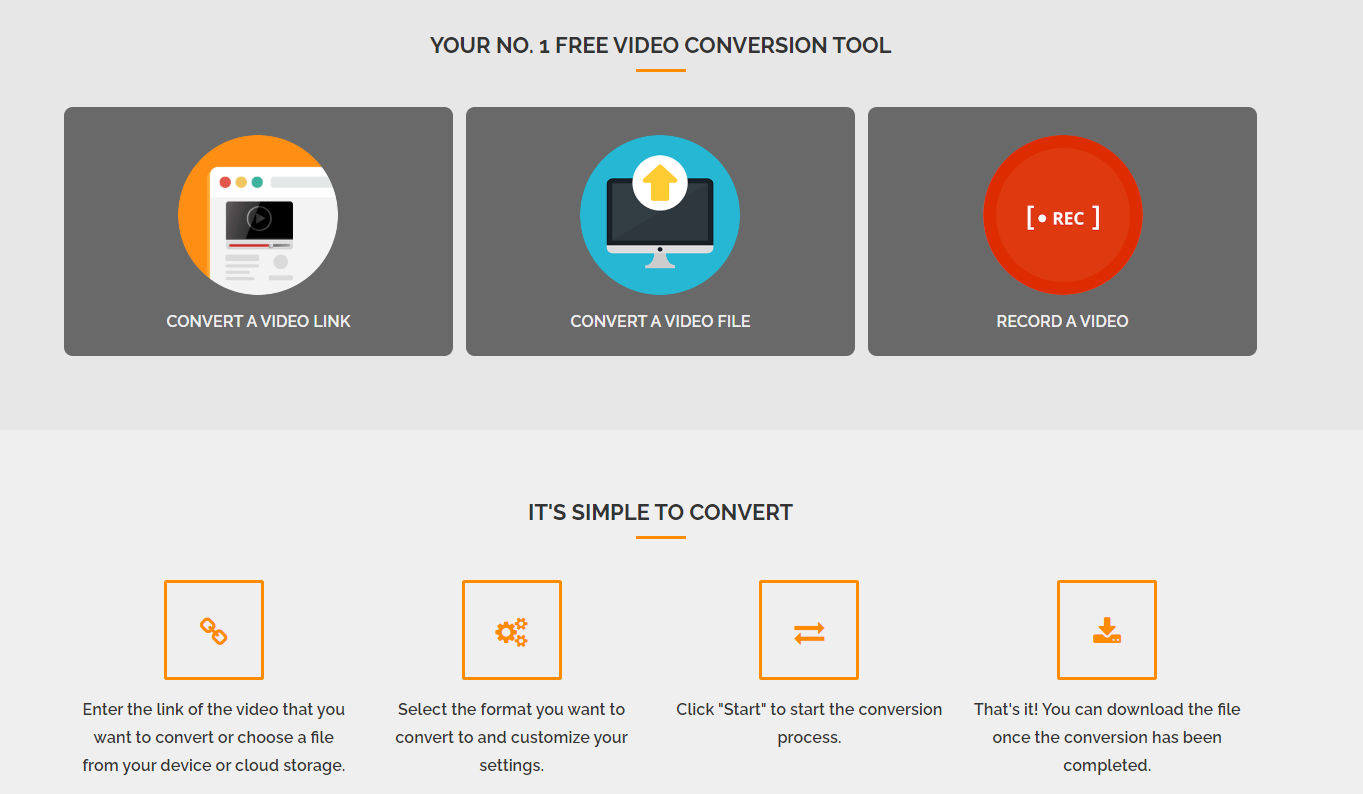 The Online Video Converter is a free and fast app that can help you to convert any video or file to any other format of your choice.
Certain pros and cons are associated with the Online Video Converter app for Windows 10. Let us glance through the same.
Pros:
Firstly, the online video converter is known to be available free of cost. Even though added facilities may be available on the paid version, it would not hurt to settle for the unpaid version. Moreover, to explore some of the basic features associated with the free version, you need not have to register yourself as well
It is very easy to use this app and thus you will not face any difficulties once you start working with the same. You will not have to refer to any guidelines or tutorials in order to understand its working.
This app can single-handedly convert multiple file formats. You can also improve the resolution of your video file using this app.
It is very convenient to share converted files from this app with your peers.
Cons:
Does not include custom settings
Cannot work well in absence of a strong internet connection
May take a long time to convert files
Cannot store converted files on the app for a long time
Part 3. What is the best mov to mp4 converter for Windows 10?
You are likely to come across multiple converter apps that can help to convert MOV to MP4 Windows 10. However, a leading converter that has been able to attract a massive following of late is the Aicoosoft Video Converter. The following reasons are responsible behind its increased popularity.
Key features:
Convert 4K & HD MOV videos to MP4 without loss quality
Support to convert videos to 1000+ video/audio formats
30x faster video conversion speed with GPU acceleration and multi-core processor optimization
Download HD videos you want from 10000+ streaming video websites.
Powerful all-in-one video editor: Merge, trim, crop, add subtitle, watermark, effects etc.
Customize to compress videos with high quality for your different uses
Record screen, online video, game videos, teaching videos and music easily
How to convert MOV to MP4 on Windows 10?
Step 1
Begin by downloading the Aicoosoft App to convert mov to mp4 on Windows 10. You can get this app installed on your desktop to proceed. Next, add the mov file that you wish to convert. This tool provides two independent ways to add the file that needs to be converted. Firstly, you can drag and drop the file in this app. The other way is to simply click on the add files option and add the mov file that you need to convert to mp4.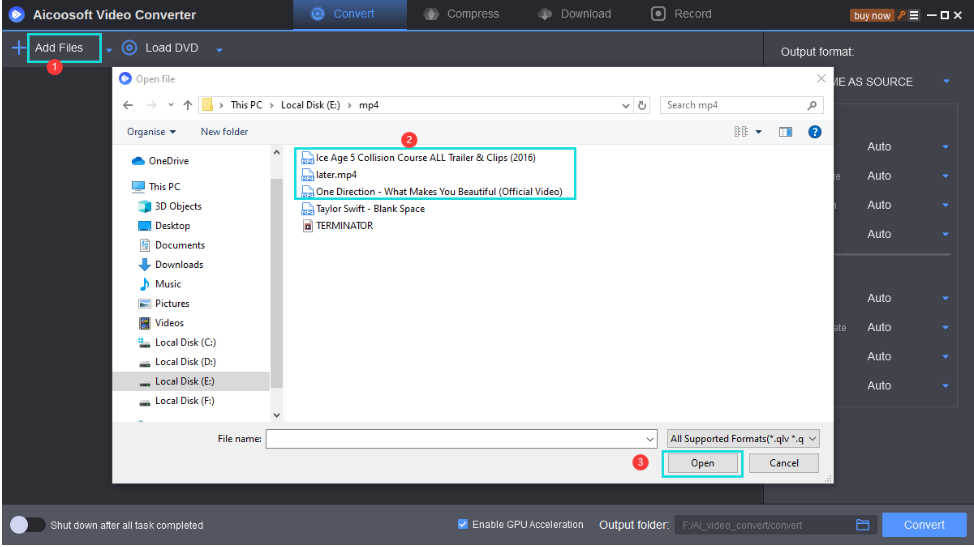 Step 2
Select "to mp4" in order to convert mov to mp4. It is important for you to carefully select the format so that you avoid mistakenly converting your file to some other format.
Step 3
Set the mp4 file parameters. This is one of the crucial steps while converting a mov file to mp4.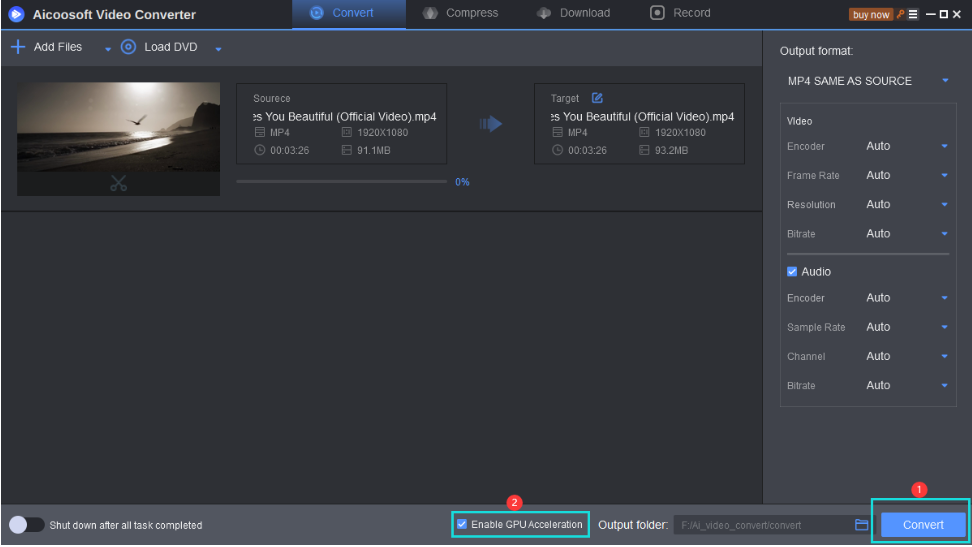 Step 4
Convert mov to mp4 now. This is the last step in the process of mov to mp4 file conversion on Windows 10 using the Aicoosoft App. Once the file is converted, all you have to do is click on the download option and get the file you wanted in mp4 format.
If you wish to convert mov to mp4 for Windows 10, make sure to take assistance from this guide.