"Can I crop MP4 files for free and effectively?"
Are you a professional video creator or an editor who aspires to be an expert on the field? Or are you planning to craft a video and share it with your friends for his/her birthday? While creating a video is easy, perfecting them in terms of edit, crop, and other effects are quite a complicated task. Hence, we have taken up this as our today's topic where you can sit back and take a look at free tools we have to crop MP4 video at ease.
Part 1. Best recommended tool to crop MP4 files - Aicoosoft Video Converter
While cropping a video and resizing it is assumed to be a primary editing function, picking the best video editor tool to crop an MP4 file is mandatory. To make your job quick, we have brought Aicoosoft as our top recommendation here.
Aicoosoft Video Converter
Aicoosoft comes up with a diverse video editor toolbox that does more than just an MP4 crop. The team of Aicoosoft has made it so more manageable than in a few clicks where you can crop your video and get it resized as per the requirements with an intuitive, easy-to-use interface. When talking about quality, Aicoosoft has more than ten years of experience, offering 24/7 customer service to its users, assuring high-quality deliverance without quality loss. Crafted with superior technologies like AI and multi-core processor optimization, Aicoosoft is the best choice to crop MP4 files on Windows and Mac.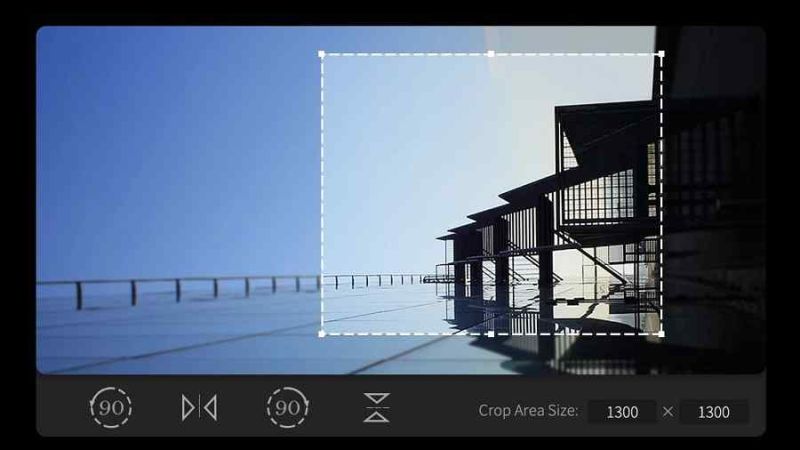 Key features of Aicoosoft Video Converter
Crop MP4 files and resize them to your desired format that could be streamed readily on social media sites and live streaming platforms.
Cut out the black edges of the videos and perfect them with Aicoosoft's practical crop feature.
Add and adjust subtitles to your movie or video creation along with the built-in delay feature.
Trim the videos into clips and wind them up into a single episode with the flexible merge feature of Aicoosoft.
How to crop an MP4 file on Windows with Aicoosoft Video Converter?
As said earlier, with Aicoosoft, your MP4 cropping is away from a few clicks but if still, you are wondering how it is possible, get to know how to crop anMP4 file with Aicoosoft.
Note
: If you haven't still downloaded the free version of Aicoosoft to
crop the MP4 file
, you can do it now by tapping the link,
https://www.aicoosoft.com/video-converter.html
.
Step 1

Load the MP4 files into Aicoosoft

Open Aicoosoft and start adding the MP4 files by tapping the "Add Files" from the top to load the device's files.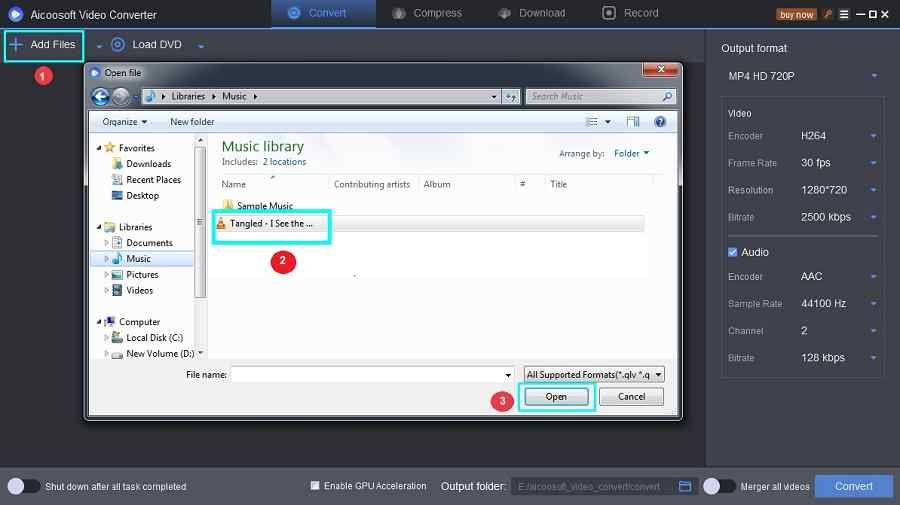 Step 2

Crop the MP4 file

When the video loads on the screen, click the scissors icon that you can find below the loaded video.

From the next window, tap the "Crop" option.

Now, start cropping the MP4 file by moving or expanding the crop frame to cut out the extra space.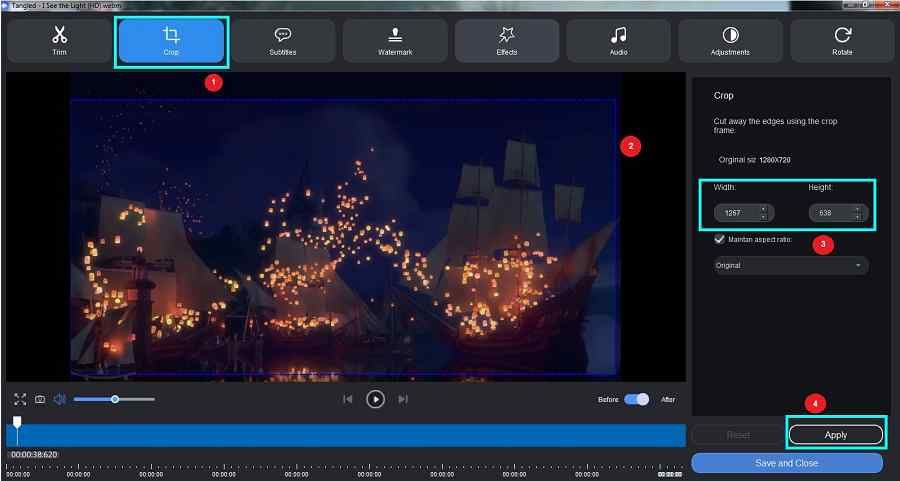 To resize the video, you can adjust the width and height on the left panel. Once done, hit the "Apply" option.
Step 3

Preview and save the MP4 video

You can now preview the cut MP4 video. On satisfaction, click the "Save and Close" option to save the changes.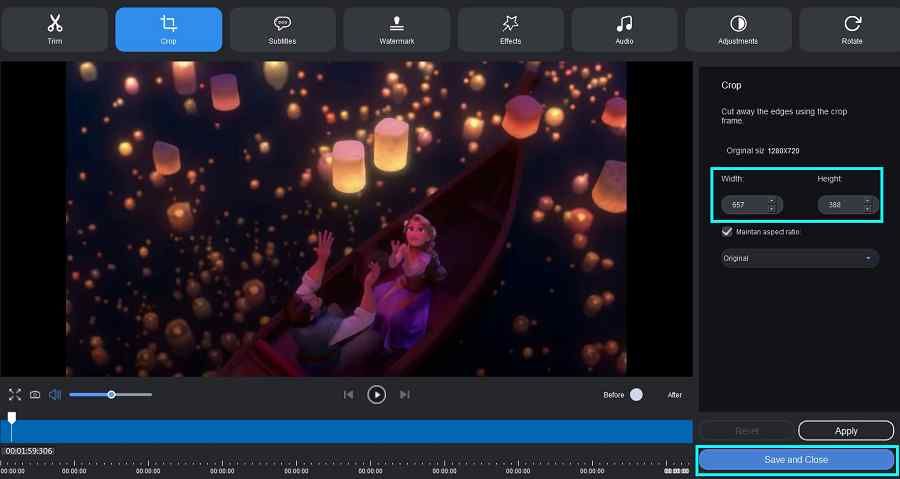 Step 4

Locate the cropped video

Aicoosoft offers direct conversion of files to a destined audio/video format to convert the file if required.

Click the "Convert" option to convert the file to the specified resolution.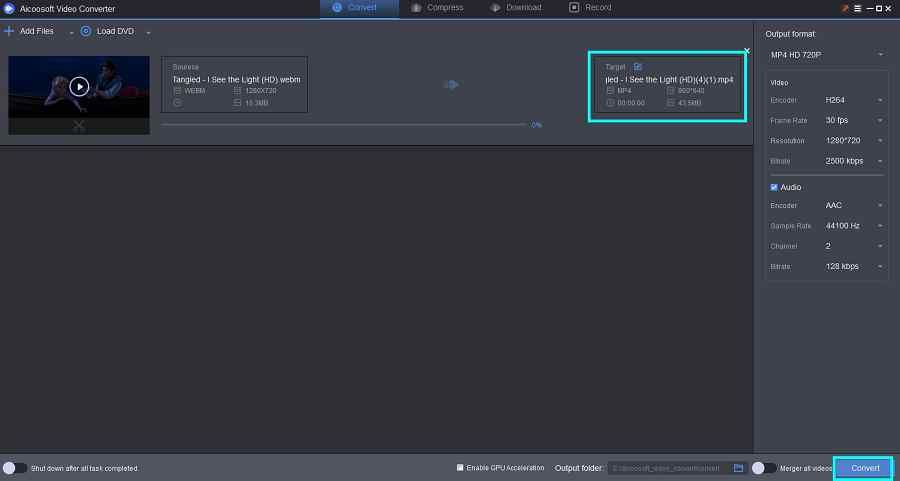 Once you notice the success note, you can find the cropped video by tapping the "Open Folder" option.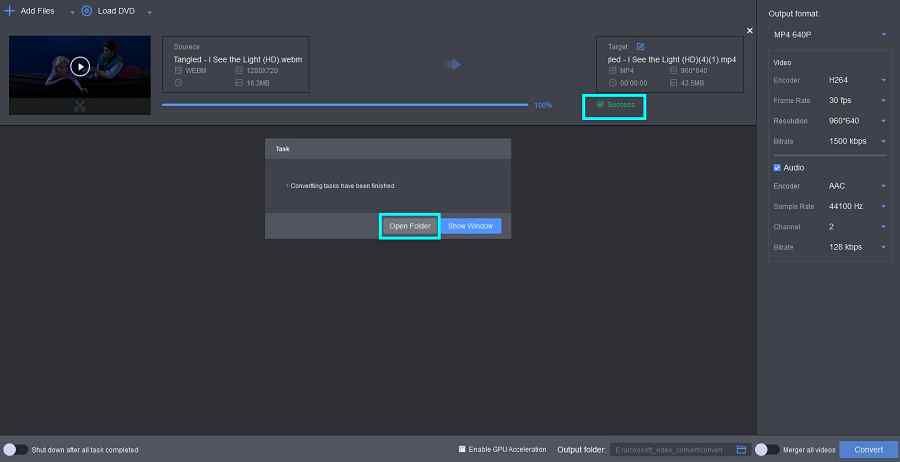 Part 2. Free online MP4 crop tools for Windows
If you are running out of time where you require an instant MP4 cropper tool to crop MP4 files at ease with just internet connectivity, you can opt for an online resource that comes in handy!
1. Clideo
Clideo is a perfect free online MP4 crop tool for you that does the job in just seconds. With the pre-defined crop frames like square or circle that is in usage in popular social media sites, Clideo supports all video formats like AVI to MPG. When concerned with protection, all the uploaded files are safe with high-level security. Clideo is an easy-to-use online tool to crop MP4 known for fast conversion without any special software required.
Steps on how to crop an MP4 file with Clideo
To crop MP4 file with Clideo, the below manual can be quite useful.
Step 1: Enter the link, https://clideo.com/crop-video on the web browser.
Step 2
: Click on the option, "Choose File" to load the MP4 file from your device. You may also use GoogleDrive or Dropbox as well for file uploading.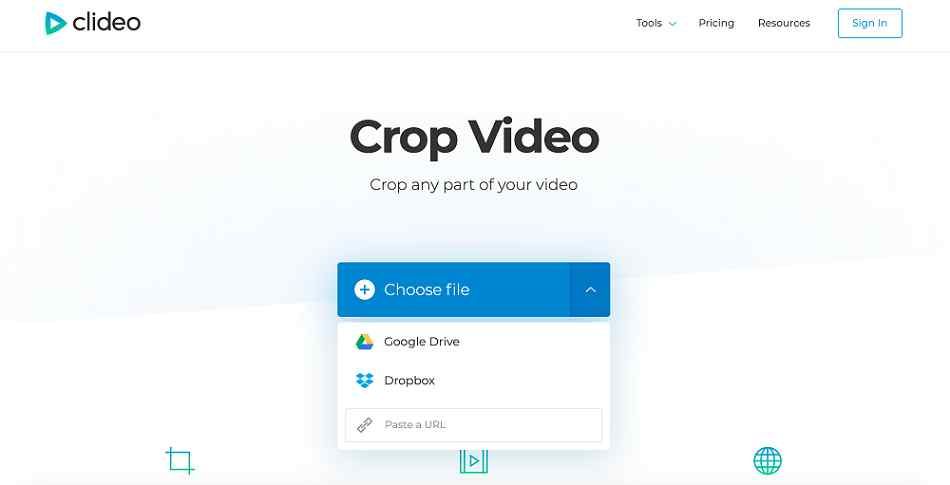 Step 3: Once the video is selected, it would take a few minutes to fetch and load it. So, be patient until the process gets complete.
Step 4: Once loaded, you can crop the video by using the crop frame else, make use of the pre-defined dimension set like a letterbox, full-screen, and a lot more.
You can set the dimensions manually as well with Clideo.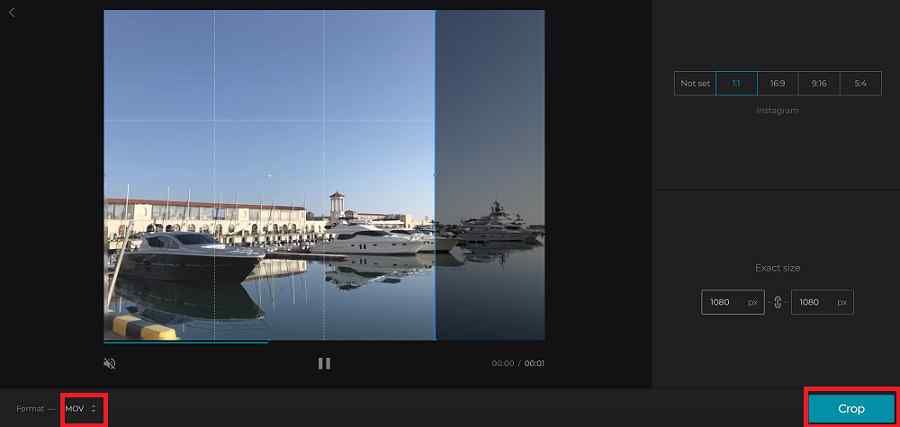 Step 5: Clideo allows you to directly convert the video to the desired format like MOV, M4V, M4V, MPG, and still a lot more. From the below drop-down, you can select it.
Step 6: Click the "Crop" button to start the process.
Step 7: Once complete, you can preview the cropped video and download it in seconds.
Thus, that is
how to crop anMP4 file
with Clideo at ease.
2. Ezgif.com
Ezgif is our next free online MP4 crop tool with a simple interface and primary video editing tool. It is a graphical tool that comes up with manual dimension cropping and the video preview facility. Ezgif video editor is a complete GIF editor package that is a GIF maker, GIF to MP4, video to GIF, and GIF optimizer.
Steps on how to crop an MP4 file with Ezgif
Step 1: Enter the official link of Ezgif,https://ezgif.com/crop-video on the web browser.
Step 2
: On the interface, click the "Choose File" option to select the
MP4 file to crop
from the device, and click the "Upload video!" option.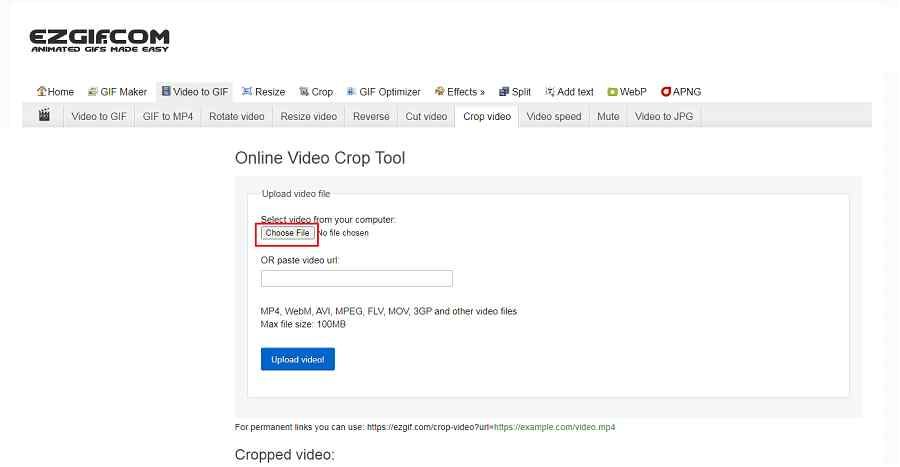 Step 3: Crop the video using the frame once the video is loaded.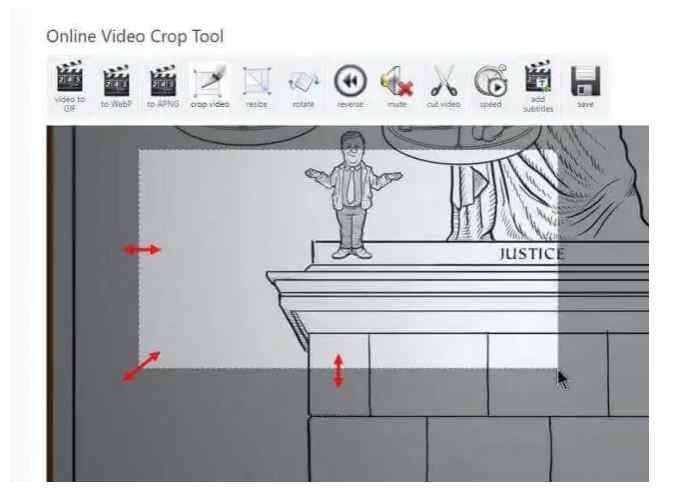 Step 4: You can customize the settings and tap the "Crop video" button to crop the MP4 video.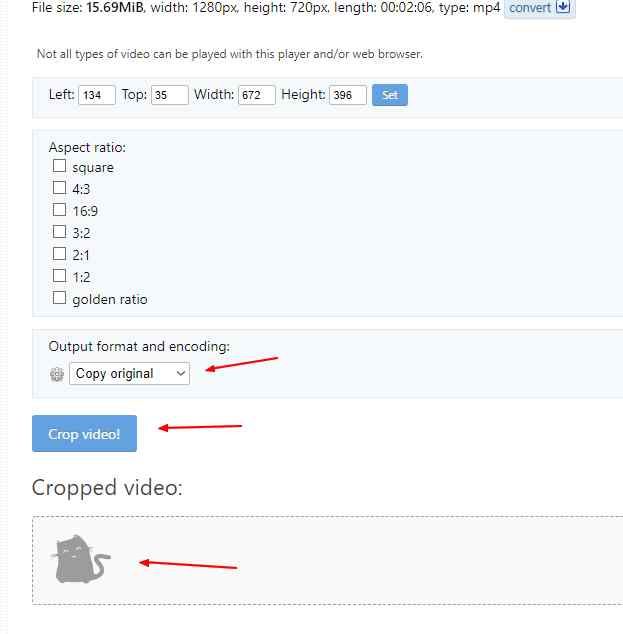 Step 5: Wait until the video crops, and once done, tap the "Save" icon to download the cropped video.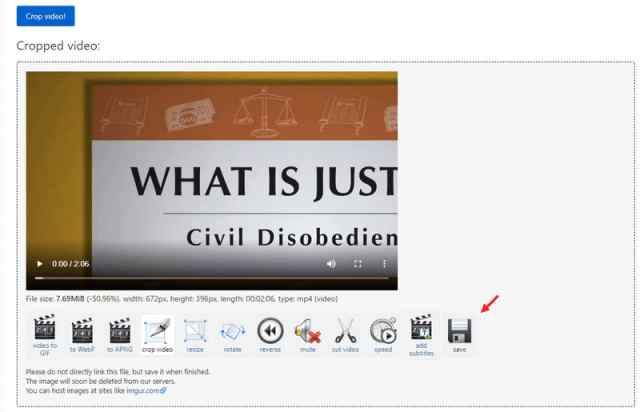 Conclusion
While such cropping of MP4 files was tricky in the past, it is now a more manageable task and takes seconds when you have the best MP4 crop file on hand. Do you need to crop an MP4 file for one-time usage? Clideo or Ezgif is the best choice to prefer, but for an all-time purpose or professional editor need, Aicoosoft is the best-to-go. So, instead of waiting, give life to your video with Aicoosoft today!