QuickTime is software developed by Apple that allows one to play movies. It is compatible with Apple and IBM users. QuickTime plays .MOV extension file on operating systems like Microsoft Windows and Macintosh. On the other hand, MP4 is based on a digital multimedia format. Unlike QuickTime, it can be used on almost all operating systems and other mobile devices. Further, ahead we are going to find out how to convert QuickTime format into MP4 format. And some of the software used in this process is also mentioned later.
What is a QuickTime video?
Although QuickTime is developed by Apple it does not support the operating system like Windows Microsoft. Its files have a .MOV extension that plays movie files, specifically on Macintosh. There are some software development kits (SDK) for QuickTime known as Apple Developer Connection (ADC) subscription. Moreover, there are many versions of this software which maybe some are based on price while the original version comes free with MAC. MP4 and MOV have the same MPEG-4 codecs, which are interchangeable. But one can play .MOV extension on VLC Media Player as well.
Part 1. Best software to convert QuickTime to MP4 for Mac/Windows
Aicoosoft Video Converter is an Al-based technology that is primarily used to convert a file from one format to another. Moreover, it supports all popular operating systems, like both Microsoft and Macintosh. A powerful feature of Aicoosoft Video Converter is its speed of downloading and converting the videos. It converts a video immediately, without diminishing the quality of the video.
Key features of Aicoosoft Video Converter
It can convert a file of a different format to the 1000+ formats without taking more than few second to complete the process.
It compresses a video, which means that it enhances the quality of a video without making the file size bigger.
It can download videos from YouTube and other 1,000+ sites over the internet and downloads any video amongst those sites.
30X video conversion speed which is usually not offered in other programs.
In-built video player to preview your files.
How to download and convert QuickTime video to MP4 with AicooSoft Video Converter
The following steps show how to convert QuickTime video to MP4 using AicooSoft Video Converter. It is very easy, and the conversion can be completed in only three steps.
Step1
Download and launch the software on your pc or laptop. After opening the app add videos to convert into MP4 by clicking on the "Add Files" button at the upper left corner.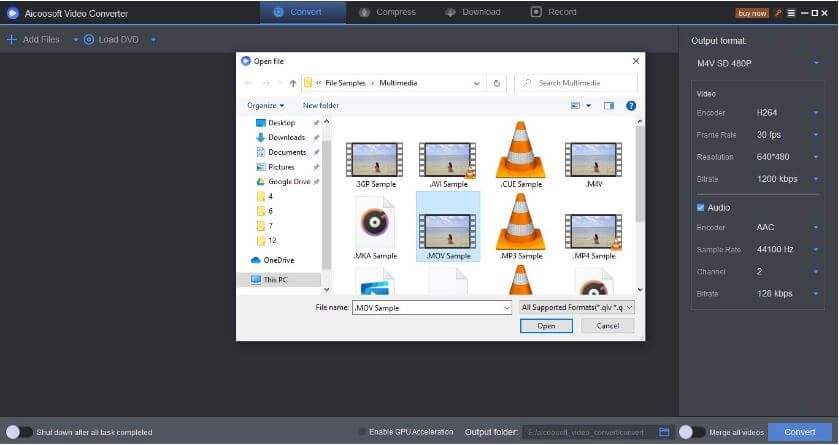 Step2
Next click on the inverted triangle under the "Output Format" to get your videos converted from QuickTime to MP4, in no time. To start the process of conversion from QuickTime to MP4 format you have to press the "Convert" button at the lower right corner.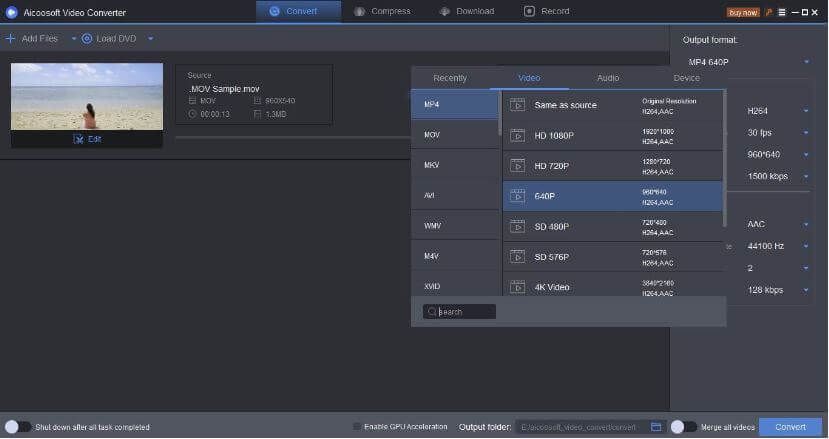 Step3
To locate the converted file click on the "Open Folder" icon in the popup box now to open the folder where it has been saved.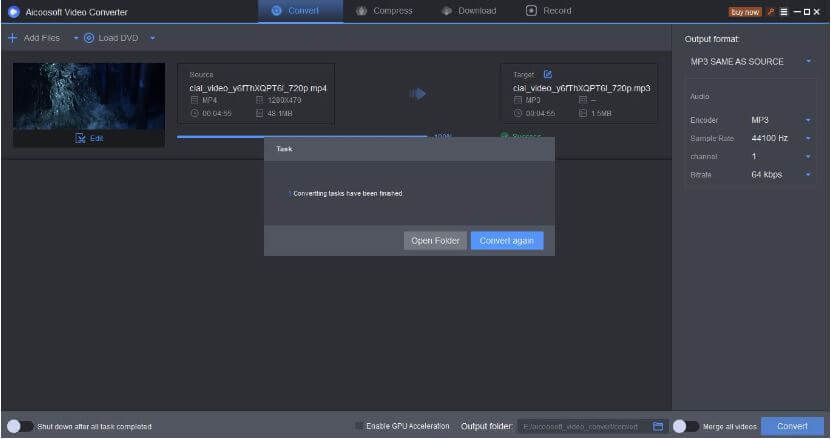 Part 2. Top 3 free QuickTime to MP4 converter for Mac/Windows
There are convert quicktime to mp4 free,convert quicktime to mp4 windows, how to convert quicktime to mp4 on mac
1 - WinX HD Video Converter Deluxe
This software allows a user to convert any 4K, HD video to MP4 and other 400+ output formats. WinX HD Video Converter has a free version as well as a paid version. To convert video one does not need much time and it prevents the diminishing quality of the video. It can cut, crop, and edit videos other than just converting them into various formats. But it's not perfect software because it does not have all the features like to burn videos to DVD and text narration. One may face some inconvenience related to the unprofessional software. Whereas it can be used by commercial ad studios, freelancers, and editing home video.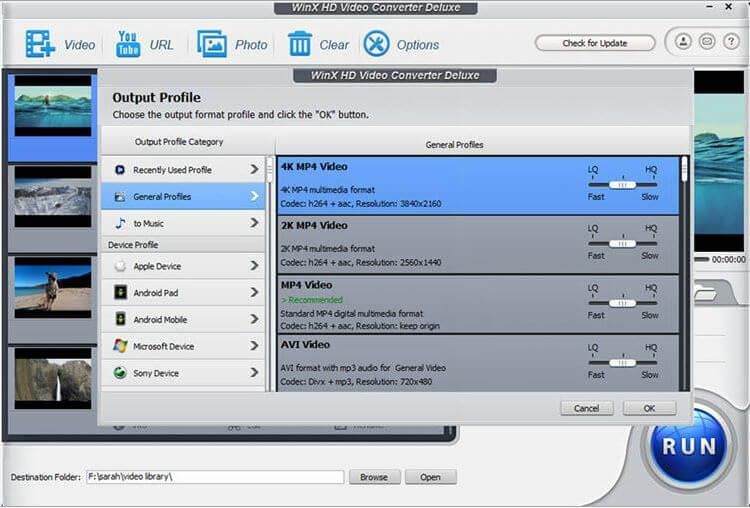 2 - VideoProc
This software also accommodates both operating systems, namely, Microsoft and Mac. It has a free as a paid version that starts at $ 29.95. Basically like all other video converters it also converts video to audio and claims to provide a good quality output. It moreover claims to edit and convert videos of 4K/8K within a short time. Other than a convertor it also helps in downloading a video, record the screen, and batch process. It is mainly used by Beginners, Educators, Gamers, live enthusiasts, Sports lovers, etc.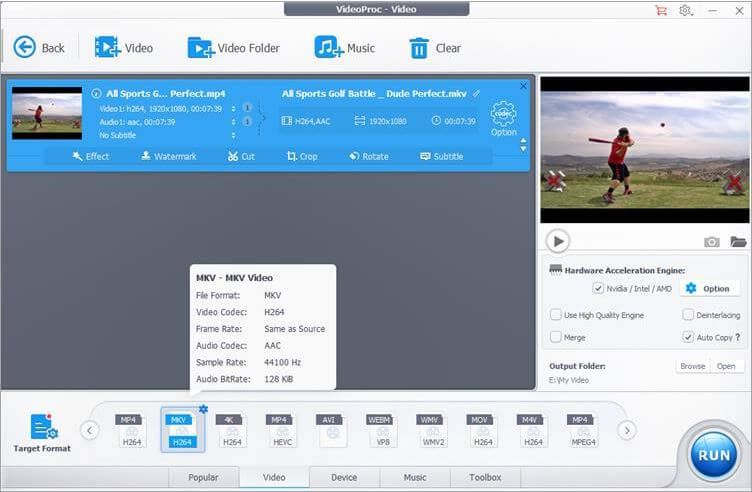 3 - Any Video Converter
Another video creator which has a basic free version and a purchased version that costs a lot. It not only converts a file from one format to another but it also extracts audio from a video clip. This software is said to be inclusive of NVIDIA NVENC accelerated encoding. It lets a person download videos from online sites and burn videos directory to DVD or AVCHD. Even though it converts 4k quality file but it does not work well with managing time. It comparatively takes a long time to convert or edit videos. Still, it is used by commercial ad studios, freelancers, and editing home video

Conclusion
MP4 being a popular format and compatible with most of the Operating System is easy to use. Moreover, it has other editing and audio extracting features so one may find the need to convert QuickTime to MP4. The Best and most professional software to use is Aicoosoft Video Converter. It has several features like compression, downloading, and obviously video converting. Moreover, the end product of the file is a high quality small sized file with the desired output format (MP4).