If you love to update yourself with new technologies and software in this digital era, you might not choose Windows Media Audio (WMA) format to store your audio files. There is no doubt that WMA files once used to be very popular among people to run the audio files, but these days it is no longer a convenient option.
It usually reduces the sound quality while compressing the audio file via the WMA codec. In that case, converting a WMA file into an MP3 format is a good idea.
The WMA audio format used to be more popular over the years, but it's no longer a convenient way to store your audio files. Hence, you must convert the WMA format needs to MP3 or another portable audio format so that you can keep or share it anywhere.
If you want to play WMA files and your DVD player that doesn't support WMA format, you must convert it online into different formats. Converting files is also a good idea if you want to play them across various different platforms like macOS, iOS, Android, ChromeOS, or Linux. WMA stands for Windows Media Audio; WMA is an extension file used with Windows Media Player. WMA is both an audio format and an audio codec.
Part 1. Convert WMA to MP3 online and unlimited
There is various audio to audio converter tools available online that can efficiently convert WMA files to MP3. Here we have shared the best audio converters from open-source programs or online tools for your convenience.
1. Convert2MP3
One of the protected and easy ways to convert WMA to MP3 files is with the help of Convert2MP3. It allows you to convert and download your favorite videos from the internet to any format like MP3, MP4, and more. It's fast, free, and there is no registration needed. Just in 3 Steps, you can convert WMA to MP3 with Convert2MP3.
Step 1. Find the link you want to convert from YouTube and the video URL. Paste the URL in the required field for conversion.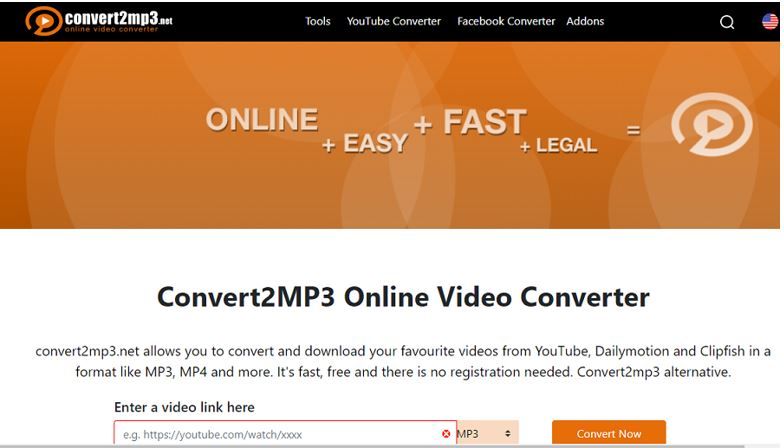 Step 2. Choose the audio format you want to convert the video to and click on the button convert now.
Step 3. Once the URL is converted to your required format, download your MP3 file.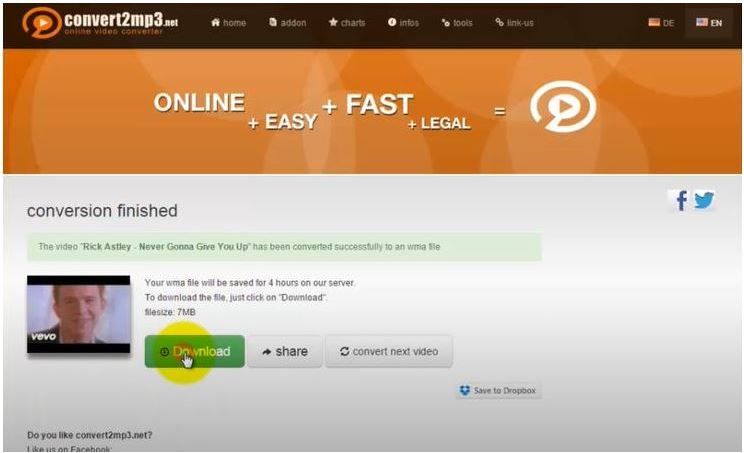 2. Onlinevideoconverter
Convert WMA audio format to MP3 or various other audio track formats with a free online converter. It supports all formats, processes your files quickly, and does not require installation. To convert WMA to MP3 with Onlinevideoconverter, follow the below steps.
Step 1. Choose the WMA format file you want to convert from your computer, Google Drive, Dropbox or drag and drop it on the page.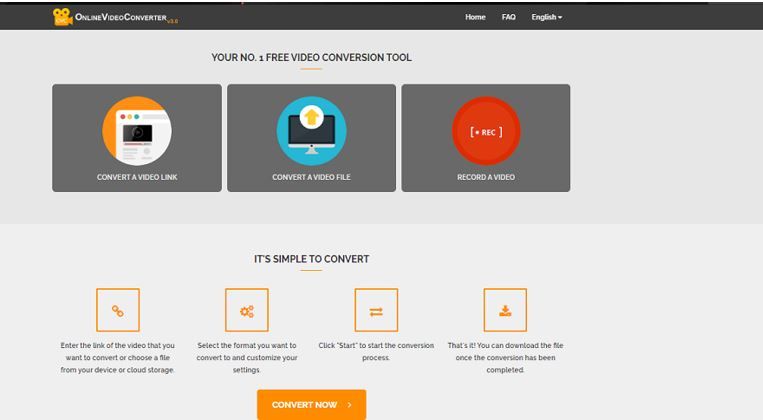 Step 2. Select mp3 or any other format to which you wish to convert your video. 
Step 3. Wait for a while as your file converts, and then download it.  

Part 2. The Best way to convert WMA to MP3 for Win/Mac
Aicoosoft Video Converter is a powerful and 30X faster video converter solution for the long-run. It has a unique video conversion and video compression benefits, and it owns a powerful video downloading feature. This superfast video converter allows you to achieve an audio or video converting process in seconds.
The fastest and powerful converter is a full-featured video solution for converting, editing, downloading videos, and more. In this article, we're going to introduce all the features of this converter, which helps you better understand this software.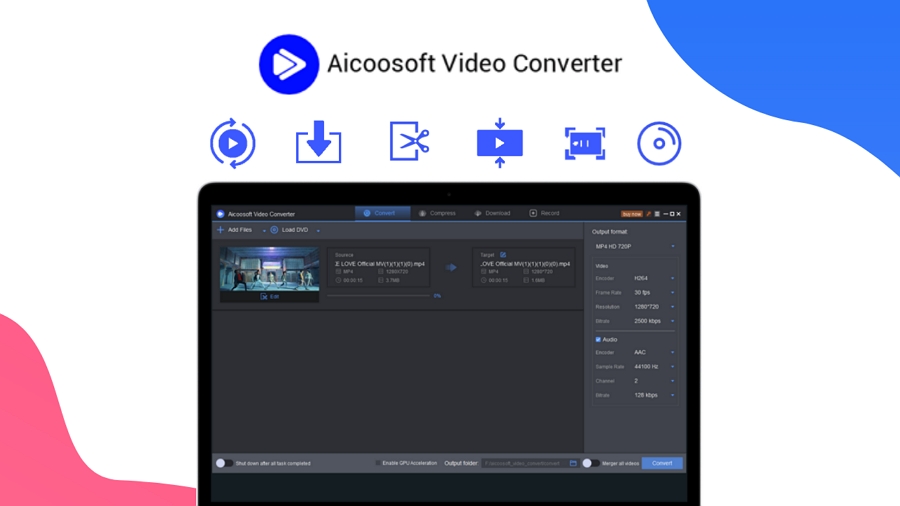 Key Features
30x faster video conversion speed with GPU acceleration and multi-core processor optimization
Convert videos and audio to 1000+ video/audio formats. It supports fast all formats you want to convert
Support to convert 4K & HD videos like H264(AVC) and H265(HEVC), 1080P etc. without loss quality
Convert DVD to digital video formats you want
Download HD videos you want from 10000+ streaming video websites.
Powerful all-in-one video editor: Merge, trim, crop, add subtitle, watermark, effects etc.
Customize to compress videos with high quality for your different uses, including compressing video for editing, for sharing on social sites, for email, etc.
Record screen, online video, game videos, teaching videos and music easily
How to convert WMA to MP3
It has both Windows and Mac versions of AI Video Converter. In the following part, we'll introduce the Windows version as an example and show you how to install the program.
Step 1. Download the correct version of the converter for your computer and install it.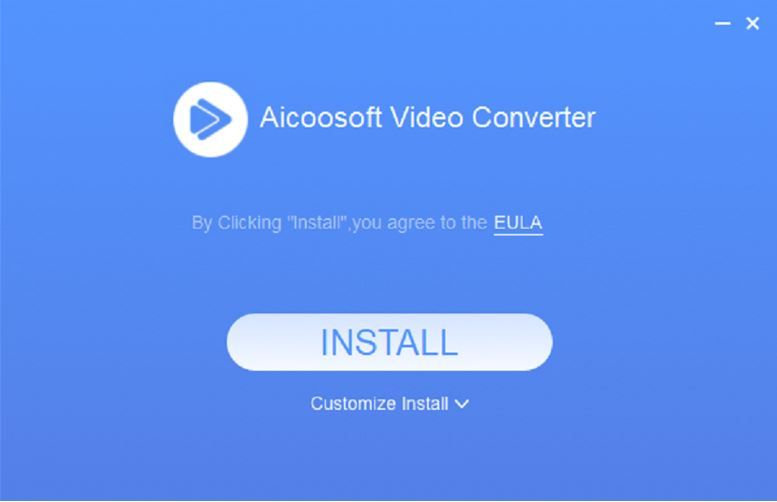 Step 2. Add videos into the program from your computer by clicking on add files button on the upper left corner.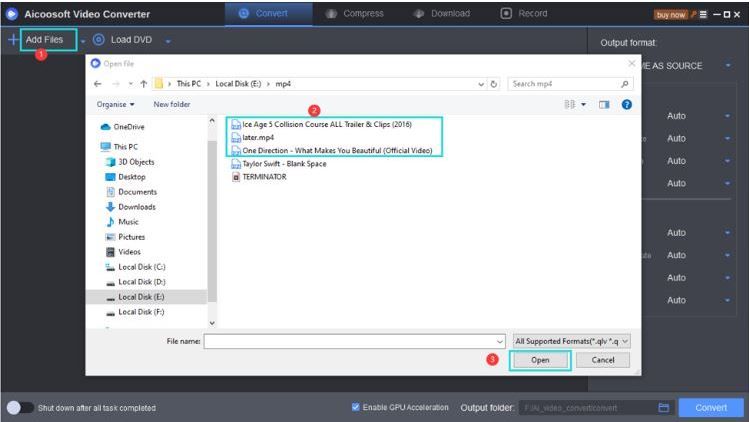 Step 3. Choose MP3 format from the options displayed on the right side of the window. You can start converting of the videos by clicking on the convert option at the bottom right or alongside the file you want to convert.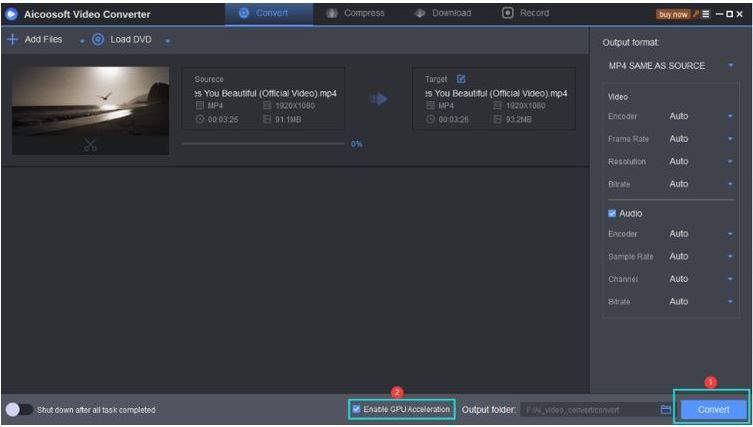 You can locate the converted files with the folder icon on the lower right to open the converted file.
Part 3: Convert WMA to MP3 for Android and iPhone
Are you looking out for a reliable WMA to MP3 converter to be handy for your Android/iPhone? Then, you have landed right where you need to be. Make a walk through the two reliable apps we have for you.
1. A WMA to MP3 Converter for Android- WMA to MP3 converter
As the first entry on the list, we have WMA to MP3 converter for Android that supports Mono and Stereo audio channels downloadable from the Google Play store. It supports audio bitrate from 6kbps to 320kbps, WMA to MP3 converter, and is a simple converter tool with which you can employ batch conversion. As the entire process takes place in the background and a notification display, you get simultaneous access.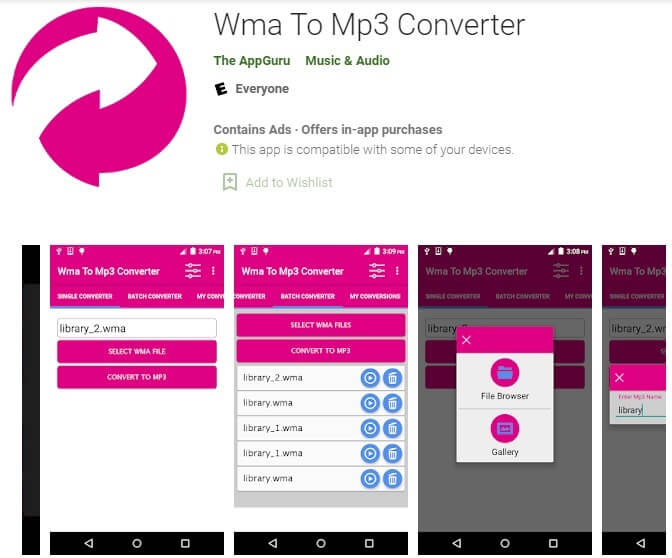 Pros:
WMA to MP3 converter app uses FFMPEG library.
Easy-to-use, helpful, and attractive features.
Cons:
This app isn't user-friendly in the interface.
The batch conversion feature fails at times.
2. A WMA to MP3 Converter for iPhone- The Audio Converter
Similar to the above-discussed app for Android, do you need a WMA to MP3 converter for iPhone too? Here is "The Audio Converter" available on the Apple Store from the Float Tech, LLC., that supports file types like MP3, AAC, WMA, WAV, AIFF, OGA, FLAC, etc. It works fast, is straightforward, offers in-app purchases, and is compatible with iPad and video formats like MP4, AVI, MOV, FLV, etc.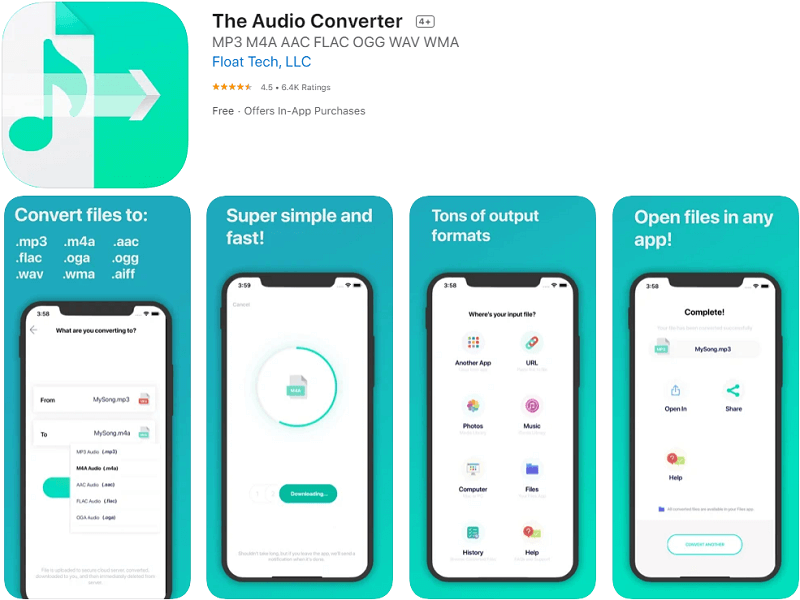 Pros:
7-day free trial and auto-renewable subscription.
It supports countless video/audio formats and iTunes file sharing.
Cons:
The interface isn't user-friendly.
No statement regarding security and privacy.
Part 4: How to convert WMA to MP3 using Windows Media Player
While keeping the above-discussed third-party WMA to MP3 converters aside, how about an inbuilt popular way to convert WMA to MP3 for free? Yes, we are talking about Windows Media Player.
Step 1: Launch Windows Media Player on your PC and import the WMA files from the library. You can drag-and-drop the files too.
Step 2: Once loaded, from the top menu, choose the "Organize" button, and from the inverted triangle icon, select "Options."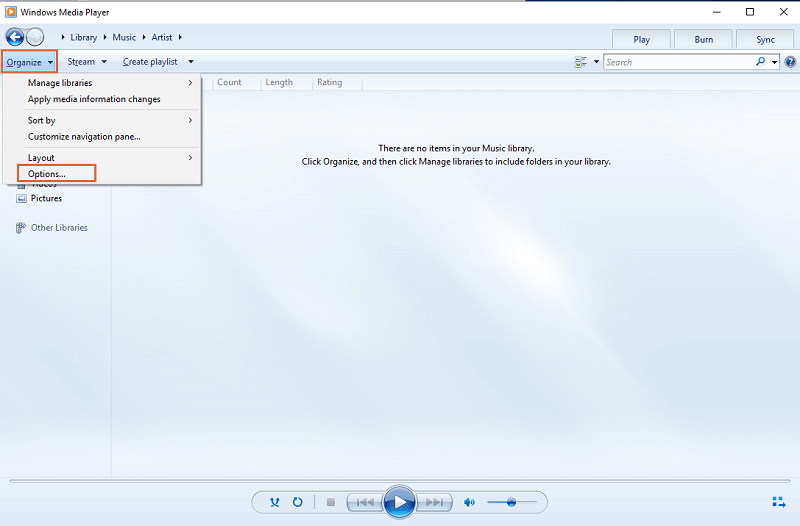 Step 3: On the proceeding window, choose the "Rip Music" option that will take you to the below similar interface where on the format session, choose "MP3" as output, and change the location if needed.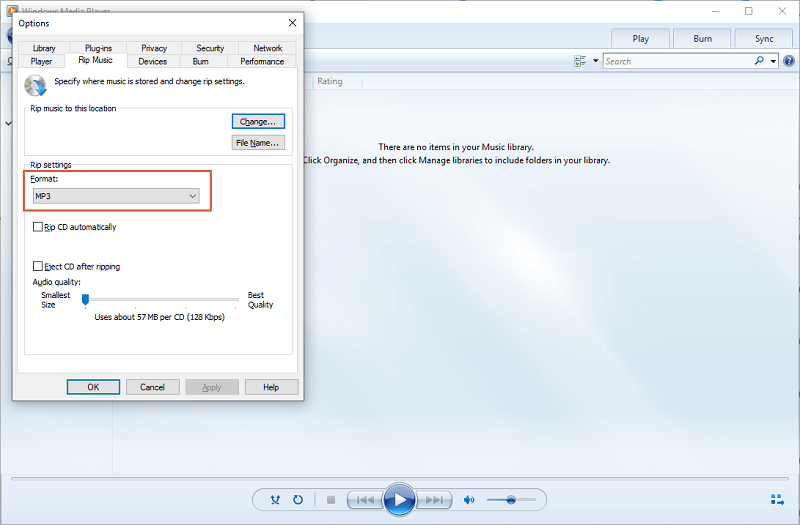 Set the audio quality level, and once satisfied, tap the "OK" button to finish the process.
Part 5. Frequently Asked Questions
Can I convert WMA to mp3 in Windows Media Player?
Yes, but first you need to get a WMA file from CD to your computer. Open CD with Window Media Player, click on Tools > Options, and select Rip Music tab. Then specify the location you want to rip music to and choose MP3 as the Format. After that, OK to proceed.
Can VLC convert WMA to mp3?
Yes, it is possible with VLC. You need to install VLC and open it. Click the "Media" menu, and then click the "Convert/Save" command. After that, click the "Add" button to start loading the files you want to convert. Find and select the file or files you want to open and then click the "Open" button.
Can iTunes convert WMA to mp3?
You may try using the Audio Converter to convert WMA to iTunes supported audio formats for successfully playing WMA audio files in iTunes.
Which is better WMA or mp3?
It's difficult to decide which is better, the below answer must help you to understand which is better. As we know, WMA produces better sound at low bitrates compared to MP3, which leads to smaller file sizes. Since the WMA format is exclusive, it is quite understandable why more devices use the MP3 format compared to WMA.