"I am a video creator passionate who creates diverse creative videos to make fun and party going. At times, the problem is finding and extracting the audio so that it can suit my video well. MP4 is the popular video format for audio/video, but MP3, especially for audio, I am tired of searching and surfing over effective MP4 to MP3 converter solutions to make my job easier. Are there any full-proof solution that can facilitate the changeover from a video platform to an audio format?"
It's now an instance for you to relax and consider some of the best
MP4 to MP3 converters online
we have on the list for you. So, with no delay, please scroll down to find out each one of them.
Part 1. Top 2 free online MP4 to MP3 video converters
To begin with, let's start with the two-best online MP4 to MP3 converters that, for sure, make your task faster with no installation required.
1. Onlinevideoconverter
As the first option, we have Onlinevideoconverter, which converts MP4 to MP3 online of high quality. Besides being online, it is a free converter solution that is simple-to-use and offers superior conversion quality. The Onlinevideoconverter software facilitates mobile-friendly access, making it an MP4 to MP3 converter app online. It supports various modern browsers and video portals like Vimeo and YouTube.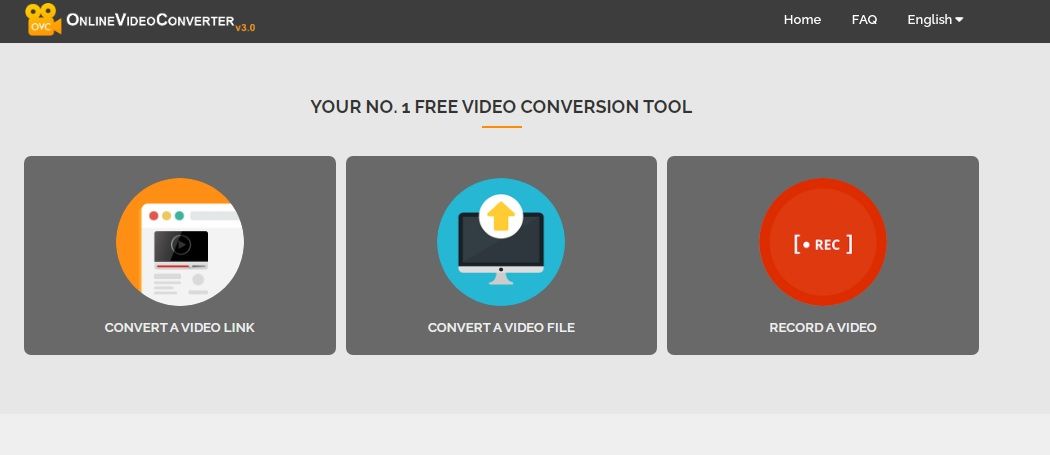 How to convert MP4 to MP3 with Onlinevideoconverter?
Step 1: Enter the link, https://www.onlinevideoconverter.vip/ on your preferred browser.
Step 2: Click on the option "Convert a video file" or "Convert a video link" as per your convenience from the welcome window.
Step 3: In the next window, you can drop the MP4 video link that is to be converted to MP3, select the format "MP3" and customize the settings.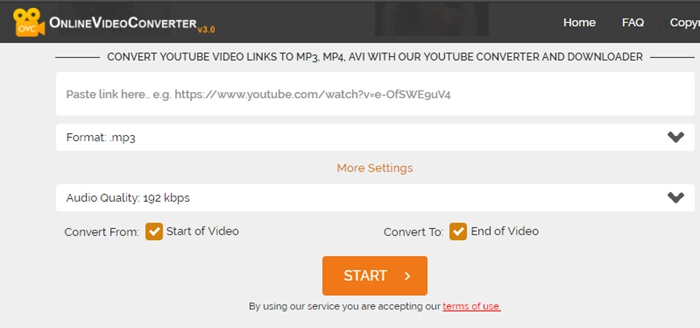 Step 4: Hit the "Start" button to begin the conversion process.
You will get a pop-up message stating "Your video is being processed" and on the event on completion after a few minutes, you can download the converted MP3 file.
Pros:
Onlinevideoconverter is a mobile-compatible online MP4 to MP3 converter that converts videos directly on mobile devices.
All latest formats like .avi, .mov, .mkv, .flv, .ogg, and .3gp are supported by Onlinevideoconverter.
Cons:
The Onlinevideoconverter doesn't support files of considerable size.
2. Freeconvert
Our next online video converter MP4 to MP3 is Freeconvert, which is free as well. It is not only an open-source converter solution but also comes up in the form of custom software that can you can readily install for a long-lasting conversion experience on-hand. You can fine-tune the conversion with the advanced options offered by Freeconvert that can make the best quality conversion. It works well on any browser where privacy and security are guaranteed.
How to convert MP4 to MP3 with Freeconvert online for free?
Step 1: Enter the link, https://www.freeconvert.com/MP4-to-MP3 in your web browser.
Step 2: Choose the file to convert, else click the drop-down from which you can drop files from Dropbox or Google Drive.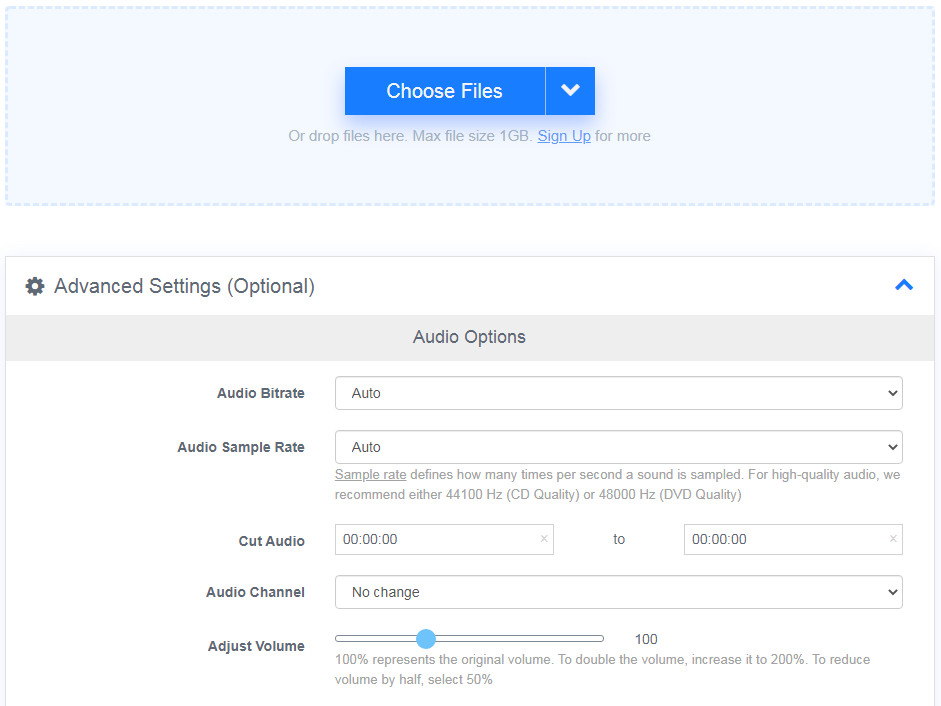 Step 3: Hit the "Convert to MP3" button. It will start the conversion process.
When the
convert MP4 to MP3 online in high quality
is over, tap the "Download MP3" option to get the converted file.
Pros:
The Freeconvert tool suits well for audio, video, document, music, EBook, and works as file compressors.
All the files get protected with 256-bit SSL encryption and hence the files get deleted mechanically after 2 hours.
Cons:
The Freeconvert doesn't support file size more than 1 GB or sometimes is limited to 200MB.
Part 2. Best effective MP4 to MP3 converter
While online MP4 to MP3 converter tools are of great help, how about trying out the best effective MP4 to MP3 converter software that does wonders! If you are confused about what it is, it is Aicoosoft with no doubt!
High-quality MP4 to MP3 converter - Aicoosoft Video Converter
Aicoosoft is a No.2 ultimate video converter software solution that is cost-effective and readily compatible to carry over all your conversion process where MP4 to MP3 conversion as simple as a piece of cake. Aicoosoft comes powered with lossless conversion technology and GPU Acceleration that paves the way for a 30X video conversion speed. Additionally, one can convert any audio/video file to more than 100 formats in just seconds, including all the latest formats. More importantly, Aicoosoft supports batch video conversion.
Aicoosoft stands top on the market compared with other video converters due to its fast conversion rate, multi-core processor optimization, and hence has got its name marked the top in the listing.
How to convert MP4 to MP3 on high quality with Aicoosoft
Here is a step-by-step manual on how can one convert MP4 to MP3 on high quality with Aicoosoft…
Before starting with the conversion process, download and launch the Aicoosoft video converter application on your PC. Visit (https://www.aicoosoft.com/).
Step1
To start with, tap the "Convert" option on the toolbar.
On the welcome interface, click on the "Add files" option on the top that will allow you to add the MP4 files. You can also add a complete folder by clicking on the inverted triangle option.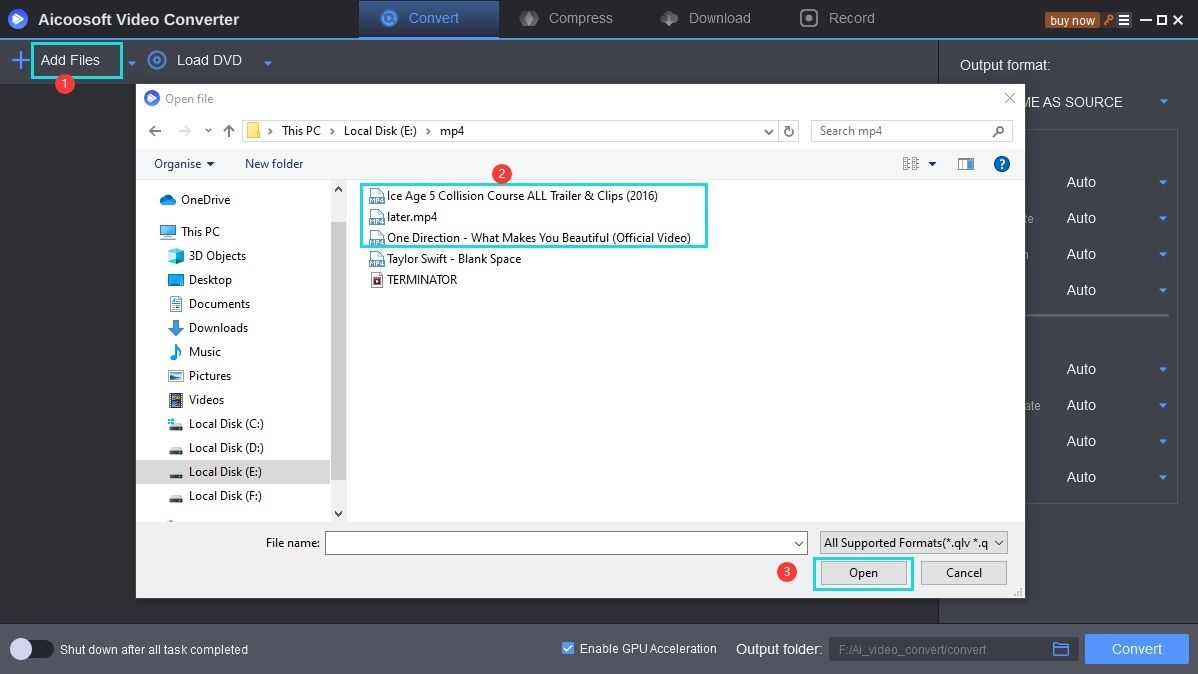 Step2
Once the video is loaded, select the option "Audio" and the output format as "MP3" from the list. You can choose the quality from low to high and proceed further.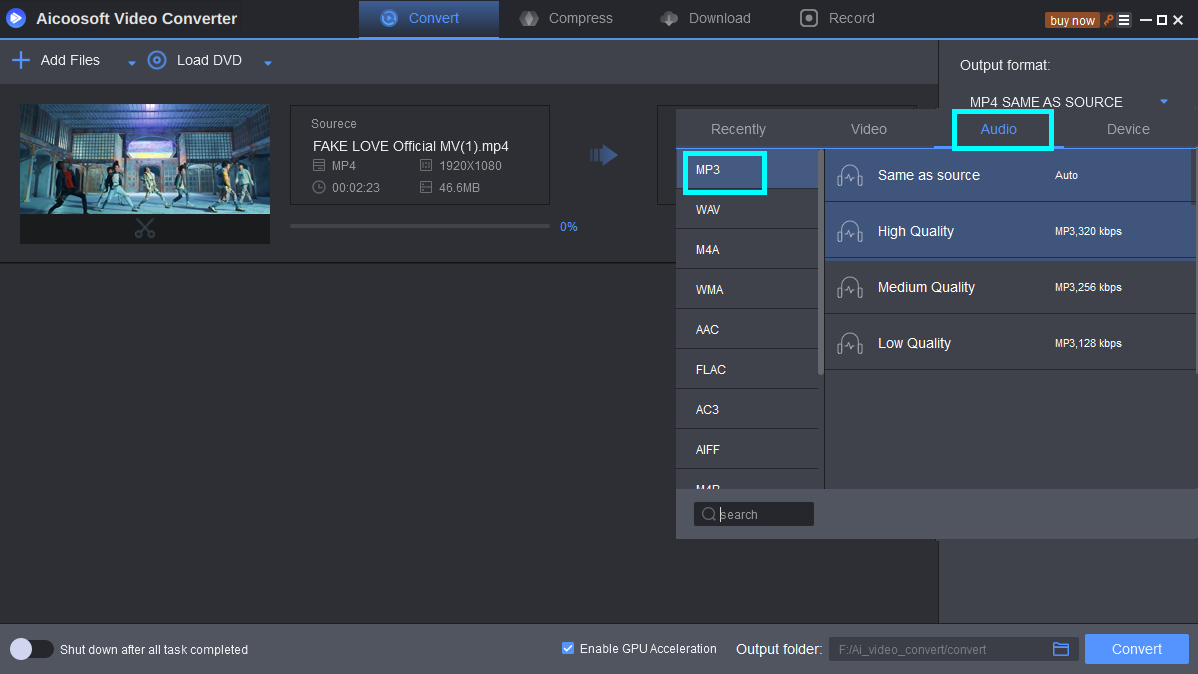 Step3
Now, click on the "Convert" button on the extreme bottom that starts the conversion process.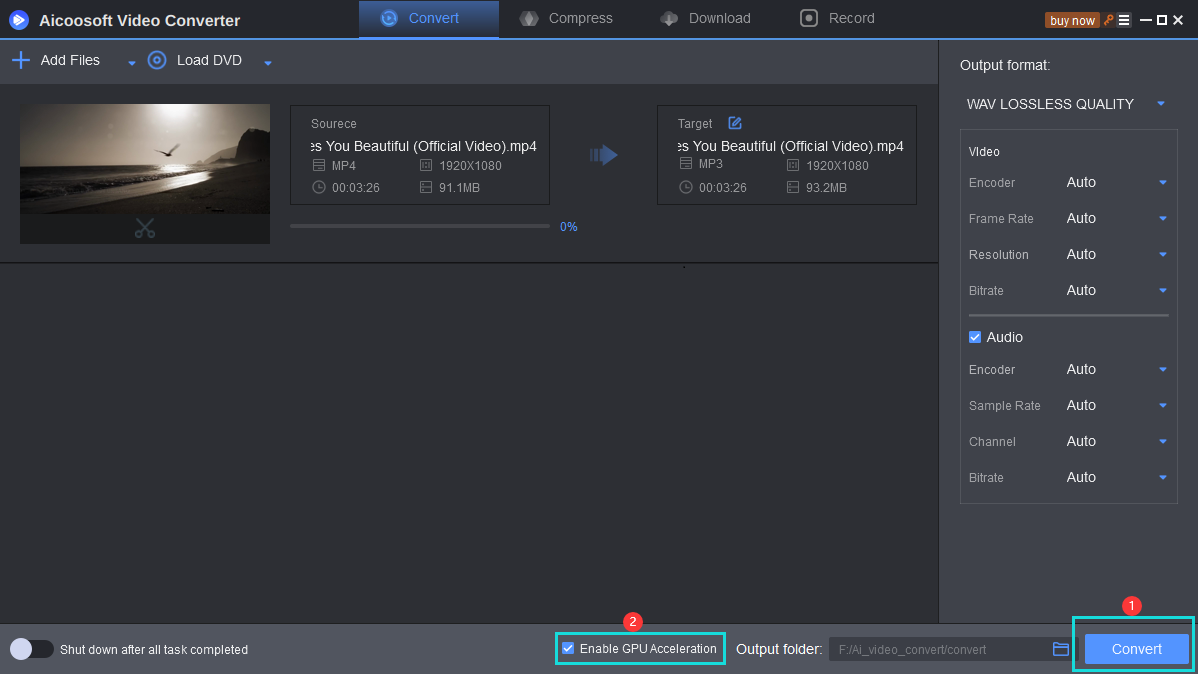 The MP4 files now got converted to MP3, and you can find the resultant file if you tap the "Open Folder" button.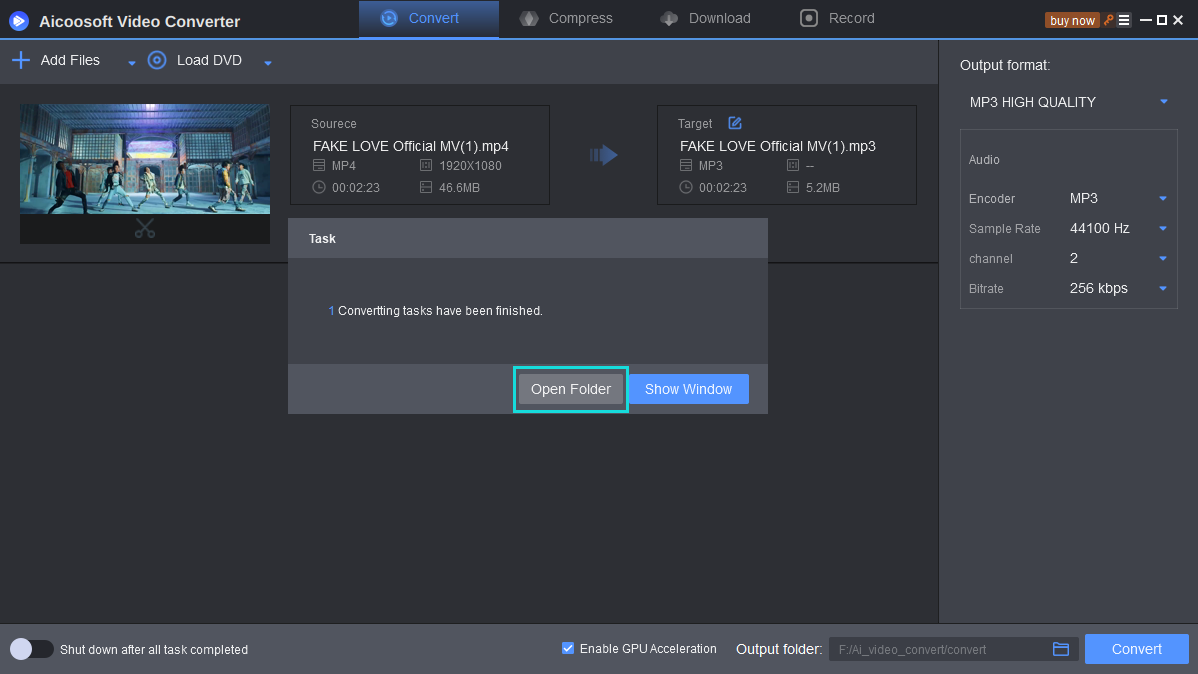 Conclusion
I hope you have now come to know about MP4 to MP3 converter online hassle-free with the best and practical solutions. No doubt, they make the MP4 to MP3 conversion as easy as a cup of cake! With Aicoosoft as the top recommendation to carry out all the conversion process with high-quality precision, we have reached the end of our today's article! Stay tuned for more!