"I downloaded an M3U8 file but found out that I can't open it with all the available media players on my PC. How to convert M3U8 to MP4 on Mac or Windows?"
"Recently my friend sent me an M3U8 file to check. I have no experience with such a file format. Can anyone help convert and open the M3U8 file on Android or iPhone?"
People often complain that they cannot play M3U8 files with the default media player on Mac, Windows, Android, or iPhone. Have you ever been muddled in the same situation? If you do have such problems, you have come to the right place. This article will introduce the best free M3U8 to MP4 converters to help you get the job done. What's more, you can learn how to convert M3U8 to MP4 with VLC Player and a professional converter - Aicoosoft Video Converter.
What is an M3U8 file?
A file with the M3U8 file extension is a UTF-8 Encoded Audio Playlist file. They are plain text files that can be used by both audio and video players to describe where media files are located.
For example, one M3U8 file may give you references to online files for an internet radio station. Another might get created on your computer to build a playlist for your own personal music or a series of videos.
An M3U8 file can use absolute paths, relative paths, and URLs to refer to specific media files or entire folders of media files. Other text information in an M3U8 file might be comment that describe the contents.
Part 1. How to convert M3U8 to MP4 in VLC Player
VLC media player is a free and open source cross-platform multimedia player that plays most multimedia files from discs, devices, and network streaming protocols. More than that, VLC Media Player can work as a fantastic video converter to help you convert M3U8 to MP4, MOV, AVI, FLV, WMV, etc, with ease. The tutorial below will show you the detailed information on how to convert M3U8 to MP4.
Step 1 Download and install VLC Media Player
Firstly, you must install VLC Media Player in your device, and then launch it.
Step 2 Enable the Convert/Save option
Click Media on the Menu bar and then choose Convert/Save option from the drop-down list to launch the Open Media window.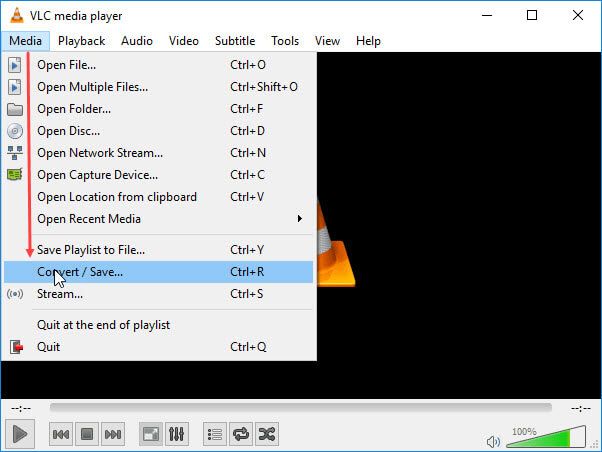 Step 3 Add the M3U8 file to convert
Click on the File tab followed by the "+Add" button for loading the M3U8 files you wish to convert to proceed.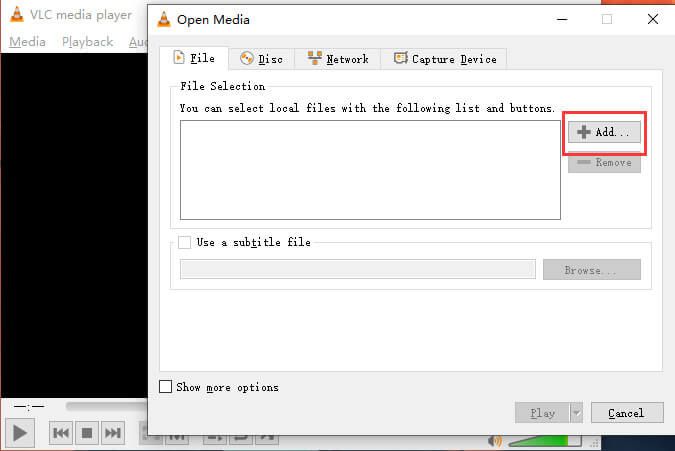 Step 4 Set the output profile to MP4
Set the Profile to MP4 with H.264 codec. And browse a destination file to put the converted video along with specifying the desired video profile and the file name.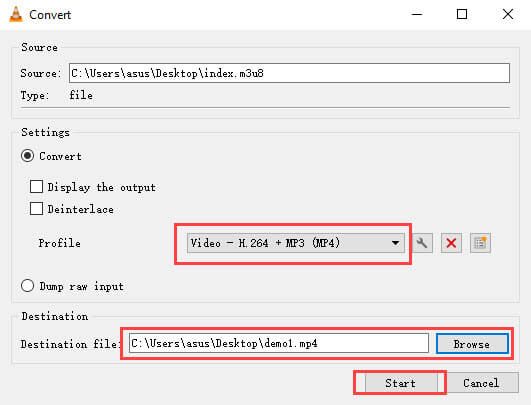 Step 5 Start the conversion and check the output video
Finally, you must click on the "Start" button to initiate the conversion.
Part 2. Convert M3U8 to MP4 free online
URL: https://video.online-convert.com/convert-to-mp4
Online-Convert is a viral very popular online video and audio converting tool which can help you convert M3U8 to MP4 online. It allows you to upload M3U8 file through local computer, Dropbox, Google Drive or video URL. It highly supports many frequently-used video/audio formats. Also, it offers many editing features like rotate, clip, resize, flip and so on. It has the capability to download .m3u8 to .mp4. But in many cases, it is likely a failure.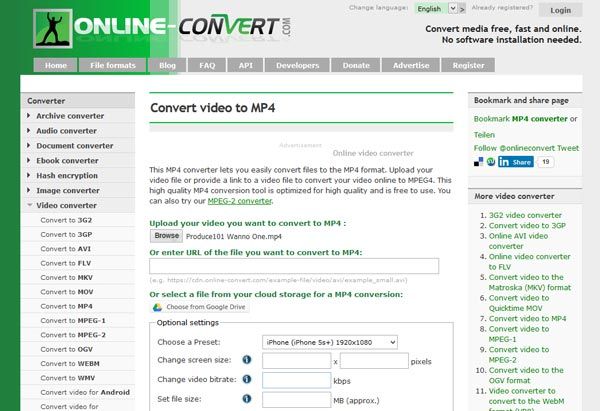 Part 3. Best professional M3U8 to MP4 converter
With the methods above, you can handily convert M3U8 to MP4. But you may notice that, whether using VLC Player or online M3U8 to MP4 converters, it isn't easy to get a good user experience. Here we sincerely recommend a professional video converter -
Aicoosoft Video Converter
to help you convert M3U8 to MP4 with high quality. You can free download it and take the following guide to make the M3U8 conversion.
With a conversion speed of 30 times more than any other online video converter, Aicoosoft uses of artificial intelligence to build a perfect balance between conversion speed and quality.
Key features of Aicoosoft Video Converter
With the powerful conversion function, you can convert M3U8 to MP4 with high quality.
Aicoosoft makes use of advanced converting technologies to ensure that the quality of converted M3U8 to MP4 does not compromise in any form.
The software allows editing of the videos including cutting and merging the videos as per the requirement.
Using GPU acceleration technology, the Aicoosoft video conversion tool ensures the conversion of M3U8 to MP4 at a lightning fast speed.
Moreover, it have powerful fucntions of video downloading, video recording and video compression.
Steps to convert M3U8 to MP4 using Aicoosoft
Step 1 Download Aicoosoft Video Converter
Go to URL: https://www.aicoosoft.com/video-converter.html
Aicoosoft software is available for both Windows and Mac operating system, so you need to download the correct version on your device.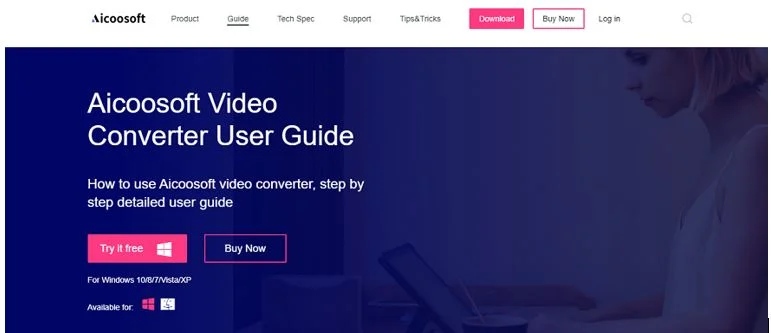 Step 2 Install Aicoosoft Video Converter
Press on the install button to install the setup of Aiccosoft video converter on your device. Choose the language you prefer.
When the installation gets complete, click on the "Finish" button.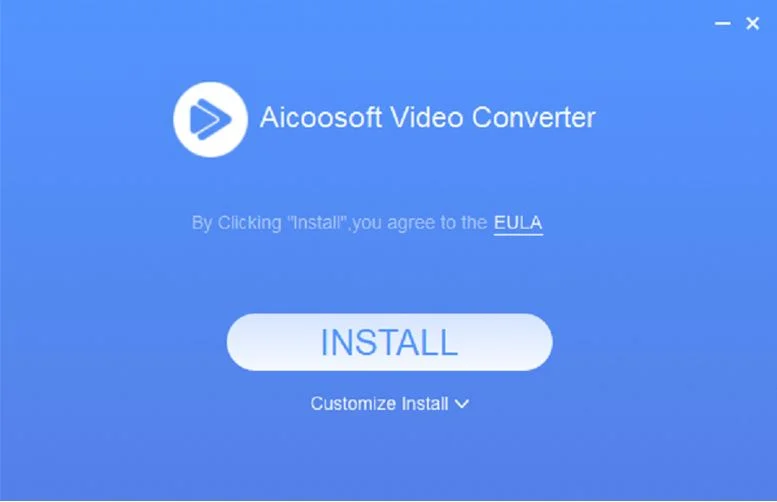 Step 3 Convert M3U8 to MP4 Using Aicoosoft Video Converter
After the installation finishes, you can launch it and start experiencing the product.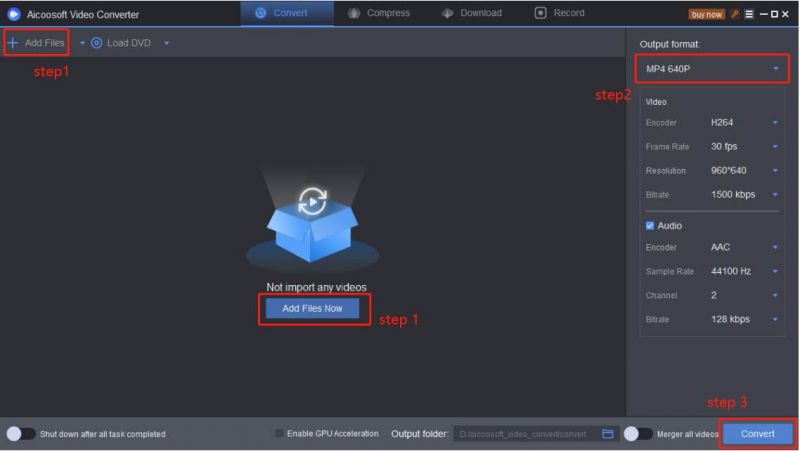 Click "Add File" on the menu bar or the "Add Files Now" button in the center of the main interface to load the M3U8 files. You are allowed to convert several M3U8 files at a time.
Click "Output format" and select "MP4" as the output format. Then click the "Convert" button to make the conversion from M3U8 to MP4.
You may notice that, there are many editing functions designed in this M3U8 to MP4 converter. So before converting M3U8, you can edit the file and adjust the effects.
Part 4. How to convert and download M3U8 videos to MP4 on Android/iPhone
Using online software is not the only option to convert M3U8 videos to MP4, but you can accomplish the conversion task with apps.
1. M3U8 videos to MP4 Converter for Android
Do you need an M3U8 video to MP4 converter for your Android smartphone? Then, M3U8 Loader App is the ultimate choice that can make your job convenient and more manageable. It is free and fast, which helps save your internet data. M3U8 Loader App program downloads M3U8 videos and converts them to MP4 to configure the loading threads.
How to convert M3U8 to mp4 on Android for offline?
To convert M3U8 to MP4 with M3U8 Loader App, you need to follow the below steps.
Step 1. From the Google Play store, download and install the M3U8 Loader App on the Android device.
Step 2. Click on the "Add" option to enter the link of the M3U8 video that you wish to convert to MP4.
Step 3. Tap the "Download" option to begin the process, and once complete, you can find the MP4 file on your device.
2. M3U8 videos to MP4 Converter for iPhone
There aren't any specific M3U8 to MP4 converters in the iPhone market, but the M3U8 playback app like M3U8 Stream Player can be of great help. Designed for iPad/iPhone, M3U8 Stream Player is a 100% free app that you can download from the App Store.
How to convert M3U8 to mp4 on iPhone?
Step 1. Following the above provided Apple Store link, download and install M3U8 Stream Player on your device.
Step 2. Enter the stream name followed by the URL of the M3U8 video you wish to download to MP4.
Step 3. The resultant MP4 file will be stored on your device.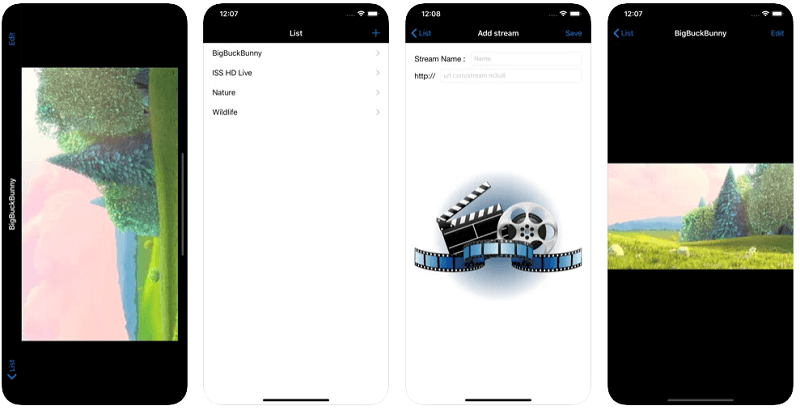 Part 5. FAQs
1. How do I play M3U8 videos?
M3U8 files are M3U files encoded in utf8.
M3U files are a text based playlist format. You can open the file with any text editor and see the that it contains a list with files to play.
If you open the file with VLC, it has to download every single video before playing it.
2. Can I open and use M3U8 files in Windows Media Player?
VLC, Apple's iTunes, Windows Media Player, and Songbird are just a few examples of programs that can open and use M3U8 files.
Another way to open M3U8 files on Linux is with XMMS, while Mac users should be able to play M3U8 files with CocoModX (in addition to some of the Windows-compatible programs mentioned above).
Conclusion
M3U8 file is not compatible with most video player, so you will encounter problems if you want to share the videos with your friends. You can easily convert M3U8 to MP4 after reading this article. We have introduced you with one of the best online M3U8 to MP4 converters, along with other useful ones for Android/iPhone and an all-in-one video converter. What's more, we showed detailed steps to convert M3U8 to MP4 with VLC Player and professional M3U8 to MP4 converter - Aicoosoft Video Converter. Lastly, if you still have any problems or add any suggestions after reading this article, please let us know.