Being the most broadly compatible audio and video container format from the lossy class of containers, the MPEG standards are supported by numerous audio and video products and software applications. The standards were designed to meet the growing need for digital storage of audio and video media. The two formats, MPEG-1 and MPEG-2, are the result of the combined efforts of the moving picture experts group which was established in 1988. They both utilize a lossy compression to scale down VHS quality digital video and CD audio.
Nowadays, more and more people use the mobile device, and they like to share the video with others on the web. In these situations, MPEG video is not so convenient. MPEG files cannot be open on iPhone, iPad, iPad, Android and other tablets. And you cannot upload MPEG video to some social networking sites. You need to convert MPEG videos to MP4. Almost all video players support MP4, so you can open .mp4 files very conveniently anywhere. Furthermore, with the high degree of compression used in MP4 videos, this allows the files to be much smaller in size than MPEG format without loss quality.
You may wonder how to convert MPEG to MP4. In this article, we will introudce top 5 best converters, including online and offline, to help you convert MPEG to MP4.
Part 1. Best MPEG converter to convert MPEG to MP4 on Windows/Mac
Among all the MPEG to MP4 converters on the internet, which one is the best? Maybe different people have different ideas in their mind. Here, we recommend Aicoosoft Video Converter. It can perform your MPEG to MP4 conversion in seconds. It can convert, compress, download, edit, and record videos easily. The conversion speed of the converter is 30X faster than other traditional converters present in the market. It works well both on Windows and Mac and meets your requirements better than other converters.
Key features of Aicoosoft
The key features that make Aicoosoft one of the best software's for MPEG to MP4 conversion are:
The video converter uses AI technology for MPEG to MP4 conversion. Unlike other video converters, it has a better balance between the conversion speed and output video quality. Since the converter uses lossless conversion technology, and advanced GPU acceleration technology, it gives the converted MP4 video high-quality and converts MPEG videos into MP4 videos with lightning-fast speed.
It is very easy to use and the interface is designed very friendly, so even nonprofessional people can use it to convert MPEG videos to MP4 videos.
Besides all the above advantages, it also has a built-in audio and video downloader, which enables you to download videos from more than 1000 audio and video sharing sites. You can even download HD videos from streaming sites quickly. It can also convert audio and video formats into more than 1000 audio and video formats without loss of quality.
All these features make Aicoosoft one of the best video converters present online.
How to convert MPEG to MP4 using Aicoosoft
With Aicoosoft, you can convert your MPEG videos to MP4 format with just couple of clicks. You don't need to be familiar with programming, video formats or settings. Just launch it, add your video, select the output format, click Convert and that's it! Read this quick guide to find out how to convert MPEG video format to MP4.
Step1

Launch and add the MPEG videos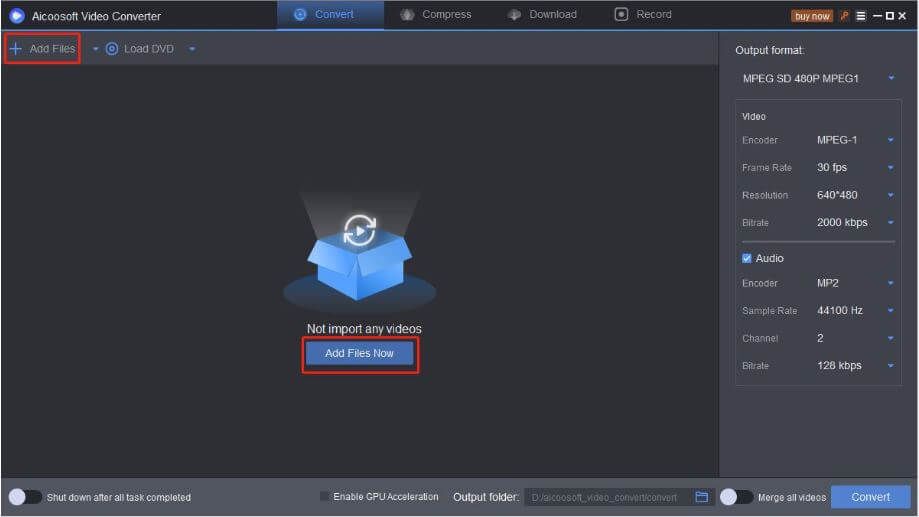 Step2

Select MP4 as the output format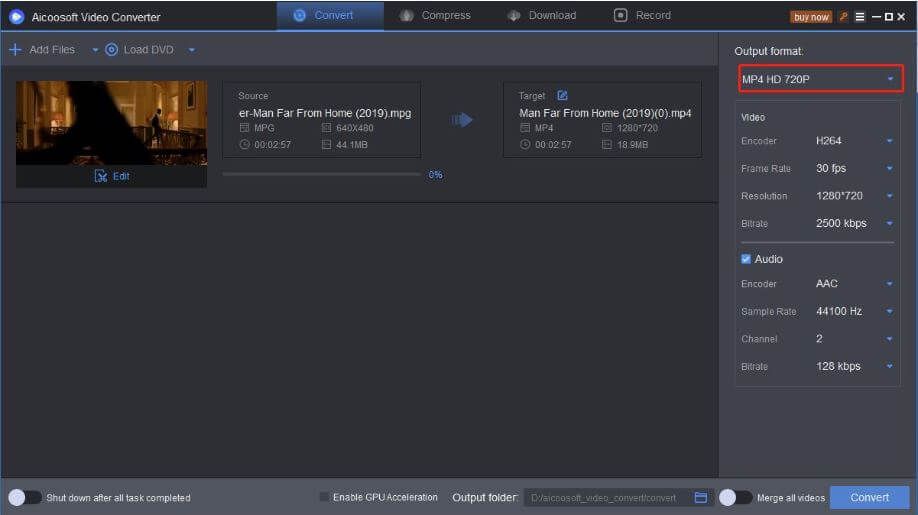 Step3

Click Convert button to convert MPEG to MP4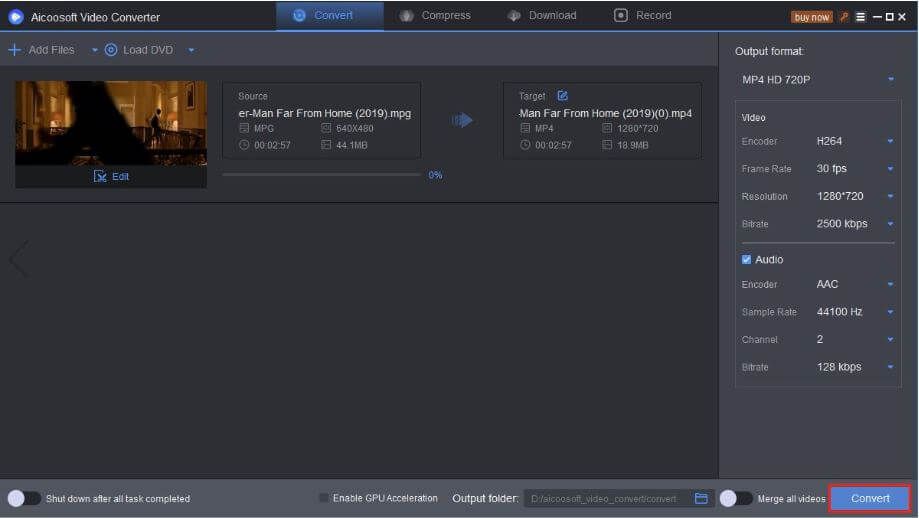 Part 2. Top 4 free MPEG to MP4 converters online
Beside the professional converters, there are free online MPEG to MP4 converters. These online tools can help you change MPEG to MP4 online free. In the tutorials below, we will introduce 4 best free MPEG to MP4 converters which can help you convert MPEG to MP4 on Windows and Mac free.
1. CloudConvert
The first MPEG to MP4 converter we want to show is the CloudConvert. It is able to convert any video, documents, E-book, archive, image, spreadsheet or presentation format. For instance, it is able to convert MPEG to MP4. It is very powerful among the online MPEG to MP4 converters that support batch conversion, additonal settings and even editing functions.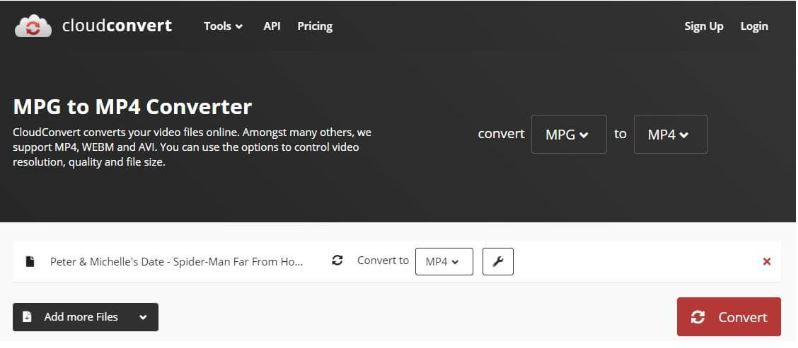 Pros:
Support more than 200 formats.
Support batch conversion to save time.
Support settings other video parameters.
Cons:
Cannot work offline.
The conversion speed is limited to the network.
Stability is depending on the network.
2. Online-Convert
URL https://www.online-convert.com/
Online-Convert is undoubtedly a nice file converter to use. Not only is it simple enough for everyone to understand, but it also supports any audio, video, image, archive, and document format. It can convert MP4 and MP4 to all standard video formats simultaneously. It can also change your video settings like codec, bitrate, size, and more. However, Online-Convert's interface is ad-infested.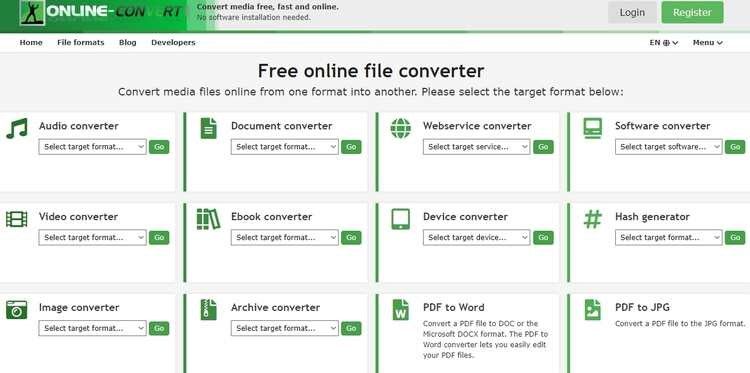 Pros:
Supports various video formats.
Simple to use.
Imports URL and Cloud videos.
Cons:
Ads on interface.
Slow upload and conversion.
Cannot work offline.
3. Coolutils
URL https://www.coolutils.com/online/Movie-Converter/
Coolutils is also one of the best free online converter that converts audio, document, image, and video formats. It can convert your MPEG/MP4 videos to any format in batch with just three steps. Even better, it supports device-specific formats like iPhone, iPod, and more.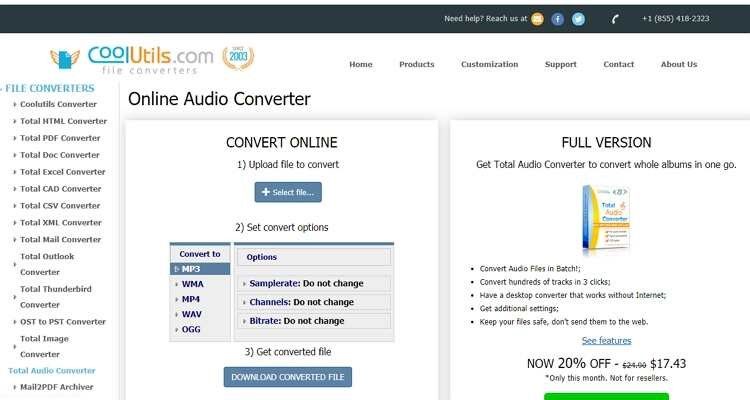 Pros:
Easy to use.
Supports batch conversion.
Sends a download link.
Cons:
Cannot work offline.
Ads on the UI.
Poor upload speed.
4. www.onlinevideoconverter.vip
Onlinevideoconverter.vip is another best online converter to convert MPEG to MP4 online free. It support to convert a video link, a local video file and even support to record a video online. With this converter, you can easily convert your files in MPEG format to mp4 format. It is also a free web application in which you can perform unlimited conversions. You can use this website as much as you want.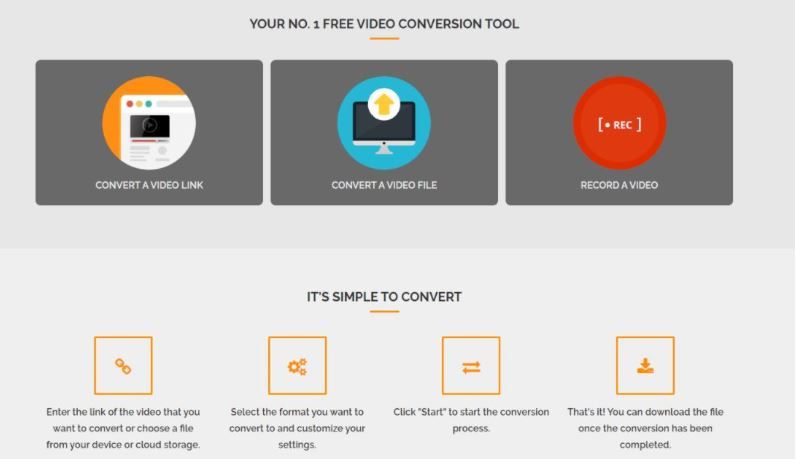 Pros:
Easy to use.
Support multiple file formats.
Convenient to share converted files.
Additional functions.
Cons:
No customized settings.
Cannot work offline.
Low conversion speed.
Part 3. FAQs
1. How to choose a video File format?
You should choose a file format based on your video quality requirements. The video should achieve the required quality, but no more than that. High-quality videos are hard to download, convert, share and manage. Plus, you need to take into account how you want to view the video files. Not all browsers, programs, and devices can play a specific video format.
Before choosing a video format, consider the following cases:
For online videos choose a file format that most web browsers support. This way, your video will be played natively on the browser. MP4 and WEBM are browser compatible video formats.
For home video recordings, choose a format with high quality video good chance of being usable in the future. Open source file formats are more future-proof than proprietary formats that are controlled by enterprises. MP4 or AVI formats are a good fit for that category.
For Windows applications, choose a format that is compatible with Windows. WMV is a good choice In this case.
2. What is an MPEG file?
Developed by the Moving Picture Experts Group, the same people that brought you such formats as MP3 and MP4, MPEG is a video file format that uses either MPEG-1 or MPEG-2 file compression depending on how it will be used.
MPEG-1 was designed to compress VHS-quality raw video and CD audio down to 1.5 megabits per second without losing too much in quality, making it one of the most popular and widely compatible video/audio formats in the world. Video data for MPEG-1 is normally 30 fps (frames per second), with a resolution of about 352×240.
MPEG-2 was designed to compress video and audio for higher-quality videos and being chosen as the compression scheme for over-the-air digital television, satellite TV services, digital TV, and DVD Video. MPEG-2 video formats can capture video/audio at much higher bitrates than MPEG-1 (around six megabits per second), making it the "enhanced" version. Video data for MPEG-2 is normally 30 fps, with a max resolution of 720×480.
Conclusion
After reading this tutorial, we think you will not ask how to convert MPEG to MP4 on Mac and how to convert MPEG to MP4 on Windows again. If you want to convert MPEG to MP4 free, please try the online MPEG to MP4 converters. If you have to convert MPEG to MP4 frequently, do not hesitate to use Aicoosoft Video Converter. This software has many addtional functions. You will have better experience.