Are you looking for an OGG to MP4 video converter with a high-quality video conversion rate in the year 2021 and now you find yourself here? You should be happy as you've just navigated your way to the #1 website that shares the latest info on video editing and converting tools.
Here in this article, you will learn about the top 5 OGG to MP4 video converters, 4 web-based versions, and 1 desktop version, you can use in 2021. But before then, let's shed light on what OGG is and why end-users need to convert it to MP4.
What is OGG and Why do You Need to Convert it?
OGG also known as Ogging is a media file container designed by Xiph.Org Foundation to multiplex several multimedia files such as videos, texts, audios, and metadata. This file format is compatible with almost all portable players and PCs. However, these devices don't usually have full compatibility for all the multimedia files in OGG files. So you have to convert it. When selecting the output format to which this file will be converted, you have to be mindful of the demerits. We recommend MP4 for this article because of the compatibility with all gadgets, both PCs and portable players.
Part 1. Best Free Way to Convert OGG to MP4 without Qulity Loss
Aicoosoft Video Converter is that all on one software that's capable of converting OGG to MP4 with zero quality loss. It has a simple user interface that can be handled by every individual including those that are not tech-savvy. The program has rich editing features like filters, effects, background, and more. Aicoosoft Video Converter supports more than 1000 media formats that you can convert into. It functions as a compressor- it can be used to compress HD videos. It's built with a GPU accelerator and multicore processor which enhances the speed of conversion to 30X faster.
Features
You can download both video and audio files of any format from 1000+ video sharing websites
Converts and compresses HD files 30X faster
Converts OGG to MP4 and vice versa without quality loss. It supports more than 1000 media formats
Rich in editing features that you can use to pimp your images so they look more professional
Designed with GPU accelerator and multicore processor to enhance the processing speed
It allows end-users to convert multiple media files at one
Step by Step Guide to Convert OGG to MP4 with Aicoosoft Video Converter
A detailed stepwise guide on how to convert OGG to MP4 with Aicoosoft Video Converter is given below:
Step1
Download and install a compatible version of the Aicoosoft Video Converter on your PC. Run the program when the installation is complete.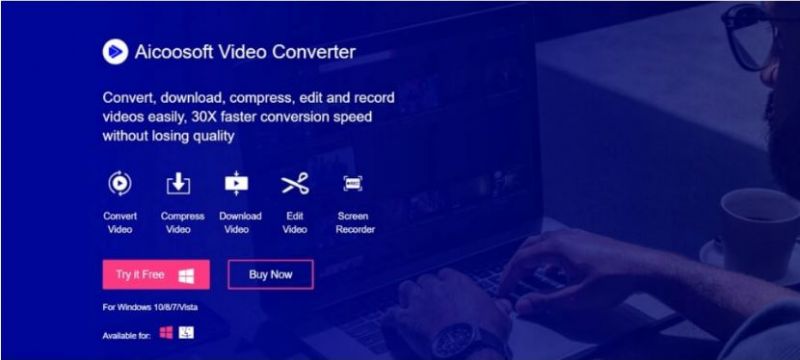 Step2
Upload your desired OGG files on the program by using the drag and drop feature found on the interface. Better yet, you could use click on the Add Files option and you will be directed to the file manager on your device to select a media file with .ogg extension.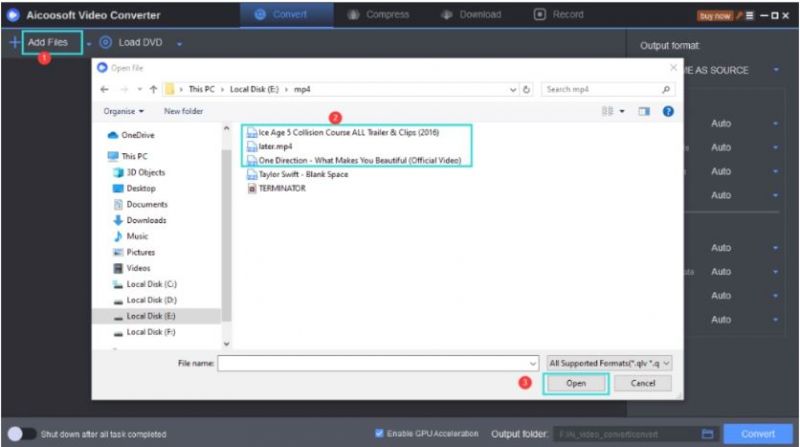 Step3
Select your target output format from the thousands that the program supports. We implore you to choose MP4 as your desired output format.
Step4
Click on Convert for conversion to commence. When you do that, a progress bar will appear on your screen. Wait for some minutes for the bar to get full, then tap on the converted file to preview it.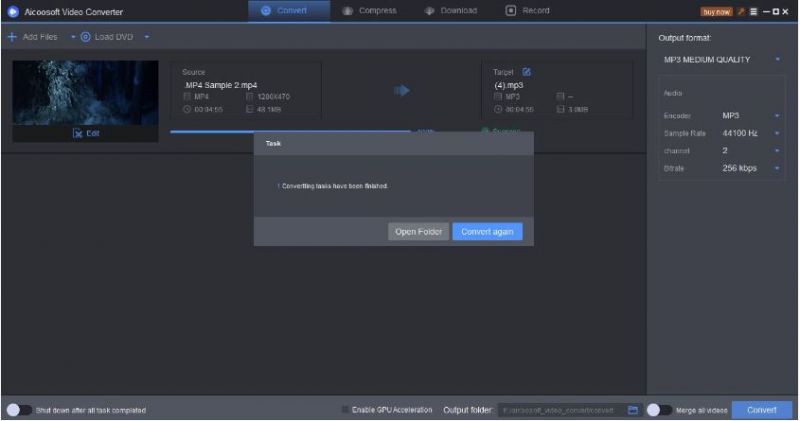 Part 2. Best Free 4 OGG to MP4 Video Converters Online
You can also convert OGG files to MP4 without downloading or installing video converting software on your PC. Web-based video converters can be used to perform this task easily and quickly. Here are some top-rated web-based video converting programs that you can use to convert your files without compromising the quality:
1. Convertio
Convertio is one of the fastest and efficient video converters that you can use to convert your media files such as OGG, MP4, MP3, and more from one format to another without stress. The program maintains the quality of video and audio files during the conversion process. It's built with advanced options settings for you to adjust quality, aspect ratio, codec, and more. Conversion is very easy with Convertio. Just use the drag and drop feature to add your desired files, select MP4 as your target format, and then hit the Convert button.
Pros:
There is no premium charge required to start using it
Works on all devices including Windows, Mac OS, and Linux
Cons:
Converted files are deleted after 24 hours- your files are insecure
The speed of conversion depends on your service provider
2. CloudConvert
CloudConvert is a fantastic online video converter that supports the conversion of numerous key files to more than 200 formats such as PNG, JPG, PDF, OGG, MP4, MP3, and more. The software is highly secured and for this, it has earned trust from many end-users globally. It has a clean user interface with a moderate conversion speed.
Pros:
Converts OGG to MP4 and over 200 file format
The user interface is simple
Converts and compresses without diminishing quality
It's secured
Cons:
It required registration
File size upload is limited
3. Zamzar
Zamzar is one of the most popular open-source video converters. The program allows you to convert video/audio files without downloading or installing software. It supports more than 1,200 conversion types you can select to convert your files. Not only does this service support media file conversion, but it can also be used for the conversion of documents, images, ebooks, and CAD files.
Pros:
It has a simple interface and is free to use
It supports a multitude of conversion formats
Can be used to download video clips from popular video sharing websites
The conversion speed is fair
Cons:
It takes time to convert files
Converted files are available for download within 24 hours after which you can't access it anymore
It doesn't support the batch conversion of files
End-users need to sign up for an account
4. AnyConv
AnyConv is another professional web-based video converter that supports OGG to MP4 conversion and vice versa without compromising the quality. This service can also be used to convert documents, ebooks, archives, and images without software installation. It has the simplest conversion process- import a media file by clicking on the Choose File option on the AnyConv homepage, select a target output format and then press Convert to commence conversion instantly.
Pros:
Supports emailing of converted files in case end-users have an issue with downloading the converted file
It supports more than 300 file formats you can select from
Instant delete of converted files for security purpose
It's 100% free with no registration required
Cons:
The user interface isn't smooth so you might find it hard navigating around the site
There is a limit on the size of file you upload
Conclusion
Now you have our list of the top 5 OGG to MP4 high-quality video converters in 2021. Select any of them for your next video conversion project. Follow the stepwise guide given for each to convert from OGG to MP4.