MP4 or MPEG4 is a format that can not only save the data of all videos or audios but also can save subtitles as well as images. It usually is utilized for sharing videos over the internet. But it is beneficial as it compresses the video without affecting the quality. In contrast, MTS increases the quality of the video but makes the file quite heavy. Moreover, MTS does not support Mac software, and iPhone users are unable to access these files.
Since MTS files are so large and inconvenient to share with others, you need to convert MTS files to other popular video formats, for example MP4. In this article, we will recommend best ways to convert MTS files to MP4.
Difference between MTS and MP4
MTS, also called AVCHD (Advanced Video Coding High Definition), is short for MPEG Transport Stream. It is primarily utilized as a video format for getting a high definition video. MTS files are compressed using the Dolby AC-3 codec or it is saved as uncompressed linear PCM audio.
MP4 is regarded as a container format for all multimedia files in the digital platforms. The best feature of MP4 is that the quality of the file is not affected by reducing the size of the file. It is so popular because it supports all mobile devices and is a modern way.
Part 1. The best way to convert MTS to MP4 without loss quality on Mac/Windows
Aicoosoft Video Converter MTS to MP4 converter free software offers you a free trial to test software features. It helps people create, produce, and enjoy video efficiently and easily. Aicoosoft Video Converter is based on Al Technology-based video converter. Aicoosoft Video Converter major advantage is that it is quite powerful in terms of video downloading which enables you to save the videos offline form mostly all video sharing sites. This MTS to MP4 free online converter is a complete solution for converting, editing, downloading videos, and furthermore. It also supports formats that support both Mac and others.
Key features of Aicoosoft Video Converter
Aicoosoft Video Converter allows you to convert one or more videos into one or more formats and this conversion will be done by 30x faster speed.
It completes compressing videos in a short period or immediately.
Aicoosoft Video Converter can also be used for editing, for sharing on social sites, for email, etc.
Alvideo convertor allows downloading videos from more than 1,000 video sharing sites.
It supports editing of videos as well and you can make them beautiful with effects and filters.
How to convert MTS to MP4 on Mac/Windows using Aicoosoft Video Converter
Step1
Start the process by opening the software. Click on the "Add files" option to add the MTS format videos which you want to convert in the MP4 format.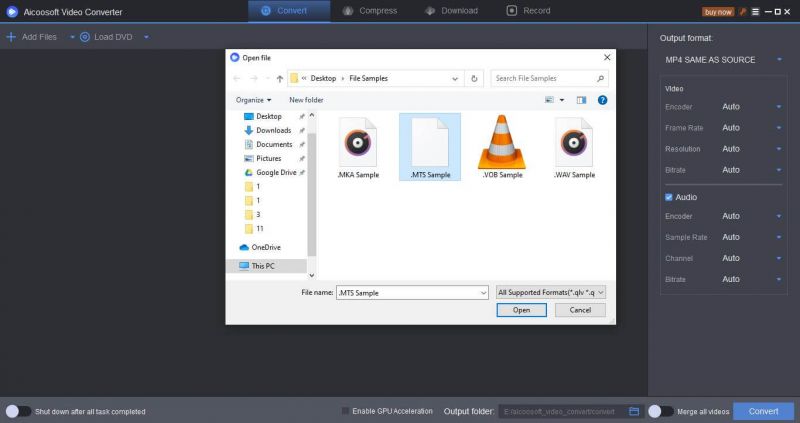 Step2
Click on the triangle (inverted as it appears) just under to the "Output Format" button at the upper right corner. Now choose the MP4 format from the "Video" tab. To finally convert it into an MP4 file, press on the Convert button at the lower right side.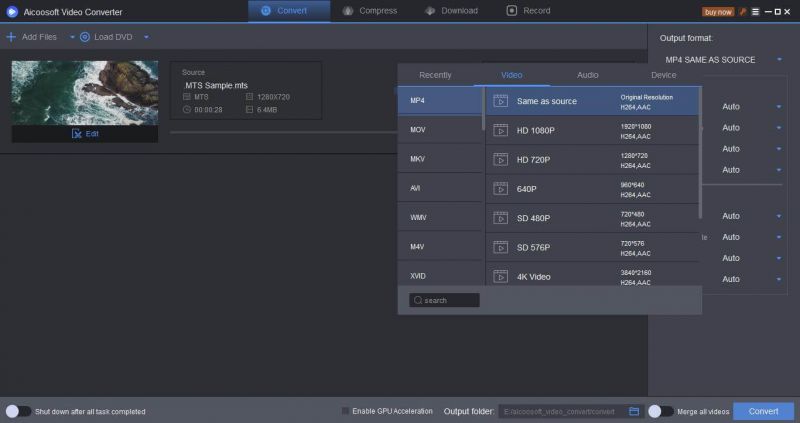 Step3
Click on the Folder icon to open the converted video file in the folder of your system hard drive.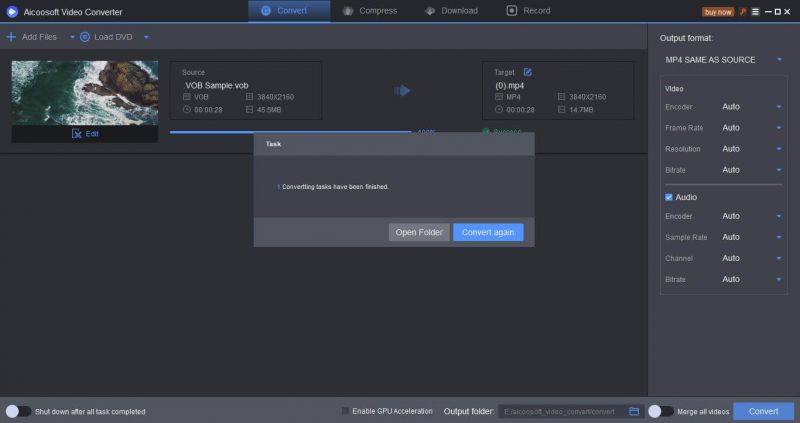 Part 2. Online way to convert MTS to MP4 converter for free
If you want to convert online, you can select an MTS to MP4 free online converter. The online tool can help you to convert mts to mp4 online without downloading and installing software on your computer. Futhermore, almost all of them are free and easy to use. But on the other hand, they have no additional settings and functions.
1 - Online Video Converter
URL https://www.onlinevideoconverter.vip/
Online Video Converter is a simple video converter tool which totally works online without any installation of software. To select the desired output format, you can use the drop and drag option. The converter can convert videos directly from a link; from your computer hard drive and you can also record the screen of your computer to make tutorials using this online converter tool.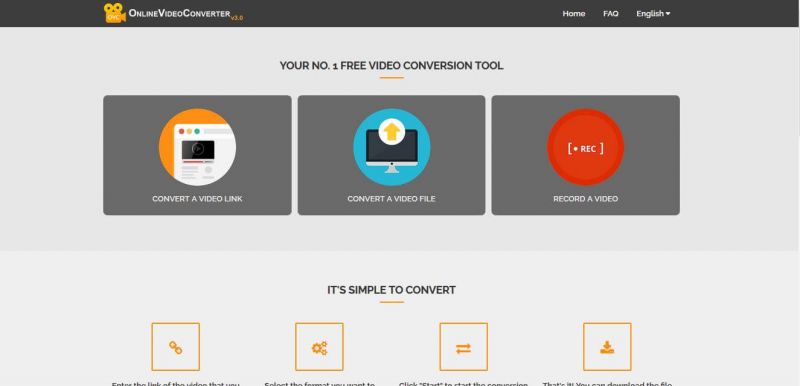 Pros:
It enables you to convert mostly all kinds of video files from one format to another.
It is quite simple to use interface.
Cons:
The website is totally online so you always need to have internet for converting your files.
Unable to convert audio files.
2 - Cloud Convert
Cloud Convert is a free convert MTS to MP4 online website which enables you to convert your files from the MTS to MP4 format for free of cost.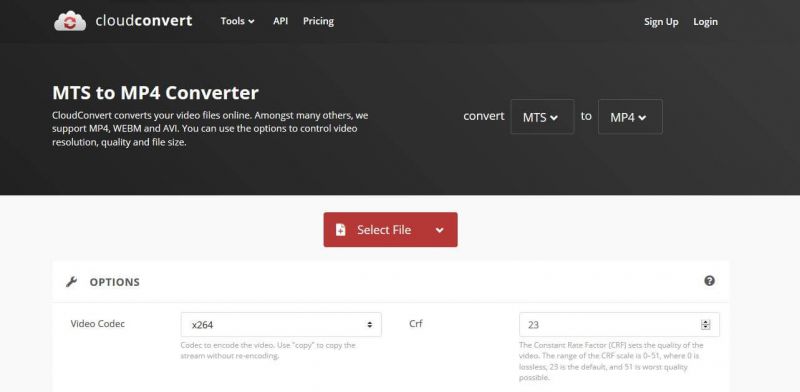 Pros:
The website is totally free of cost available.
Supports several audio video formats.
Cons:
Unable to convert offline.
Unable to download the videos.
3 - Zamzar
Zamzar is a very powerful MTS to MP4 free online converter website which allows you to convert the video and audio files online.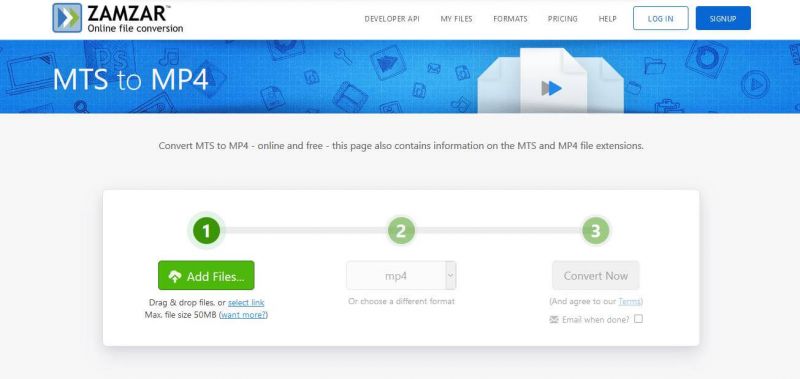 Pros:
Supports mostly all popular audio video formats.
Allows you to convert files from URL.
Cons:
Output quality is not good.
Unable to convert the bigger size files.
Part 3. FAQs
1. Can the iPhone play an MTS file?
IPhone doesn't support MTS/M2TS. A video converter to convert it to iPhone supported formats such as MOV, MP4, M4V, etc. The file extensions MTS and M3TS do not support iPhone.
2. How do I convert MTS to MP4 on the iPhone?
To convert MTS to MP4 on the iPhone, click the inverted triangle icon beside the Output Format. Then click on the Device > Apple tab, and select iPad or iPhone as your output format (you can either choose MOV, M4V, MP4, or MPEG-4).
3. How do I open MTS files on my iPhone?
An iPhone does not support file extensions MTS and m3ts. Thus download VLC from the iPhone app store and play your MTS files on it.
Conclusion
After knowing the pros and cons and details of other software, it is easy to understand that Aicoosoft Video Converter top's as user-friendly software. It has several features that will help you enhance the quality of a video. It converts the video without taking longer than a second and is very easy to use. While converting the video from MTS format to MP4, it does not hamper the quality but enhances it. So many fulfilling features are what extents its quality as a Video Converter.