Hi, I have an MP4A file that I will like to convert into MP3 format but I don't know what toolkit is the best fit to execute this task. Please is there anyone who could tell me what software or program to use?
Do you find yourself asking such a question? Keep reading to discover what program (whether installable or not) could be used to perform MP4A to MP3 conversion in 2021.
Part 1. Best MP4A to MP3 Converters for PC
Converting your MP4A files to MP3 on PC shouldn't be a hard task with the video converting toolkits given below:
1. Aicoosoft Video Converter
2. AnyConverter
3. Online Converter
4. Convert2MP3
5. CloudConvert
Got an element of doubt for these selections? Let's see what each of them has got in store for you.
Aicoosoft Video Converter
This is a multipurpose software designed to edit, convert, compress, and record audio/video files with high-quality. The software lets you convert your MP4A media files to MP3 and over 1000 formats at a speed higher than you could ever imagine, 30X- all thanks to the GPU accelerator and multi-core processor built in it. With the interactive user interface, you don't have to be an expert or tech literate to navigate your way around the software. Compress HD files and rip your DVDs without difficulty on Aicoosoft Video Convert. For creativity and efficiency, download and install the software on your PC now. You do not need to register a profile to use it.
Key Features of Aicoosoft Video Converter
The software supports more than 1000 video/audio formats such as AVI, MP4A, MP3, FLV, and many others
Aicoosoft Video Converter has a GPU accelerator and multicore processor integrated it during production so end-users can enjoy a high speed of operation
You can download premium quality video files of your choice from 1000+ websites
It has a smooth user interface with a drag-&-drop feature enabled
To use Aicoosoft Video Converter, you do not need to sign up for a profile or subscribe to a premium package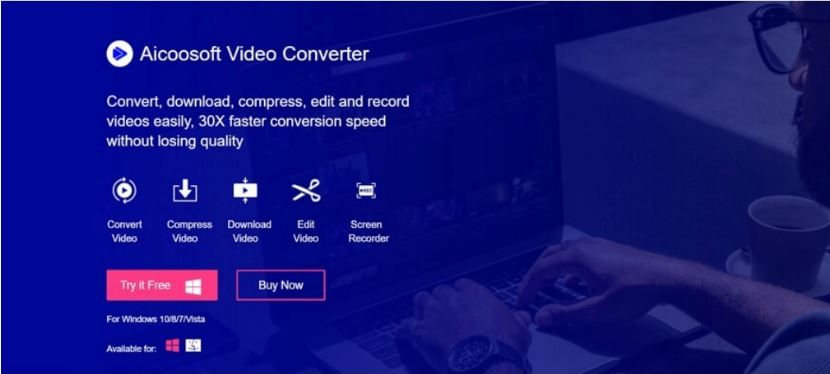 Guide to Convert MP4A to MP3 by Aicoosoft Video Converter
Follow the stepwise guide below you convert your MP4A files to MP3 on PC using Aicoosoft Video Converter
Step1
Launch the software to execute MP4A to MP3 conversion. Once it opens, click on the 'Add Files' icon to import a file from your local drive.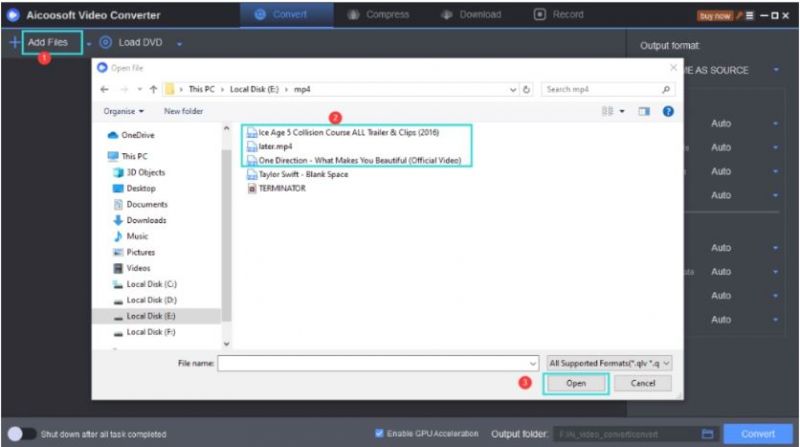 Step2
Next, choose an output format to convert the MP4A file. For this article, select MP3. After that, tap on the 'Convert' tab to commence the conversion.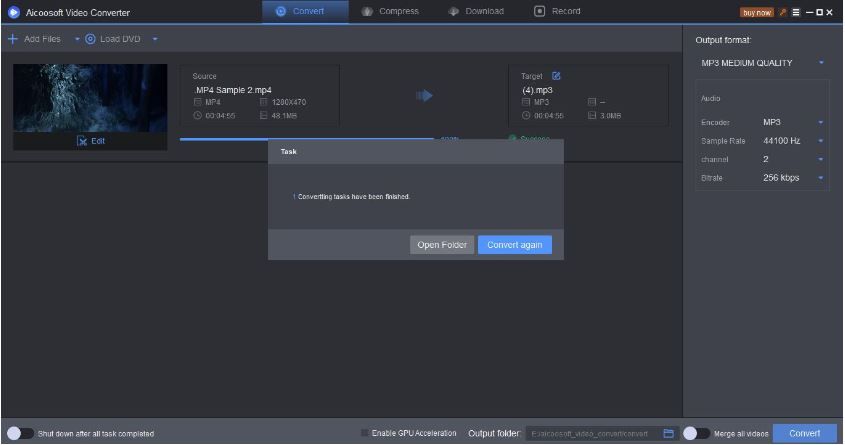 Step3
Preview the file when the conversion process is over. Then export the converted file which is now in MP3 format to your PC hard drive by hitting the 'Download' button.
AnyConv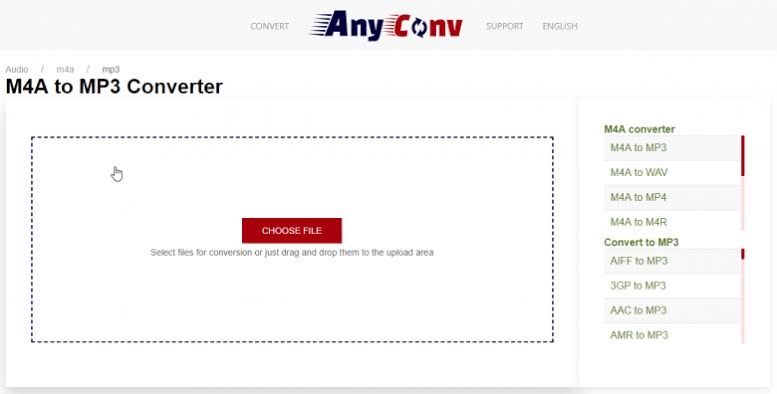 AnyConv is a web-based program that you can also use to convert MP4A to MP3 on Windows and Mac OS. This handy toolkit supports about 50 media formats for you to convert your files. To use AnyConv, you do not need to download or install it. Just visit the website to perform any operation on it.
Pros:
It has an interactive user interface
AnyConverter lets you convert MP4A to MP3 and many other formats
You can use it to compress your PDF files, Doc etc
Cons:
The speed of operation depends on the stability of your network connection
Too many ads on the website
There is a limitation to the size of files you add on the program
Online Free Convert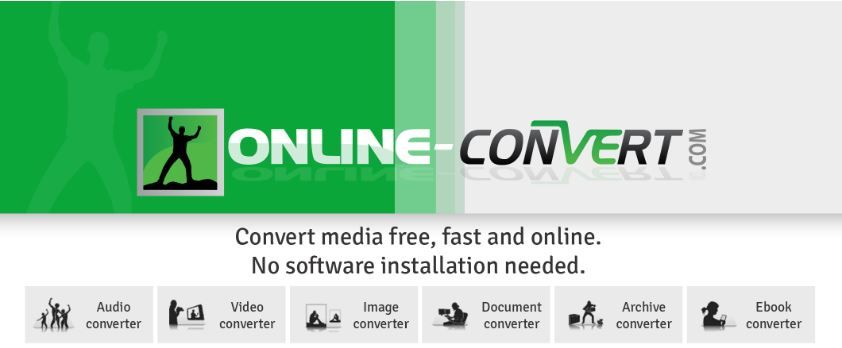 Here is another simple, but yet powerful program you can use to convert your MP4A files. Online Free Convert lets you convert between video/audio formats freely and quickly with zero quality loss. This program could also be used for converting JPEG, and documents.
Pros:
It has a straightforward interface which lets you run your projects smoothly
There is no need to install the program on your PC
Converts ebooks, archives, documents, images, video, and audio files freely
Cons:
The program doesn't support the downloading of media files from video sharing sites
Online Free Convert can only be accessed on Google Chrome and Moxilla
It doesn't support batch conversion
Convert2MP3
Convert2MP3 is a professional video converting program designed for multiple platforms- Linux, Mac, and Windows. The website lets you switch between MP4A and MP3. It ensures the utmost security of your files so intruders don't have access to them.
Pros:
Your files are deleted within 24 hours but before then, the site ensures that your files are properly stored in the cloud
Import videos directly from YouTube, Instagram, Facebook by entering the URL link
With just a few clicks, you can complete your conversion process
Cons:
A strong internet connection is required to use the program
There is no way for you to add multiple links
It supports limited formats
CloudConvert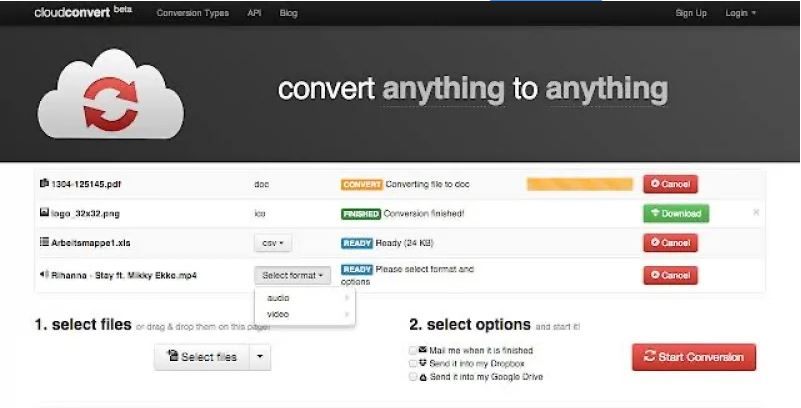 CloudConvert is a great tool that lets you convert media files like MP4A to MP3, MOV, and other output formats. This user-friendly program, CloudConvert, uses AI tech to execute all tasks. It supports the conversion of audios, excel spreadsheet, JPEG, and PowerPoint. Isn't that great? Also, you can use the program without installation.
Pros:
It lets you convert your media files to more than 200 formats freely
The program ensures that your files are properly secured
You are allowed to adjust conversions to your needs
Cons:
CoudConvert can't be used to convert files with size above 50MB
Quality assurance isn't guaranteed
There is no enough media format available for you to convert your files
Part 2. Frequently Asked Questions
How do I convert MP4A to MP3 with iTunes?
To convert your MP4A files to MP3 using iTunes, follow the bulleted stepwise guide below:
Open iTunes on your PC and then click on 'File'>'Add Folder to Library'. You will be directed to your local drive to select your preferred MP4A file. Choose a file an then click on 'Open'.
Next, click on 'iTunes', tap on 'Preferences', then click on 'Edit'. After that, hit 'Import Settings' > 'Import Using'. Now select 'MP3 Encoder' and then click on 'OK' to validate your command.
Now, click on 'Library' > 'Music'. Select the MP4A file you wish to convert, then tap on 'Advanced' menu. Once you've done that, select 'Create MP3 Version' to save your file in MP3 on iTunes.
Is MP4A compatible with Windows OS?
Yes, it is. But you must have the right media player installed on your device before you can view or play the content in an MP4A file.
Conclusion
With these video converting toolkits given above, you can convert your MP4A files to MP3 on your PC without consulting experts. Select any one of the programs for your next project. However, for high conversion speed and quality maintenance, we recommend Aicoosoft Video Converter. It's simple to and of course free to use.