If you find it hard to convert MP4 to H264 in or without ffmpeg, then this article is for you. Keep reading to discover how you can transform or change your MP4 files to H264 freely and quickly with any video converting toolkit.
The MP4 or MPEG-4 format is the most widely used container format for storing video files because of the compatibility with virtually all gadgets. Aside from this, it also provides you with quality visual content. With these great attributes, MP4 isn't without its pitfalls and one of them is the large memory space the format occupies. However, there is a solution to this problem- convert the MP4 file to H264. So how do you go about it? Well, we've written a tutorial guide which has been confirmed by experts in the video editing/conversion industry to be helpful.
Part 1. How to Convert MP4 to H264 with ffmpeg?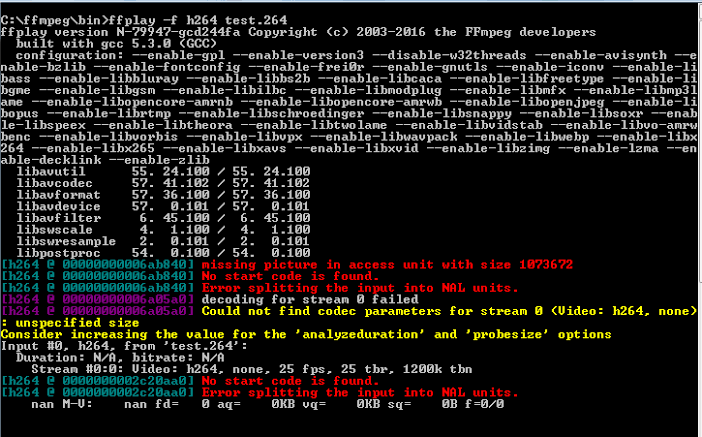 ffmmpeg is a cross-platform software designed for video/audio editing, recording and conversion purposes. End-users of this software handy because of the simple user interface. It supports an array of media formats such as MPEG-4, H264, MP3 and many others that you can convert your files to. The toolkit is highly secured for converting files as intruders find it hard to access files imported. You can also use ffmpeg to play or stream audios and video clips on your device for free. However, the software has got its setback; while using ffmpeg, you must enter the command correctly because any mistake made will cost you to start the process all over.
Stepwise Guide to Use ffmpeg to Convert MP4 to H264
Here is the stepwise guide you need to follow while using ffmpeg to convert your MP4 files to H264:
Step1
Download and install ffmpeg on your PC. After that, launch it to convert MP4 to H264.
Step2
Next, you enter the command below to execute the conversion.
ffmpeg -i input_filename.mp4 -c:v copy -c:a copy -y output_filename.h264

On completing the command above, press the 'Enter' button to confirm your request. Mind you, the command entered will only work for MP4 to H264 conversion. If you need to convert to another format, then you need a new line of command.
Part 2. Best Video Converter: Aicoosft Video Converter
If you need a professional software that converts MP4 to H264 within the shortest possible time, then Aicoosoft Video Converter is the perfect choice for the job. The toolkit converts media files of over any format to over 1000 output formats without compromising the quality. It is designed with a multicore processor and GPU accelerator. Also, the software has an interactive user interface with drag and drop feature for you to easily add video/audio files of your choice. You are free to download video clips directly from video sharing websites like YouTube, Vimeo, Facebook, Instagram, Google and 1000+ sites. Besides video conversion, Aicoosoft Video Converter can also be used to edit, record and compress videos. Download this software today and start enjoying 30X conversion and compression speed. Aside from installation, there is no registration required from you as an end-user. The toolkit is free to use.
Key Features of Aicoosoft Video Converter
Aicoosoft Video Converter uses complete AI technology to execute all its tasks
You don't have to be a tech literate to use the software for your video/audio conversion, and compression
With just a few clicks, you can complete all projects with no quality loss
The software support batch conversion or compression of files
It has a GPU accelerator and multicore processor built in it- the two components responsible for the high speed of operation
It is Windows and Mac OS compatible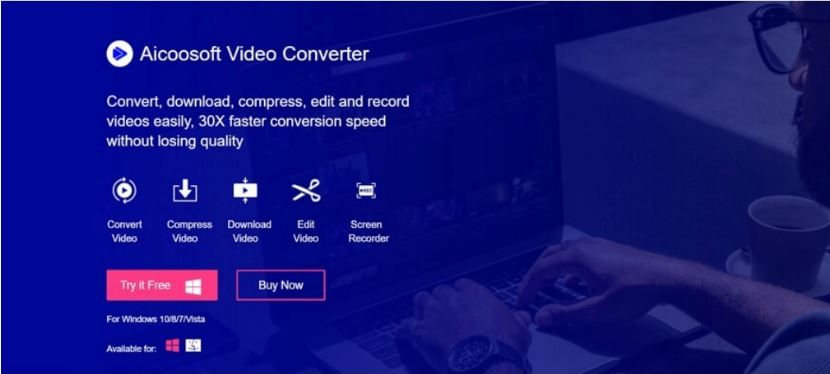 Step by Step Guide to Convert MP4 to H264 with Aicoosoft Video Converter
Apply the stepwise guide below when using Aicoosoft Video Converter to convert your MP4 files to H264:
Step1
Install Aicoosoft Video Converter on your PC to carry out the conversion of your files. Launch the software and then click on the 'Add Files' tab at the top left corner of your screen. Better yet, you could use the drag-&-drop feature on the interface.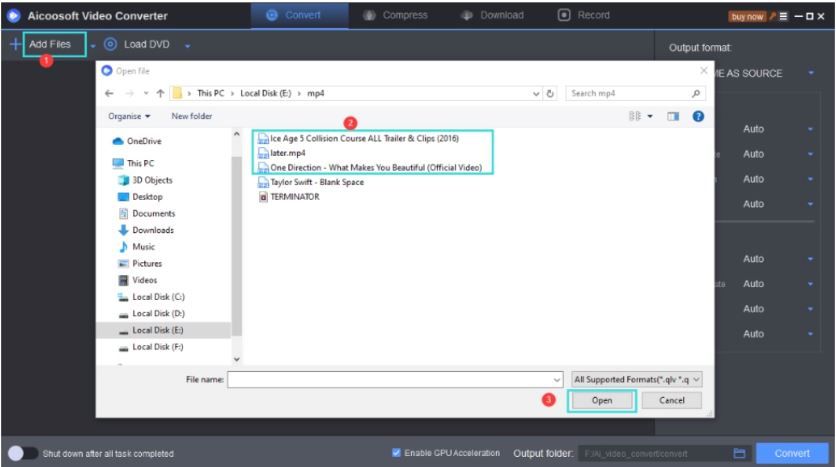 Step2
On uploading your desired MP4 files, the next thing to do is to select your target output format. Pick H264 for now as that is what we are concerned about.
Step3
Next, click on the 'Convert' tab to commence the conversion process. Wait a while for the progress bar to get filled, then click on the file to preview it. After that, export the converted file to your hard drive by clicking on 'Download'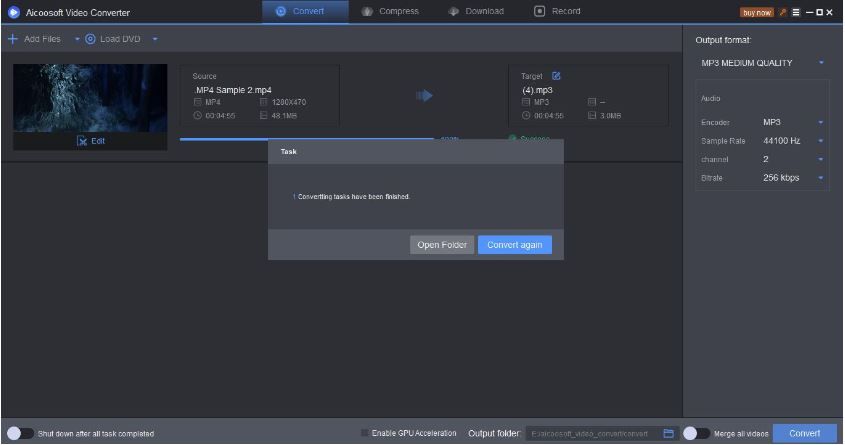 Part 3. Frequently Asked Questions
What is the basic command for using ffmpeg to convert?
Well, to use FFmpeg for your media file conversion processes, you must enter a line of command which the software itself will process to generate a result. Depending on what format you are converting your files to, the command line differs. Here in this article, we are concerned with H264 and the file we are converting is MP4. So the command can only be used for such conversion and no other.
What is H264?
H264 is an advanced video codec integrated into many container formats, especially the MP4 container format. It's also encoded with AAC codec, an advanced audio coding.
Conclusion
Now you have the tutorial guide- Quick Guide to Convert MP4 to H264 in/without FFmpeg- at your fingertip, converting between MP4 and H264 shouldn't be a hard task to accomplish anymore. There are two software introduced in the article, select any one of them and then apply the stepwise guide given to switch your MP4 to H264. Both software is good, but Aicoosoft Video Converter is the best as it converts with zero quality loss. Also the speed of conversion is 30X faster than that of ffmpeg.