Do you find it hard to maintain quality while converting ISO to MP4 on your Macbook? And now you are seeking a solution online. Keep reading to understand how to convert ISO to MP4 on Mac with zero quality loss.
Quality maintenance has always been the bone of contention when people convert ISO to MP4 on Mac and that's because they don't use the right video editing program. Here we will introduce you to three professional software that you can use to perform this operation without losing quality. A stepwise guide for each toolkit will also be given. But before then, let's discuss what ISO means and the reasons for transforming it into MP4.
What is ISO?
ISO is a digital file designed for backing up DVD content on hard drives, external disks, and many other sources. The files are usually large- consumes a lot of space on your PC.
Reasons for Transforming ISO to MP4
There are two basic reasons why you should transform ISO to MP4. Firstly, ISO files are way too large compared to MP4 files whose content has been compressed. Lastly, ISO is incompatible with most portable players and PC. Mp4 on the other hand is common and is compatible with all gadgets.
Part 1. Simply Convert ISO to MP4 with High Quality
Aicoosoft is a quality maintaining video converting program designed for the compression and conversion of HD files to over 1000+ formats. Also, you can use it to rip DVDs, edit videos, and make screencasts freely and quickly. It supports a multi-core processor and GPU accelerator, two basic components that enhance the speed of conversion to 30X. End-users find the program easy to operate because of the intuitive user interface. With Aicoosoft Video Converter, you can download video and audio files of any format from video sharing websites like YouTube, Instagram, and more. You do not need to register or pay a premium to access all the aesthetic features of this program.
Key Features of Aicoosoft Video Converter
Aicoosoft uses smart AI technology to convert and compress video/audio files at an high speed without diminishing the quality
Its built with GPU accelerator and multi-core processor to enhance the speed of conversion and compression to 30X
This service supports over 1000 popular formats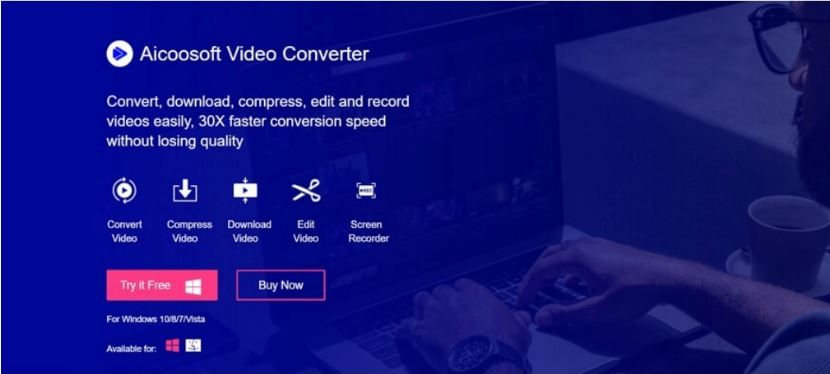 Guide to Convert ISO to MP4 with Aicoosoft Video Converter
Check the step by step guide below to convert ISO to MP4 using Aicoosoft Video Converter:
Step1
Open Aicoosoft Video Converter on your PC after the successful download and installation.
Step2
Insert your desired ISO file by using the drag and drop feature on the program interface or click on the Add Files icon.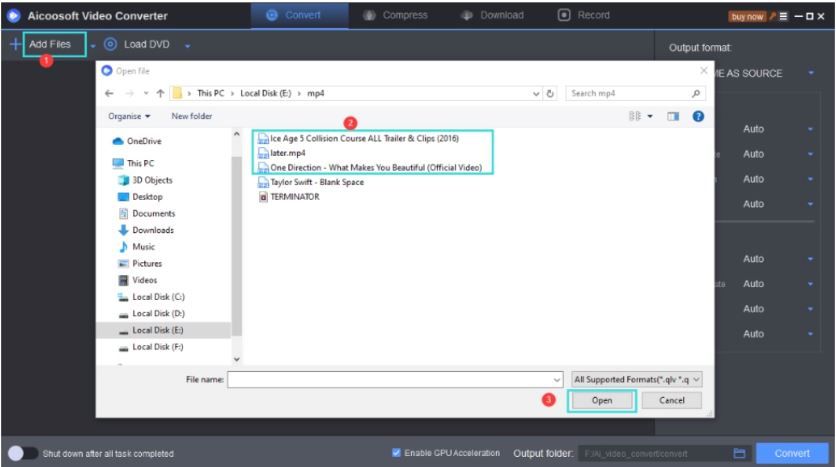 Step3
Once the tile has been uploaded, select your target output format, and then tap on Convert. Select MP4 as your target output format on this article.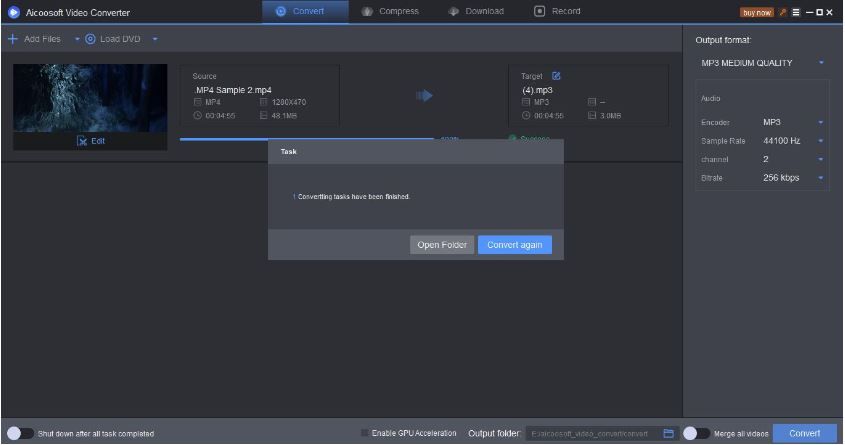 Step4
Wait for the conversion to complete, then click on the file to preview the content. On confirming the content in the file, export it to your hard drive.
Part 2. Convert ISO to MP4 Freely with HandBrake
HandBrake is another professional transcoding software designed for Windows, Mac, and Linux OS users to rip videos from one format to another without quality loss. This open-source program supports over 200 media formats including MP4, ISO, MP3, DVD, and more. It has a friendly user interface with a built-in drag and drop feature for you to easily add your desired file. HandBrake is highly secured as it's encrypted with the latest security innovations to prevent third parties from accessing your files. No sign up or registration required to use the program.
Pros:
Great user interface
It's free to use
Works perfectly on multiple platforms (Windows, Linux, and Mac OS)
Cons:
You need to download and install the program to use it
The speed of conversion is fair
Doesn't support batch conversion of files
Supports just a few media formats
Guide to Convert ISO to MP4 with HandBrake
Download a compatible version of HandBrake on your PC and then install it. Once the installation is complete, follow the guide below to convert from ISO to MP4:
Step1
Launch the program to import an ISO file that you want to convert. To import a file, click on the Source icon at the top left corner of the program. A drop-down menu will pop up, select Video File to get directed to your file manager. Choose your ISO file and hit the OK button.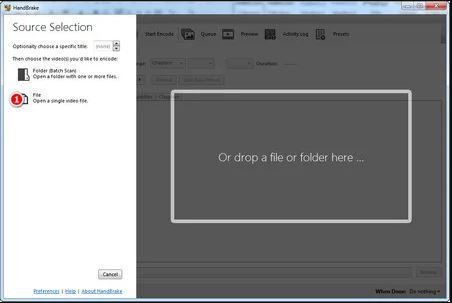 Step2
Next, select a location to export the converted file. After that, choose MP4 format as your desired output format, then tap on Start to commence the conversion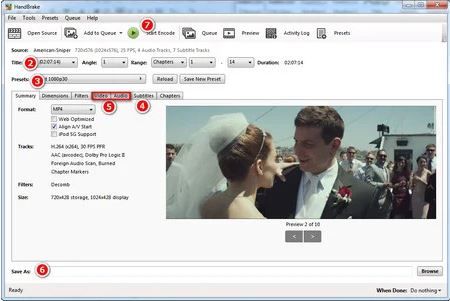 Step3
Once the conversion over, the converted file will be exported to the exact destination.
Part 3. How to Convert ISO to MP4 Online
You could also use web-based programs to convert ISO files to MP4 for free without compromising the quality. Since there are many of these programs available on the internet, we recommend the best of them: File-Converter-Online. It is handy and has a fair conversion speed compared to other programs. No registration or installation is required. However, you will be faced with one of the major drawbacks, which is the limitation of file size.
Step by Step Guide to Convert ISO to MP4 with AnyMP4
Go on the official website for AnyMP4, then follow the stepwise guide below:
Step1
With the aid of the drag and drrop feature on the program interface, import your desired ISO file.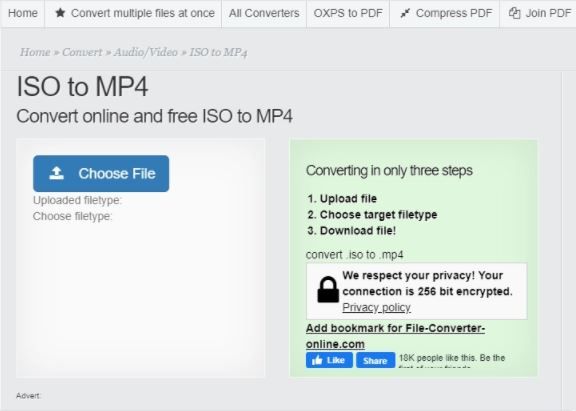 Step2
Next, tap on the Start Converting tab which is red in color to commence the conversion, then hit Download butoon to add the converted file to your hard drive.
Part 4. Frequently Asked Questions
Check out some of our extended knowledge questions to have an understanding of how ISO to MP4 conversion works:
How can I compress ISO files freely?
You can use professional software like the Aicoosoft Video Converter to compress your ISO files freely. The software compresses and converts files at a high speed of 30X without tampering with the quality.
Can I play ISO files on my mobile device?
Generally, ISO files are incompatible with mobile devices, whether iOS or Android. You have to convert it into a popular format to view the content. Some popular formats you can convert it to include MP4, and MP3.
Conclusion
Converting ISO files to MP4 shouldn't be a hard task anymore as you now have our how-to guide at your fingertip. Use Aicoosoft Video Converter to execute any media file conversion of your choice. It has an excellent sheer speed and a simple user interface. Download and install it today.