AVCHD format records high-definition videos to various media such as hard disk drives, DVD media, and memory cards. The format itself developed to record HD signals via its high-efficiency compression coding technology. It also allows long recording of videos in HD format. Besides these advantages, there's a need to convert AVCHD to MP4 due to specific reasons. One of the significant reasons for the conversion of MP4 is the compatibility with Apple Quick Time format. Another reason is the large file size, despite the compression compatibility. The file size of the MP4 format is three times less than that of the AVCHD format.
Keeping in mind such scenarios, let's step ahead to convert AVCHD to MP4 via the top 10 video converters available in 2021.
Part 1. How do I convert Sony AVCHD to MP4?
Stay tuned if you need to convert AVCHD to MP4 without losing original quality. It is all done by accessing a top-quality video converter that can support both AVCHD and MP4 format. Simultaneously, the converter must be fast and advanced enough to do the task without the AVCHD format video clip's original quality. Well, there would be a slight difference in the video quality of AVCHD and MP4, but that shouldn't be high enough.
Know
how to convert AVCHD to MP4
quickly with Aicoosoft Video Converter. Yes, we'd like to recommend our own Aicoosoft Video Converter if you are looking for hassle-free video conversions. The best part is that Aicoosoft is compatible with 1100+ formats for video conversion, editing, downloading, and compression. Even though it is offline software, you get to see the worth in quality and speed than other online converters available.
How to convert AVCHD to MP4 via Aicoosoft Video Converter?
Step 1

Add AVCHD video

Launch Aicoosoft Video Converter and open the main interface to click the Add Files button.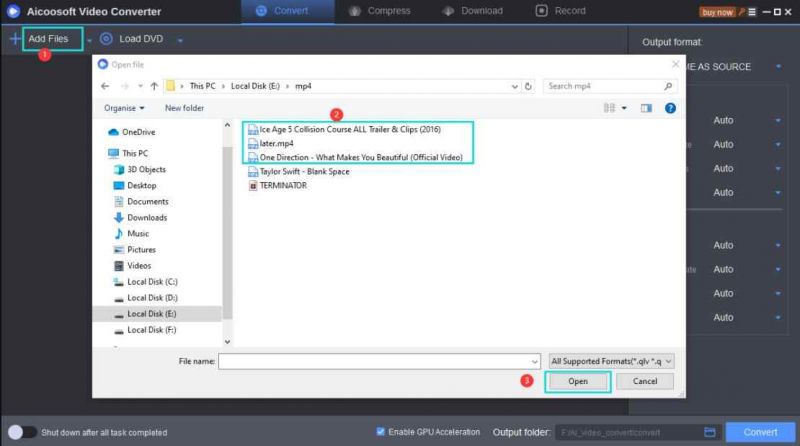 Step 2

Select output format

The next step is to choose the output format as MP4. Go to the output format button and hit the MP4 to convert AVCHD to MP4.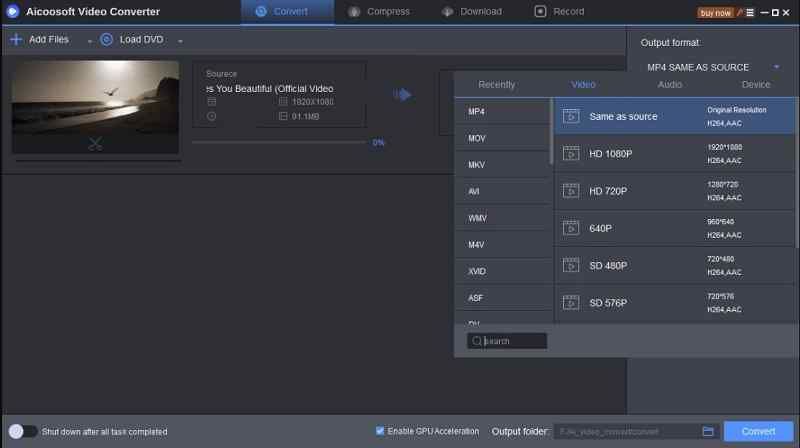 Step 3

Start video conversion

Finally, hit the Convert button and start video conversion to be done in seconds. Make sure to check the Enable GPU Acceleration button for a super-quick process.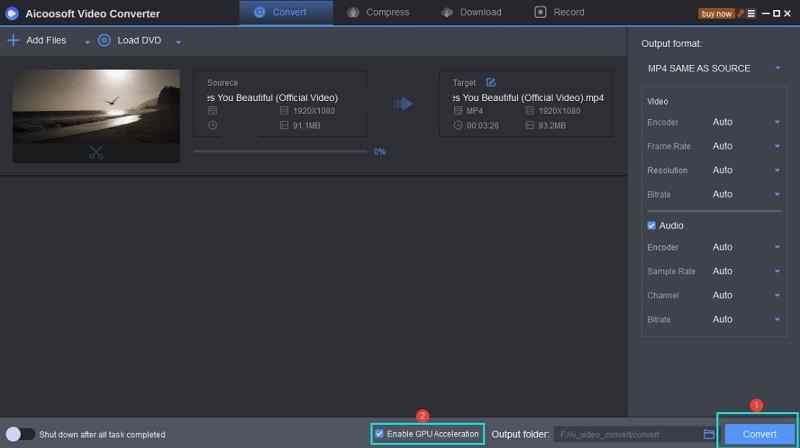 Part 2. Top 10 Sony AVCHD to MP4 Video Converters
Starting with Aicoosoft, we'll discuss the performance of the ten best AVCHD to MP4 converters for better comparison.
1. Aicoosoft Video Converter
Aicoosoft provides the super-quick and best way to convert AVCHD to MP4. The difference is visible if you compare Aicoosoft with other online and traditional video converters. After you launch the Aicoosoft Video Converter over Windows or Mac, there would be no recurring ads, security leakage, and slow loading speed.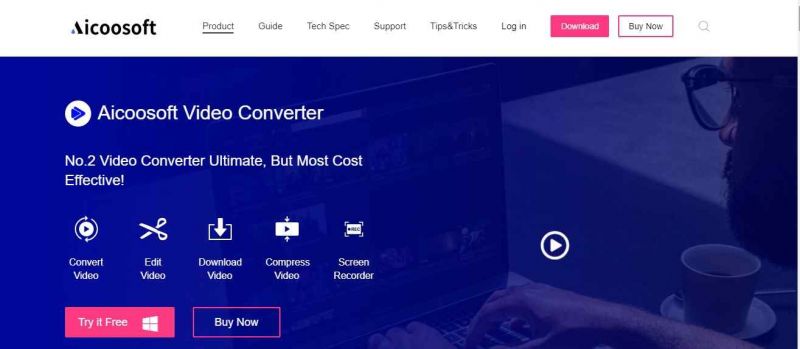 Key features of Aicoosoft Video converter
Speedily converters AVCHD to MP4 without the loss of original video quality.
It supports more than 1100 formats for conversion, editing, download, and compression.
Constant improvement in AI technology to cope up with the needs of its various users.
2. Freemake
Freemake is a popular video converter tool with an intuitive user interface. Using this offline software is quite simple, and it further supports different formats for video editing and conversion. It also contains preset profiles for smartphones, tablets, and game consoles.
There's a need to add the AVCHD video clip after downloading the software. Then, you can select MP4 as output format and adjust file settings to proceed with the free conversion.
Well, there is no such GPU acceleration for a speedy process. Also, the interface is quite outdated and slow in comparison to our advanced Aicoosoft Video Converter.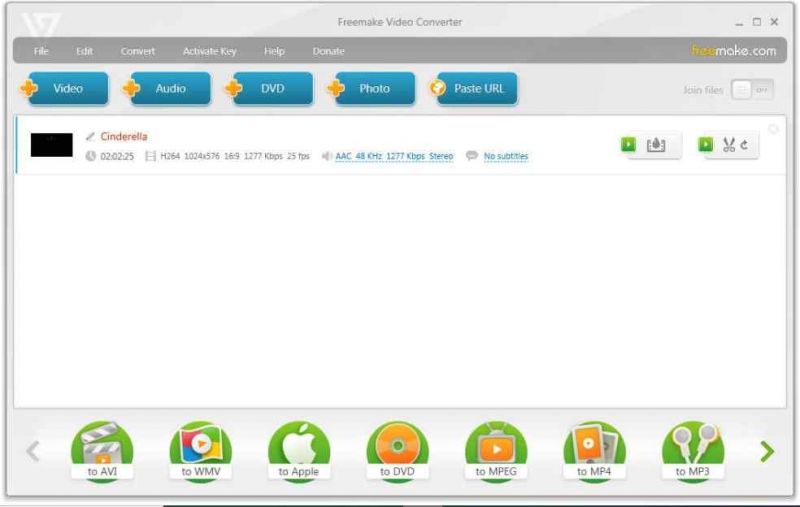 3. AnyMP4 Video Converter
AnyMP4 Video Converter allows users to edit and convert AVCHD format videos with a simple procedure while supporting around 200 video formats. You can also download YouTube videos with original quality by AnyMP4 Video Converter. It further consists of personalized video settings and effects to enhance the entire user experience with video editing. We find it a useful tool for video editing than video conversion, which would be comparatively slow.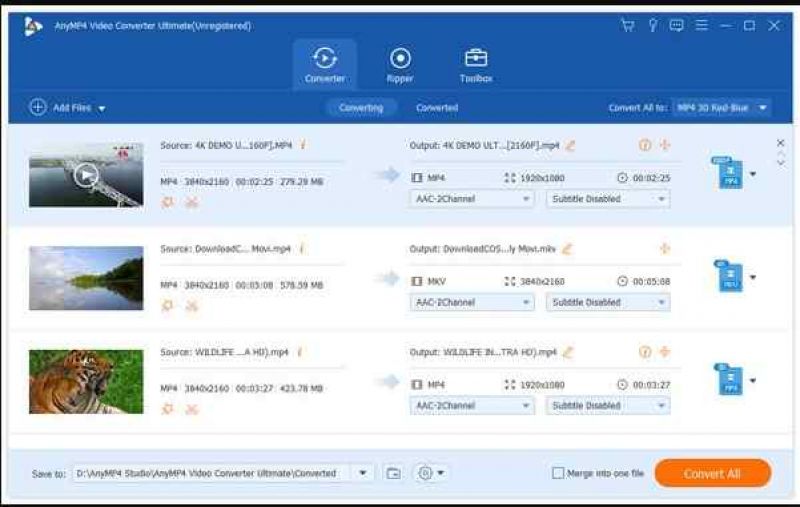 4. Movavi
Movavi is another popular video editor with a list of exciting features to consider. It is available in 7-days free trial for both Windows and Mac users. The editor is pretty flexible and allows users to import photos, videos, and audios stored on any computer or external hard drives. To convert AVCHD to MP4 free with Movavi, you must first add Media and select MP4 as the output format to proceed with the conversion. Well, the free version supports minimal features and video formats.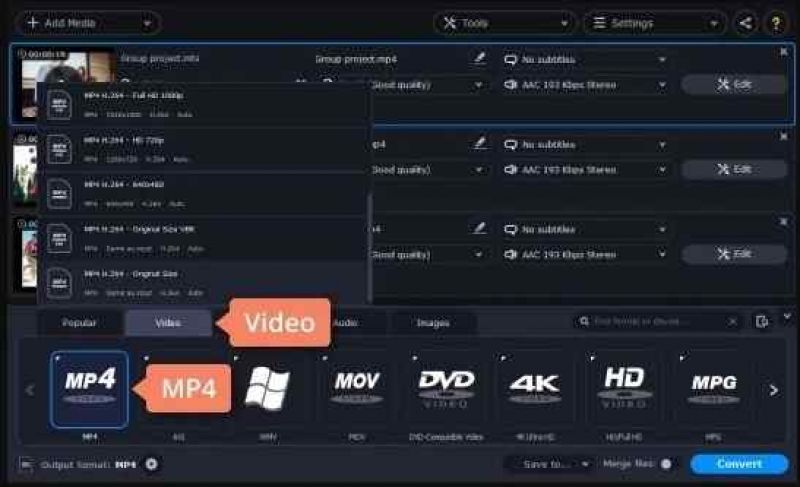 5. WinX HD Video Converter
WinX HD Video Converter comes with more than 400 conversions presets to support both UHD and HD formats. This software interface is further available in six languages, including Spanish, German, English, Chinese, French, and Japanese. You can also do video editing during conversion by setting the aspect ratio, video frame rate, profile settings, and extracting the audio or MP3 from AVCHD format. However, the software is a bit complicated to use, especially for beginners.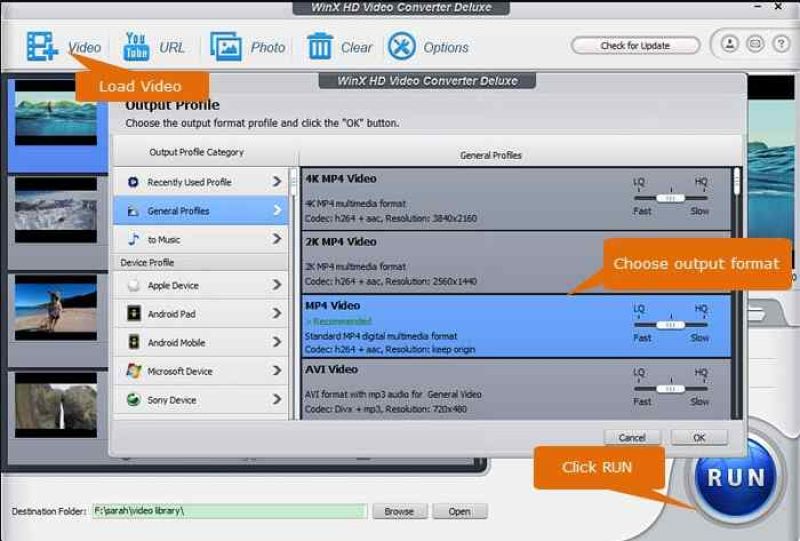 6. Convertio
As the name suggests, Convertio can easily convert files from your computer, Google Drive, Dropbox, or a URL. You are only required to drag and drop the file or click the Add Files button to start the conversion process. Convertio is an online tool that is freely available for every user. Even though the process of converting AVCHD to MP4 with Convertio is pretty easy, you get to see lots of ads and limitations of video file upload over its online platform.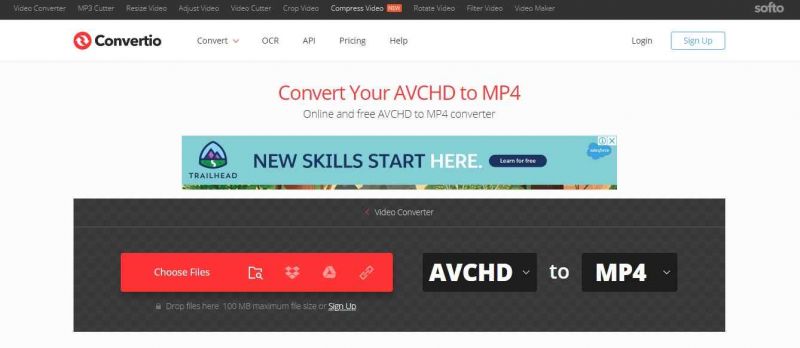 7. Onlineconverter
Consider this online converter if you are looking to convert Sony AVCHD to MP4 freely. It has lots of conversions presets, including Device Converter, Audio Converter, Software Converter, Webservice Converter, Archive Converter, Image Converter, Video Converter, and so on.
You only need to hit their Video Converter tab and select the target format as MP4. However, being a free online converter, there are certain limitations regarding uploading size and format support.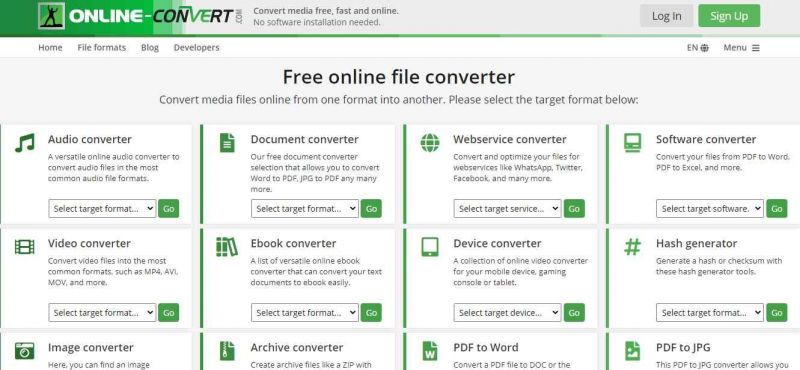 8. Convertfiles
Convertfiles is an online free file converter with easy steps to confirm the conversion. There's a need to select both input format and output format over its online platform. You can also see various file converter categories over the main window, including Document Converter, Archive Converter, Presentation Converter, Video Converter, E-Book Converter, Drawing Converter, and so on. However, lots of ads on its main interface may irritate the user and risk their security.
As you can see in the image, the conversion process follows simple steps, uploading the file>enter input and output format> and click Convert.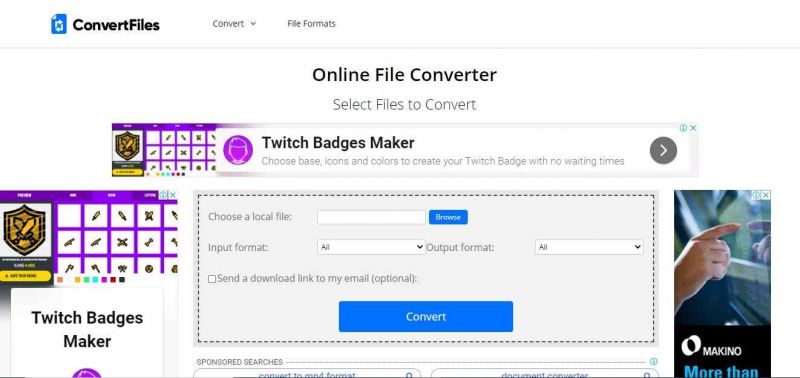 9. Zamzar
Zamzar is a free converter of files with lots of format support. It is simple to use with various other converter options. However, there is a maximum file size limit of up to 50MB with regards to video conversion. As per the user experience, Zamzar is an ideal option for image and document conversion. On the other hand, the video conversions with such a file limit and slow process would be relatively inefficient. Simply follow the 1-2-3 steps on the interface to get your video.
10. Onlineconvertfree
Onlineconvertfree is another free video converter where you can choose the file and file format to convert AVCHD to MP4. It consists of different presets, including AVCHD to MP3, AVCHD to MKV, AVCHD to MOV, etc. To convert, choose, or drag and drop the file from your system and follow further steps for quick MP4 conversion.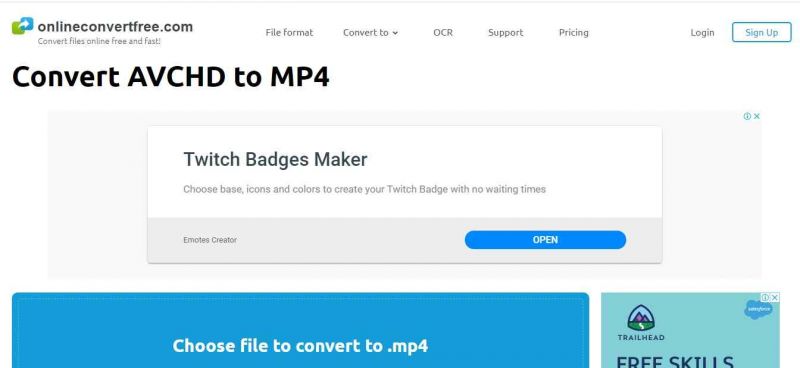 Conclusion
So, these were the top 10 AVCHD to MP4 converters with their respective features and comparison with our own Aicoosoft Video Converter. There's no need to risk your security and precious time when you have a super-quick and reliable video converter available with advanced features by Aicoosoft.