Converting MOV to MP4 is very easy If you've got the ultimate access to a refined video converter. Thus stick to this page and learn the fastest ways to convert MOV to MP4 free and effortlessly.
Nowadays, MP4 format is one of the most used video formats globally because of its compatibility with different devices. But situations may arrive where you download an online video and discover it's in a MOV format that's not supported by your device. Therefore you need not just an ordinary video converter to get the job done. Although there are many video conversion tools, this guide entails the best free MOV to MP4 converter and other efficient ways you can convert MOV to MP4 in a flash.
Part 1: Best and Most Cost-effective Way to Convert MOV to MP4 on Windows/Mac
The most effective way to convert MOV to MP4 on Mac/Windows is using Aicoosoft Video Converter software. Did you just ask Why? Aicoosoft video converter is a lightweight video converter with more advanced video conversion, compression, and editing tools, trusted by millions of individuals and companies globally. Its highly intuitive user interface, 30× faster video conversion speed, and a vast array of robust features have made this tool stand out among its competitors. Thus if you need a simple but powerful, the Aicoosoft tool is the right conversion software for you.
Anyway, check out some great features of the efficient Aicoosoft video converter.
Key Features
Extraordinary video converter with the spectacular ability to convert, compress, edit, and record videos in any format.
It maintains 100% video quality and supports video downloads and conversion from over 1000 sites
Enhances the conversion process with the use of advanced technology
Incredibly amazing MOV to MP4 conversion speed using a multi-core processor.
How to Convert MOV to MP4 with High Quality
Step1
Download and launch Aicoosoft software on your Windows/Mac computer. Then add your MOV file by clicking on the Add Files button at the top left corner of the pane, or you drag and drop the file.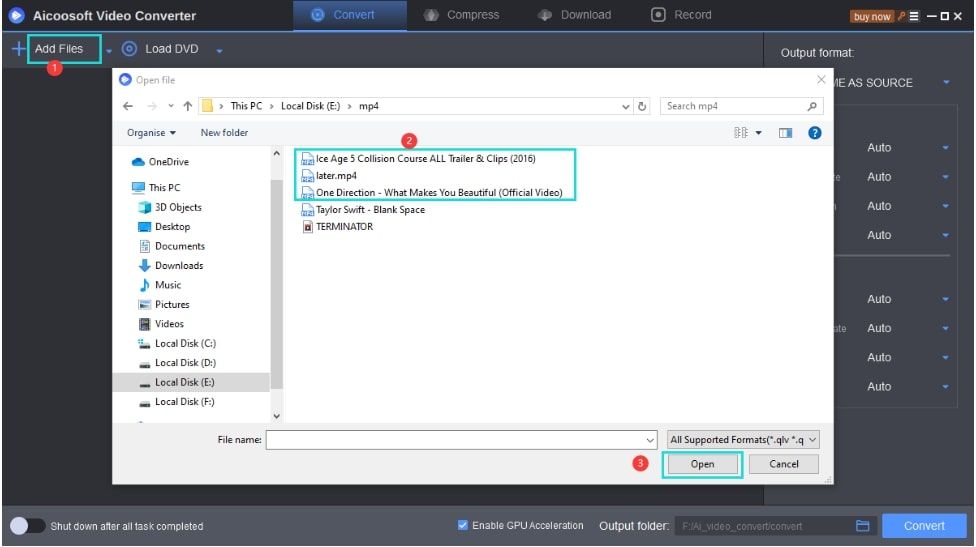 Step2
Click on Open to insert file. Afterward, select your preferred video format by clicking on the drop-down icon beneath Output format at the top-right corner of the page. In this case, you'll choose MP4.
Step3
If you've successfully chosen your output format, click on the Convert button at the bottom right corner of your PC screen or click the convert option beside the respective MOV file.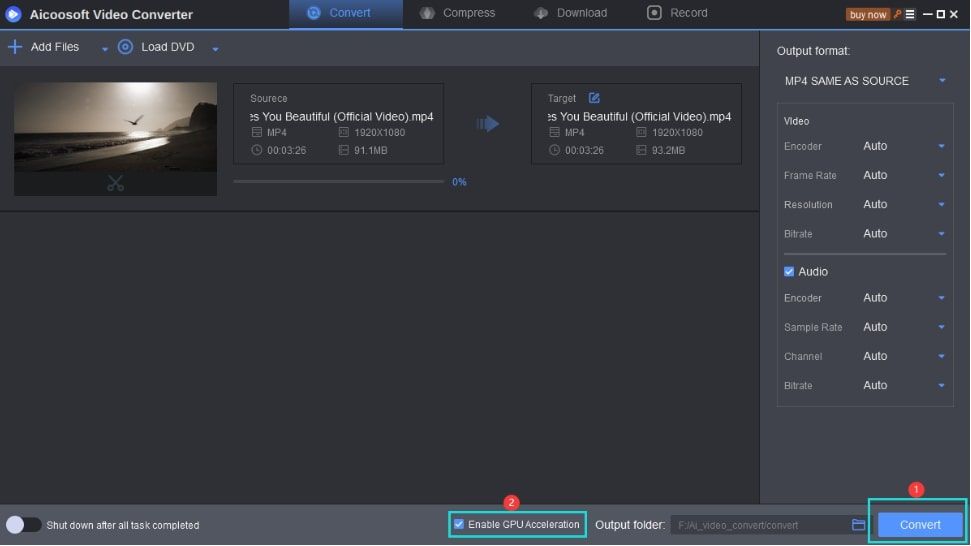 Step4
After completion of the converting process, you can click on the folder icon at the bottom right corner to access your converted file.
Part 2: Free Online Way to Convert MOV to MP4
Another easy means of converting MOV to MP4 is by employing an advanced web application. And Convert2mp3 is one of the most successful online video converters that support the conversion of video files into different formats quickly and easily.
Also, Convert2mp3 is free and unlimited, meaning you can convert as many video files as possible without restrictions. All you require is the link to your video file, and you'll be able to convert MOV to MP4 free online. Anyway, follow the steps below to convert MOV to MP4 online using Convert2mp3
Step1
Copy the URL of the MOV file you're willing to convert and paste in the respective box. After that, click the drop-down beside the 'Insert video link' box to select MP4 format.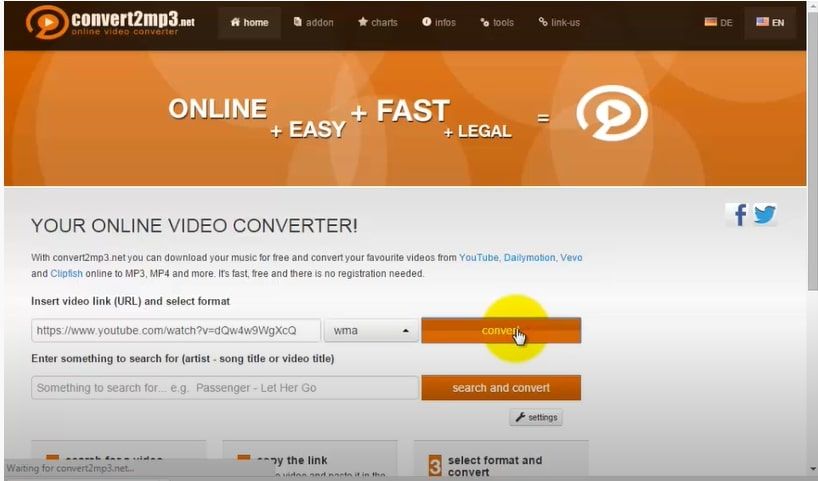 Step2
Hit the convert button and be patient while the conversion process gets completed. Then, download the converted file to have easy access.
Part 3:
Top MOV to MP4 Converter App for iPhone
iConV
Like Android video converter apps, there are also myriad options of iPhone MOV to MP4 converter apps available on the Apple store. iConv is an all-in-one converter app for iPhone that allows the conversion of videos, audios, images, and even PDF files. It also has the capacity of trimming video and audio files, making it very different from other MOV to MP4 converter apps for the iPhone. However, the drawback is the free version of this app has a limited number of files you can convert.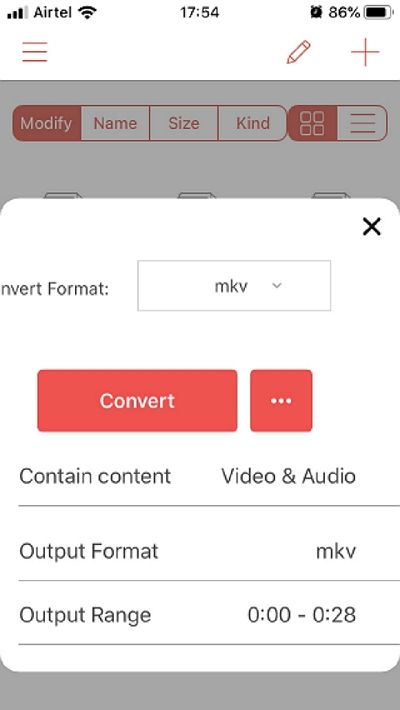 Part 4: Top MOV to MP4 Converter App for Android Phone
Technology grows too fast, and there's a lot of video converter apps for Android available on the Google Play Store! As a result, choosing the right converter app that'll execute your video conversion process quickly and easily can be very tricky.
However, with the introduction of the Video transcoder converter app, you need not stress about converting MOV files on your Android device. This is because the Video Transcoder app is user-friendly and enables you to convert video files into any format of your choice free and conveniently.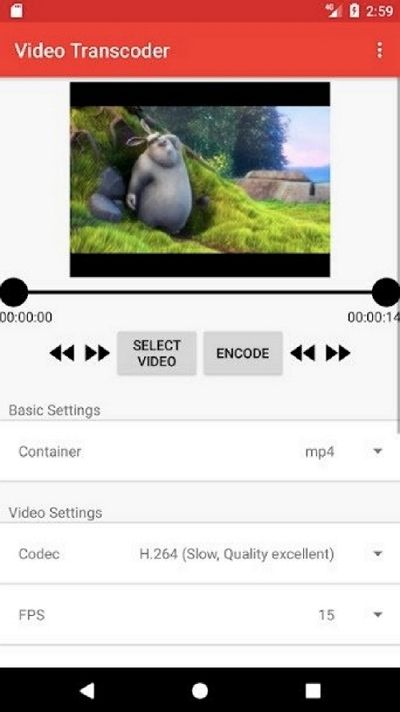 Conclusion
When you do a quick search on Google, you'll find lots of video converters. But, do you know not all can convert MOV to MP4 without losing quality? Anyway, this complete guide has the solutions for converting MOV to MP4 using the best video converter software and other effective methods. Hence you don't have to stress just to convert MOV to MP4 format anytime, anywhere.