If you are someone who uses video editing tools daily, you might have needed to convert videos from one format to another so it can be played in more than one medium. For example, what can be played on a Windows PC won't work as well on Mac and vice versa.
Assuming you've got a QuickTime file that got damaged just a few minutes to your video playing presentation at school or work and you've got no idea how t resolve the issue. Don't panic! All you need to do is convert QuickTime MOV to MOV. Sounds surprisingly amazing?
It's not uncommon for people to forget that there is quite a range of video converting tools that can convert your videos. But only a few have the excellent capacity to give high-quality output at a lightning-fast speed. In these cases, come in handy all-in-one powerful video converter that'll be introduced in this article. Also, well introduce you to different efficient methods to convert Quick Time to MOV using an online tool. And youll also get to find out if QuickTime can convert QuickTime to MOV. Thus stuck to this page and read on to find out something new.
What is the difference between QuickTime and iMovie?
Developed by Apple and initially released on December 2, 1991, QuickTime is software that allows a computer user to play movie files. QuickTime is available for Apple and IBM compatible users running a compatible operating system, such as Microsoft Windows or any Macintosh operating system. With IBM compatible computers, QuickTime is commonly used to play .MOV extension files.
Meanwhile, iMovie, as a simple video-editing program made by Apple, is used for many Mac users. In the process of importing a QuickTime movie file into iMovie on your Mac, you may soon find that the video editing application does not support the Standard MOV QuickTime file format. To fix this issue, this article offers completely free tricks. With the help of it, users can change QuickTime format so it is compatible with iMovie quite well.
Part 1: 2021 Top-rated Quicktime to MOV converter
Aicoosoft Video Converter is an all-in-one video converter that supports the conversion editing, compression, download, and recording of videos efficiently. Employing a fully advanced AI technology, this video conversion tool has outstanding tools that enable you to convert videos efficiently without hampering any aspect of the video.
Key features of Aicoosoft Video Converter
Powerful and 30X Faster Video Conversion. With AICOOSOFT you can convert HD/4K Video without losing quality. Support 1000+ video/audio formats
Allowing you to trim and merge videos more efficiently, custom crop and resize them. You can also add and adjust subtitles to videos, add image or text as watermark, apply filters basic effects to videos, adjust Built-in background noise, adjust videos according to your requirements and rotate and flip videos.
It has a Built-in Video Audio Downloader. The powerful built-in video downloader allows you to download videos from more than 1000 video and audio sharing sites.
Allowing you to download HD videos such as 1080P and 4K from streaming sites quickly and easily.
Allowing you to download videos to MP3 with one click, automatic conversion to high-quality MP3.
With advanced GPU acceleration and Multi-core Processor Optimization technology has Aicoosoft video converter has a better balance between the conversion speed and output video quality
Best Way to Convert QuickTime to MOV Flawlessly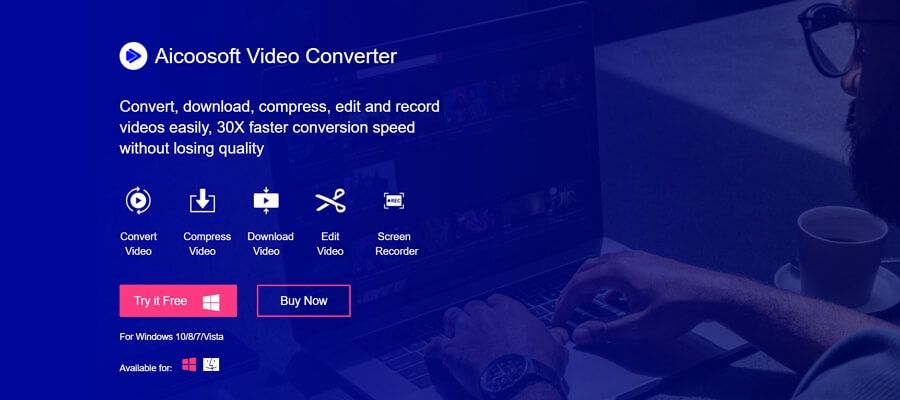 Step2
Click on "ADD FILES NOW" to import your QuickTime video
Step3
Select the desired OUTPUT format. In this case, it will be MOV SAME AS SOURCE if you want to convert it in the same quality as the original video.
Step4
Click on CONVERT and Voila! Now you have the video in the desired format and size for better use!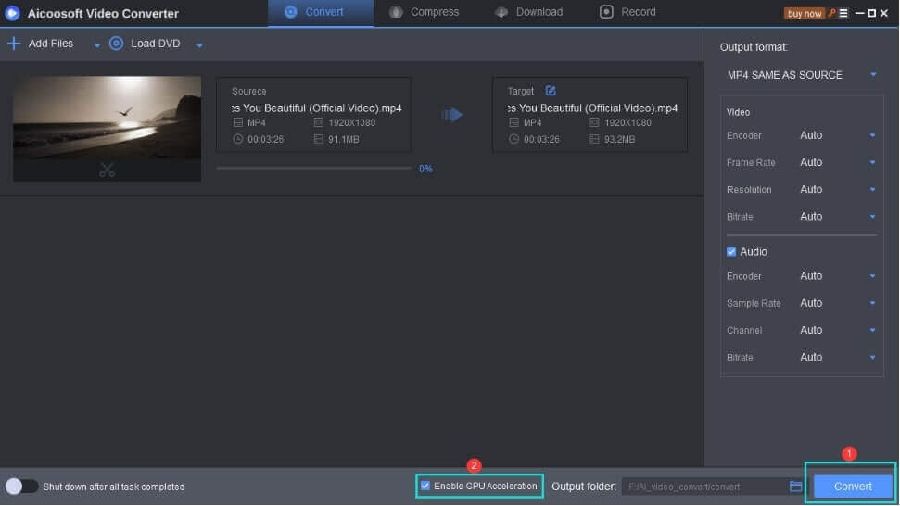 Step5
Finally, access your new file by clicking the Folder icon next to the convert button.
Part 2: Can I Convert Quicktime to MOV free On Mac?
A quick answer is NO! This is because QuickTime is not a video format, and it is created for playing videos. On the other hand, MOV is a MPEG-4 video container file format created for use in Apple's QuickTime player and other playback programs. Or you can say, MOV is a generic QuickTime file container. So the best way you can convert QuickTime to MOV is by using the powerful Aicoosoft all-in-one video converter software.
Part 3: What Is The Best Free And Unlimited Online Video Converter
It's said that when something is classified as the best, it must have unique features that make it stand out among others! And that's what made Online-Converter one of the best online video converting tools that allow you to convert videos into different formats. Yeah, Online-Converter is a perfect approach for people who only want to convert their videos in cases when you're unable to download the software. And it also supports the conversion of audio files, pdf, photos, and lots more. Hence you can tell this isn't like the ordinary online tool you'll find online. Besides, the conversion speed is relatively fast and it doesn't compromise video quality. So follow the steps below to convert Quicktime to MOV using Online-Converter.
Step2
Select Video Converter From the options and click on the dropdown arrow to select MOV as the format which you want to convert your file.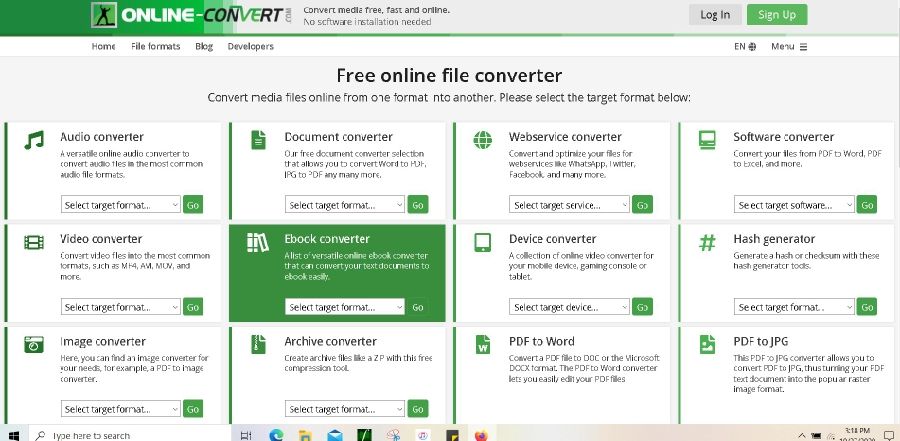 Step3
Add your QuickTime video file either by selecting from your computer or drag and drop your videos. After that, hit the Start Conversion button to begin QuickTime to MOV conversion process.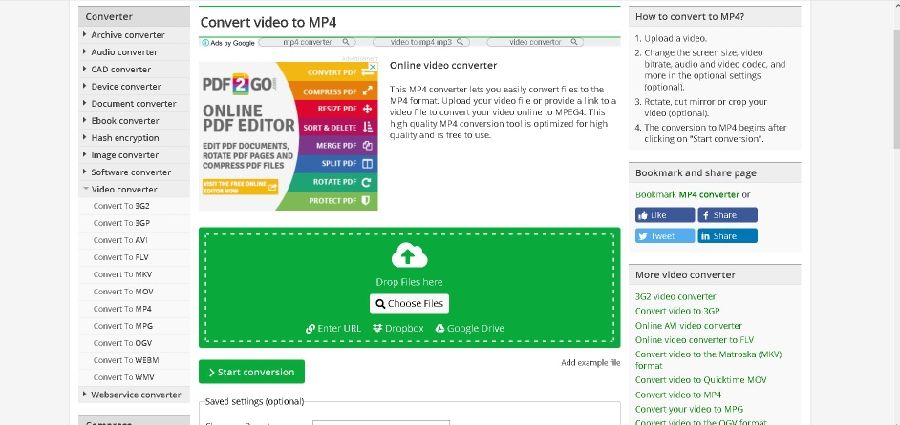 Step4
If the QuickTime to MOV conversion process is finalized, click on the download button to save your new video file.
Conclusion
Compared with online converters, the Aicoosoft video converter is the best means of converting your videos 30x faster with high quality. Because it has more functions and advanced powerful features that make the QuickTime to MOV video conversion process easy regardless of the internet connections. You should give it a try to see for yourself.