Moving videos from mobile to the desktop/laptop may sometimes lead to format and compatibility issues. Certain formats that are readable on mobile are not compatible with Mac/Windows. This is when you need to convert them. In this article, we are going to talk about MPG to MOV conversion.
MPG is an extension of video and audio files of MPEG-1, MPEG-2 codec. Although you can find many storage media and platforms compatible with MPG, many modern platforms/devices do not recognize this codec. Some of them are the iMovie and Apple products, such as iPhone, Apple TV, Final cut pro, and QuickTime. Hence, you need to convert MPG to MOV to enable you to play your video smoothly.
Can iMovie Play MPG videos?
If you play MPG videos in iMovie, you will face compatibility issues because iMovie does not support MPG format. Some of the popular video formats recognized by iMovie are DV, AVCHD, HDV, Motion JPEG/A, Apple animation codec, and some types of MP4, MOV but not all. Some iMovie friendly formats are MP4, . MOV, .M4V, MPEG 4, and .avi. Hence, one needs to opt for the conversion of MPG to MOV.
Part 1: What's the fastest and most cost-effective MPG to MOV converter on Mac/Windows10?
If you want to play MOV smoothly fast on Mac and Windows, Aicoosoft video converter is one of the top-leading tools that allows conversion of videos seamlessly. Amongst the number of tools available for video conversion, Aicoosoft Video Converter is the best choice you can ever reach out to. Because it executes the conversion process with a lightning-fast speed and ensures maximum quality without hampering any aspect of the videos.
Besides, it has wonderful all-in-one tools that enable you to edit, compress, and convert your videos within a few clicks! The fact is you can't compare the Aicoosoft converter with any other conversion tool in the market because it's advanced AI technology makes the conversion of MPG to MOV easier than you can ever think.
Key Features
Customize and compress MPG/MOV videos with high quality.
Reduce then convert MOV/MPG videos to any format you want.
Convert MPG to MOV with 30x faster video convertersion speed.
Efficiently edit, download, record and share your MOV/MPG files anytime anywhere.
How to convert MPG to MOV losslessly on Windows10/Mac?
Step1
Install and start up the Aicoosoft video converter on Mac/Windows10 to begin the process > add your MPG video file from your computer. You can also add a folder by clicking the triangular icon beside the Add Files button.
Step2
At the top right corner of the screen, select the Output Format as MOV.
Step3
Hit the Convert button at the bottom-right corner to convert MPG to MOV on Mac/Windows10.
Step4
Finally, access your converted video by clicking the Folder icon near the convert button.
Part 2: How do I convert MPG to MOV for free on Mac and windows10?
Want to know how to convert MPG to MOV on Mac using two different tools? Well, QuickTime Converter for MAC and VLC Converter for Windows should be an ideal choice. Both Mac and Windows recognize MOV. It is a universal format, and if you are facing any hassle while converting it, the following tools will help you get the job done efficiently.
Quicktime Converter to Convert MPG to MOV for MAC:
Step1
Launch the QuickTime app on your Mac OS, select the MPG file you want to convert, and click Open.
Step2
Navigate to the top menu bar and click on File and select the Export As option in the drop-down list.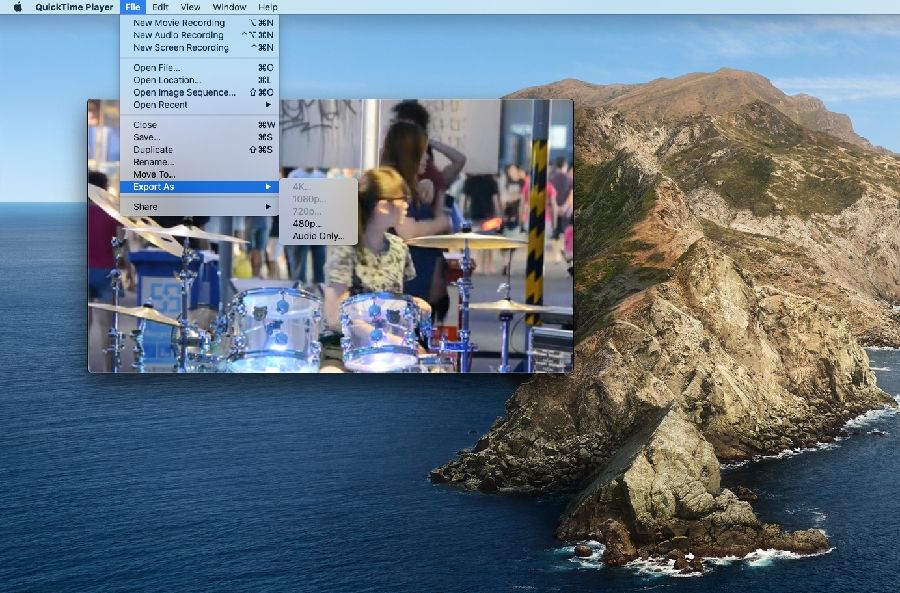 Step3
After that, select an option in the Export As menu, give your exported file a preferred name, and select a location. Then click on Save to complete the process.
Steps to convert MPG to MOV using the VLC converter
Step1
Open the VLC app on your Windows10 computer> navigate to the menu bar and click on the Media button> select Convert/Save from the drop-down menu.
Step2
Hit the Add button at the right corner to select the MPG file and click on the Convert/Save button beneath.
Step3
Click on the Settings icon in the Profile section to bring up Profile edition > Rename the video > and then check the MP4/MOV as the output for your video format.
Step4
Click on the Browse button to select the destination for your file. After that, hit the Start button to commence with the MPG to MOV conversion process.
Part 3: How to convert MPG to MOV for Free online?
Another convenient way to convert MPG to MOV file is by using an efficient online tool. Online Video Converter is one of the best web applications that converts videos fast! However, it supports different formats and has a highly-intuitive user interface that makes the conversion process quick and easy. Check out the steps below to convert MPG to MOV using Online Video Converter.
Step2
Add the Link/File of the MPG video file you want to convert.
Step3
Select MOV as the format you're willing to convert the MPG file.
Step4
Hit the Start button to begin the conversion process. Afterward, click on the Download button to save and access your new file.
Conclusion
These are a few top magical tricks, simple and easy to follow steps that will help in seamless MPG to MOV video conversion. Although the methods introduced above are effective ways to convert MPG to MOV, only Aicoosoft video converter software can execute MPG to MOV conversion process faster, more efficiently, and play the video's output without any errors.