Having access to a robust video converter is one best way to convert MP4 to MOV on Mac OS. Thus, this page will reveal to you the fastest and most effective video converter for Mac OS in 2021!
It's an indisputable fact this era is flooded with tons of mind-blowing technological innovations. And video converting tools is one of those creations that's playing a vital role in daily human life. Perhaps you're in a situation where you're unable to play MP4 videos on your Mac operating system. Then you'll need a powerful video converter to convert MP4 to MOV conveniently. Anyway, here is an article on the best free MP4 to MOV converter on Mac and other verified free ways to convert MP4 to MOV online or using other Mac built-in apps. So read on to find out more.
Part 1: Best Mac OS video converter
Aicoosoft has been a blessing in the way people convert MP4 to MOV on Mac! This Video Converter is highly rated for its lightning-fast conversion speed and high quality. I bet you'll find comfort using this incredible video conversion tool, and luckily, it requires no technical knowledge to convert MP4 to MOV format on Mac.
However, the effectiveness, speed, and avant-garde video editing and compression tools have made this tool stand out among its competitors. And the ultimate fact is Aicoosoft video converting software is not the ordinary type of conversion tool you'll find online, as you can also use it for downloading videos of a different format from 1000+ websites. Some incredible features of this conversion tool are shown below.
Key Features
Powerful conversion software that can convert MP4/MOV to over 1000 formats without losing quality.
Advanced tools allow users to edit, compress, and record videos with only one click.
GPU acceleration technology speed that makes MP4 to MOV conversion lightning fast and doesn't hamper any aspect of the videos.
How to Convert MP4 to MOV on Mac OS With 100% Quality
Step1
Install and open the Aicoosoft video converter on your Mac to start the process. Then add your MP4 file from your computer. Also, you can add a folder by clicking the triangular icon near the Add Files button.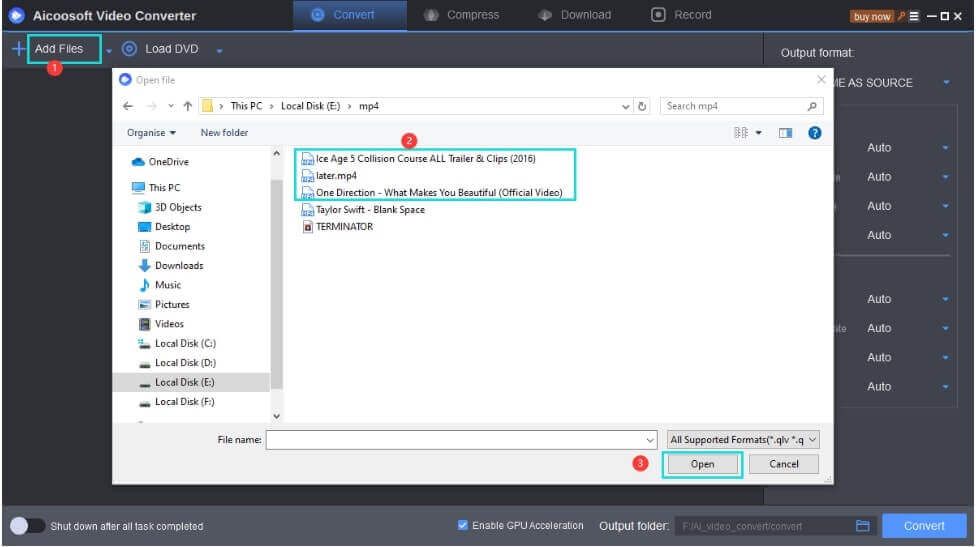 Step2
After adding the MP4 file, go to the top right corner of the screen, and choose the Output Format as MOV.
Step3
Click on the Convert button at the bottom right corner to convert MP4 to MOV on Mac immediately.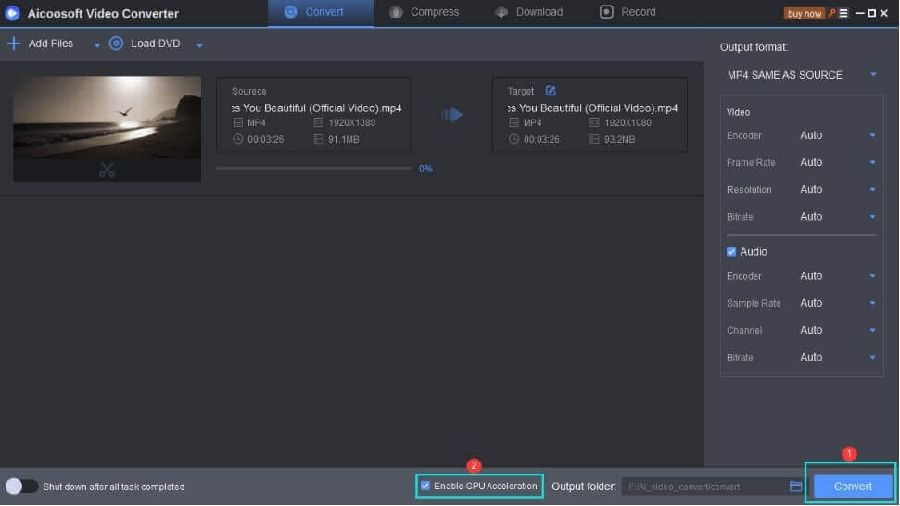 Step4
Click on the Folder icon near the convert button to access your converted MP4 file.
Part 2: Convert MP4 to MOV on Mac with iMovie/VLC/Quicktime
Mac has built-in apps that allow users to convert videos free without losing quality. You can use either the iMovie app, QuickTime, or VLC! However, this section has covered all simple steps you can utilize to convert MP4 to MOV free using these apps. So keep reading to learn how.
Convert MP4 to MOV With VLC
Converting MP4 to MOV using the VLC app on your Mac computer is very straightforward. You only need to follow the steps below to convert your MP4 video to MOV format instantly.
Step1
Open the VLC app on your Windows10/Mac computer> navigate to the menu bar and click on the Media button> select Convert/Save from the drop-down menu.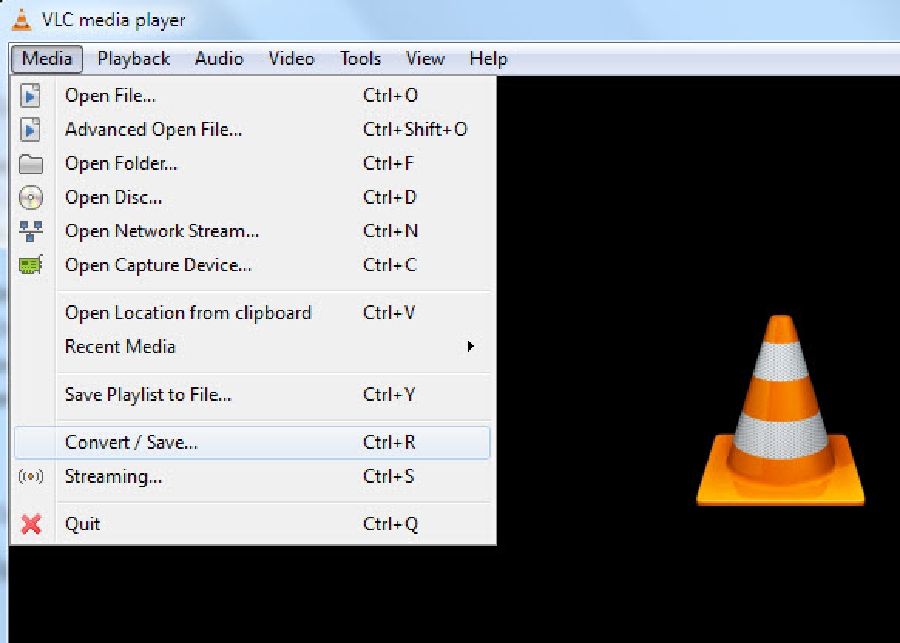 Step2
Hit the Add button at the right corner to select the MP4 file and click on the Convert/Save button beneath.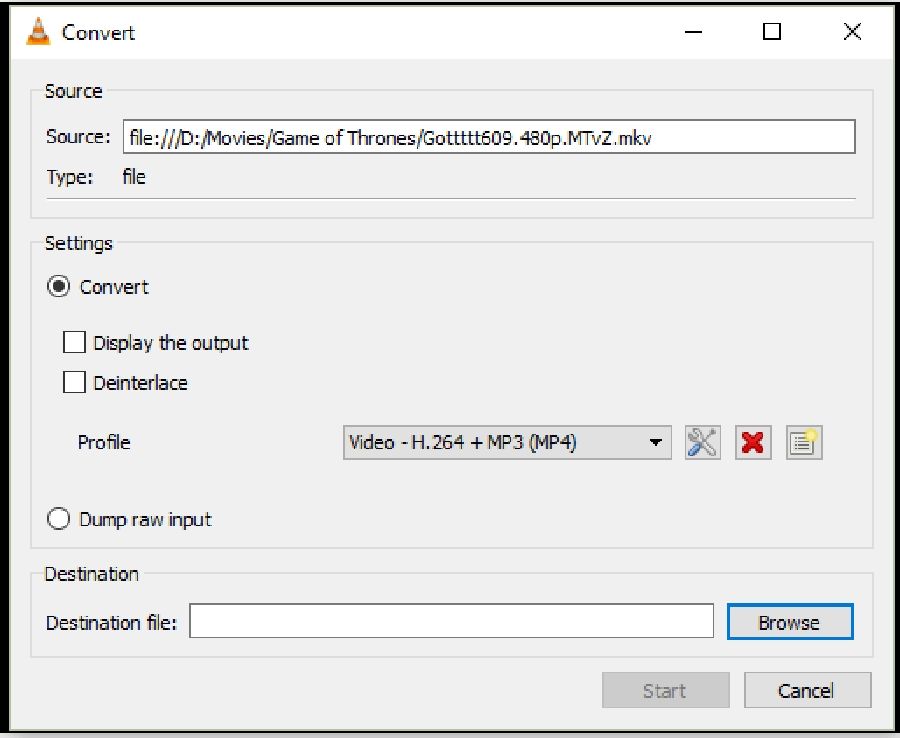 Step3
Click on the Settings icon in the Profile section to bring up Profile edition > Rename the video > and then check the MP4/MOV as the output for your video format.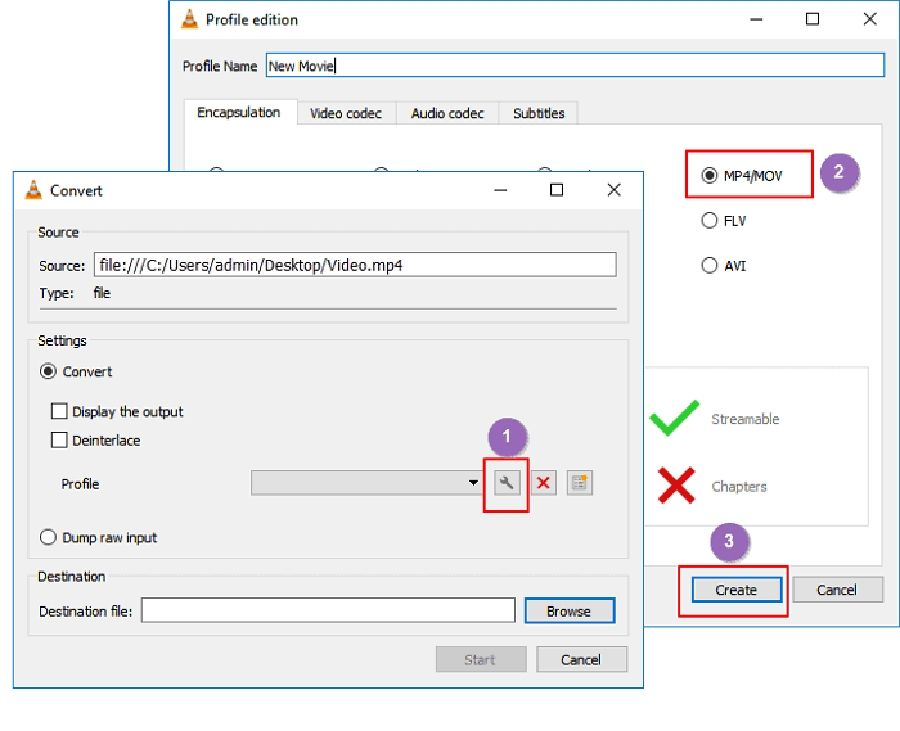 Step
Click on the Browse button to select the destination for your file. After that, hit the Start button to commence on the MP4 to MOV conversion process.
Convert MP4 to MOV Mac Quicktime
As we all know, Apple Quicktime is used for playing videos on your Mac OS. But the fact is this built-in app is also a great MP4 converter, and the process involves only using the Export As feature. You can follow the steps to convert MOV to MP4 with Quicktime.
Step1
Launch the QuickTime app on your Mac OS, select the MP4 file you want to convert, and click Open.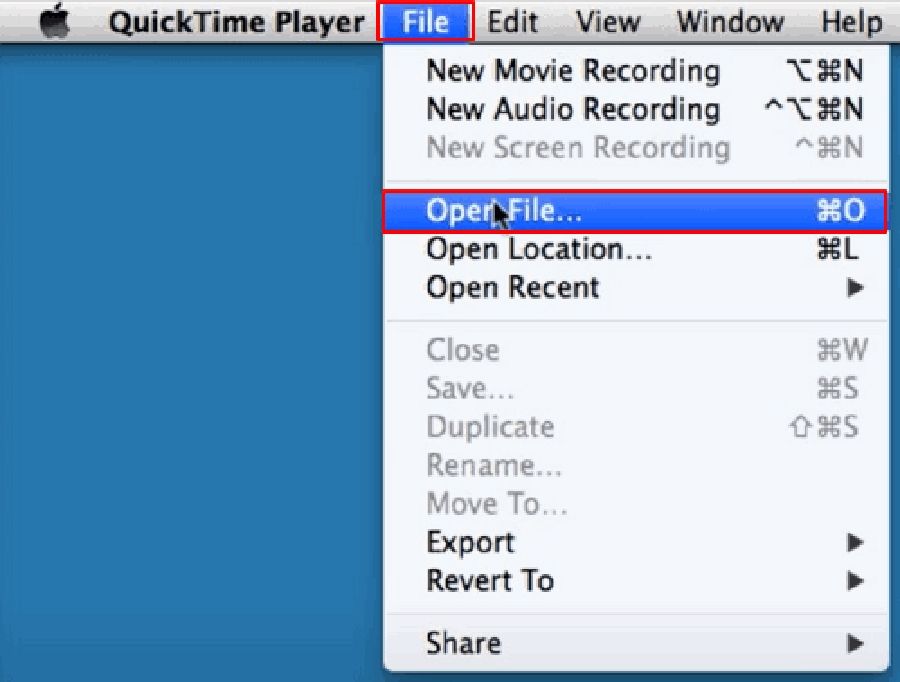 Step2
Navigate to the top menu bar and click on File and select the Export As option in the drop-down list.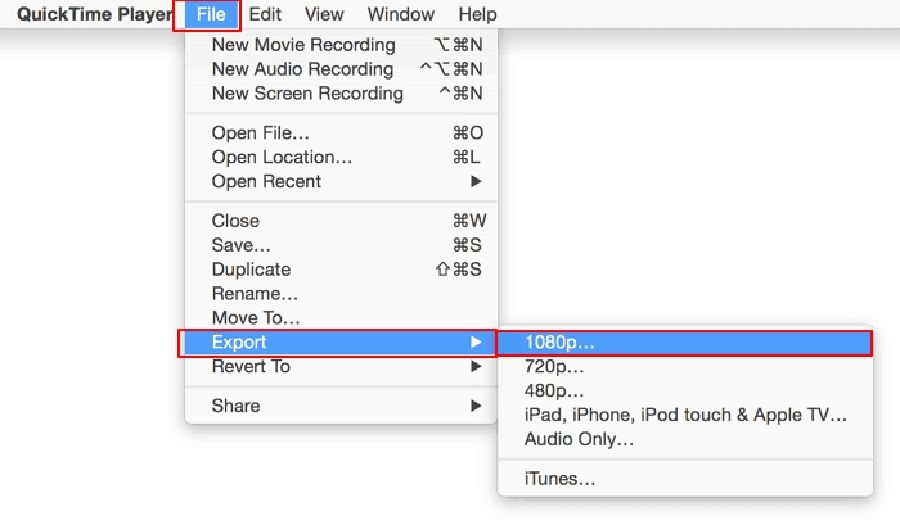 Step3
After that, select an option in the Export As menu, give your exported file a preferred name, and select a location. Then click on Save to complete the process.
How to Convert MP4 to MOV with iMovie
iMovie is another incredible free conversion tool on Mac. Just like the Quicktime and VLC, it's also used in playing movies, viewing photos, and most especially converting MP4 videos efficiently.
Step1
Open your MP4 file on Mac using the iMovie app. Then click on File in the menu bar and select Share in the drop-down menu and click on File.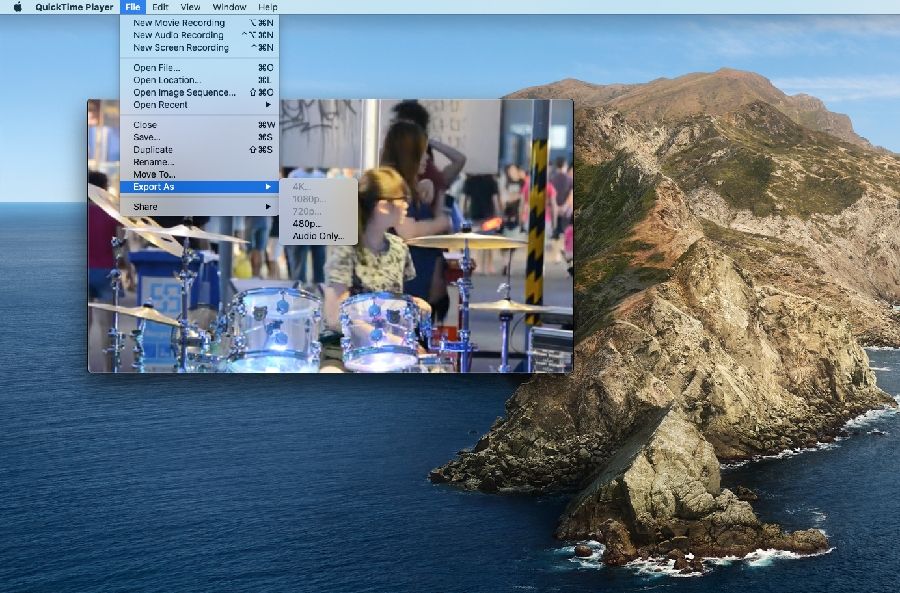 Step2
Set the video resolution, and set video Quality as "Best(ProRes), then click on Next.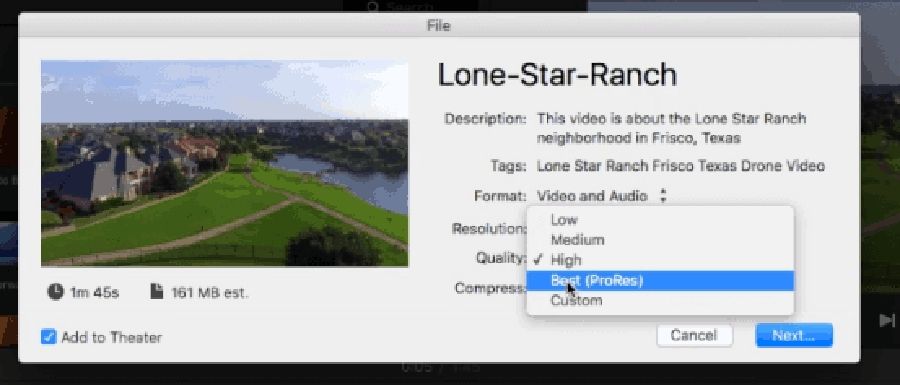 Step3
Navigate a location and click "Save". By default, iMovie will save your video as MOV, and you only have to wait for the process to finalize.
Part 3.: 100% Free and Unlimited Online Way to Convert MP4 to MOV On Mac Computer
Last but not the least effective method of converting MP4 to MOV is using an online tool. Although there are tons of online video converting tool,
Convert2mp3
is perfect for anyone looking to convert MP4 to MOV free and unlimited without losing quality. Besides, the entire conversion process will only be online, meaning you need not download any additional software before you can convert your MP4 files.
Step1
Visit the Convert2mp3 website! Then Copy the URL of the MOV file you want to convert and paste in the 'Insert video link' box. After that, click the drop-down icon beside the search box to select MP4 format.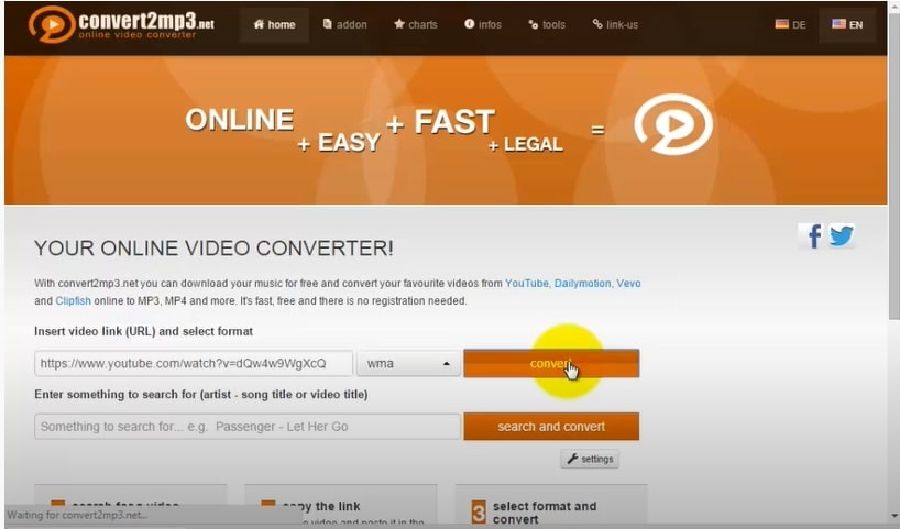 Step2
Click on the convert button and wait while the conversion process gets finished. Then download the converted video file for easy access.
Cons:
You can't store converted videos on the web application for too long.
Absence of custom settings.
The conversion process depends on internet network stability.
Conclusion
The MP4 to MOV conversion process on Mac is very concise. With the use of the different effective methods explained above, you can convert MP4 to MOV anytime, anywhere. However, always remember to choose the method that is suitable for your conversion process. But if you're frequently converting videos of different formats on your Mac system, you should utilize the Aicoosoft video converter. It'll make the conversion process faster and easier without hampering any aspect of the video.