Are you having troubles with playing a MOV video file on your computer? Don't panic! Luckily for you, there are a few top tricks that you can use to convert MOV to WMV handily. Stick to this page to find out more!
It's always a sad scenario to download an intriguing MOV video and start facing problems with playing the file on your computer! And this usually occurs when you're trying to play MOV file using devices that don't support the MOV format.
By the way, there are several tricks to convert MOV to WMV on any device. But only a few can make the conversion process easier and faster. So if you want to find out which MOV to WMV converter is the best on Windows10/Mac, you should keep reading because you're about to discover the unknown.
Part 1: What's the Best and Most-effective MOV to WMV converter
To perform a lightning-fast MOV to WMV conversion process with high quality then you need an efficient video converter like Aicoosoft software. Yeah, Aicoosoft video converting software is an all-in-one advanced powerful MOV to WMV converter that allows conversion of videos unlimited. With the use of AI technology, this software also enables conversion, compression, and editing efficiently within the blink of an eye.
The fact is Aicoosoft video converter is different from other converters because its compression and conversion are unlimited and can be done in only one click. Besides, the use of powerful built-in technology also allows the download and conversion of videos in 1000+ formats from over 1000 websites effortlessly.
Key Features
Powerful and 30x faster video conversion speed that converts HD/4K videos without hampering any aspect of the video.
Aicoosoft uses advanced GPU acceleration and Multicore Processor Optimization technology to convert videos of over 1000 formats giving a better balance between conversion speed and output quality.
Easy to use DVD converter enables you to convert your DVDs to digital files within just 3 clicks.
How to Convert MOV to WMV Without Losing Quality
Step1
Install and start up the Aicoosoft video converter on Mac/Windows to begin the process. Then add your MOV video file from your computer. You can also add a folder by clicking the triangular icon beside the Add Files button.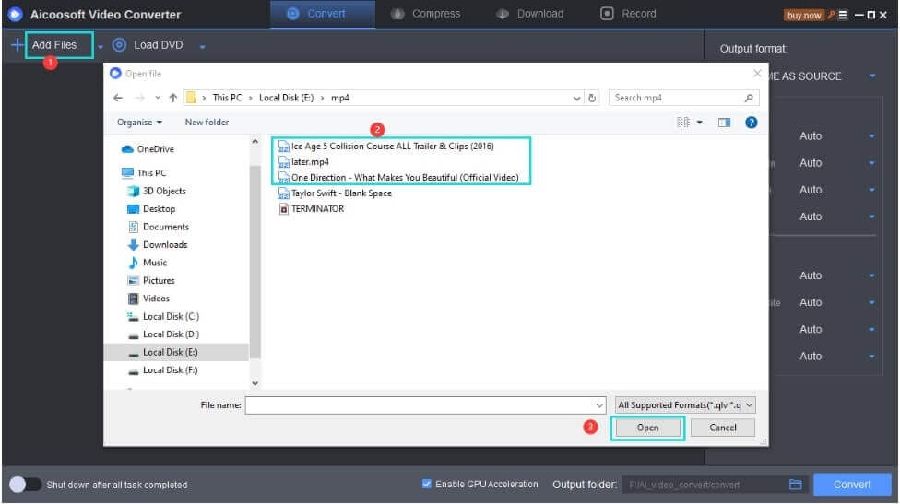 Step2
At the top right corner of the screen, select the Output Format as WMV.
Step3
Hit the Convert button at the bottom-right corner to convert MOV to WMV on Mac.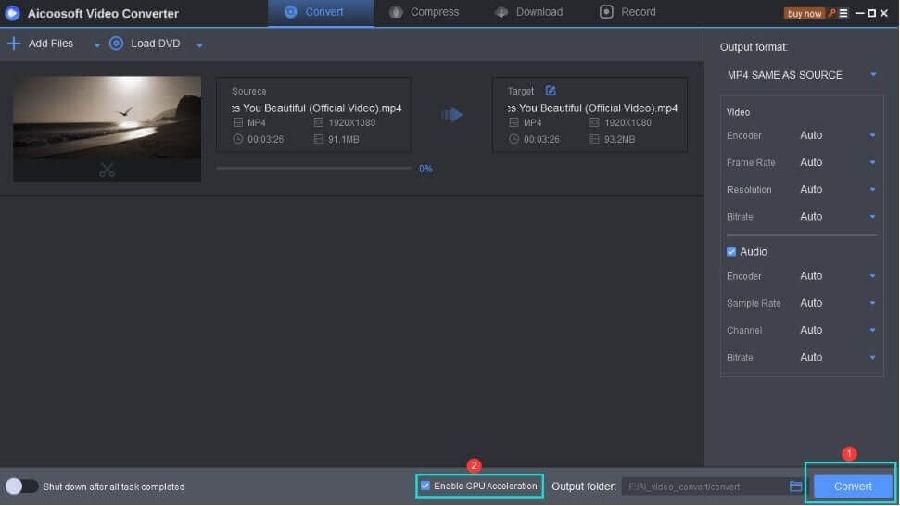 Step4
Finally, access your converted video by clicking the Folder icon near the convert button.
Part 2: How Can I Convert MOV to WMV on Mac/Windows Free?
After learning to convert MOV to WMV using an all-in-one video converting tool, let's walk you through how you can convert your MOV video to WMV using a built-in program on Windows/Mac.
The VLC media player is an open-source free cross-platform that's highly-intuitive and enables easy conversion of videos on Mac/Windows. Despite being a freeware for play video of different formats, VLC is proven to be a decent MOV to WMV converter and also supports the conversion of videos into different formats.
Step1
Open the VLC freeware program on your Mac/Windows computer> navigate to the menu bar and click the Media button> choose Convert/Save from the drop-down menu.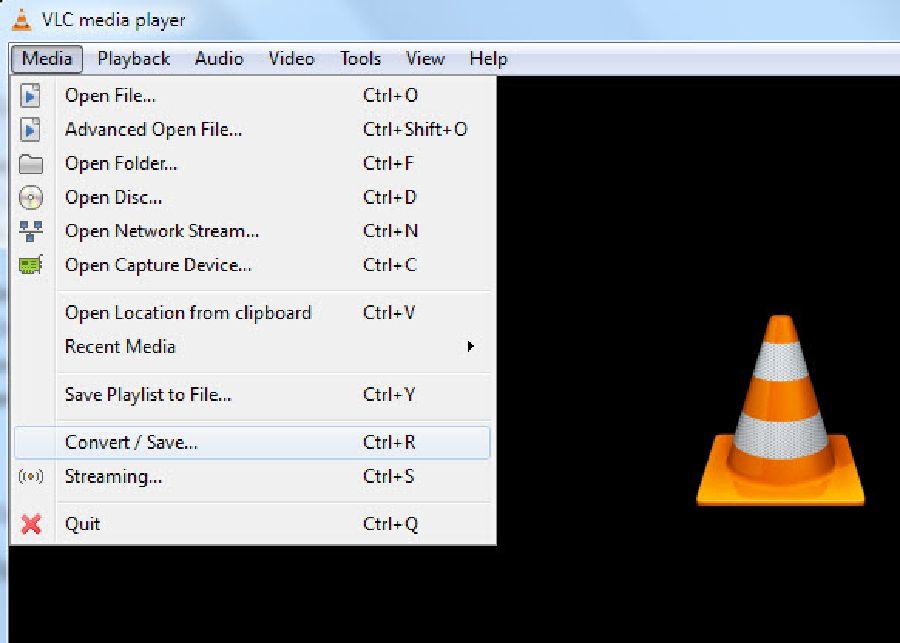 Step2
Click the Add button on the right-hand side to select the MOV video file and click on the Convert/Save button.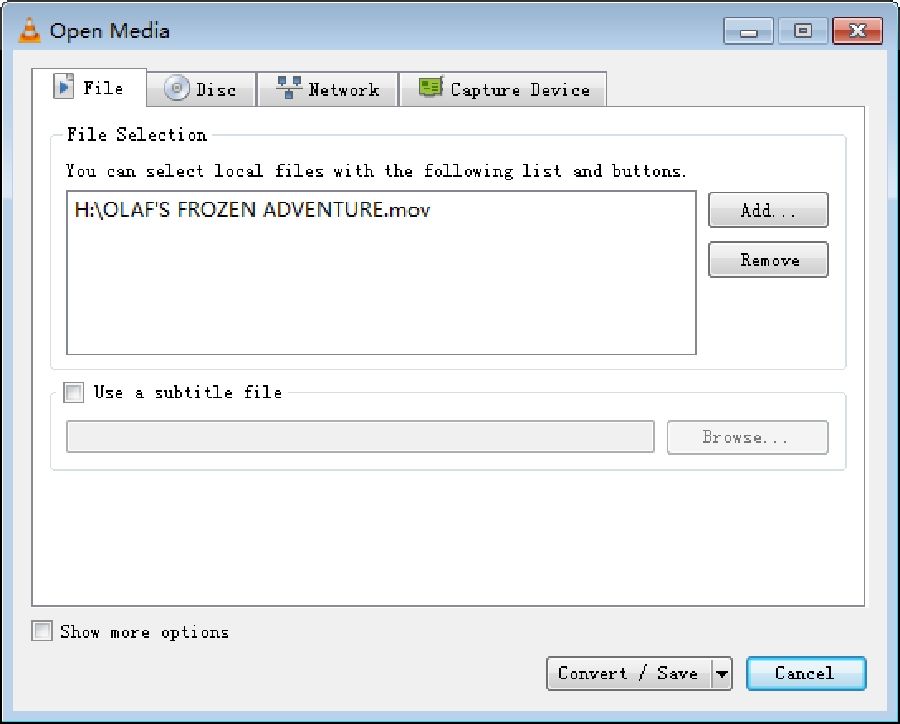 Step3
Afterward, click on the drop-down arrow in the profile section and choose WMV as the new video format.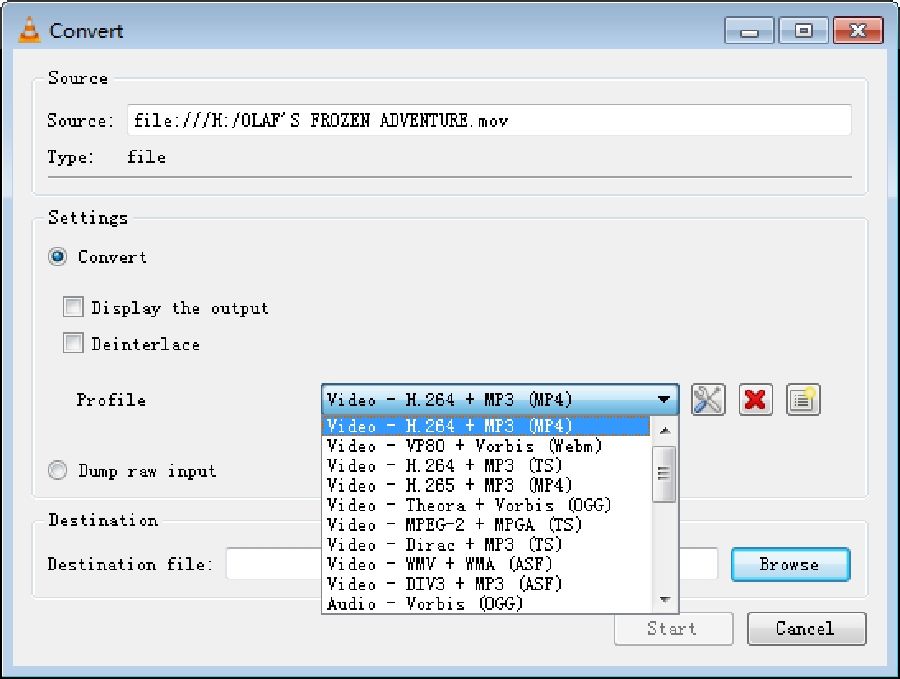 Step4
Click the Browse button and select the destination where you're willing to save your file. Then click on Start to complete the operation.
Part 3: Top Free Ways to Convert MOV to WMV online over 300mb
With so many video converters available online, choosing an online tool that can convert your MOV videos to WMV without losing quality can be sometimes tricky. However, while some are free, others allow limited conversion of files into different formats.
Hence, Convert2mp3 is a tested and trusted online video converter that supports a wide array of video formats and allows unlimited conversion of videos conveniently. Also, it has a clean user-interface, meaning individuals of all levels can use Convert2mp3. Follow the steps below to convert MOV to WMV free online using Convert2mp3.
Step1
Copy the URL of the MOV file you want to convert and paste in the 'Insert video link' box. Then click the drop-down icon beside the search box to select WMV format.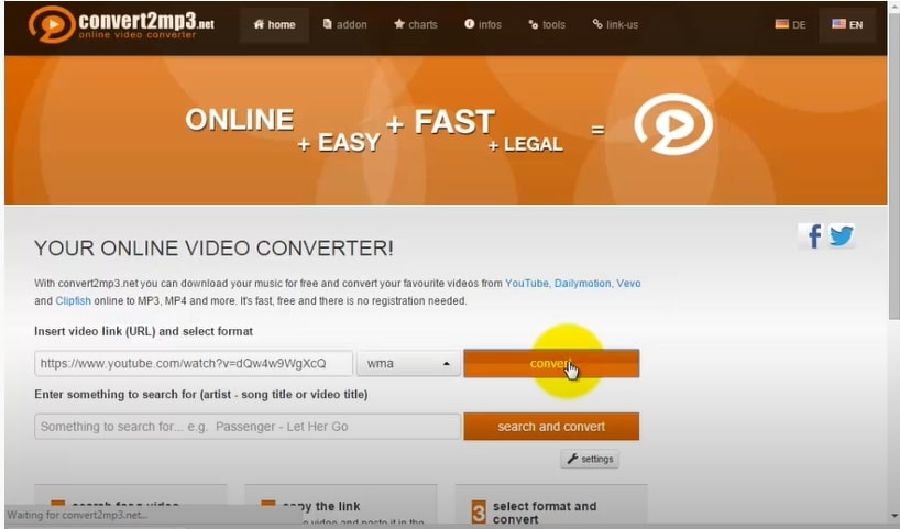 Step2
Click the convert button and wait while the conversion process gets completed. Afterward, download the converted video file for easy access.
Can I Play WMV File on Windows10?
Yes, you can play the WMV video file on Windows10. Although Windows Media center doesn't support WMV format, you can still make use of Windows Media Player, VLC, or an advanced video converter that allows you to stream videos conveniently. And Aicoosoft software is one of them.
Conclusion
The process of converting MOV to WMV can be very tricky, especially when you don't have access to a powerful video converting software that allows you to convert your MOV videos efficiently. However, the methods introduced on this page are the simplest and most effective to convert MOV to WMV. Whether you're looking to use an online tool, freeware program, or multi-purpose video converting software, this page has covered all the necessary steps required.