Are you looking to convert your video format from MOV to MP4 on iPhone without losing quality? Read this article to learn the easy steps on how to convert MOV to MP4 on iPhone efficiently.
Over the years, Apple has always flooded the smartphone market with lots of fantastic devices. And the ability of their phones to take high-quality photos and videos is one thing that's making people want to go crazy about it.
However, the inability of iPhones to save videos in MP4 as its default video format has been a drawback so far. And many people are looking for effective ways to convert these videos from MOV to MP4 to make their iOS videos compatible with other systems. Anyway, we've covered all possible ways you can easily convert MOV to MP4 on the iPhone within the blink of an eye. So keep reading to learn more.
Can I Convert MOV to MP4 on my iOS Device?
Yes, you can! But you'll need an efficient video converting software.
Part 1: Best Way to Convert MOV to MP4 on iPhone without Loss of Video Quality
There are several ways to convert MOV to MP4 on the iPhone! But do you know only the Aicoosoft Video Converter can convert MOV to MP4 without loss of video quality? The Aicoosoft video converter is a universal video conversion software that enables you to convert your precious iPhone videos from MOV to MP4 quickly and easily. From its highly intuitive user interface to its 30x faster conversion speed, and lots more, I bet this video converter software has all it takes to give you a mind-blowing video conversion process. See some key features about this great tool below.
Key Features:
Avant-garde video converter with the ability to convert up to 1000 formats.

100% video quality and fast conversion speed.

Ease the process of video editing.

Powerful video compressor with the capacity to compress HD videos without losing quality.
Step-by-Step Guide to Convert MP4 to MOV losslessly on iPhone
Step1
Install and launch the powerful Aicoosoft video converter to your PC. Then connect your iOS device to your PC using its cable > click on Add Files> click your iPhone at the left pane of the pop-up window that appears on your screen to select the MOV file and click Open. Also, you can add a folder by clicking the triangle icon beside the Add Files button.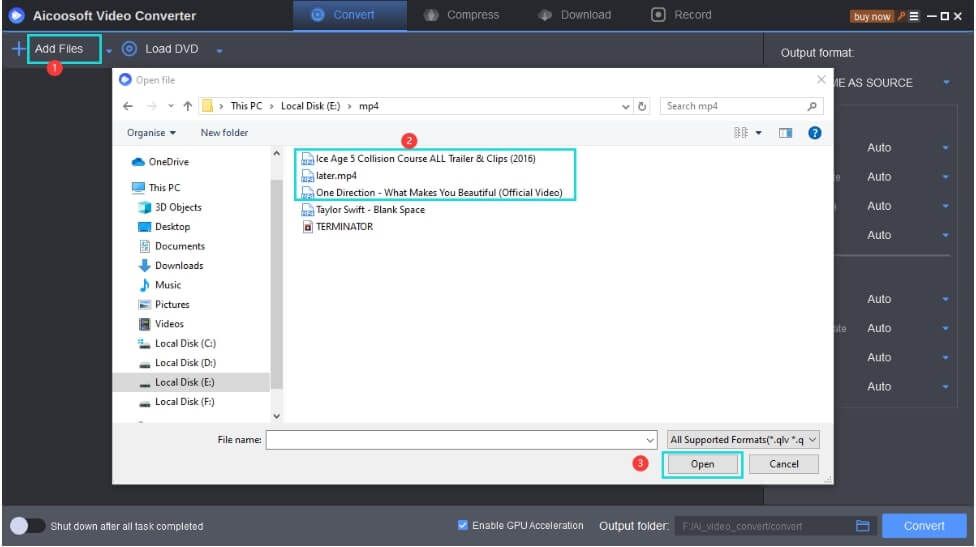 Step2
After adding the MOV file, navigate to the top right corner of the page, click on the drop-down button in Output Format, and choose MP4.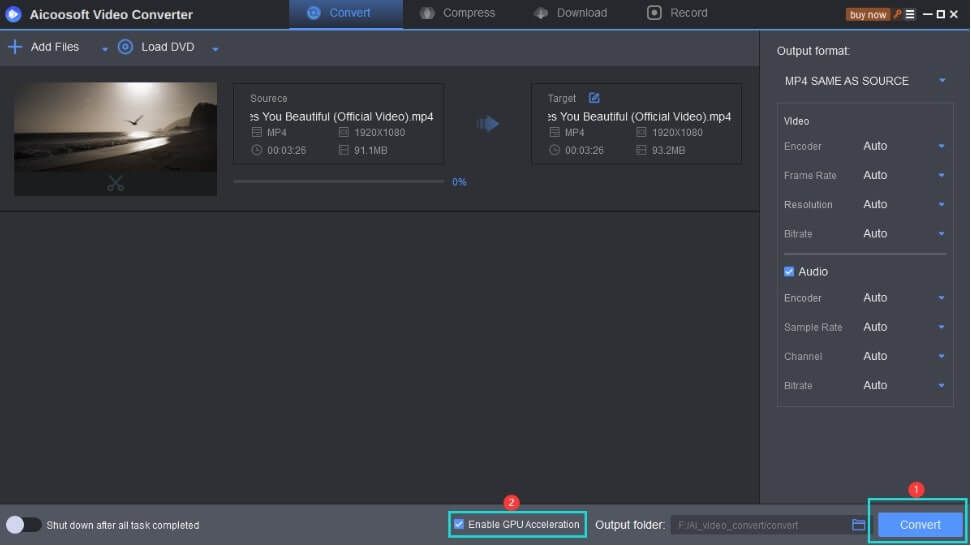 Step3
Click on the Convert button at the bottom right corner of your screen to convert video from MOV to MP4.
Step4
Click on the Folder icon at the bottom right corner to easily view your converted file.
Simple right? Don't waste any more time, just download the Aicoosoft software tool to help you get the job done efficiently.
Part 2: Easy Ways to Convert MOV to MP4 on iPhone
In this section, I'll introduce you to some easy ways you can convert MOV to MP4 on the iPhone. However, it's best advisable to utilize the Aicoosoft video converting software to convert your videos. This will prevent any hampering of the audio, video, and aspect ratio of your video.
Convert MOV to MP4 using the Free Online Method
From introducing you to the best universal video converter to using the online method, Convert2mp3 is one of the leading online websites to convert your videos online. This online video converter enables you to easily convert your videos, ensure its quality, and assures your content privacy.
All you need to do is select the URL of the video that you need to convert and follow the steps below to execute the process.
Step1
Copy the URL of the MOV file you're willing to convert and paste in the respective box. Then click on the convert button.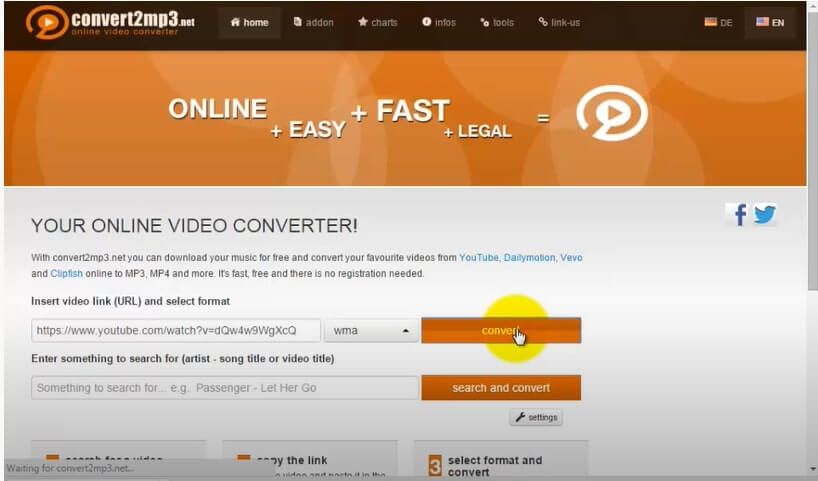 Step2
Wait while the conversion process is completed. Afterward, download the converted file to access your video new format.
What Formats Are Supported on iPhone?
The default video format supported on all iOS devices is MOV. Others include MP4 and M4V.
Part 3: Tips for Converting MOV to MP4 on iPhone
When converting your MOV files to MP4 on iPhone it's always a good idea to ensure using an outstanding video converter to carry out the conversion process. This prevents your files from being corrupted and encountering an error when playing.
Do not convert your MOV file to a format that's not supported on your iPhone, or else you'll have to restart the conversion operation.
Conclusion
If you've read through this guide, converting your precious videos from MOV to MP4 on the iPhone will be like a walk in the park. Although the online method of converting video is good, it's best to utilize the Aicoosoft video converter. It prevents future errors in your videos.