Ever thought of how you can convert MKV files to MP4 using your Mac system? Then keep reading.
There have been an overwhelming demand for the complete how-to guide on how to convert MKV files into MP4 using Mac PC. End users of this device find it hard playing this video format on their computer system as the format isn't compatible. This problem has prompted us to create a step by step guide on how you can convert your MKV files into MP4 for free on Mac.
Part 1. Best and Fast MKV to MP4 Converter for Mac
Before we go into explaining the steps required to convert MKV to MP4 on Mac, it's important to let you know that an MKV to MP4 converter is needed to accomplish this task.
There are lots of these converters available online, however, just a few of them are perfect for you. Here in this guide, our MKV to MP4 converter is Aicoosoft Video Converter, a simple, but yet professional video converter designed for the conversion of several different video files from one output format to another. The software is easy to use, fast and reliable. Unlike other web-based programs, Aicoosoft is highly secured and doesn't keep your files in its data base as its ensures that every converted files are deleted from the database immediately after conversion is over.
Features
Supports the conversion of multiple video files at the same time (batch processing)
Compatible with all Windows and Mac OS
Converts video/audio files of any format to over 1000 media formatA with high quality
Download and compress HD files 30X faster than ever before
Has a built-in GPU accelerator and multicore processor which both enhances the speed of conversion
How to Convert MKV to MP4 with Aicoosoft Video Converter
Take the steps below to convert your MKVs into MP4 on Mac for free using the Aicoosoft software:
Step1
From your internet enabled Mac OS, go on to the official website for Aicoosoft to download and install its software. Once you've successfully installed the application, launch it.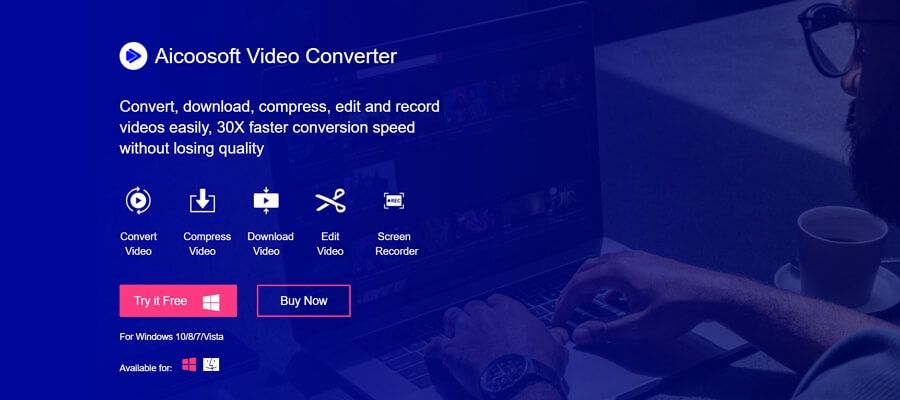 Step2
After launching the application, use the drag and drop feature on the Home Screen to insert or import the MKV file you want to convert. Alternatively, you can click on the Add Files options and then select the MKV file from the list that appears.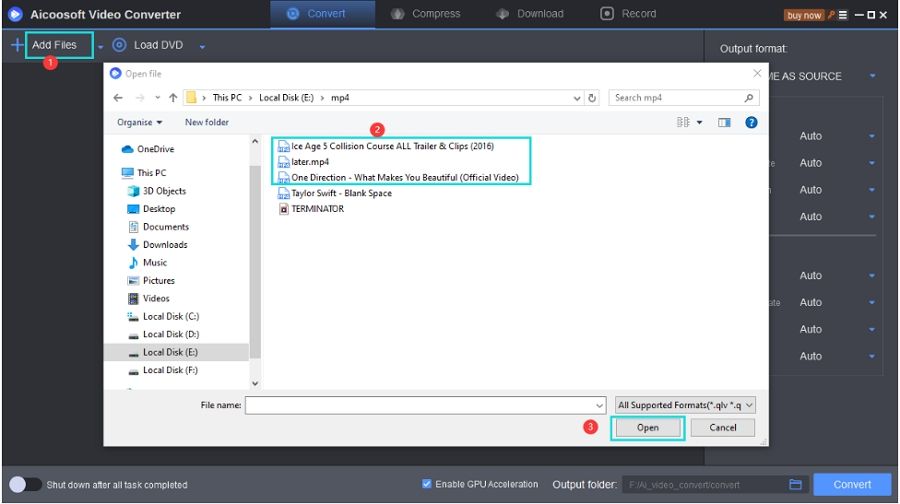 Step3
Click on the Convert button on the lower right corner of the program to access the list of output formats supported by the program. Choose the MP4 output format since that's what we are concerned about here. Once you are done with choosing an output format, click on the red Convert button to start the conversion process.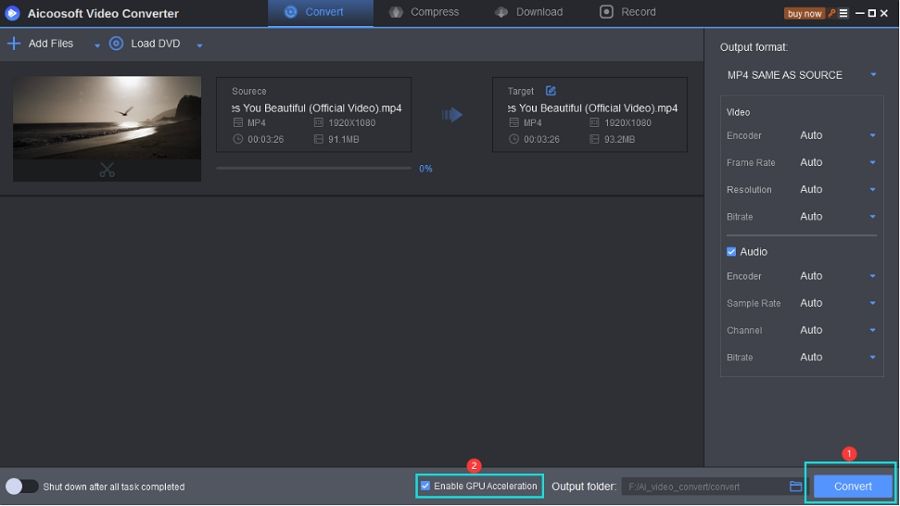 Step4
Once the conversion process is over, click on the folder that appears at the bottom right corner of the Aicoosoft program to access the converted file.
And this ends the step by step guide required to convert MKV file to MP4 on Mac using the Aicoosoft program. How do you find the guide? Simple and easy to memorize right? Well, was expecting that since the software has got incredible features which makes it stand out amongst others on the internet. Let's take a look at some tips for converting MKVs to MP4 on Mac
Part 2. Tip for Converting MKV to MP4 on Mac
One quick tip to converting MKVs to MP4 on Mac is the installation of a powerful software program on your device. Though there are lots of this software available online, choosing the one that will provide you with all the required features is very important. Like we've discussed earlier, the Aicoosoft is one of the best MKV to MP4 converters you need to convert your files.
Frequently Asked Questions
Here are some frequently asked questions on converting MKV files to MP4 using Mac system. Answers are provided for all questions to help you have a quick and smooth process.
Can you play MKV files on Mac?
Well, yes if you've got the right program installed on your Mac PC. But you shouldn't expect the QuickTime for Mac player to do this for you as it lacks the features.
Can I convert MKV to MP4 on Mac with VLC?
Definitely you can convert your MKV files to MP4 on your Mactonish PC if you've got the VLC software installed on it. The software is compatible with all devices including Windows, Mac OS and mobile phones.
How to convert MKV to MP4 without loosing Quality?
Maintaining the quality of a file after conversion has always been an issue over the years as most conversion tools are of low standard. But if you've got a great MKV to MP4 converter like the Aicoosoft software installed on your device, then you can be rest assured of the quality maintenance. The software is a top rated video converter used by every videographers (both amateurs and professionals) .
Convert MKV to MP4 with Mac Terminal
Do you know you can convert your MKV files to MP4 using command line? If no, you aren't alone in this. Below is a guide on how you can do this:
Download and install ffmpeg on your Mac, then use the command line below ffmpeg -i video.mkv -vcodec copy -acodec copy video.mp4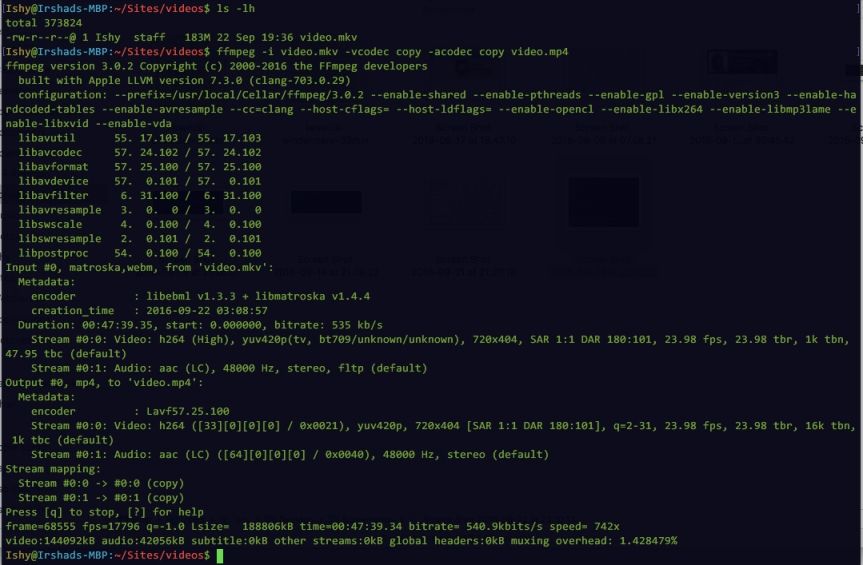 If you are converting more than one MKV file, use the command line blow for i in *mkv; do ffmpeg -i $i -vcodec copy -acodec copy $i.mp4; done
Conclusion
Now you shouldn't have issues playing MKV files on your Mac system as you've got the complete step by step guide at your fingertip. Just apply the guideline given above to convert MKVs into MP4 using the Aicoosoft MKV to MP4 converter and you are good to go. The steps given are easy, clear and understandable. You can also apply the tips given in part 1 to convert MKV files to MP4 on your Mac.