VHS or widely known as VCR is a technology that was developed by JVC or Japan Victor Company. It came into the market in 1976. Today technology has become so advanced that we can easily capture photos and videos through our smartphones. However, that has not always been the case.
In past times, video cameras were used to record the videos, and then they were saved on VHS tapes. If those videotapes are lying somewhere in your homes and you want to relive your old memories, you can easily convert them to DVDs.
Now the question arises, is there a VHS to 4K converter or can you convert VHS to 4K? Of course, you can. But you can not convert VHS to 4k directly. You can convert VHS to DVD first, and then rip DVD files to 4K files. In this article, we will show you the whole process of converting VHS to 4K.
Part 1. How to convert VHS to DVD?
The DVD format was introduced in the late 1990s. It can obviously handle more data and even you can use it to store data in high quality. DVDs have longer shelf life than VHS and above all VHS tapes are of no use these days since VCRs have become an ancient commodity. Due to all these reasons, it is better to convert VHS to DVD so that you never lose your precious memories.
If you are very eager to watch your past videos, gather your old tapes and if they have dust accumulated on it, try to clean it as much as you can. Also, check the spindles. If they have seized up, move them through hands before converting it into DVD. You can easily change the tapes into DVD format before you convert VHS to 4k using your PC. However, for the whole process, you need the required hardware and reliable software that will perform the process.
Steps to Convert VHS to DVD are listed below:
Step1: Connect the VHS video player to your personal computer using the cables that come with the software you have chosen for performing the conversion. You may require a Scart cable that has red, white, and yellow cable.
Step2: The next step is to start the recording software on your personal computer and use it to play the VHS.
Step3: Stop the VHS cassette at the end of the video. Stop the recording software too.
Step4: You can then burn the captured video to DVD, the recording software usually comes with a converter. In case it does not have, you can use additional reliable software for the process. It will copy the tape you recorded on your PC to the DVD. Insert the DVD into your PC's DVD writer.
Part 2. Convert DVD to 4k unlimited with Aicoosoft Video Converter
You can then convert DVD to 4K format, as it is any day better than DVD format. Since DVDs cannot be carried everywhere, they can be converted into 4K format. So, converting VHS video to 4k becomes a necessity.
If you are looking for the best DVD to 4K converter, then Aicoosoft Video Converter is the solution to all your problems. It is a one-stop solution for all your problems as it uses powerful AI technology as compared to other traditional video converters present in the market. This exclusive software maintains a fine balance between output video quality and conversion speed. Besides video compression and conversion of VHS to 4k, it has a super powerful video downloader too. Let us dig into some more exciting features of Aicoosoft.
Key features of Aicoosoft Video Converter
For DVD and other users: Some users possess multiple DVDs and wish to watch movies anywhere. With Aicoosoft, converting DVDs to digital files is super easy. It also supports multiple formats and has a very high conversion speed.
Super-fast conversion speed: Aicoosoft Video Converter uses lossless conversion technology, due to which there is no loss in the quality during the conversion process. Also with advanced GPU acceleration, the conversion process can be performed within seconds.
Useful DVD converter: The easy to use DVD converter of Aicoosoft, allows you to convert your DVD file into digital format in just three clicks. This amazing software supports multiple formats like MOV, AVI, MKV, and MPEG.
Download HD video: With Aicoosoft video downloader, you can download HD and 4K videos from streaming sites very easily.
Supports more than 1000 sites: The powerful built-in downloader of Aicoosoft Video Converter lets you download videos from more than 1000 video sharing sites. Isn't it simply amazing?
Convert to 4K and HD: Aicoosoft Video Converter software easily converts DVD into high-resolution 4K and HD videos.
How to convert DVD to 4K with Aicoosoft Video Converter
Step1
Click on the Load DVD button, which is present in the upper left corner of the window. If you click on the inverted triangle present on the right to the Load DVD option, you can see the option of Load IFO files and Load ISO files.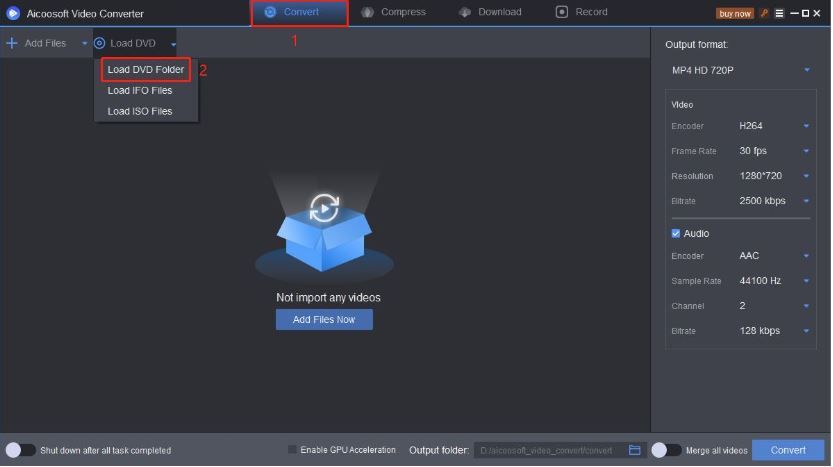 Step2
When the process of loading the DVD is finished, click on the Convert button present on the right side of the window to choose the output format and resolution. In this case, you should choose 4K Video.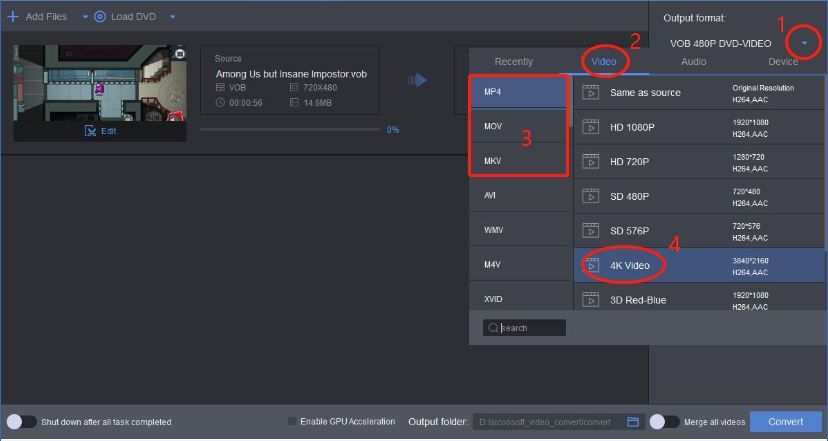 Step3
Click on the "Convert" button present on the lower right corner to start the conversion of DVD into digital format. After the process of conversion is completed, click on the "Open Folder" icon to see the converted video.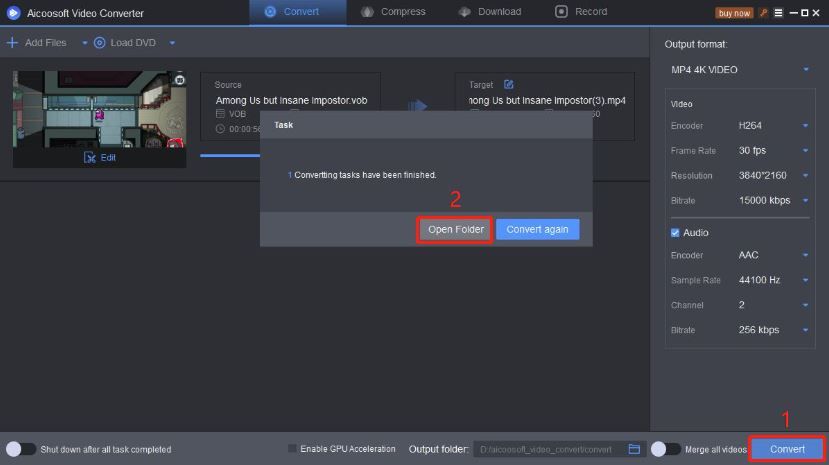 Part 3. Frequently asked questions
1 - What is the VHS format?
VHS is a popular video standard that was introduced by JVC in 1976. Earlier it meant Vertical Helical Scan and its name was then changed to Video Home System since this name was more consumer-friendly.
2 - How can I transfer VHS tapes to my computer?
For this, you will need a VHS player, an analog converter, and a PC with DVD drive where you can install the software. Now follow the steps given below:
Plug the USB side of the analog converter into your PC and the other three plugs will go into the VHS player.
Install the necessary software that will perform the conversion.
Put the VHS tape in the VHS player after dusting it properly.
Adjust the settings and destination folder using the program you installed. The formats in which you can store file are .MPG, .MOV 0r .MP4
After making the necessary adjustments, it is the time to digitize. Press the record option and let the VHS player roll in. record the video as long as you want and save it in the selected folder.
3 - Can you still buy a VHS video player?
Although nobody makes VHS players anymore, you can still buy it from Amazon, eBay, or Craiglist.
4 - Is VHS making a comeback?
Though VHS has its own fan base, they are surely not coming back anytime soon.
5 - Is there a machine that converts VHS to DVD?
Yes, an analog to digital adapter that comes with software can enable you to create a digital version of your VHS tape that you can further burn into DVD.
Conclusion
VHS tapes are not pleasing at all. As compared to DVDs, they have a poor visual quality. All you have to do is to convert the VHS tapes into 4K format to relive your childhood memories again. Using Aicoosoft Video Converter you can perform the conversion very easily. No more wasting the time in dusting the old VHS tapes and watching the precious memories in poor picture quality. Aicoosoft is one of the best video converters that will help you relive your memories in a much better way.