Apple developed a MOV format for iPhones, iPads, and other devices. The MOV format supports iOS and macOS devices only. The files in MOV format do not work on Windows computer and android phones. If one wants to open a 4K MOV file on his computer or android phone, he needs a third-party application to run it. Of course, if he has a video converter, the problem can also be solved.
What is the need to convert 4K MOV to MP4?
There are multiple reasons why users prefer to convert the 4k MOV file to MP4. As we decribed above, MOV format is specifically developed for Apple users and that is why Android users cannot play these files on their devices.
Talking about the latest trend, most of the video recorders and DSLR cameras record the videos in 4k MOV format. Since 4k MOV format is approximately 10 times bigger than the MP4 format, it becomes very hard for the editors to edit MOV files.
People generally face problems with 4k MOV format, as this format is not compatible with several devices. Only a few media players and devices support it. If you have an old computer or TV, you will not be able to watch 4k MOV videos on them. 4k MOV videos are also unable to play in the HVAC codec on Mac and Windows systems.
For all the above-mentioned reasons, people prefer to convert 4K video MOV to MP4. In this article, we recommend best 3 converters that can really help you to convert 4k MOV to MP4.
Part 1. Free utility to convert 4k MOV to MP4 on Windows 10
If you are looking for a free utility to convert 4k MOV to MP4, then Freemaker is a great option. It can convert videos and movies between 500 formats, and it is absolutely free. You can convert video files of any size here, above all, there are no trials and limitations here. The using guide of Freemaker is listed below.
Step2: Import your MOV video using the video button above.
Step3: Select the format in which you want to convert your MOV video. Here in our case, it is an MP4 format.
Step4: Click on the "Convert" button to perform the conversion.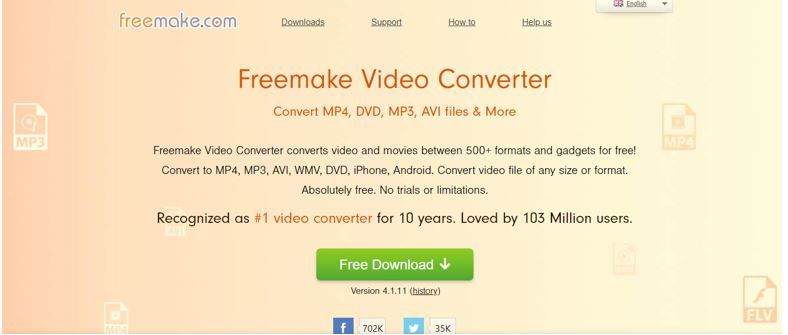 Pros:
Supports all the popular formats
You can use this video converter for any gadget like Apply, Samsung, Nokia, Huawei, Blackberry, etc.
It is an all in one video converter. You can use it to convert 4K and HD, rip and burn DVD, cut, join and rotate clips, etc.
Cons:
It is not actually free. You have to buy a premium pack for feature enhancements like Watermark removal.
It has many ads.
Has not been upgraded for more than 3 years
Part 2. Convert 4k MOV to MP4 on Windows 10 online
You can also convert 4K MOV to MP4 using online video converter. It is also a free tool using which you can convert any video to any format without the need to install the software on your computer. The greatest part of this software is that it is compatible with all the modern web browsers and the conversions are super-fast. It supports all popular video formats.
Step2: Choose the 4K MOV file from your storage that you want to convert.
Step3: Select the MP4 format and customize the other settings as per your requirements.
Step4: Click on the Start button to start the conversion process. Once the process is complete, you can download the converted file then.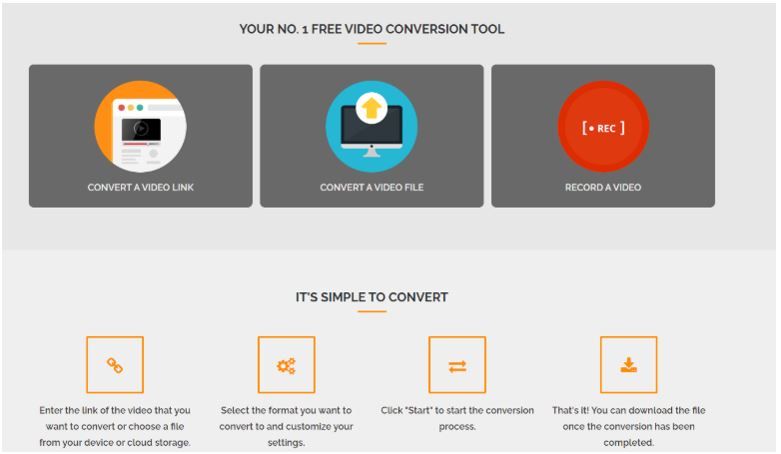 Pros:
It is a free 4k to MP4 converter
It supports all the popular video formats
It is also mobile compatible
Cons:
Conversion time is not so fast
iOS users cannot download the converted file due to software limitations
Font Size is not appropriate
It does not include customs settings
Needs a strong internet connection
Part 3. Best 4k MOV to MP4 converter for Windows 10
If you are looking for a reliable and one of the best 4K MOV to MP4 converter, then Aicoosoft is the solution to all your problems. It is one of the most powerful converters available today. It uses powerful AI technology, which helps it to maintain a better balance between the conversion speed and output video quality. This excellent software can convert 4K videos into any format without losing quality. Using AI technology, it maintains a 1:1 conversion with 4K videos.
Other Key features of Aicoosoft Video Converter
Let us have a look at other powerful features of this wonderful software:
Fast Conversion speed: Aicoosoft uses lossless conversion technology due to which there is no loss in the output quality when you perform mov to mp4 conversion. Due to GPU acceleration, it can perform conversions in seconds. Using it you can convert mov to mp4 4k very easily.
Supports multiple formats: This amazing software supports multiple video and audio formats. You can use it to perform any type of conversion besides mov to mp4
Download HD Video: You can also use Aicoosoft to download HD videos in 4K and 1080p format from streaming sites.
Supports several sites: It is another amazing feature of Aicoosoft that leaves everyone in awe. It supports more than 1000 sites from where you can download videos.
Easy to use Interface: The easy to use interface enables a nonprofessional to perform the conversions too.
How to convert 4K MOV to MP4 using Aicoosoft Video Converter
Step1
Add the 4K MOV file by clicking on the Add Files button. You can also drag and drop the file you wish to convert. Furthermore, the buttons "Add folder" and "Add Files Now" also work here.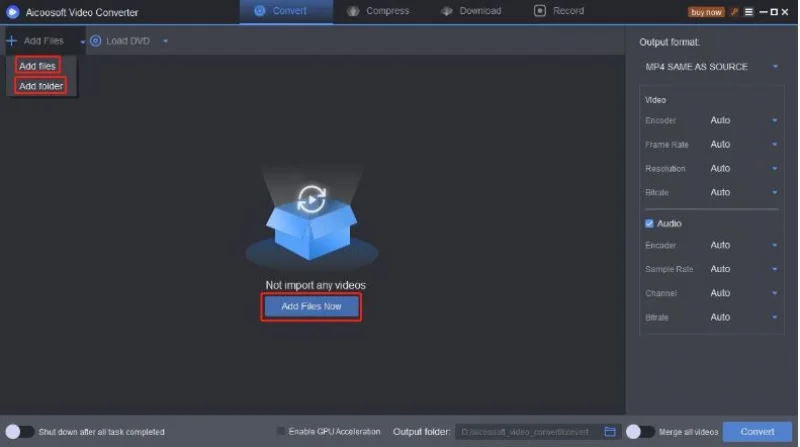 Step2
Select the output format. In our case, the output format is MP4. Choose the parameters of your MP4 file. It is one of the most important steps.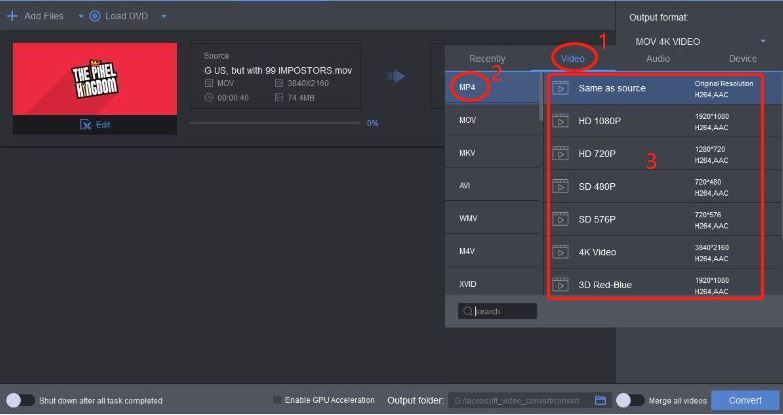 Step3
Click on the "Convert" button and your conversion will be performed in seconds. After completing conversion, you can press "Open Folder" icon to find the converted file on your computer.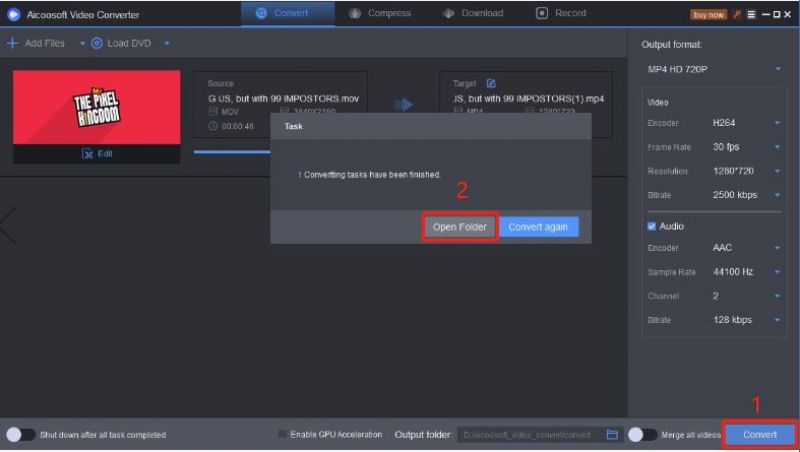 Conclusion
We all know that 4k MOV video is not compatible with all the devices. That is the main reason behind the conversion of 4K MOV to MP4 format. It is highly recommended to use Aicoosoft Video Converter to perform the above conversion. The video conversion is very easy. The professional video converter has all the features to perform the 4k MOV to MP4 conversions very efficiently.